Entertaining 101: Basic How-To Guide for the Home Hostess
Inside: Don't stress over hosting anymore! Leave the guesswork behind and welcome guests like a seasoned hostess with this ultimate guide of entertaining basics and essentials. ➡
---
Why is it when people are looking for a place to live, they always talk as if entertaining is one of their highest priorities? (They could make a drinking game based on every mention of having people over on all the "house shopping" shows on HGTV.)
Yet in reality, most people just don't entertain at home.
It feels like there are countless details to take care of, not to mention the time and money involved.
My motto is "fail to plan, plan to fail". Simply having everything written down, telling me exactly what I need to do makes me feel like there's so much less to think about! And less anxious about wasting unnecessary money.
Over the years, I've learned what I really need to host a gathering. And now that I don't have to reinvent the wheel every time, planning parties is actually fun!
Every seasoned hostess started from scratch, with no serving dishes and no clue. We all begin somewhere, so whether you're a hosting newbie or aiming to elevate your existing entertaining skills, this guide to putting together a gathering in your home will make your learning curve a little smoother. Less stressful. And you may even become known as the "hostess with the mostest".
This post contains Amazon and other affiliate links for your convenience. As an Amazon Associate I earn from qualifying purchases. If you purchase something through any link, I may receive a small commission, at no extra charge to you. I only recommend products that I love or would purchase for myself. See my full disclosure here.
The four basics of entertaining.
All those countless details to think about can be overwhelming for a beginner hostess. But every gathering really has four basic parts to plan.
Party Basic #1: Food
Almost every get-together should involve food if people are going to be at your place for more than a couple of hours.
The amount of food required can depend on: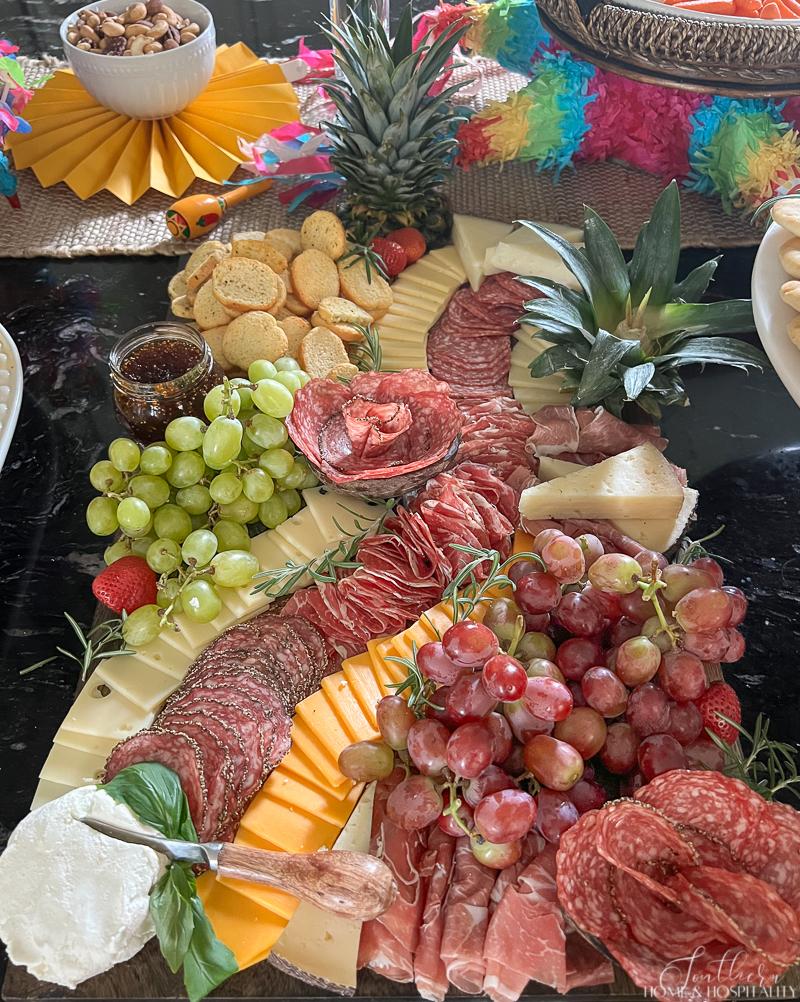 Don't make guests guess whether they should eat something before or not. Let them know whether you'll be having heavy appetizers, a full meal, or just nibbles and noshes.
Choose appetizers that are good at room temperature; steer away from hors d'oeuvres that need to stay hot or cold unless you want to babysit them with sterno, a crockpot, or ice.
Unless it's a sit down meal, choose finger foods, or individual, easy-to-eat servings. Stay away from drippy, messy foods, foods that get stuck in your teeth like ribs, and things that have to be cut on the plate.
Food for cocktail parties:
How much food:
A good rule of thumb for food for a cocktail party with no official dinner:
If it runs over meal hours, serve 8-10 kinds of appetizers. Make sure to include some filling protein options, like mini sandwiches. Plan on 2-3 per person.
If the event happens between meal hours, cut back to 4-6 offerings and 1-2 per person.
WHAT FOOD TO SERVE:
This combination of appetizers works well for most gatherings: 
2 different dips with assorted chips, crackers, breads
Charcuterie board with cheese, meat, fruit, and nuts
2 satisfying protein appetizers
1 vegetarian option, like caprese skewers
Veggie tray
A bowl of nuts, party mix, or Dots pretzels
Bite-sized individual dessert (most cocktail party guests will pass on a cake or pie that has to be cut)
I always err on the side of having too much food and probably don't need to, but I hate running out of things that people are enjoying!
Tips for laying out the serving table or appetizer buffet:
Remember to include a place to put the serving utensils
Vary the height of dishes for a prettier presentation
Make everything easy to reach
Food for dinner parties:
The food is the focus of a dinner party gathering, but here are a few helpful tips to remember:
Work ahead as much as possible
Start cooking a little earlier than you think you need to
Don't attempt to make an untested recipe
You don't have to cook—buy premade as much as you can, cater, or buy the entire meal
Be sensitive to guests with food allergies, but don't go overboard making separate meals
Let guests know the main course or food type—not everyone likes every cuisine and there won't be any surprises
Set the table in advance before the event day
Have guests bring a side dish to unload some of the work on you (but be careful that the meal doesn't totally depend on guest contributions because things happen)
Use real dishes, glasses, utensils, and cloth napkins
Make sure you're not running around working during the whole dinner where guests can't relax
Party Basic #2: Drinks
Unlike food, every gathering should involve something to drink no matter how short it is.
The type and amount of drinks required can depend on:
Alcohol to stock the bar.
You're probably not wanting to stock a full bar, but having these will please most people:
Prosecco, champagne, or sparkling wine
White wine
Red wine
Vodka
Bourbon or whiskey
Tequila
Beer
Rum
Optional spirits: canned hard seltzers like White Claw, scotch, Bailey's, gin, and vermouth for martinis
Mixers for a party.
Popular Mixers:
Club soda
Tonic water
Soft drinks: Diet Coke and Diet Sprite are most popular
Cranberry juice
Optional mixers: Simply Lemonade, grapefruit juice, Topo Chico, fruit-flavored carbonated beverages like San Pellegrino
Drink garnishes:
At a minimum, always offer quartered limes and lemons. But some of these are nice to have at the bar too:
Fruit like cherries or blackberries
Fresh herbs like basil, mint, and rosemary
Olives
Fruit peel curls
Rimming salt or sugar
How much ice:
Have enough clean ice for drinks. The standard rule is one and a half pounds of ice per guest. Plus enough ice to chill beer, wine, water, and soft drinks.
How much alcohol to buy for a party.
I'm okay with overbuying a bit on drinks, because we can save most of what's left over. (Although I still enjoy the thought of the time my husband had to run out to the liquor store for more vodka dressed as PeeWee Herman during our eighties party.😂)
Professional event planners use this formula to figure alcohol amounts:
For each guest, two drinks in the first hour and one per hour after that.
Use this to figure the number of drinks per guest depending on the number of hours of the event (4 hours would be 2 for the first hour, + 2 for 2 more hours = 4 per guest)
Then multiply that number of drinks per guest x the number of total guests (4 per guest x 25 guests = 100 drinks)
This will give you a baseline, and is most helpful if you're not serving a lot of different kinds of drinks.
Although it can vary greatly, the hospitality industry's rule of thumb on how far the alcohol will go is this:
How many drinks are typically in a bottle:
Wine: 4 glasses
Champagne and Prosecco: 6 glasses
Hard alcohol: Figure 1.5 to 2 ounces per drink (a handle has 60 ounces so it would make 30-40 drinks, a fifth has about 25 ounces so it would make 12-16 drinks*)
*These are based on light, single pours. We personally don't get nearly the amount of servings as these from hard alcohol, so adjust this based on how strong your guests prefer their cocktails.
In my experience, most people drink vodka, bourbon, wine, Prosecco, and beer, so we buy more of these, but only put one bottle of spirits like tequila and rum out, just in case.
Offer a signature cocktail and make them ahead in big batches
Offer nonalcoholic options like water, iced tea, soft drinks, or mocktails
Offer to call guests an Uber if needed
Need signature cocktail ideas? Try "Skinny French 75 Champagne Cocktail: Celebrate With Less Sugar", "Summer in a Cup: Skinny Cucumber Lemonade Vodka Cocktail", "The Masters Azalea Cocktail", or "White Christmas Snowflake Martinis".
Party Basic #3: Engagement, Entertainment, and Flow
The food and drink are merely the backdrop for why we entertain—the social aspect!
Create the right atmosphere for enjoyment and mingling:
Set the mood with music. Preplan a playlist or seed YouTube Music or Spotify with the type of music to fit the gathering.
Use the right lighting that's not too harsh or bright. Take advantage of lamps, dimmers, and candles for nighttime gatherings, and party lights for outdoors.
As soon as guests arrive, direct them to the bar and food.
It's always a nice touch to have filled prosecco or champagne flutes on a tray on a table as guests enter.
Set the celebratory tone or theme with a welcome message on a chalkboard or sign.
Use place cards for a special dinner party touch.
Spread out stations for food, drinks, and seating conversation areas.
Make sure to have plenty of seating, especially for eating.
Ways to break the ice and solve party small talk awkwardness.
Guests need a natural way to gather and chat without feeling awkward, especially at the beginning of a party or with people they don't know well.
The first two basics of entertaining actually help out in this department!
Food is a great way to engage in conversation with other people and makes a natural gathering place. It's an activity and something to talk about all in one. And there's a comfort level with standing around a counter (or the bar)—it's why everyone ends up in the kitchen at a party.
Drinks give a guest a prop to hold which helps relax the discomfort of small talk. And if the drink has a little somethin' somethin' in it, it helps guests relax that much faster. The first question to your guests should always be, "What would you like to drink?"
The seating should be arranged to encourage conversation in groups. Move chairs closer together and add folding chairs if needed.
A theme party will always lighten the guests' mood, and if they come in costume they're usually more fun, and it's just one more thing to talk about!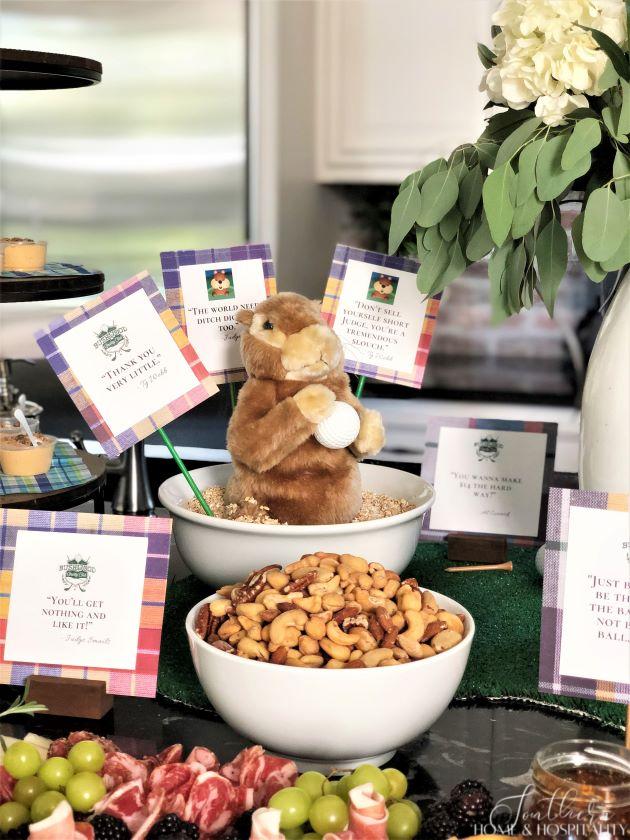 Other party activity ideas that give guests something to do and discuss:
Decorations that are interactive like party theme trivia signs or old photos to talk about
Photo backdrop or booth
For dinner parties, pull-apart Christmas crackers with jokes and little prizes inside
Games if appropriate; board games, yard games, trivia, charades, etc.
Karaoke microphone and Bluetooth speaker with music
A taste testing
Party Basic #4: Comfort
This last part of being a good hostess is anticipating guests' needs so they can fully enjoy themselves!
Designate a place to put belongings like purses and coats.
Prep the bathrooms. Guests will have a few minutes alone here and may inspect this room of your home closer than any other. So make sure to thoroughly clean them, and stock with toilet paper, nice hand soap, pretty hand towels or disposable guest towels, some "Poo-pourrie", and a scented candle. Or use a home stager trick and place original white unwrapped Ivory soap in a white bowl to make the bathroom smell clean and fresh. And always do a last-minute check to see if the toilet bowl is clean and flushed.
For more tips on making sure your home smells good, see the post, "How to Make Your House Smell Incredible: Real Estate Expert Secrets".
Make sure the temperature stays at a comfortable level. In our Texas climate, we have to pump the air conditioning down a couple of hours before the party to get ahead of all the body heat and opening doors. For an outdoor party in cool weather, you may want to have patio heaters, or some throw blankets handy.
Keep guests hydrated on the way home by placing a tub of bottled water by the door to pick up as they leave.
If your guests are staying the night, check out the post, "The Perfect Cozy Guest Room: Make Them Feel at Home with These Essentials".
Party essentials for entertaining at home.
Now that we've outlined and made simple the basics of putting together a get-together, let's talk about the basic pieces you should have in your core collection of entertaining items!
The good news is, you don't have to spend a lot of money to entertain at home. When you know the things to buy that you can use over and over, it saves money and storage space.
It may take a while to build out your entertaining supplies, but this list of pieces will give you direction and get you on your way. (If only I'd known all this a long time ago, I would have had a rockin' wedding registry full of things I actually use.)
Serveware.
Large platters; for turkeys, large entrees, or big quantities of appetizers
Mini bowls or ramekins; for dips, spreads, olives, nuts, etc.
Casserole dishes; for baked dishes or as another serving piece
Baskets; line them with a pretty colored napkin for bread and crackers, or turn them upside down and use them as lifts under serving pieces
The secret to serving ware ceramic pieces is basic white! White will never look dated, it goes with everything, it highlights the food, and it all coordinates, making everything look pulled together.
Dinnerware.
Since most of us realistically use plastic disposable dinnerware and utensils for a cocktail party, these essentials are more for the sit down dinner party:
Set of classic white dishes.
If you can only have one set of dishes, always choose white—for the same reasons we want to use white serving pieces. And you can always mix in different salad plates on top of a white dinner plate. If you entertain larger dinner parties, invest in a white dinnerware set with 10-12 place settings.
I finally found a set of everyday white dishes I love. See why in the post, "4 Reasons Why These Are the Best White Everyday Dishes".
Chargers.
A charger plate (or service plate) really frames the place settings. With finishes in everything from rattan, to gold, to metal, they can be used again and again for any style gathering. And if you use a charger, you don't necessarily need a placemat.
Utensils.
This one's kind of a duh!, (unless you eat with your hands). But it's nice to have enough matching utensils for dinner parties. Invest in a set with at least 10-12 place settings in classic silver, or gold so popular right now.
Wondering where all this goes as you're setting your dinner party table? This graphic from Pizzazzerie makes the proper table setting beautifully simple:
Glassware.
While we don't all have a lot of room to store every kind of glass, try and have each of these for entertaining:
And disposable cups come in almost any color to match your party theme!
For large gatherings, I like party sets of glassware. The cost per glass is low so there's no cringing when I hear the inevitable glass shatter. Ikea is also a great source for cheap glassware if you have one near you.
Linens.
Napkins.
For a sit down dinner, always use cloth napkins. I love these neutral linen napkins from Amazon because they go with everything.
For a cocktail party, it's fun to match the theme with disposable dinner napkins and cocktail napkins.
Tablecloth.
If you like to use a tablecloth, invest in a white one that's easily washable and doesn't wrinkle. I loved the ease of this polyester kind when I chaired hospitality luncheons.
Table runner.
A runner across the table or buffet is a good way to add texture, pattern, color, and to fill a tablescape out. For my extra long dining table, I invested in this neutral Pottery Barn runner that I'll be able to use for years, both daily and for parties.
Buffet supplies.
Here are a few items to help keep food warm:
Chafing racks. I don't ever use my nice ones anymore—they don't hold as much food and they're just one more thing to clean. I like the plain wire chafing racks that you put water and canned sterno underneath. You can even sometimes get them for free when you have a restaurant cater food and set it up for you.
Other good appliances to have to keep food warm are a nice looking crockpot, a warming tray, an electric buffet server, or if you entertain a lot and have the storage, these covered buffet chafing dishes will both heat and chill.
Bar supplies.
Here are the items you'll need for the bar:
And these are also nice to have:
Centerpiece supplies.
You don't need to overthink supplies to make a centerpiece. Here are some vases and vessels that I use over and over:
And don't forget the place card holders and candlesticks!
Want a unique, fun vase? See the post, "DIY Pineapple Vase for a Crazy Quick Stunning Centerpiece".
Party decorations.
Over the top decorating is not necessary to entertain at home, unless that's the way you roll.
There are plenty of inexpensive ways to add pops of the party theme. Try:
Inserting color with the napkins, disposable plates, and cups
Taking a trip to Dollar Tree for some low cost special touches
Use scrapbook paper or wrapping paper to lay underneath dishes on the buffet
Extra seating.
If you entertain large groups, a set or two of wood folding chairs is a great investment! I've found good deals on Amazon and at Ikea.
Speakers.
Music is a must-have for every party, so make sure you have it everywhere guests are hanging out. My gold standard is our Sonos system that we can add speakers to, including our newest addition, this Sonos Move speaker that we can put anywhere without plugging it in.
And someday I wouldn't mind having a Bluetooth speaker with a microphone for making speeches and singing a little karaoke.
But if those aren't in your budget an inexpensive Bluetooth speaker should definitely be part of your entertaining arsenal.
Parting tips for entertaining at home.
If needed, include how to dress in your invite
Enlist at least one other person to help you
Have disposable to-go containers if you want to send guests home with leftovers
If you're a party guest, don't show up with just a boring bottle of wine in hand. Up your hostess gift game with the ideas in the post, "Creative Wine and Alcohol Hostess Gifts".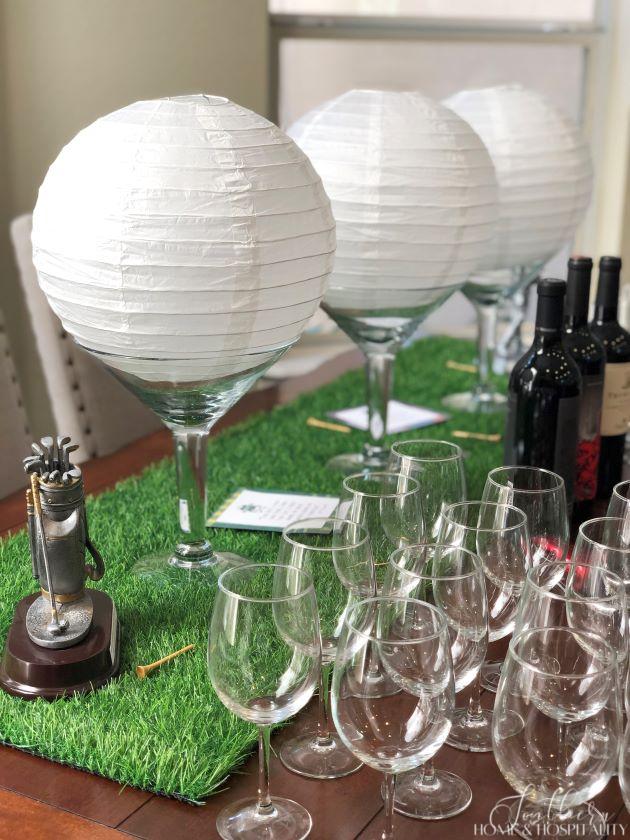 You're now ready to raise your hand to volunteer to host the next gathering, whether it be a birthday celebration, book club, or New Year's Eve blowout.!
With these hostess must-haves and entertaining basics, your lucky guest list is guaranteed a good time. They may even ask how you make it look so effortless…😉

Before you go:
As always, I appreciate your visit, comments, and shares here on the blog! I'd love it if you also follow along with me on Pinterest, Instagram, and Facebook so you won't miss any of my inspiration and ideas.
Don't forget to sign up for updates to keep in touch.
If you're not already a member of the SH&H family, I'd love to have you join me! You'll not only get email updates, but you'll have exclusive access to all the bonus materials in my free subscriber-only library, like this:
---
Pin it to remember it!
If you've enjoyed this post, please pin and share this on Pinterest:
Shop this post.
---