Inside: A super simple tutorial to make an unforgettable fresh pineapple vase. This fun DIY will brighten up your next party, summer gathering, or make the perfect hostess gift! ➡
Want to bring a bouquet of summer blossoms to a whole other level?
Nature made the pineapple, the very symbol of welcome and hospitality, in the shape of a vase.
With gorgeous texture and color. Perfect for a pool party. Or backyard barbecues. Or even as an unforgettable way to bring flowers to that "what do I give to" hostess with the most-est.
And this easy DIY only takes about 5 minutes and three things!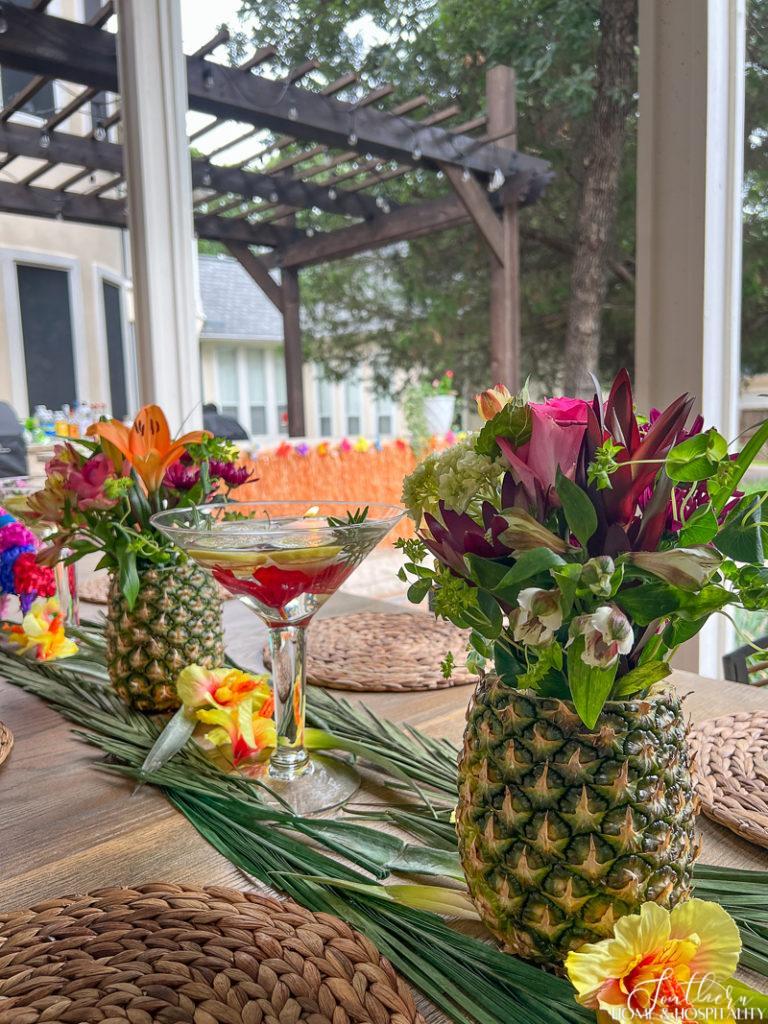 This post contains Amazon and other affiliate links for your convenience. As an Amazon Associate I earn from qualifying purchases. If you purchase something through any link, I may receive a small commission, at no extra charge to you. I only recommend products that I love or would purchase for myself. See my full disclosure here.
What do you need to make a pineapple vase?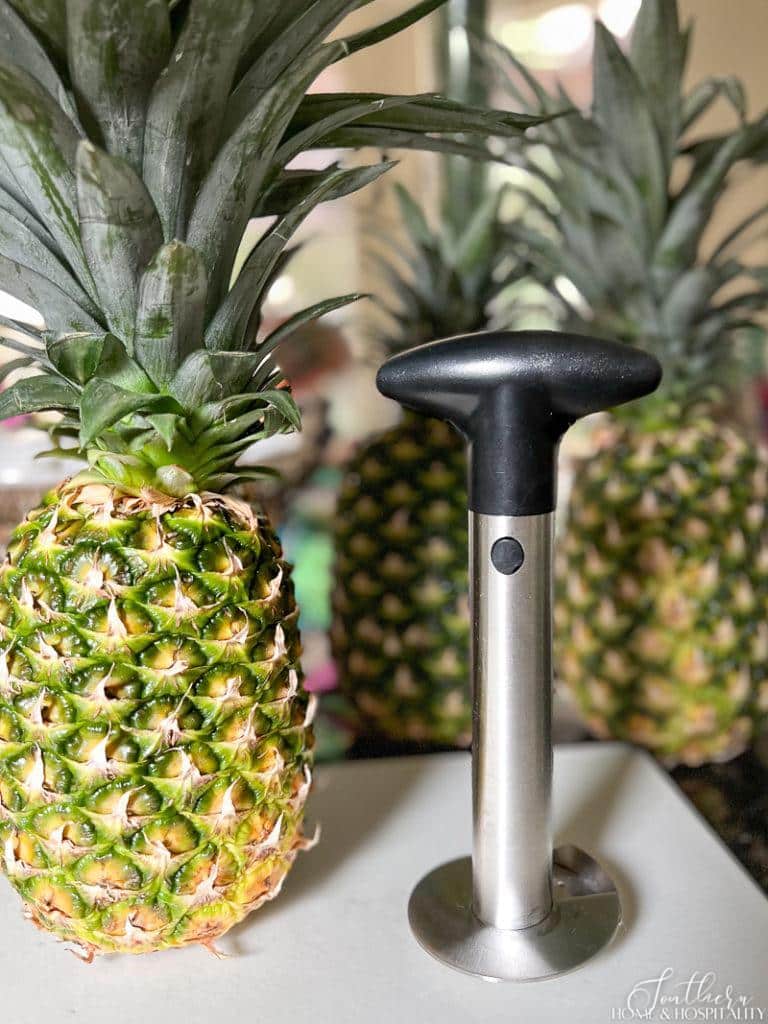 1. I'll let you in on the little secret to this easy DIY – a pineapple corer and slicer.
I can't believe I haven't had one in my kitchen tools until now. It's a game changer for removing fresh pineapple in seconds. And it's fun to use.
A pineapple vase in five minutes, instead of what would probably take half an hour. I'm in.
2. You'll need fresh pineapples of course. Look for ones that will stand up straight, and are tall enough to hold a small jar or cup for the flower water.
3. And a sharp knife to cut off the top of the pineapple. That's it!
How do you make a fresh pineapple vase?
Step One. Slice the top of the pineapple off. Save the leafy crown for a cute table or food platter decoration.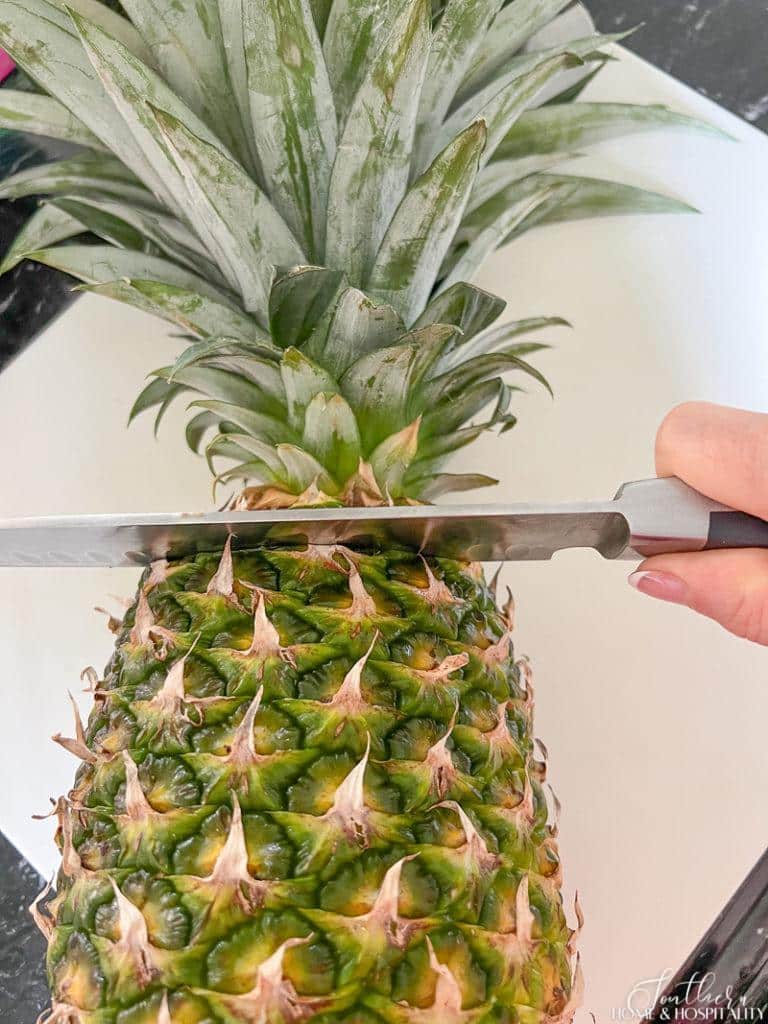 Step Two. Place the corer/slicer on top of the pineapple and turn clockwise. It will slice rings in a perfect circle all the way down as you turn.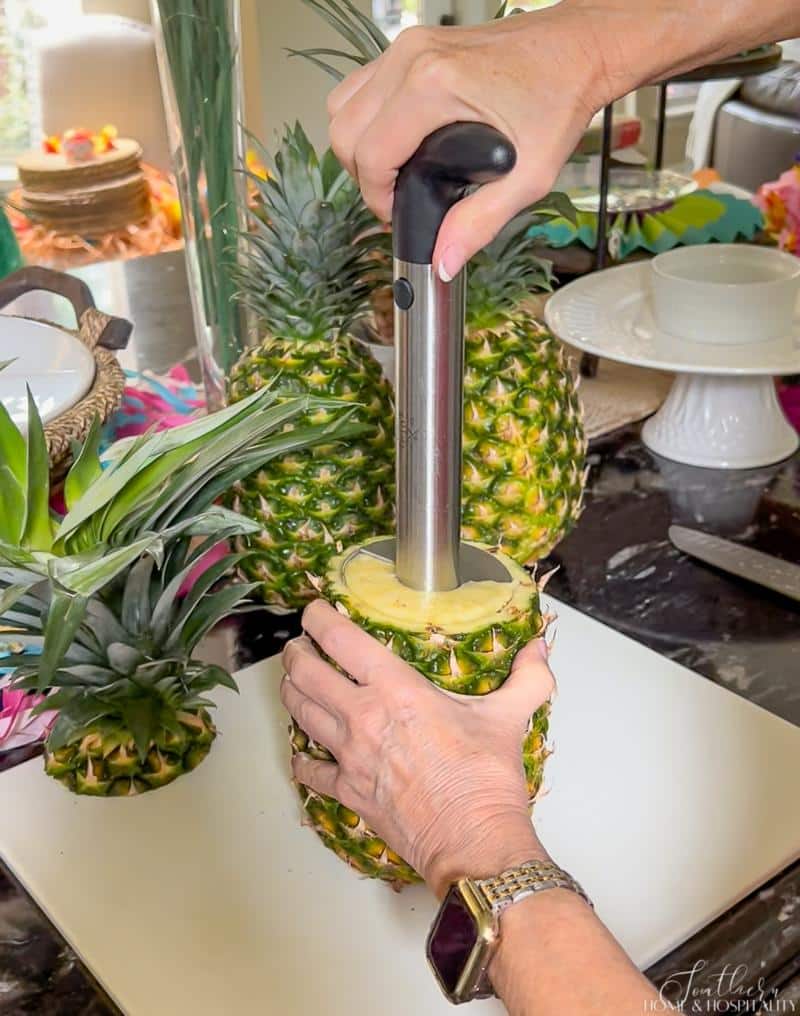 Step three. Once you get close to the bottom, pull up to remove the pineapple flesh. (Pull hard to get it started to release the suction)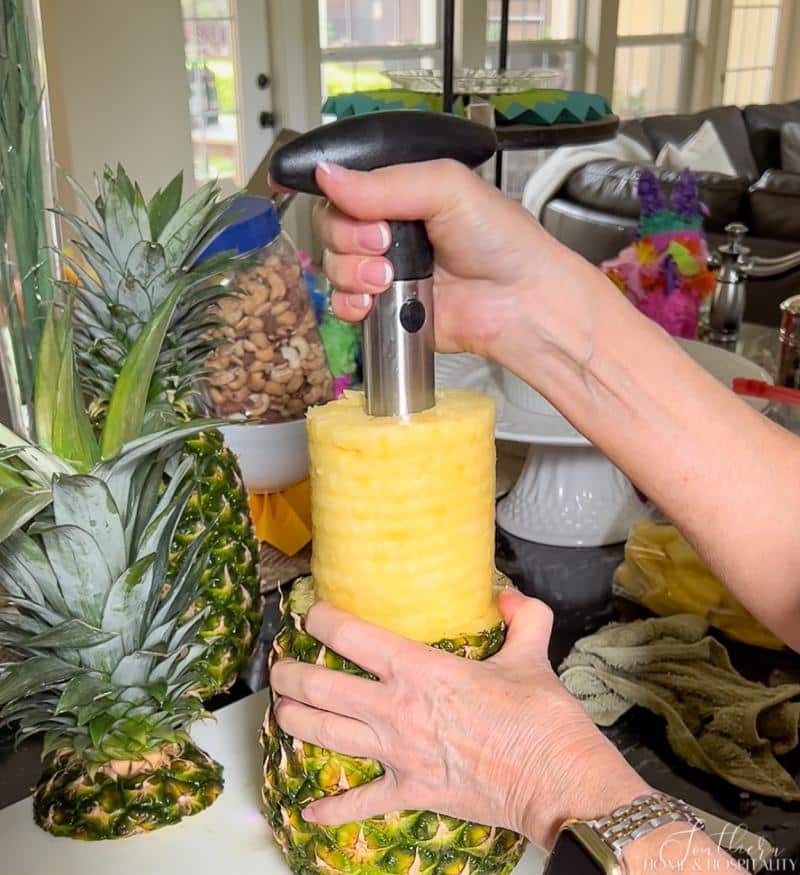 Step Four. To remove the core left inside of the pineapple, simply break it off the bottom of the pineapple. If it's stubborn, help it along by slicing the edges of the core base with the tip of a small paring knife while continuing to twist and move back and forth.
Step Five. And the vase is finished and ready for fresh flowers!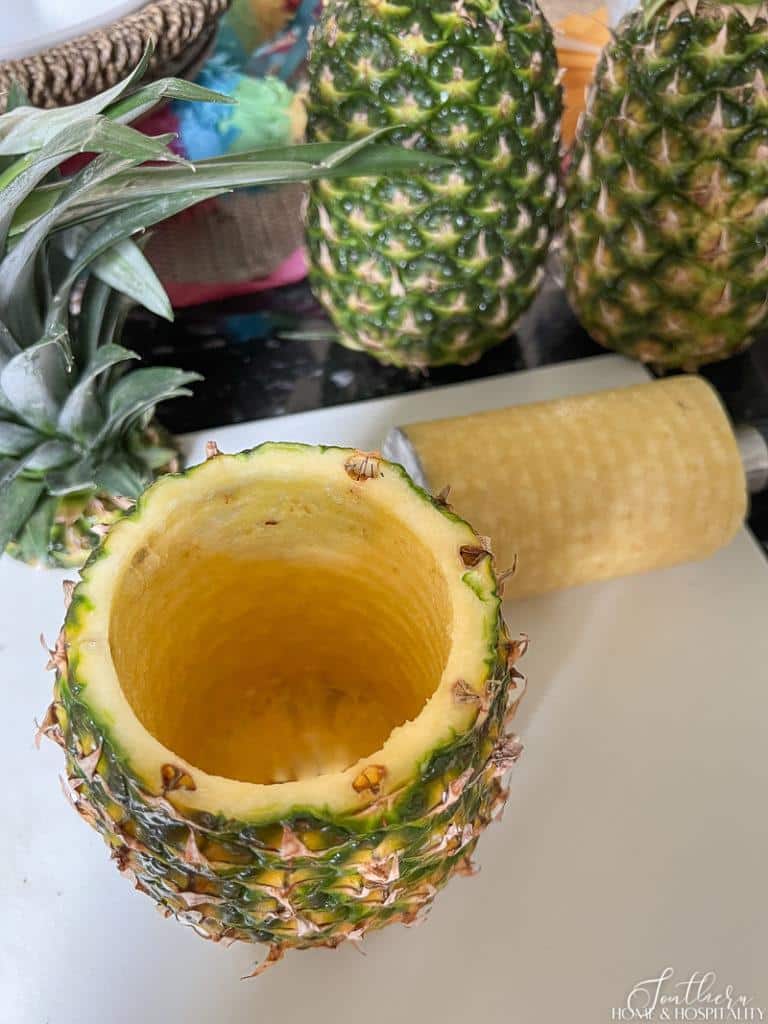 What to do with the pineapple slinky.
Don't let all of that juicy, delicious fresh pineapple go to waste only to make a vase! Eating it is really the BEST part in my opinion.
When you pull out the pineapple corer/slicer, you are left with a perfectly sliced coil of pineapple rings. Like a fruit slinky. Press the release button on the handle and slide off the coil. You can then slice it into rings or chunks.
Serve alone, on a fruit party platter, in a fruit salad, or make some chicken teriyaki.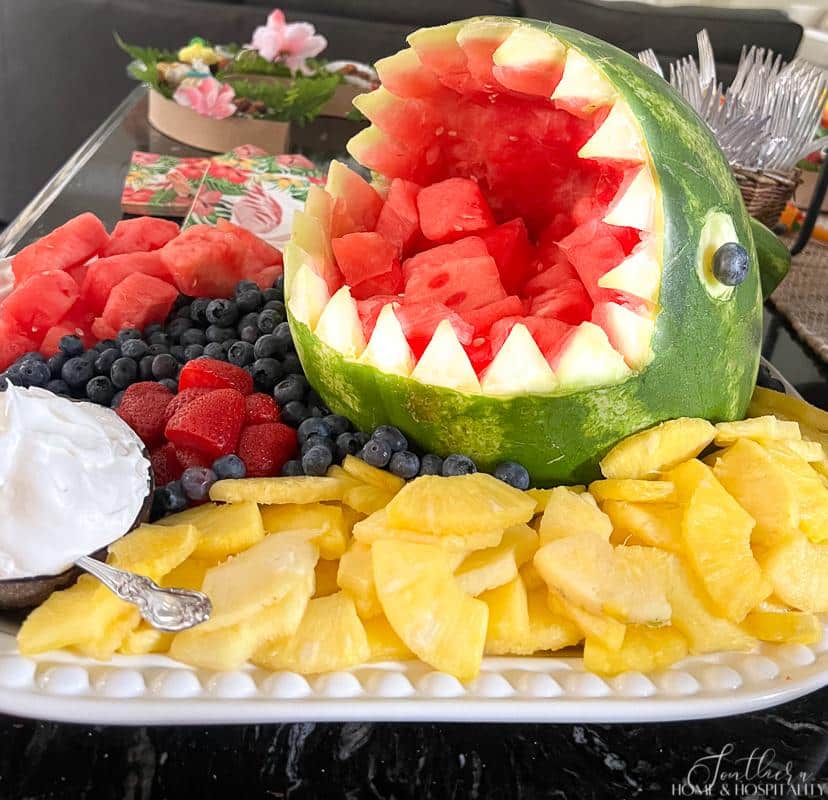 You can see how to make a watermelon shark here.
Fill the fruity vases.
Do pineapple vases hold water?
Honestly, I don't think you should trust it to hold water. And I'm not sure how it might affect the flowers.
Instead, place a small mason jar or a plastic cup inside to fill with water for your blooms. Or you can line it with plastic wrap or a plastic sandwich baggie. Or even a piece of wet floral foam.
I used a mason jar and a bouquet of flowers from Trader Joe's that I was able to split between two pineapple vases. They fit right into my tropical party theme and the bright colors of this tablescape.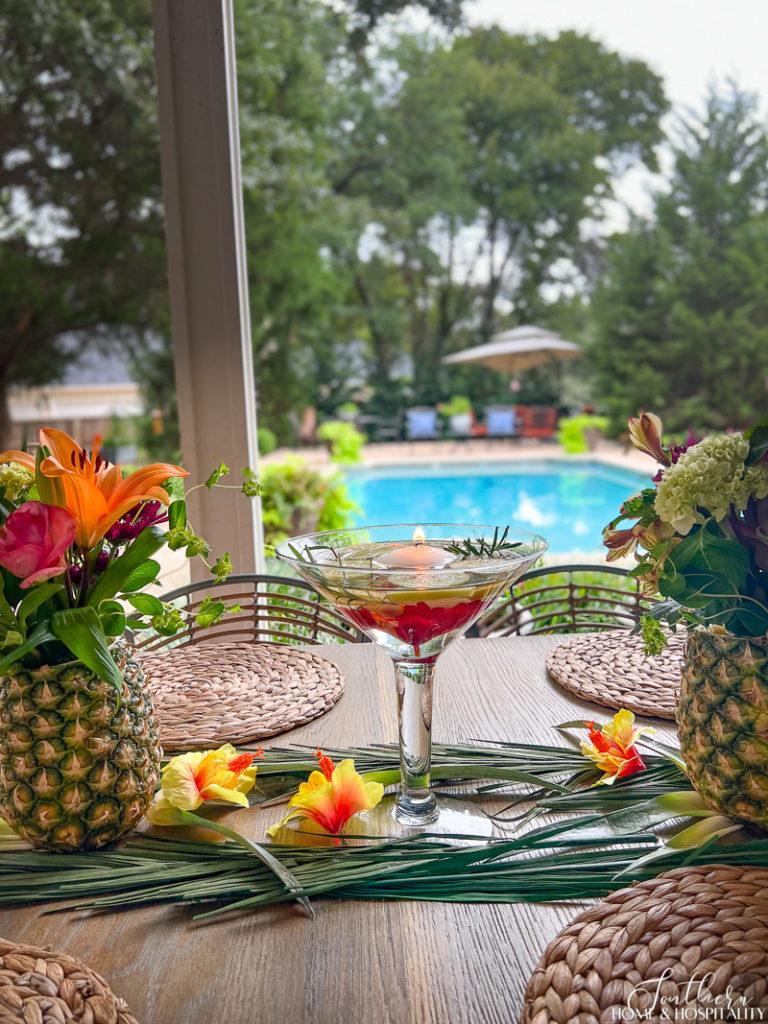 You can see how to throw the ultimate Margaritaville party or a summer, luau, or Havana Nights theme party here.
How to choose the best pineapple.
While an underripe pineapple is fine for only making a vase, you'll also want to enjoy the fruit. Here's what to look for for a ripe, juice pineapple:
The bottom should smell sweet and fruity
The rind should be firm but have a little bit of give when squeezed
It should have some light or medium yellow color
It should feel heavy for its size
How long do pineapple vases stay good?
I kept mine for several days. The vases lasted longer than the flowers!
Some tips to extend the life of your arrangement:
If you're prepping these for a party, keep them in the fridge until you need them.
Refill the jars with fresh water daily for the flowers.
If you're using the pineapple vases outside, only keep them out there during the event. They will rot faster and potentially attract bugs if you leave them outside.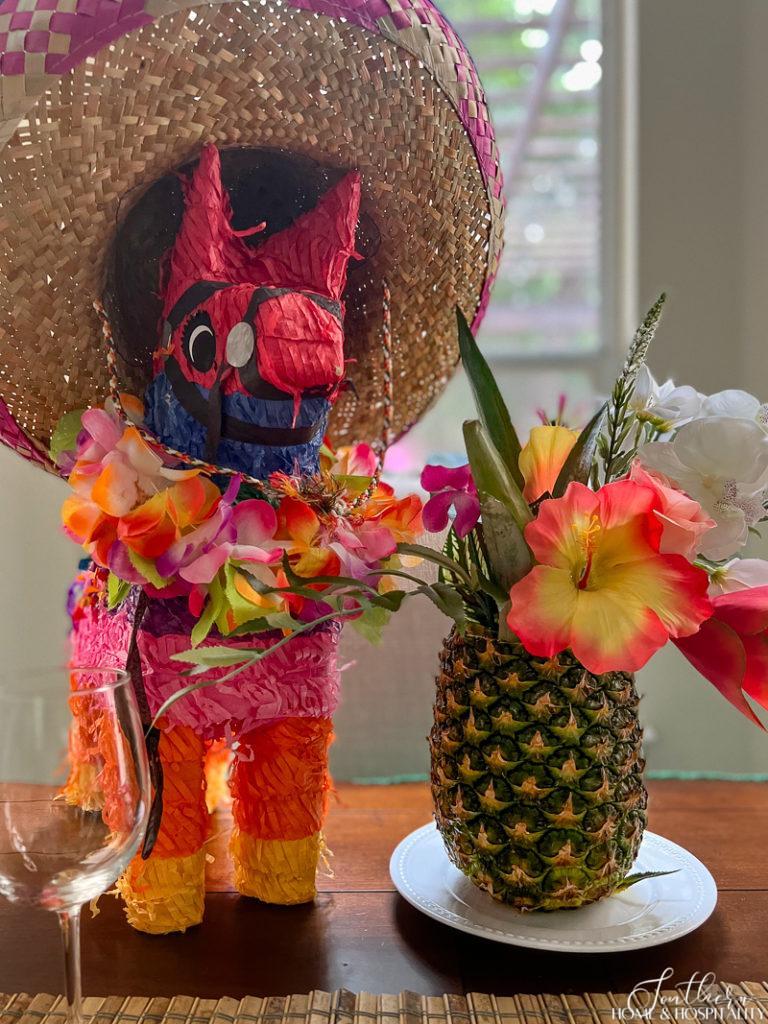 What if I don't have a pineapple corer?
You can remove the pineapple the old fashioned way but it will take longer. With the corer/slicer, it only took me maybe 15 seconds.
But if you want to cut it out yourself, cut down around the inside of the rind with a knife. Then slice a grid down through the middle of the pineapple flesh, taking care not to cut through the bottom. Pull out the large pieces of pineapple until the rind is empty. You can tidy it up with an ice cream scoop or pumpkin carving scoop.
More pineapple vase ideas:
Spray paint the pineapple vases gold for an elegant dinner centerpiece.
Make a multitude of pineapple centerpieces, and send each guest home with their very own special arrangement as party favors.
Use the leafy crowns to decorate a charcuterie board.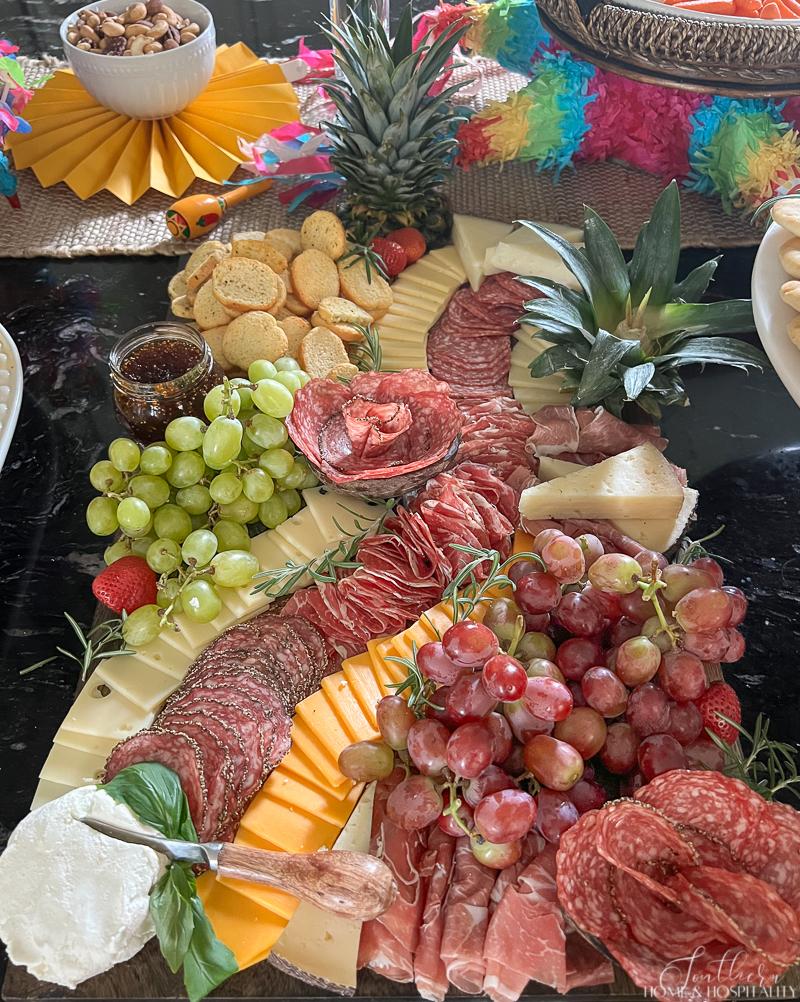 ---
This easy craft has big impact in little time. But they'll all think it took a lot longer. 😉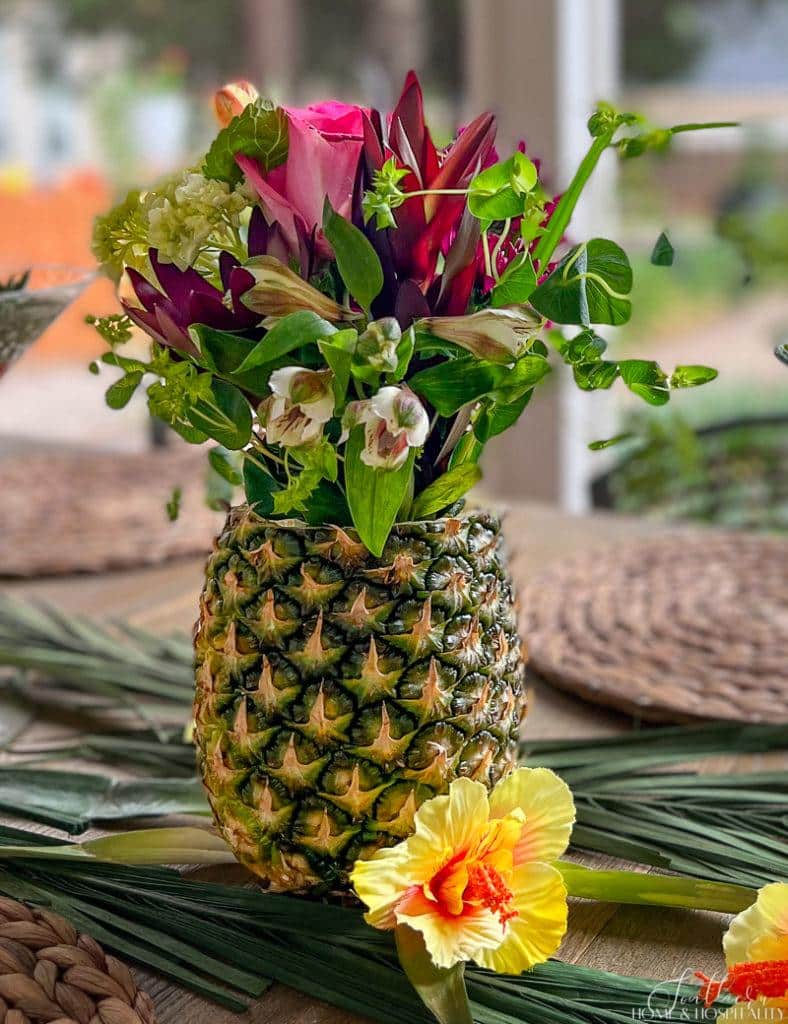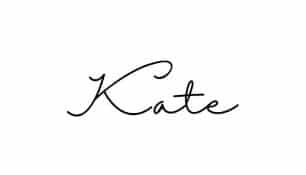 I have lots of fun and useful freebies you may be interested in in my subscriber-only library like my printable for a summer theme party signature drink menu!
Pin this to your party ideas board for later – just hover over the left upper corner: