Inside: How to make an easy, inexpensive, elegant wreath trio wall or door hanging that fills any vertical space beautifully. No crafting skills required! ➡
Don't you love the look of triple door wreaths?
I've always been infatuated with them when flipping through Christmas decorating catalogs.
But two problems – I have double front doors. And triple wreaths are pretty pricey.
But the idea was always filed in the back of my mind and when I had a narrow wall space to fill, those beautiful wreath trios were the inspiration.
Along with my love for white dishes.
This post contains Amazon and other affiliate links for your convenience. As an Amazon Associate I earn from qualifying purchases. If you purchase something through any link, I may receive a small commission, at no extra charge to you. I only recommend products that I love or would purchase for myself. See my full disclosure here.
I'll show you how a little DIY mashup of the two became this elegant, vintage, custom Christmas wall decor!
Even if you're not quite ready to deck your halls, November is a great time to craft and prep before things get too crazy. So I've joined a group of bloggers hosted by Marianne at Songbird to bring you some early holiday wreath crafts to inspire you and get you dreaming of Christmas! Make sure to scroll down to the bottom for all of the links.
How to make the triple wreath plate wall hanging.
I was at Hobby Lobby and I spotted all of these cute mini wreaths/candle rings:
I bought two different styles, knowing there were so many things I could do with them when I was decorating. At 50 percent off they were only $4 apiece.
Walking toward the checkout, I spied the display of plastic charger plates – on sale for $1.99.
They had two styles that look like scalloped white china. And they were the perfect size to frame a mini wreath to hang on the wall. So I had a plan to use some of the wreaths before I even got out of the store!
Supplies:
Three mini wreaths
Three lighweight, plastic charger plates
60″ of ribbon
Three ornaments
Command Strip Poster Tape or other two sided tape
Optional: Decorative hook to hang and jute rope
Tools:
Measuring tape
Scissors
Level
Optional: Hot glue gun to create top hanger, Floral wire or ornament hangers
Step 1: Measure the ribbon.
I laid it all out on a table to decide on my placement and how much ribbon I needed. I measured how much space I wanted between the chargers and above and below. These are the measurements I used:
6″ Top space and foldover allowance for hanger
13″ Plate
4″ Space between plates
13″ Plate
4″ Space between plates
13″ Plate
6″ Bottom space and dovetail allowance
59″ Total
Step 2: Cut the ribbon.
I cut off the total desired length. Then I dovetailed what would be the bottom by folding the end of the ribbon in half and cutting diagonally.
Optional: I wanted to make my ribbon extend above the top plate and hang from a hook, so I took a piece of thick jute and hot glued it to the ribbon on each side. Then I ran a strip of hot glue along the top of the ribbon and folded it over. (If I had to do it again, I would bring the jute all the way across so the top would hang nicer.)
If you wanted to skip this, you can end your ribbon behind the top plate and attach it to the wall with poster tape or a thumbtack.
Step 3: Hang the ribbon on the wall.
I hung my ribbon up and made sure it was level. When it was, I kept it in place and smooth with a couple of pieces of Command poster tape. Then I made tiny pencil marks on the wall to measure out the placement of the chargers.
Step 4: Apply the Command Picture Hanging Strips to the chargers and the wall.
Since these "plates" are plastic and so lightweight, these velcro picture hanging strips make them so easy to hang! First I pressed two strips together to join them. I peeled the paper off one side of the strip and adhered it to the left side of the plate. Then I repeated on the right side of the plate. I made sure to place them far enough apart on the charger so the ribbon would easily fit between.
Then I peeled off the other side of the adhesive and pressed the plate to the wall really well over the ribbon in the position I premarked. I slowly and carefully pulled the charger back off, separating the velcro pieces and leaving the back side of the strips on the wall and the front sides on the plate.
I pressed on the wall strips for about 30 seconds to make sure they were well adhered. Next, I repeated with the other two chargers.
I waited an hour before hanging the plates back up as the directions instructed. In the meantime, I readied the wreaths.
Step 5: Attach the ornaments to the wreaths.
I chose these silver bells that came in a set of three also at Hobby Lobby. (I wiped a bit of black craft paint on them to give them a more "aged" look.)
They came with a white chiffon hanger that I thought was pretty with the wreaths, so to attach the ornaments I cut apart the hanger and tied it around the wreath as close to the frame as I could. I used some similar ribbon I had and made a new bow.
I had planned to attach them with green floral wire ornament hangers, so that is another option if you can't use the ornament's hanger.
Step 6: Apply hooks for the wreaths.
To hang the wreaths on the chargers, I stuck these Command small wire hooks at the top of each charger like this:
Step 7: Hang the plates and wreaths.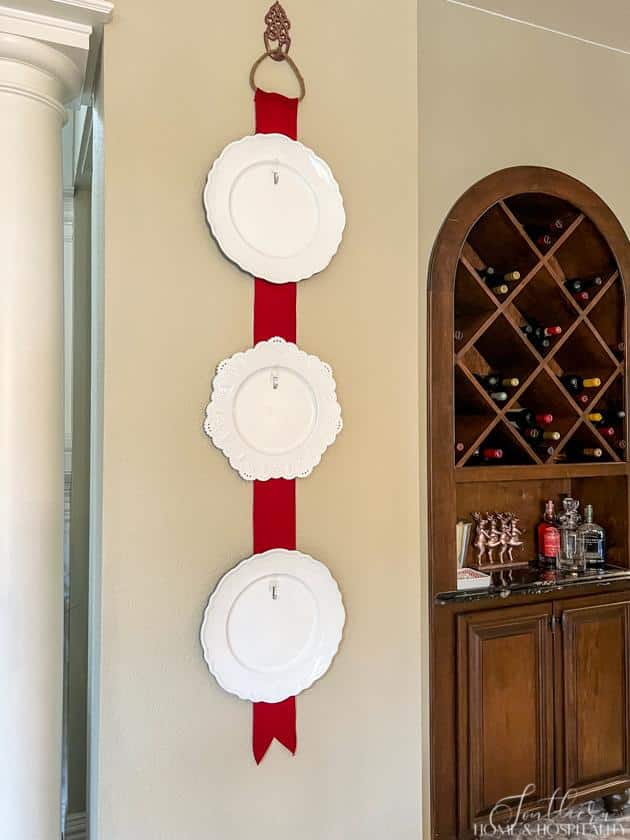 After letting the wall strips sit for an hour, it was time to put the plates back. Making sure I had the correct plate, I lined up the strips and pressed each plate back into place. You can feel the velcro of the strips hooking back together as you press.
I finished by hanging each wreath on a plate. I made adjustments to the ornament placing and did some final fluffing to the wreaths.
And it was done – craft complete!
It fills this space in my dining room area perfectly. And hanging the plates this way created the illusion that they were all hanging from a single ribbon.

---
You can see it in the tour of my Christmas living room here and dining room here.
I chose the materials that would fit into my French and vintage inspired classic Christmas decor.
But you could create so many looks with this craft, depending on your ornaments, ribbon, and wreaths. I would love to see your take on this in the comments if you try it!
Happy Holiday Crafting,

Don't forget to sign up for updates to keep in touch…I have lots of fun and useful freebies you may be interested in in my subscriber-only library like my cheat sheets for where to place lighting, bathroom fixtures, artwork, and furniture!
6 STUNNING DIY CHRISTMAS WREATH IDEAS

Stylish Tobacco Basket Christmas Wreath by SONGBIRD

DIY Macrame Christmas Wreath Idea by HARBOUR BREEZE

Three Wreath Christmas Wall Decor made by SOUTHERN HOME AND HOSPITALITY

Pastel Ornaments Christmas Wreath by OUR CRAFTY MOM

Simple Christmas Wreath with Vintage Ornaments by SONYA BURGESS

Front Door Christmas Wreath by A LOVERLY LIFE