Christmas Southern Porch Ideas and Inspiration
Inside: Looking for easy Christmas porch ideas for a welcoming entryway? Tour my outdoor Christmas decor for this season and find out what every southern porch should have to be decked out for the holidays! ➡
Don't you love a welcoming holiday porch?
I find myself checking out what all the different homes do with this all important first-impression space as I drive by this time of year.
That's why I'm so excited about today's blog hop where I'm joining ten talented bloggers to share our love of Christmas porches! You'll find the full Christmas porch tour lineup with lots of ideas at the end of this post (no driving around in the car required!)
One of the things that hooked me the first time I ever saw our home was its southern-style facade and all of the balconies and french doors. They just beg to be decorated at Christmas! So the tour won't be confined to the porch but we'll look at the rest of the front of the house as well.
So come on up and let's get started!
This post contains Amazon and other affiliate links for your convenience. As an Amazon Associate I earn from qualifying purchases. If you purchase something through any link, I may receive a small commission, at no extra charge to you. I only recommend products that I love or would purchase for myself. See my full disclosure here.
The Christmas front porch decor.
Since this is a porch tour, let's begin there. And while we're at it, let's talk about all of the things southern porches have in common at Christmas!
Every southern porch decorated for the holidays requires a few of these necessities so I've made sure to include them on mine:
Rockers.
You'll always see a place to sit and stay a spell on a southern porch. And for the holidays it's easy to make rockers on each end of the porch even more inviting with some Christmas pillows.
And if there are no rockers, there's sure to be a bench or a porch swing. Like my bench on this small covered porch in the side yard.
Greenery in magnolia and pine.
Decorating my festive front porch for Christmas was all about greenery and natural elements. I included fresh cedar and magnolia from the yard and some faux pine, pine cones and other winter greens from my stash.
I tucked the live greenery along with cut-apart stems of faux into baskets along the porch. How easy and cheap is that? I even dressed up the large lantern by the door with magnolia. The fresh greenery seems to last a lot longer outside – I haven't had to replace any of it yet.
Lanterns.
And speaking of lanterns, you'll hardly see any porch decorated for Christmas without one, much less a southern porch.
I placed a small red lantern at the center of this basket arrangement.
And the large one by the door with the magnolia sprigs.
A few Christmas trees.
If there's room, you'll almost always see at least one Christmas tree on a southern porch, sometimes even full-sized ones. My porch is shallow so that's not an option but I still worked in three mini trees!
I balanced out the large lantern on the other side of the front door with this Christmas tree. I've had it for years so I don't mind putting it outside on the porch. I spruced it up with some greenery and red berry picks and made it appear frostier with a spray of white paint.
In the concrete bowls that flank the entrance, I "planted" two faux topiaries. I attached red shatterproof ball ornaments and they got the same frosty look as the other tree to tie them all together.
The balconies and french doors.
Our Christmas decorating doesn't end on the front porch. All those balconies and french doors that I mentioned earlier needed dressing up with some holiday cheer too!
On each door hangs a lighted wreath. I love the symmetry it creates on our very symmetrical house front.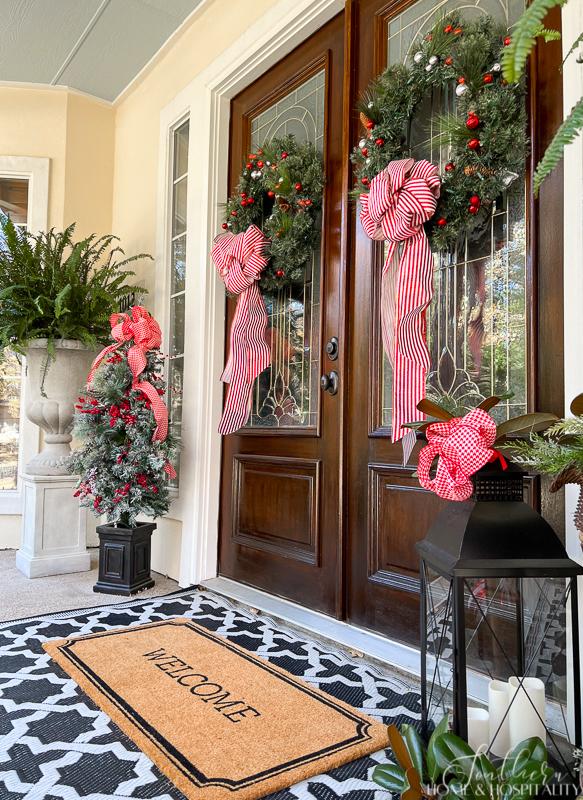 All of the wreaths are decorated with red and silver ornaments and red and white bows. The same red and white Christmas color scheme at our home's entrance carries all the way into the house so it's a preview of our Christmas decor before you ever open the door!
The French doors wreaths each have their own classic red bows.
I also added a matching wreath this year way up top on the widow's walk balcony.
The second story balcony has a Christmas VIP! Santa is always a hit with neighborhood kids and really for the adults as well. It makes me feel good when I see cars slow down to check him out, knowing our decorations are delivering the spirit of Christmas!
The balconies on the house are so holiday decorating friendly because we can also hang our lights from here. No ladders! So let's talk about the Christmas lights:
The lights.
We'll finish the tour further back from the porch. We have a short iron fence that surrounds the front yard and we live on a corner. So we're easily able to stretch our holiday lighting around the whole front yard by hanging strands of icicle lights on the fence. Lots of impact and holiday glow without too much effort!
We hang more icicle string lights with zip ties from the second story and even third story balconies:
And finish off our lighting with alternating red and white bulb lights outlining the front flower bed, carrying out our red and white theme.
(On my list of projects for next year is to learn how to take good pictures of outdoor Christmas lights! These nighttime photos definitely don't give me the same feel that they give in person.)
This porch post is just one of several I've put together for our holiday home tour. I'd love to show you around the rest! If you missed any of the others so far I hope you'll check them out too before you go:
And also the last stop of my holiday home tour, the red and white dining room.
---
I hope you found some ideas from our southern Christmas porch tour and that it put you in a festive mood to decorate the front of your home, wherever it is!
Happy Holidays,

As always, I appreciate your visit, comments, and shares here on the blog! I'd love it if you also follow along with me on Pinterest, Instagram, and Facebook so you won't miss any of my inspiration and ideas.
Don't forget to sign up for updates to keep in touch…I have lots of fun and useful freebies you may be interested in in my subscriber-only library like my cheat sheets for where to place lighting, bathroom fixtures, artwork, and furniture!
Now on with the tour!
I can't wait to check out all of the oh-so-welcoming and charming porches on our tour, hosted by Amy at Atta Girl Says!!