Classic Red and White Classic Christmas Living Room Tour
Inside: A Christmas home tour of our southern traditional living room decorated with classic and vintage elements in merry red and white! ➡
The holiday season is about tradition. And nostalgia. And it's the season of light.
When I decorated the living room this year, all of this came together with this Christmas red and white color palette. And it suddenly said to me, "comfort and joy".
Today, let's meet up in my living room and I'll show how using red and white brought this classic Christmas feel!
The "comfort" part came with using vintage-inspired decorations and of course, items from many past Christmases that have become sentimental over the years. And the crimson and cranberry reds I used have more of a vintage, nostalgic feel than a bright Christmas red.
And the "joy" part was created with the sparkle of white and silver. This red and white color combination to me just says light and life!
My living room is just one stop on the "Celebrating Christmas" Home Tour. If you've come over from Worthing Court, welcome! Suzy's dining room looks so lovely with its elegant burgundy and gold combination for Christmas, doesn't it? Make sure and peek into all of these creative ladies' homes through the links at the bottom of this post.
This post contains Amazon and other affiliate links for your convenience. As an Amazon Associate I earn from qualifying purchases. If you purchase something through any link, I may receive a small commission, at no extra charge to you. I only recommend products that I love or would purchase for myself. See my full disclosure here.
Red and white Christmas living room decor.
I've used the same color combination in the living room, dining room, kitchen, and family room. It not only creates an easy flow, but the colors just bring the "merry and bright" Christmas cheer throughout our living spaces.
The family red and white Christmas tree.
The tree becomes the centerpiece of the living room in December and it's what greets you head-on when you walk in our front door.
Our tree doesn't have a master plan with coordinated décor all bought at the same time.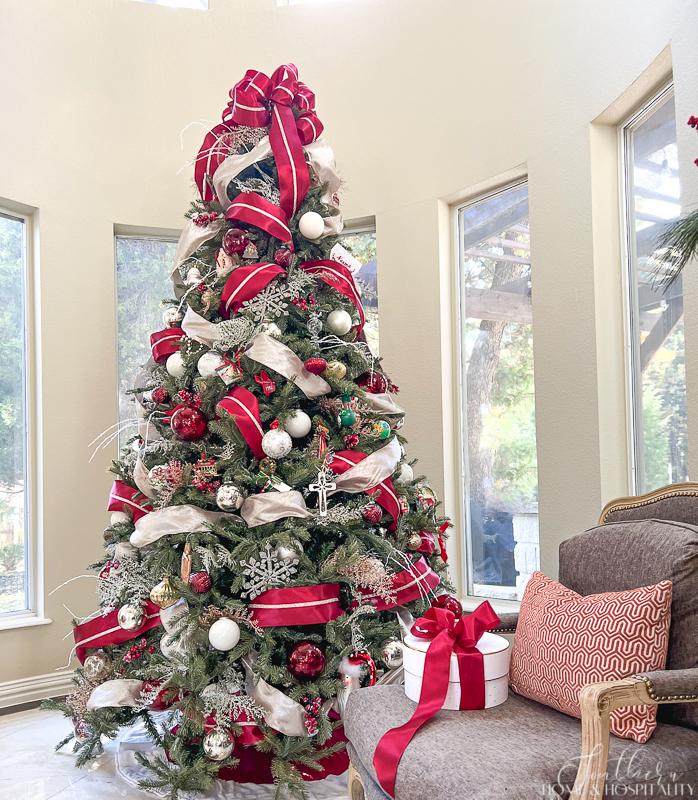 Just like the decor and furniture in my house, this tree is the product of curating and collecting bits and pieces of Christmas ornaments and fillers and just things that I like over the years.
It's not trendy nor is it a perfectly styled showroom tree. Yes, I am a huge fan of those. I just don't have one. Yet.
At first glance, you might expect to see one of those coordinated trees because my base of ribbon and ball ornaments does have a color theme.
But on further inspection, you'll see this tree is a "scrapbook" filled with memories of Christmas past for our family.
To start with this red and white color scheme I hung lots of classic red ornaments that I already had.
New this year was a large set of silver and white ornaments that will go with all my future color combos (thinking ahead!) I brought in more crimson red, silver, white, and champagne with ribbon.
You can see how I put ribbon on the tree the easy way here.
And a tree topper bow in the same crimson red ribbons and a few more picks at the top:
I could change the whole look of the tree just by changing these base elements!
After all of this was in place, I tucked in the special ornaments, each holding a memory.
I tend to get a little choked up during this part of decorating the tree. But it always gets me in the Christmas spirit.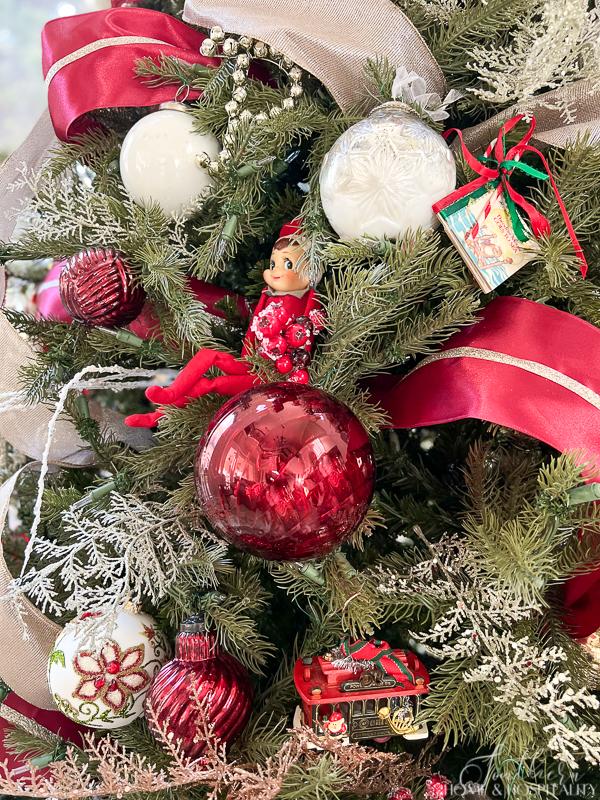 That's an OG elf on the shelf sitting in the tree – circa 1960's and was my husband's ornament as a child. Each of the four boys had one.
I draped a cozy white blanket on the sofa because one of the most peaceful things this time of year is to sit in here at night when the Christmas tree lights are aglow.
The red and white Christmas mantel.
Moving onto the rest of the room, I loaded the fireplace mantel with greenery of different kinds. I layered three garlands together that are fairly realistic for faux.
It's one of my favorite Christmas decorating hacks to create a lush, full, expensive looking garland, but much cheaper and more custom! (See more holiday hacks here.)
And I added picks of berries to it in crimson and cream to bring in this year's colors.
The pine, cedar and fir garland winds around these angels and grapevine trees:
The mantel is the perfect place for this trio of musical angels. I bought them about thirty years ago when we lived in Louisiana so they've become a bit sentimental (just like the ornaments) because they've been out at so many Christmases!
I hung our velvet red and white stockings in the living room this Christmas season. They are the exact shade of vintage yet cheery traditional red that I love.
I hung a couple on each end with a piece of the champagne gold ribbon from the tree:
The coffee table Christmas vignette.
The last area dressed for Christmas in the living room is the coffee table. I placed just a couple of simple decorations on the table to echo the red and white color theme.
Two oversized mercury glass ornaments are tied with some cranberry ribbon from the staircase: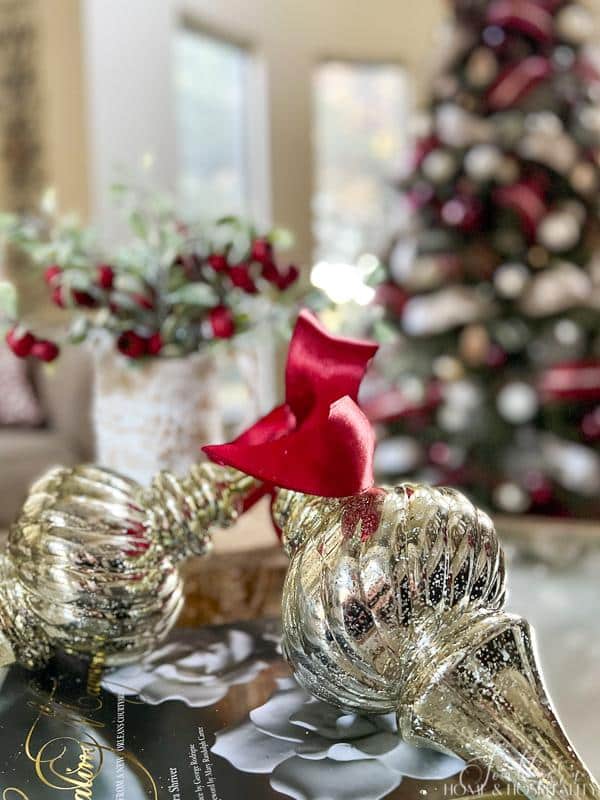 And the antique pitcher is filled with more of the frosted berry stems like in the mantel garland. I couldn't pass up these pretties this year at Decorator's Warehouse because of their deep gorgeous red color and sparkly light frosted leaves!
---
Thank you for taking the tour of our living room with me – I hope you found a bit of holiday cheer and decorating inspiration for your own home!
If you missed any of the rest of my holiday home tour, you can catch up here:
Have a Very Merry Christmas,

As always, I appreciate your visit, comments, and shares here on the blog! I'd love it if you also follow along with me on Pinterest, Instagram, and Facebook so you won't miss any of my inspiration and ideas.
Don't forget to sign up for updates to keep in touch…I have lots of fun and useful freebies you may be interested in in my subscriber-only library like my cheat sheets for where to place lighting, bathroom fixtures, artwork, and furniture!
Let's keep touring!
But to continue on the Celebrating Christmas Home Tour of talented bloggers hosted by Leen (thanks for organizing us!) at Sand Dollar Lane, head to Virginia Sweet Pea for a look at Paula's charming southern Christmas decor. And make sure you visit all of the other homes on the tour for lots and lots of Christmas decorating motivation, inspiration, and ideas!