Inside: If you've been putting off decorating for Christmas, wait no longer. Today, I'm sharing my best tips for Christmas decorating that will make decking the halls easier and more enjoyable! ⟹
Many of us see the day after Thanksgiving as the official kickoff of the Christmas season. Heck, even some of us holiday "enthusiasts" have been decorated for a month (don't judge).
If you plan to start your holiday decorating now, I'd like to share my favorite tips that make decking the halls so much easier!
Over my 35+ years of Christmas decorating, and through lots of trial and error, frustration, and fallen decorations I'm always on the lookout for ways to improve the way I put up my decorations! I'm always pretty physically exhausted by the third day (yes it takes me at least several days) so anything that helps me save energy I'm all over.
There's a mix of products, tools, and decorating hacks that I swear by as I've learned them.
As the song says, "these are a few of my favorite things…"
Handy Christmas Hanging Supplies:
Command hooks.
Command hooks are invaluable for anything you want to hang and one of the best inventions ever in my opinion! Here are a few ways to use them to hang Christmas decor:
To hang garlands. This is one of my favorite tips! On the fireplace mantel I attach the hook facing toward the wall on each side and lay the garland behind it, making sure it catches a good sturdy branch.
To hang wreaths. You can hang the wreaths directly on the hooks, Or from a pretty ribbon. Or even place a command hook upside down on the inside of a door and attach a ribbon over the door to hang the wreath on the other side!
To hang stockings. By the chimney with care…
These command hooks are excellent for hanging wreaths and garlands. And these smaller hooks are great for lights and smaller Christmas decor.
Command picture velcro hangers and Command poster tape are also super handy to keep things in place! I used the velcro picture hangers to create the illusion that these plates were hanging on the ribbon, but they are actually on the wall.
See how I made this easy triple wreath wall hanging!
Zip ties.
Another awesome, non-damaging tool. I use zip ties in so many ways at Christmas!
To attach garland to the staircase banister. The zip ties do the heavy lifting and let the ribbon take the credit.
To attach the tree topper bow to the tree.
To hang the icicle lights from our iron fencing outside.
To hang wreaths from our iron fencing and gate.
Floral Wire.
Another essential for Christmas decorating. I use it to…
Hang ornaments on the tree. To achieve that professionally decorated tree look, attach the ornaments with floral wire right up next to the branch, rather than letting them hang by a string or ribbon. You can control the position of the ornament more easily. I usually use ornament hooks made with floral wire and wrap those around the branch…saves time cutting floral wire!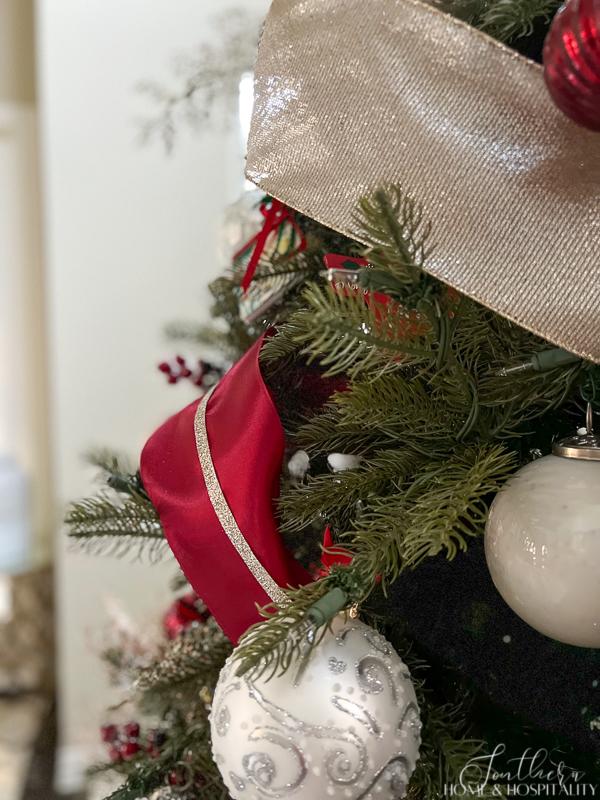 Hot Glue Gun.
To hang garland on brick. Do you ever wonder how people are hanging those beautiful garlands around their front entrances? It's not magic or fairytale mice. Hanging Command hooks with hot glue applied to the bricks is a great hack! The glue easily peels off of the brick when you are done.
To fix the inevitable broken decor. I always find myself having to glue things back every year, especially ornament ball tops that pop off.
Helpful decorating hacks.
And here are a few tips for decorating itself…
Layer different garlands together for a custom, expensive, professional look. Using a skinny, cheaper, nonrealistic garland with the bendable branches makes a great base for other garlands because you can use those bendable branches to help hold the other garlands and even the whole thing in place where you want to hang it.
I layered in picks on my staircase garland instead of layering different garlands together but it's the same concept. I started with a basic skinny, puny garland and instead of adding other garlands in this instance, I filled it in with lots of picks of different greenery. You can see the before and after on the left and right hand sides. (Sorry for the shadowy photo. Night decorating does not make for good pictures.)
Double up wreaths to make them appear fuller and more expensive. You can use an old, seen-better-days wreath on the bottom or even a cheap skinny one from the dollar store.
Make your own wide designer ribbon. Wide ribbon can sometimes be expensive or hard to find in the color you want. You can make your own custom ribbon by hot gluing two 2 1/2″ width ribbons together and covering the seam with a narrow ribbon:
Stick to a single style and color palette throughout your home for your Christmas decor.
Focus on decorating just a few key areas…the Christmas tree, the entry, the fireplace mantel, and any other focal points. You will be surprised how full of decor your house feels, even though you may be using less!
Put your tree topper bow on the top section before you insert it into the tree. I don't know about you, but I have a lot of trouble getting it attached and centered if I put it on the tree afterward. I fluff and make adjustments once the top is in the tree.
To put ribbon on your tree, cut it into manageable pieces. You can see this easy method in this post.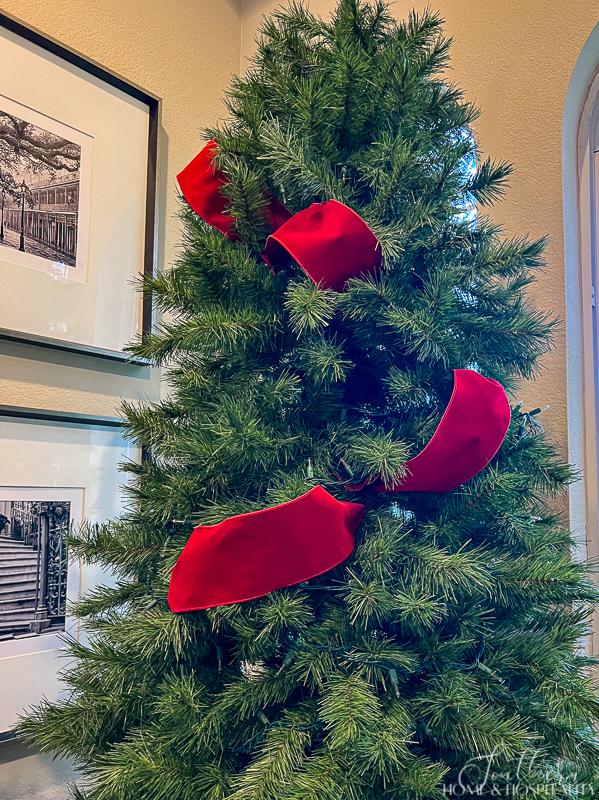 And maybe the most important tip? Don't suck the joy out of Christmas by overdoing decorating so much that you can't enjoy it!
I hope at least one of these tips I've shared will help you while you make your house merry this year. What did I miss? I'm always on the lookout for ways to make decorating better and more efficient. What are some of your favorite hacks? Share in the comments!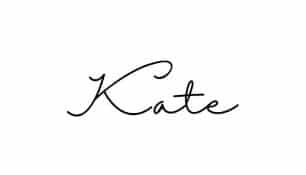 As always, I appreciate your visit, comments, and shares here on the blog! I'd love it if you also follow along with me on Pinterest, Instagram, and Facebook so you won't miss any of my inspiration and ideas.
Don't forget to sign up for updates to keep in touch…I have lots of fun and useful freebies you may be interested in in my subscriber-only library like my cheat sheets for where to place lighting, bathroom fixtures, artwork, and furniture!
Pin this for reference later: