I'm sharing seven creative ways to up your hostess gift game from just the ho-hum standard wine and alcohol! ⟹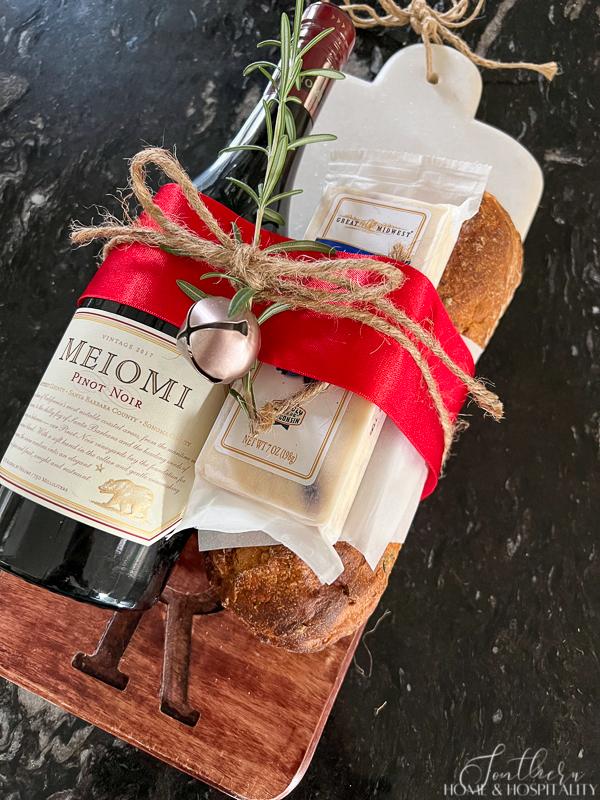 The beginning of December through Christmas day seems like a whirlwind…
The decorating. The shopping. The family activities.
It's just nonstop things to do.
And it's also the beginning of holiday party season! It's stressful to find the time to deal with what to take when you're invited to a holiday get-together, especially if you don't know the host well.
I've found gifting alcohol to be the simplest solution that is appropriate for almost any kind of holiday party (as long as you know the host or hostess partakes!) You can tailor it to their tastes and it's something they can use instead of a tchotchke they probably don't want.
It's fitting for almost any gathering… like a girlfriends gift exchange, a dinner at someone's house, or a holiday open house.
But showing up with a plain bottle of wine is not very exciting, and let's be honest, it comes off as a little generic and impersonal. Sometimes I like to make it more like a "gift", especially during the holidays.
There are so many creative ways to elevate wine and other alcohol as a gift and I've come up with SEVEN for you!
Let's start with three for the hostess:
Prosecco in pretty bottles with champagne flutes.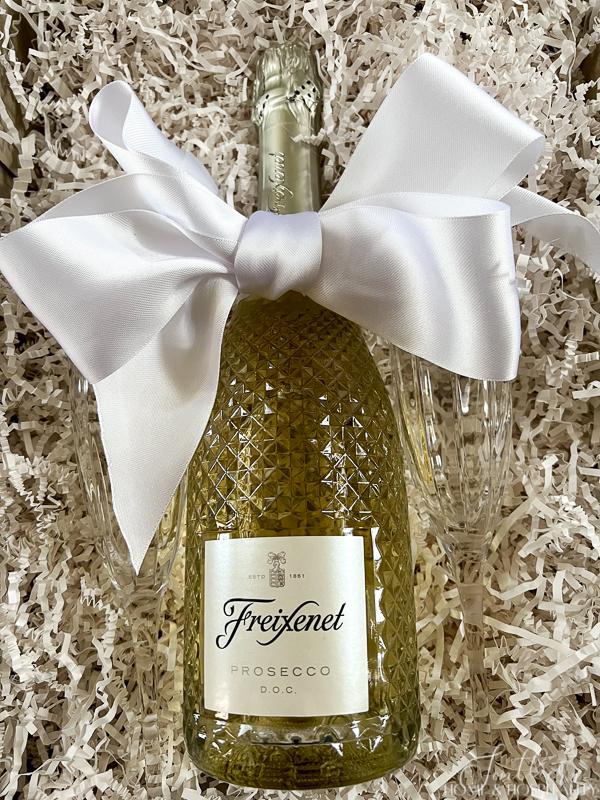 The bottles that Prosecco and champagne come in now are simply beautiful on their own! And most of my friends always appreciate a bottle of bubbly. This brand's bottle is one of my favorites to gift. This bottle with all of its facets would look beautiful with fairy lights inside after it is empty! And it's under $20.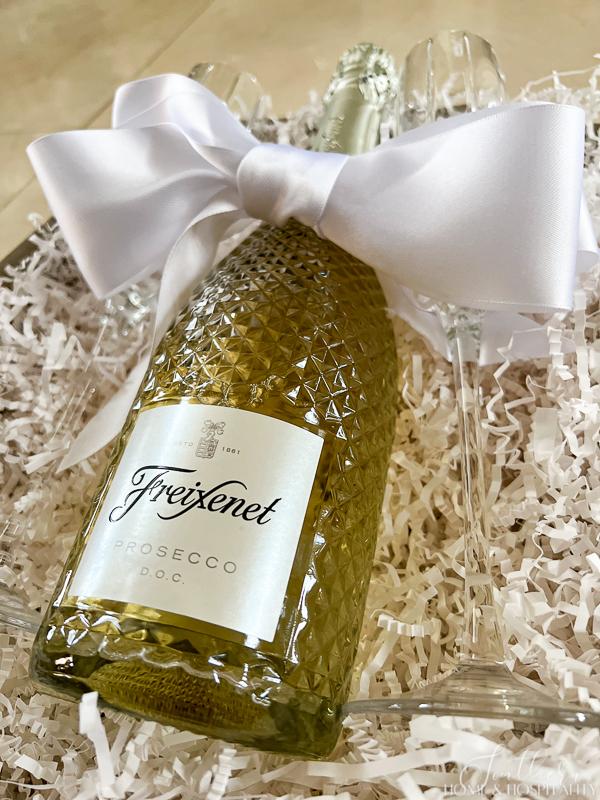 I tie a pretty bow on it and usually pick up a pair of rhinestone encrusted champagne flutes at Homegoods to go with it. It makes such a beautiful hostess gift. I had to sub in plain flutes for photo purposes but the blingy glasses really add to the wow factor!
Cozy slippers with wine and chocolate.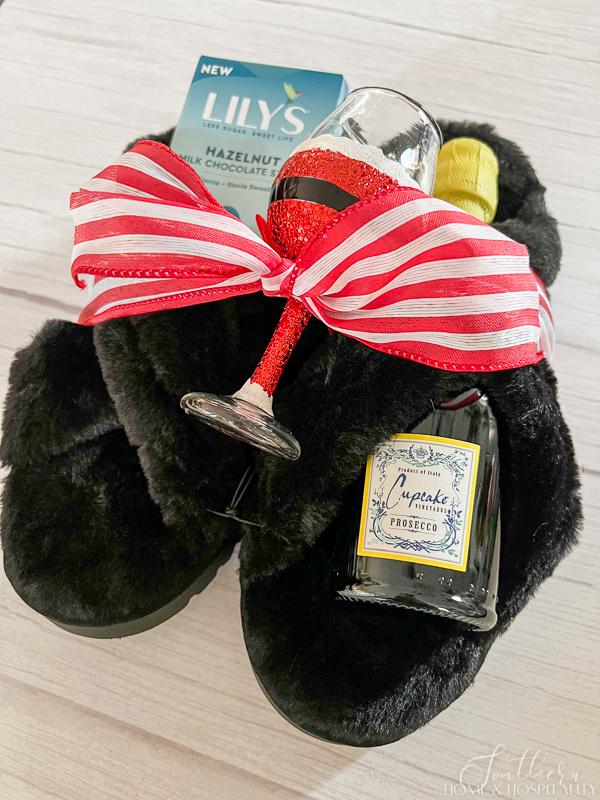 Who doesn't love a cozy pair of slippers with a glass of wine or bubbly? And what makes it better? Chocolate! There are so many cute ways to use this idea depending on your slippers and ribbon. I've tied a wine glass ornament on top with Christmas ribbon here and tucked in a mini bottle of Prosecco and paired it with a hazelnut chocolate bar.
Bath night basket.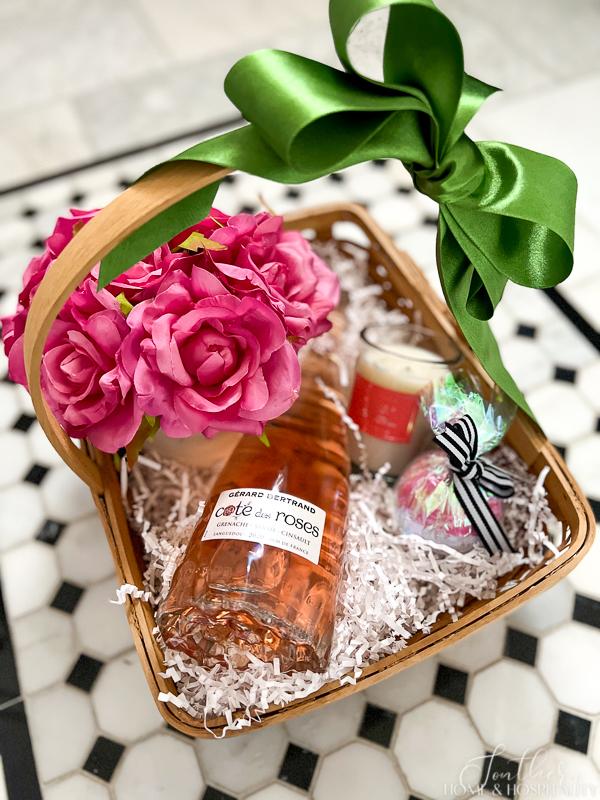 And one more for the ladies – a wine bath basket. You can include anything with the wine that you might use to take a relaxing soak in the tub. Here I've included flowers, a candle, and a bath bomb. And the wine I have here is a rose' (also less than $20) and is another bottle I love to gift because the bottom is a rose!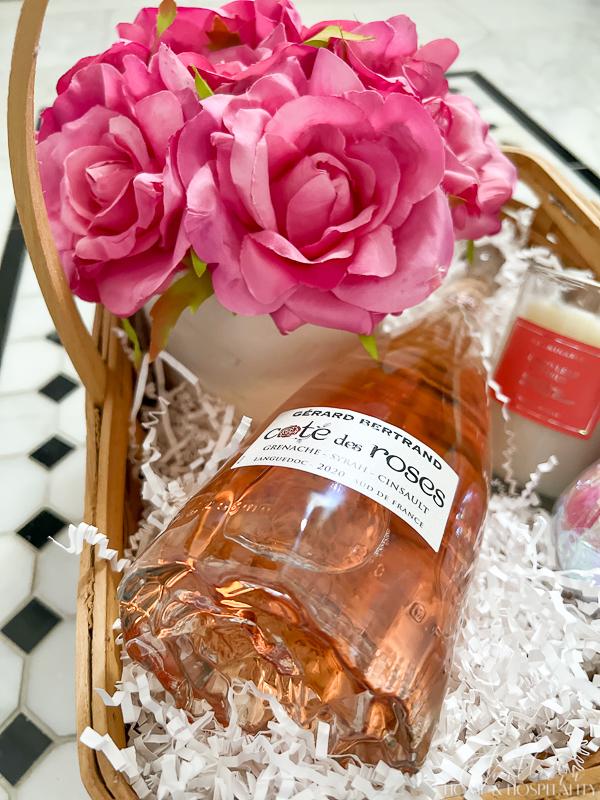 Bourbon with a decanter.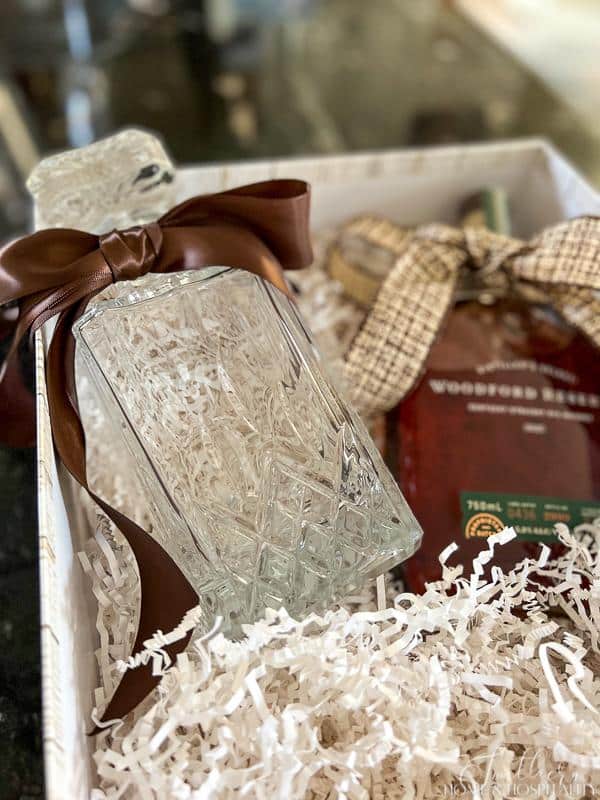 Here is an option that might be more appropriate for the men hosting a holiday get-together. I love decanters so I always have my eye out for good deals. During certain parts of the year, Homegoods has these for $10-20. Bourbon is definitely having a moment right now so this gift might be appreciated by host or hostess!
Cheese board with wine.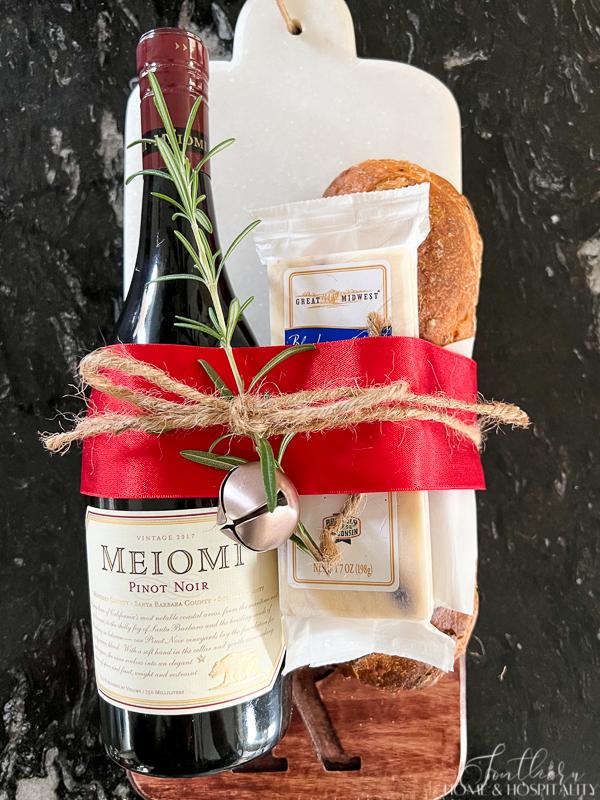 This has a nice presentation that doesn't add a lot of cost to your wine gift! You can usually pick up a cheese board for under $20. I've laid the wine and a baguette side by side and included cheese. I tied it snugly with twine under the ribbon.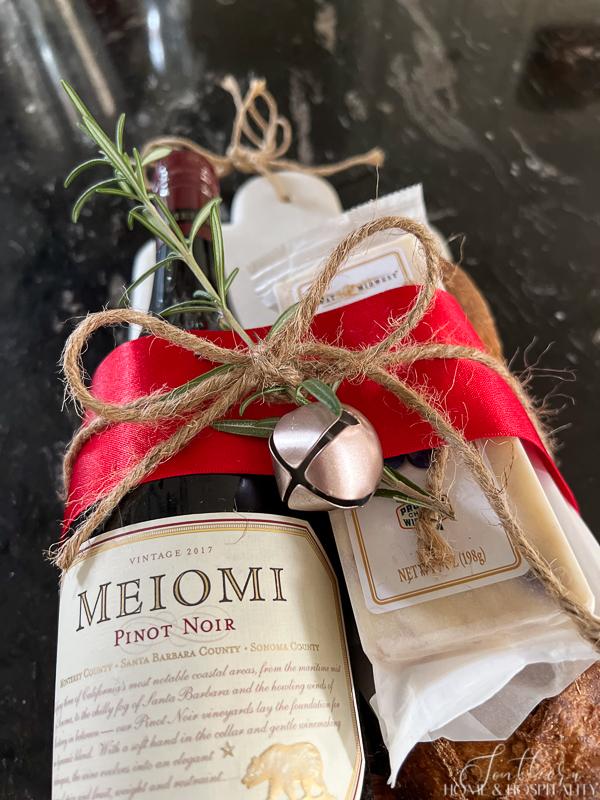 Then I tied decorative ribbon and twine around the whole thing and embellished it with rosemary and a jingle bell. (Hold onto the wine and carry this one flat!)
Wine and a tea towel.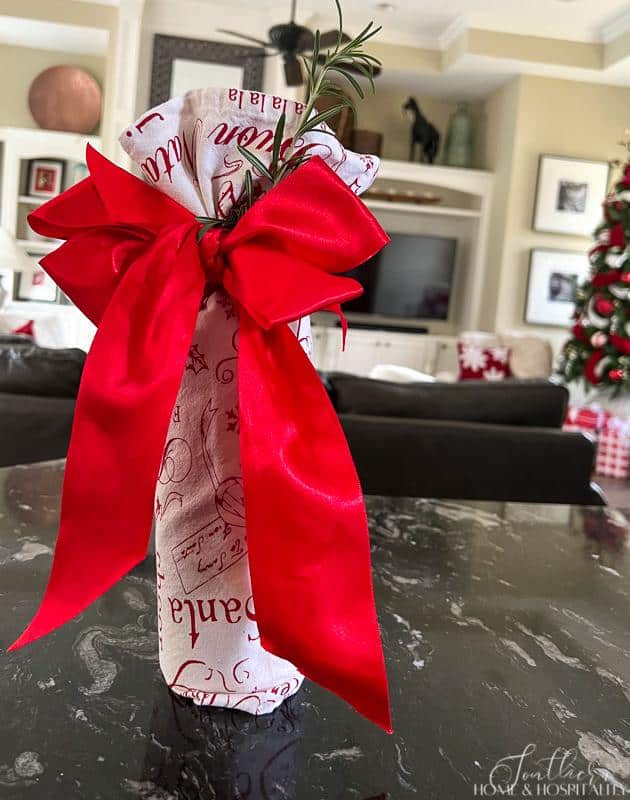 This may be one of the most used ways to dress up wine but it is so versatile depending on what kind of towel you use! My favorite way to give wine this way is to wrap it up in a tea towel with a funny saying. I laugh so much when I'm reading them in the store!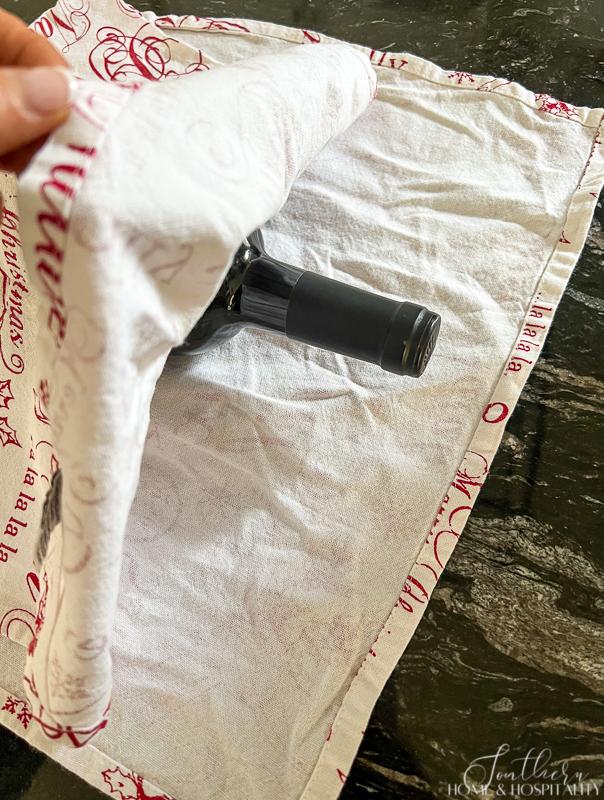 There are several ways you can find on the internet to wrap a wine bottle but this one is super simple. Fold the towel in half and put the bottle in the middle down at the crease. Then wrap one side over the bottle and then roll the bottle until the towel is completely wrapped. Tie it in place at the top with a ribbon and fan out the top a tiny bit. Easy peasy!
Cocktail in a box.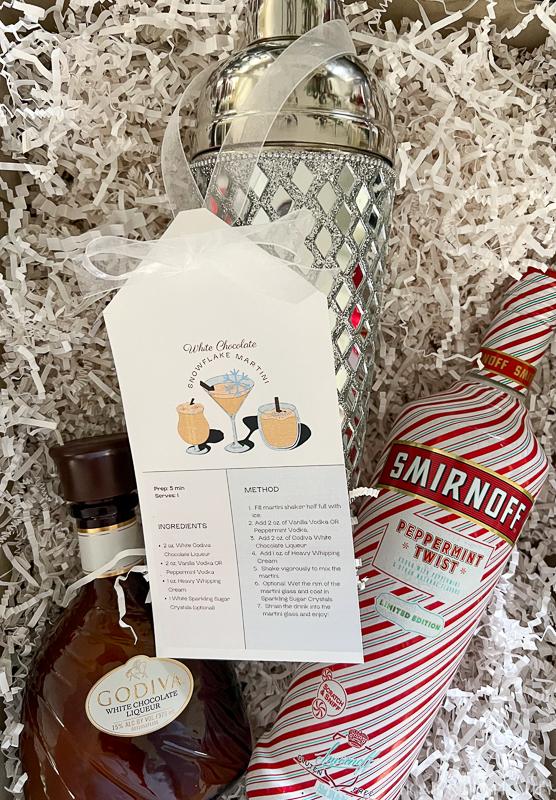 This last idea is fun…include the recipe for a yummy cocktail with the alcohol and glasses. Or in this case I'm using this blingy martini shaker since I'm gifting a martini. You can see how to make this particular delicious and decadent White Christmas Martini here.
---
Keep in mind these ideas aren't just good for the holidays! Really all of them can be changed to suit anytime based on the trimming you use.
Now that the pesky hostess gift is handled, you can stress about what you are going to wear to the party! I hope you find some of these ideas handy during this holiday season!!
Merry December!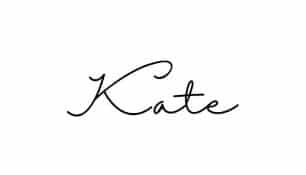 As always, I appreciate your visit, comments, and shares here on the blog! I'd love it if you also follow along with me on Pinterest, Instagram, and Facebook so you won't miss any of my inspiration and ideas.
Don't forget to sign up for updates to keep in touch…I have lots of fun and useful freebies you may be interested in in my subscriber-only library like my Snowflake Martini Recipe Gift Tag!
Pin this for reference later: