Inside: How to make a simple bow in three easy basic steps for prettier presents sure to impress! ➡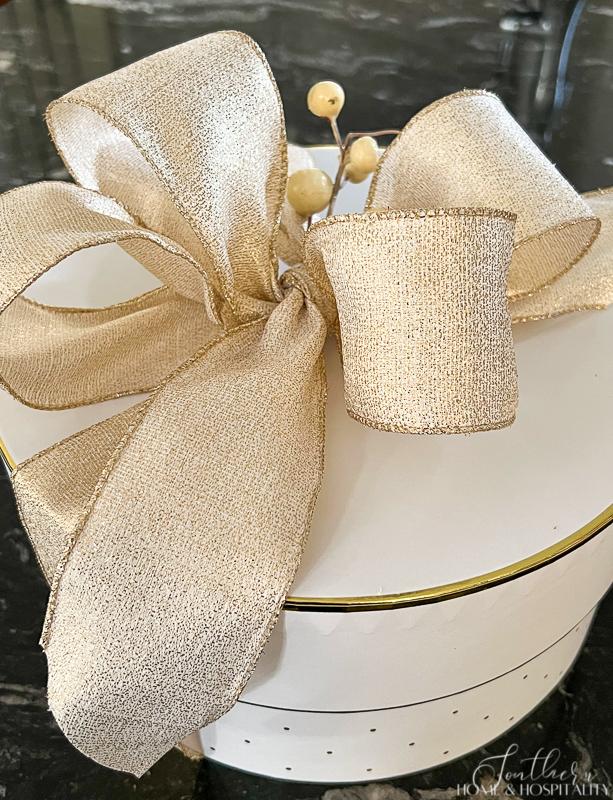 December is well underway and you've probably begun or even finished your holiday shopping (I'll admit I just began this week). This means now it's time to wrap some gifts!
I've loved beautiful gift wrapping ever since I was a child. My father would have my mother's Christmas gifts wrapped by the store and I would take in every detail.
The perfectly creased paper, the little adornments, but most of all the bows.
It was a mystery to me how they made such perfect bows and I was in absolute awe of their skills!
This post contains Amazon and other affiliate links for your convenience. As an Amazon Associate I earn from qualifying purchases. If you purchase something through any link, I may receive a small commission, at no extra charge to you. I only recommend products that I love or would purchase for myself. See my full disclosure here.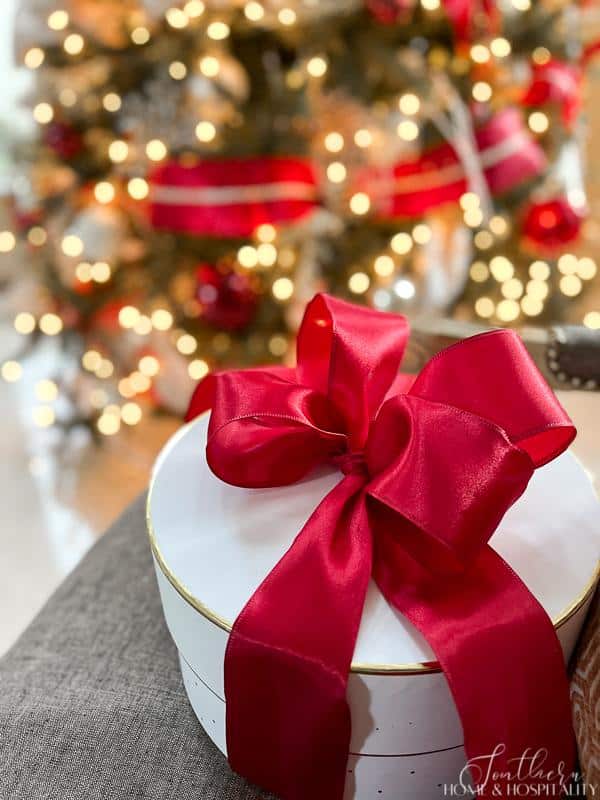 But now in the age of the internet, Pinterest, and YouTube, it's possible for us to be in on some of the pro's wrapping secrets. Plus, now we also have access to all kinds of ribbon. Beautiful, affordable, colorful ribbon in all different fabrics. A far cry from when I was a kid, and it was those sketchy stick-on bows with the matching waxy, shiny ribbon. Bleh.
There are all kinds of ways to tie a gift bow, ranging from super simple to more complex. If I'm being honest, I don't want to spend the time making each gift a masterpiece, but I do want to make it special.
So this easy tutorial isn't a fancy bow that takes a lot of time and needs three hands and 42 fingers to hold together while you're working. What I'm going to show you is a really easy way to tie a gift bow that is my go-to basic bow. It's super quick and can be made with any kind of ribbon!
How to make a beautiful bow in three simple steps.
Step one.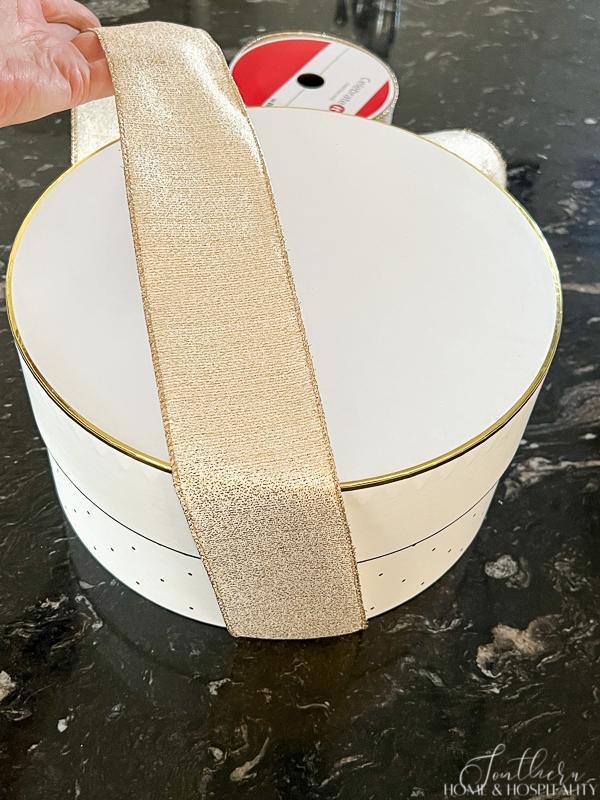 Cut a long piece of ribbon to tie around the package. Take in mind how long you want the tails to be with a tad extra to allow for the knot. (You can trim them again when you are finished.)
Tie it around the gift and cut it off from the spool if necessary.
Step two.
Take a second piece of ribbon and make a loop the size you want half of your bow to be. Make a matching loop on the right side. This will be the width of your whole bow.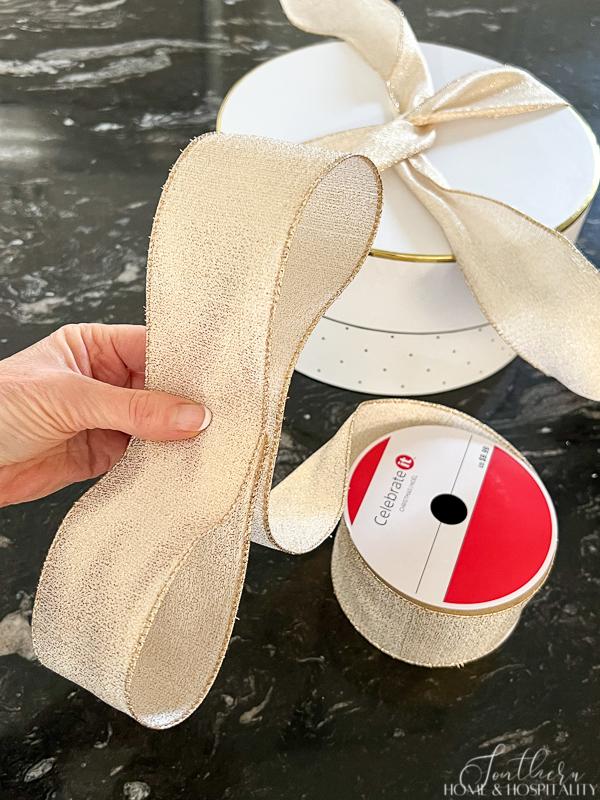 Continue making loops back and forth until you have 2 or 3 loops on each side.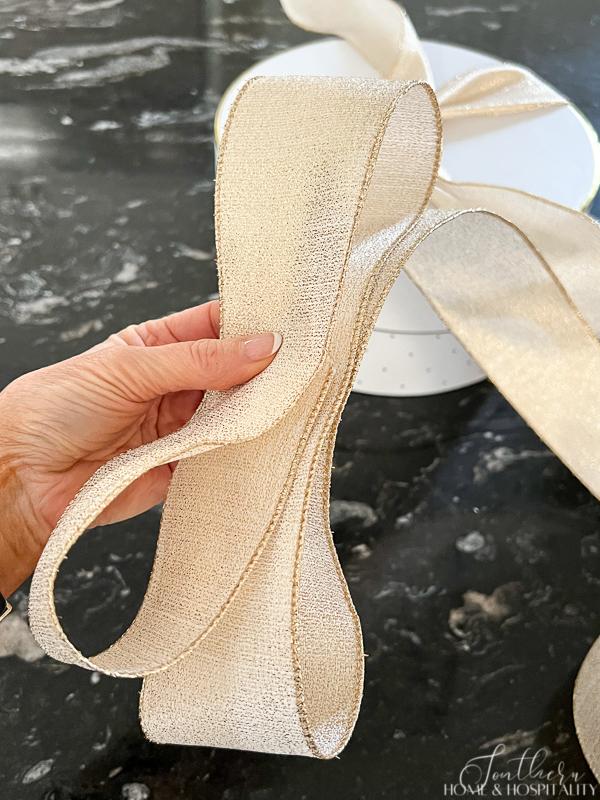 Step three.
Lay the loops on the middle of the ribbon you tied around the package in the first step.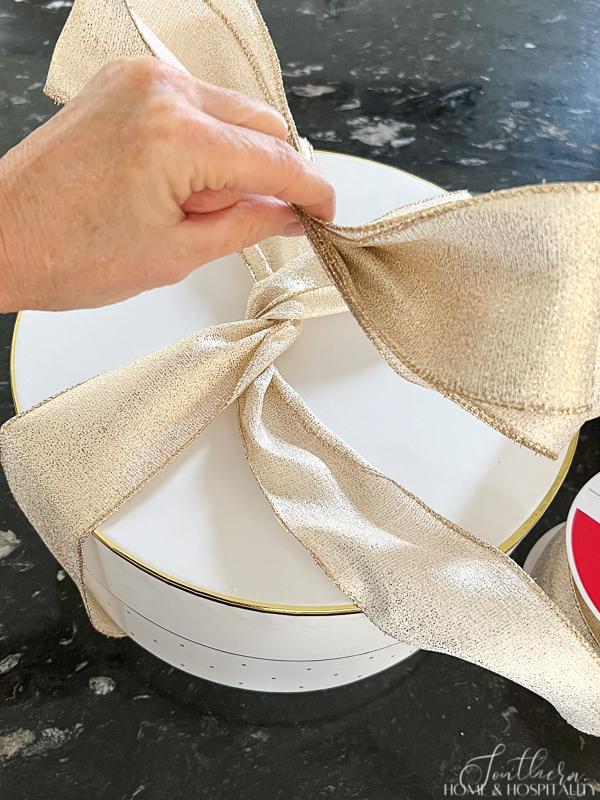 Tie the first ribbon around the center of the loops: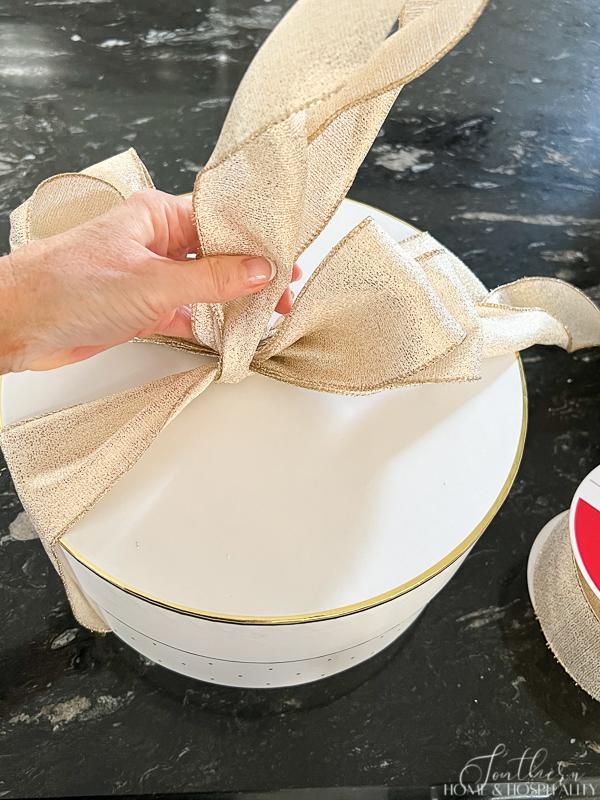 Then pull apart and fluff the bow loops. Arrange and zhush the individual loops on top of your gift until pretty!
Finish by cutting the excess ribbon from the tails if they are too long. You can give the ends a finishing touch in two ways:
Dovetail the ends. Fold the end of the ribbon in half long ways and snip it at an angle with a sharp pair of scissors.
Or, cut both tails at a 45 degree angle: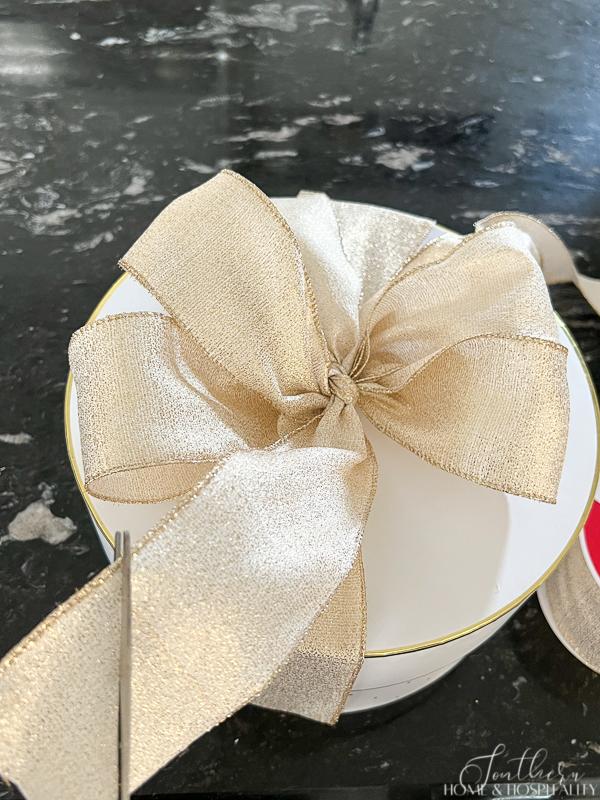 Options for this basic bow.
Number of Loops. The most common size bow using this simple method is to make four or six loops (2-3 on each side). For this demonstration, I've done a four loop bow. But you could do two to four or more, depending on if you want a very full bow or a more simple bow. I often use the four loop bow because it's a little more casual plus it saves ribbon!
Directions for not tying around a package. You can make this bow on its own by not tying the first length of ribbon around the package:
Cut the first piece of ribbon for the length of tails you want (allowing for the knot) and slip it under the ribbon already attached to the gift box. Make the loops with the second ribbon and tie the first piece around the loops.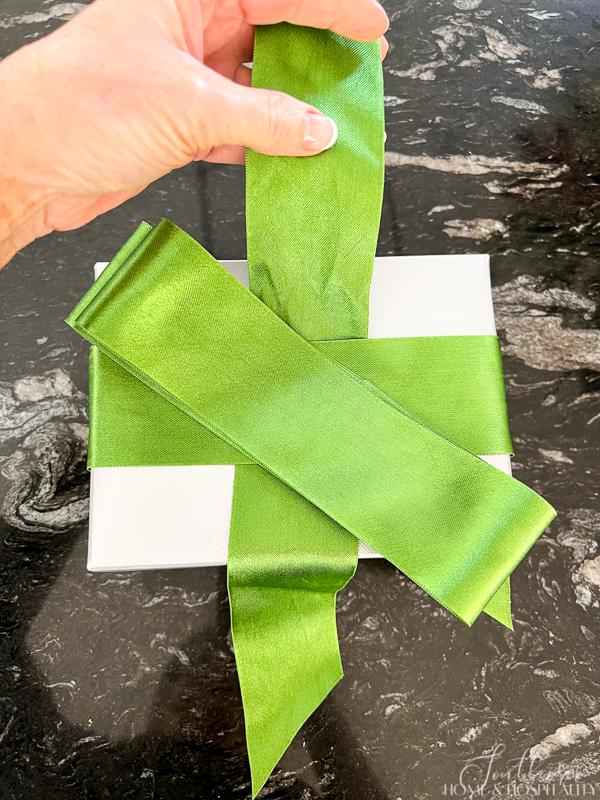 Using this bow on other things. This bow isn't only for beautiful packages. It's the perfect bow to tie on a gift bag, gift baskets, or any object. Just as above, tie the first piece of ribbon that will become the tails around part of the object, then lay the loops on the first tie, and bring the first ribbon around the loops and tie again.
Tying a bow around existing decor is one of my favorite no hassle inexpensive holiday decorating ideas. You can see them all here.
Single-sided ribbon. If you're using a ribbon that isn't two-sided, there are two solutions to keep the right side out on all the loops.
Twist the ribbon in the middle where you are holding it when you bring it back and forth making your loops.
Or, make the first loop and second loop just like before so that you have a circle that you are pressing down in the middle. Instead of looping back and forth after that, go around in a circle again over that loop. Repeat as many times as you want loops, making sure you have an equal amount on each side. Tie it off with the first ribbon and pull the loops apart.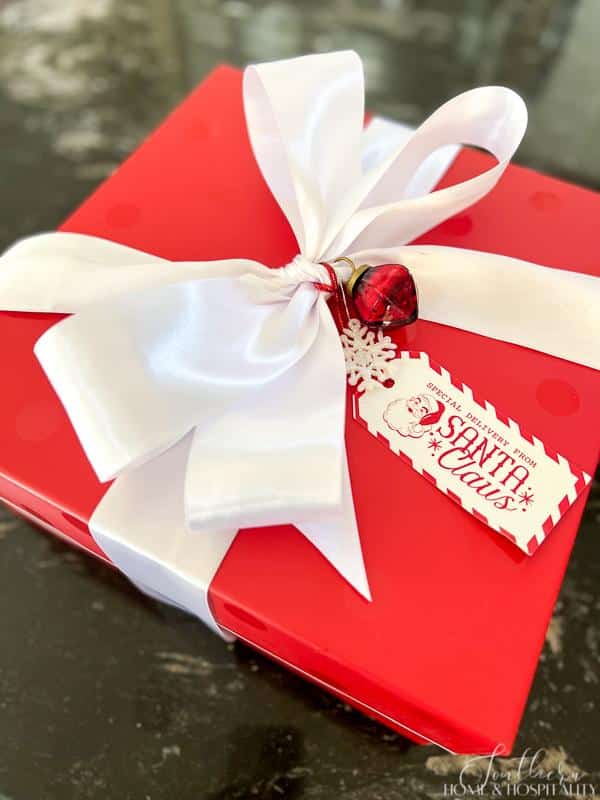 Add embellishments. Tuck in a little something extra in the center of the bow before you tie it off for the perfect finishing touch.
Ribbon types.
This kind of bow looks good with any type of ribbon! And the look of the finished bow will be much different depending on what kind of ribbon you use. Use wired ribbon for a poufy bow that you can arrange just how you want. Or make a more classic bow with pretty nonwired grosgrain ribbon or satin ribbon.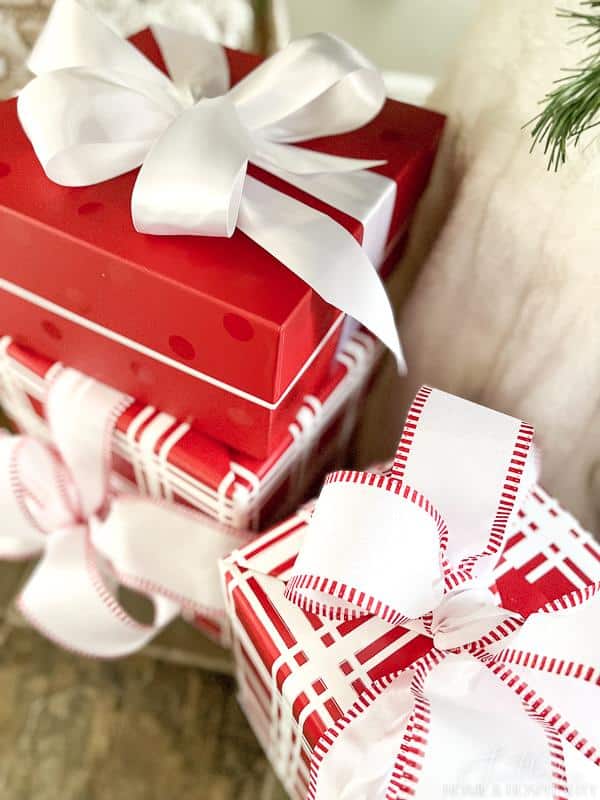 ---
My friends and family always know which gifts under the Christmas tree are from me because they always sport this pretty bow that make their package look a little more special! What I don't want them to know is how little time it really takes. 😉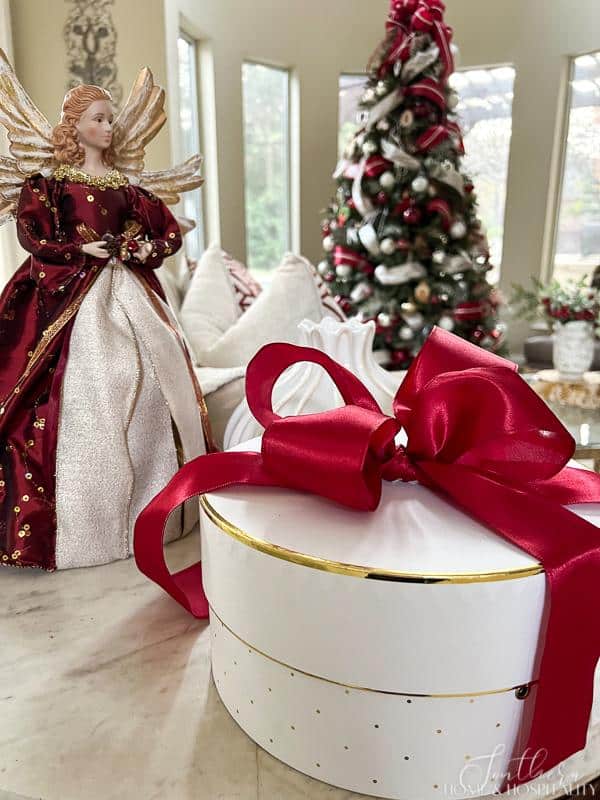 As always, I appreciate your visit, comments, and shares here on the blog! I'd love it if you also follow along with me on Pinterest, Instagram, and Facebook so you won't miss any of my inspiration and ideas.
Don't forget to sign up for updates to keep in touch…I have lots of fun and useful freebies you may be interested in in my subscriber-only library like my cheat sheets for where to place lighting, bathroom fixtures, artwork, and furniture!
This easy tutorial is not just for the holiday season – save it to remember how to make any gift more special all year long!