Ten Reasons Why White Dishes are the Perfect Decorating Accessory
Inside: Ten reasons why white dishes make THE perfect decorating accessory and why you should be using them to decorate no matter what your style is! ➡
---
Why are white dishes the perfect decorating accessory?
Because they are absolutely the most versatile decorating tool.
White dishes are well known as "the little black dress" of not only the dish world for the best presentation of food, but also of the decorating world.
They simply look good with everything.
There are so many reasons why they are so perfect, and here are my top ten:
This post contains Amazon and other affiliate links for your convenience. As an Amazon Associate I earn from qualifying purchases. If you purchase something through any link, I may receive a small commission, at no extra charge to you. I only recommend products that I love or would purchase for myself. See my full disclosure here.
White dishes add charm.
White dishes are perfect for creating a curated, collected look. They're one of the easiest items to use to create a collection that looks like it was gathered over time.
And they look beautiful with the patina of vintage silver, copper, and aged wooden spoons, rolling pins, and breadboards.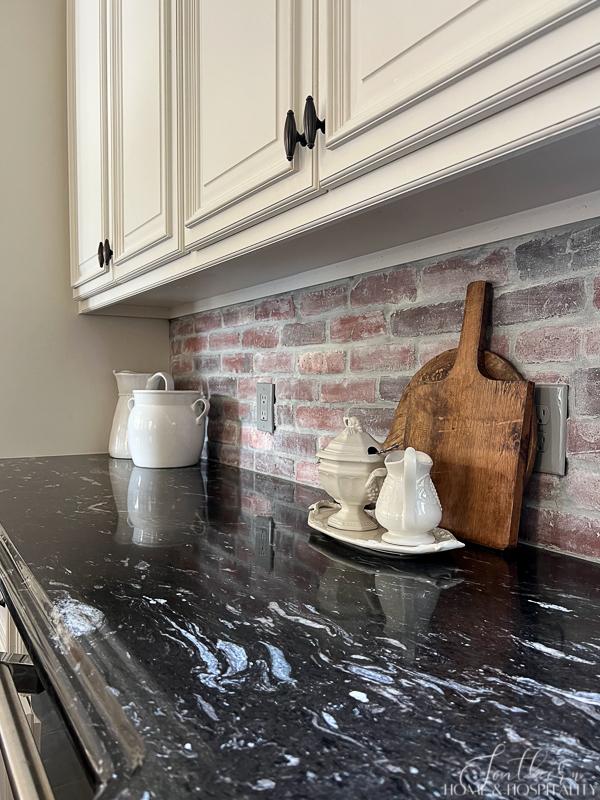 Their color ties together different pieces in both style and age. In my opinion, they are more interesting if you mix the old with the new, and the simple with the ornate. I love to mix my family's vintage white ironstone with newer white pieces.
I think my love affair with ironstone began with this Red Cliff ironstone soup tureen. It originally belonged to my grandmother and was then passed on to my parents who displayed it on their dining table:
Red Cliff grape ironstone must have been the trendy thing to have in North Louisiana at some point because my grandmother, my parents, and even my stepmother had complete sets. They were our "good" dishes and were only used on special occasions like Thanksgiving and Christmas.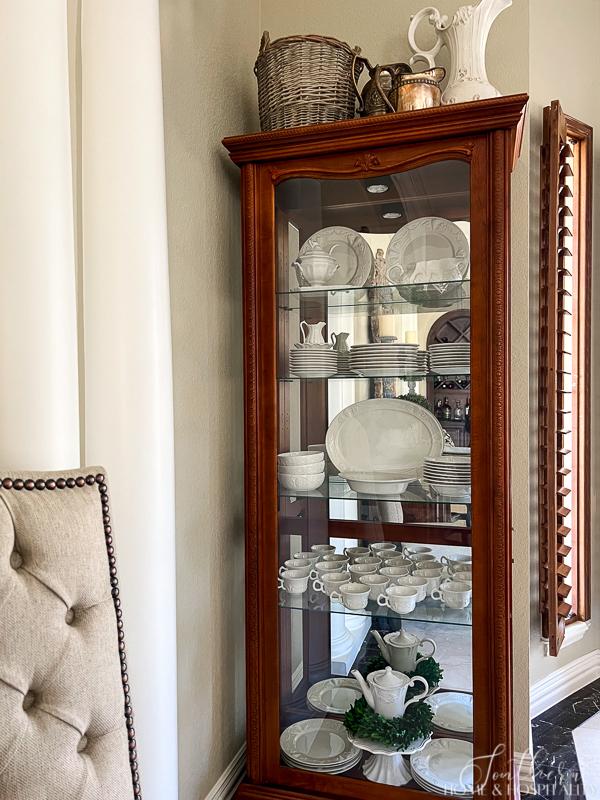 What a decorating opportunity they were missing by keeping it in the cabinets the rest of the year!
White china pieces also make excellent fruit bowls and sugar bowls. I use a cute mini sauce version of my favorite tureen for our sugar bowl:
Vintage treasures like these abound at the thrift store or flea market and always stand the test of time. And you can find new white dishes just about everywhere, but Homegoods is one of my favorite places. Most of the dish aisle is usually devoted to white pieces and there is always a nice selection of pedestals, trays, and pitchers.
White dishes go with every decorating style.
You'll see white dishes in every decor style – from French to Farmhouse, from Transitional to Traditional, and even Coastal to Contemporary!
Mine are an integral part of my updated traditional decor.
White dishes are also lovely in this casual, coastal-style room.
White dishes are a neutral backdrop.
They're a perfect neutral canvas. White means they'll easily incorporate and partner well with all other decor items. They're great accessories all on their own to create a simple, neutral room.
Or you can keep white dishes in place and insert a pop of color for a new look. This really draws the eye and highlights the different colors:
You can even change your decor by season or holiday with white dishes as the base and then layering decorations with them.
My small hutch has a different color palette and decor for each season:
White dishes add needed contrast.
White dishes offer a perfect light contrast to dark areas. I use them in the shelving at the ends of my kitchen island, where darker accessories would disappear into the darkness.
White dishes contrast so nicely against wood and offer an opposing texture and color.
White dishes add simplicity.
White dishes are a perfect simplistic accessory because they are clean, plain, and allow the eye to rest. They don't compete for attention. They allow focus on the other things around them.
These pitchers are so simple and add just the right filler for this clean, bright, and serene look in the kitchen of Karen from Sanctuary Home Decor.
A bouquet of fresh flowers and faux flower arrangements in white pitchers or a white vase are always a lovely touch for kitchen counters. And the repetitive use and varying sizes of the empty pitchers have extra impact.
White dishes make great accessories in shelves and bookcases.
White dishes make a perfect filler for open shelves and bookcases with soooo many size and shape options.
Miss Mustard Seed's collection of beautiful pitchers and tureens in this bookcase makes my heart flutter!
The same goes for Cedar Hill Farmhouse's use of all-white dishes in the extensive glass front kitchen cabinets. Lots of visual interest, yet still neutral and quiet.
White dishes work well in vignettes.
White dishes are a perfect complement to other accessories in vignettes.
Yvonne at StoneGable adds height and weight to this vignette with interesting scalloped edge white plates under the white beaded pitcher – a creative way to make the white pitcher taller. And the white really lets the sunflowers shine.
And a white bowl in a vignette makes it easy to add a touch of whatever season we are in.
White dishes make amazing vases.
White dishes make perfect vases and planters because again, they allow whatever they are holding to take center stage.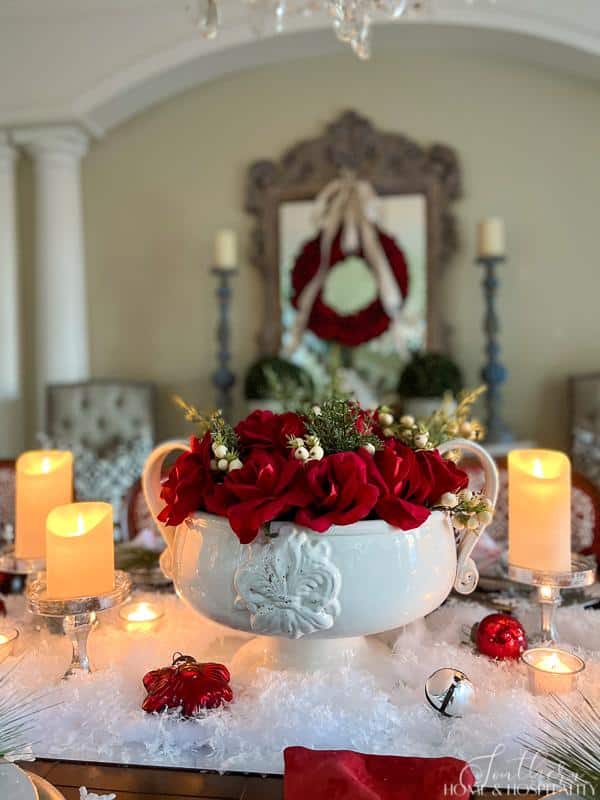 This pedestal urn on my dining table stays in place almost all year because it is so versatile, neutral, and sizable. I simply change out the contents by season.
White dishes are wonderful on a wall.
Using them as wall decor is just one more of the pretty ways to think outside of the white dish. Hanging plates and platters on a gallery wall allows you to fill a wall space exactly as much as you would like by the number, size, and spacing of the pieces.
This DIY triple wreath wall hanging featuring white plates fills this odd wall space perfectly:
White dishes are the restaurant chef's choice for a reason.
And of course, for their intended use, white dishes are perfect for food. White dinner plates are the preferred color for chefs to frame any style of food. The food is the star and doesn't compete with a colored dish for attention.
My favorite dishes for everyday use have almost always been white. The couple of times I've deviated, I've never been totally happy with them.
Read about my quest for the best everyday white dishes. And if you'd like to see the set of white dishes that were the winner, you can check them out here.
---
If you look around, you might notice that you are already incorporating white dishes into your decorating. And now you know ten reasons why. If not, I hope this post inspires you to give them a try. (I like them so much it's making me rhyme.😳)

Before you go:
As always, I appreciate your visit, comments, and shares here on the blog! I'd love it if you also follow along with me on Pinterest, Instagram, and Facebook so you won't miss any of my inspiration and ideas.
Don't forget to sign up for updates to keep in touch.
If you're not already a member of the SH&H family, I'd love to have you join me! You'll not only get email updates, but you'll have exclusive access to all the bonus materials in my free subscriber-only library, like this:
---
Pin it to remember it!
If you've enjoyed this post, please pin and share this on Pinterest: