Let's dish about dishes! I just have to share with y'all the dishes that I bought a few months ago and why I love them.
I always pick dishes based on looks, and stoneware wins this category hands down. They come in so many colors and patterns. My last set of white stoneware dishes fit my style and kitchen so well and I was very reluctant to let them go. I had invested in a complete set and still thought they were beautiful, so I lived with their issues for several years. But they were a daily nuisance and became an eyesore.
Issue Number One.
They chipped if you even looked at them the wrong way. So after a short time every. single. dish. had at least one chip! Definitely made them less beautiful.
Issue Number Two.
They got as hot as fire when you heated anything in them in the microwave. It was insane how hot a dish would be and the food was still cold! This perplexed me so much because I would say I've only had a couple of sets of dishes that this didn't happen with and I just didn't know why. So of course, I turned to Google. These are the best explanations I found for why this happened so badly with some of my dishes and not others:
The material the dishes are made out of makes a difference in how much heat they absorb.
While I didn't find a total agreement on which material was the best, I did see a lot of opinions about how stoneware was the worst offender. It could be metals in the glaze or moisture in the ceramic of stoneware that absorbs the microwaves and heat up. I won't pretend to know scientifically why but it has been my and many other people's experience that they get hotter than other dishes. I'm not saying there isn't a set out there that doesn't. I just haven't ever found it.
During my research, I came across a couple of people that said porcelain dishes solved their problem. I know I should be skeptical because I read it on the internet, but I needed to try something different. And then I remembered a set of everyday Noritake that I used for years that we didn't have much of a problem with. And I was fairly sure it was either porcelain or some kind of durable china.
I found out that porcelain is fired at higher temperatures than stoneware, so it absorbs less moisture. Porcelain dishes are almost always white so most don't have the fancy glazes that stoneware dishes have which could also be a culprit.
Bowls get seem to get so much hotter than plates in the microwave.
When I did have a set of dishes that were much better to heat in the microwave, my husband always complained about the bowls. I suspect this will always be the case because of the density of the food being heated, not the shape or the dish material itself. It takes a lot more heat to get the middle of the food warm, thus more heat equals hotter dish. Please weigh in in the comments if you can explain this better!
After these findings, I began my quest for a new set of porcelain dishes. My favorite dishes are white so the lack of colors in porcelain was not a problem for me. (See my decorating post about white dishes here.)
My criteria were that they had to be:
1) Stylish of course,
2) Durable,
3) Able to be heated in the microwave without absorbing all of the heat, and
4) Reasonable in cost.
The dishes I'm so happy about!
So what did a find to be the BEST white everyday dishes?? Drumroll, please…….
This set of Everyday White® by Fitz and Floyd® Beaded Dinnerware!! I have now had them for several months and they are exactly what I was looking for.
If you'd like to check out these exact dishes for yourself, you can do it here. There are also a couple of other styles offered if you like them without the beading. They offer them in this classic rim style, and also this contemporary rimless style.
As an Amazon Associate I earn a small commission from qualifying purchases at absolutely no cost to you. I only recommend products that I love or would purchase for myself.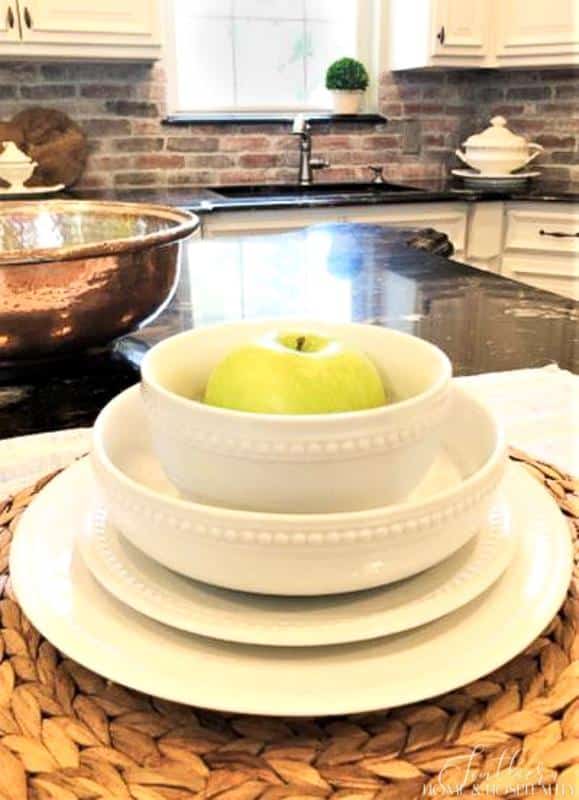 The styling is simple but with the beading they still have a bit of interest. They mesh well with any decor style and food looks beautiful on them!
The quality is excellent. These are heavier than a lot of porcelain dishes which to me makes them feel sturdier and more high quality.
While not perfect in the microwave, THEY ARE SO MUCH BETTER!!! Believe me, my family and I appreciate this every time we take a dish out of the microwave. At first we would actually announce, "look at me holding this plate by the rim straight out of the microwave!" The bowls still get hotter than the plates, but as I mentioned above, I think that's an issue of food distribution and the amount of heat it takes to get it warm. If you have a bowl that does great in the microwave, please share it with us!
My last requirement had been to find a set that was reasonable in cost. In my search I found cheaper porcelain dishes that felt and looked really cheap. I also found French porcelain that was WAY expensive and didn't even feel as quality as these. They also tended to be a bit smaller. These dishes were in a reasonable cost range to me, so along with the other criteria they fulfilled, they were a winner!
So far I've purchased the dinner plates, salad plates, cereal bowls, and dinner bowls. I'm sure I will also go back and buy a few coffee mugs to match.
I love the size of the two bowls. I did not have a big dinner bowl like these before, and we eat so many of our meals out of them now!
Let me know if you do try them what you think!
As always, I appreciate your visit, comments, and shares here! And don't forget to subscribe for updates to keep in touch and to follow along with me on Pinterest, Instagram, and Facebook!!
Pin this for reference later:
Remember to pin this to your Pinterest Kitchen board to refer to later. You can FOLLOW ME ON PINTEREST and see all of my pins plus lots of other inspiring ones that I've found and pinned!
You might also like…