Looking for tools to make things easier and more efficient in the kitchen? These five gadgets on Amazon will have you wondering how you ever lived without them! ⟹
I love anything that makes cooking and cleaning more efficient and am always on the lookout for gadgets that fill that bill!
And when I find ones that I really love, I so wish I would have known about them way before…so it makes me want to share my discoveries with everyone I know. Since we are just a week and a half away from Christmas (yikes!) it seems like the perfect time to post these finds. So, just in case you are still looking for any small last minute gift ideas, I've rounded up a few of my very favorite kitchen gadgets here that are under $20 that you can get in time for Christmas!
This post contains Amazon and other affiliate links for your convenience. As an Amazon Associate I earn from qualifying purchases. If you purchase something through any link, I may receive a small commission, at no extra charge to you. I only recommend products that I love or would purchase for myself. See my full disclosure here.
1. The Frywall.
I am jazzed over the discovery of this little kitchen gadget, the Frywall Splatter Guard!! I do a lot of sauteing, browning, and the like in butter and oil on the stovetop. I find myself trying to cover the pan as quickly as possible to catch the initial explosion of spatters while dodging the burning spray when I add meat and other ingredients to the hot oil. After that, I often go a little lower in heat than I should just to avoid the cooktop being covered in oil spatter afterward.
This has been an issue for me for as long as I've been cooking, which would be somewhere around 35 years! So when I saw this silicone splatter guard on the internet, I was super excited to try it. Is it possible that I wouldn't have to deal with this anymore??!!
The verdict for the most part is yes!! While not perfect, it definitely holds back a lot of the oil splatters.
Using the Frywall.
It couldn't be easier to work with. It is made of silicone and can be heated to 450 degrees. It is intended to sit above the bottom of the pan like this:
Depending on the size of your pan and the size of the Frywall, it will either sit on the bottom or up the sides. I ordered the medium 10″ which sits down in some of my larger pans.
I don't think it is intended to sit on the bottom but it is heat safe to 450 degrees, so I have had no problems with using it this way except it takes up some space for food. I do love using it in this cast iron skillet because this pan is one of the worst offenders for splatter!
The Frywall comes in multiple sizes…8, 10, 11, 12, and 13 inch. It also comes in different colors…red, green, orange, charcoal, and black. I will definitely be ordering a larger one to try in my large pans.
Cleanup and storage.
Cleanup is also no problem. I lay it open in the dishwasher in the top rack around other dishes. Sometimes I hand wash it if I know I'll be needing it again before I run the dishwasher. The food and oil come off pretty easily.
And while it is fairly large while opened up, it rolls up neatly to be tucked back into the plastic cone it comes in for storage.
I've now had my Frywall for almost a year and am still so happy every single time I use it. Because this little gadget solved a 35-year nagging problem!
2. Clip on strainer.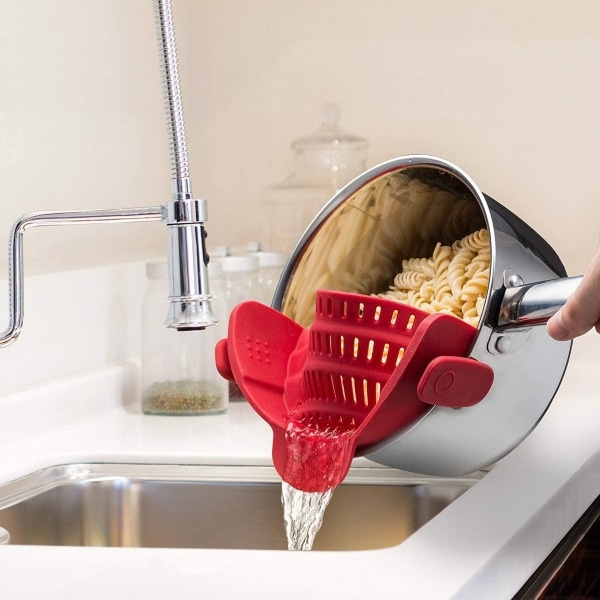 I'm also obsessed with this second kitchen gadget. This Snap N Strain Adjustable Silicone Clip On Strainer may be mostly for draining pasta water, but I like it most to drain meat like ground beef or sausage. It's made of BPA free silicone and clips onto the side of almost any pot. When I'm using it to drain meat, I push the meat to that side of the pan to help keep it from falling out when I tip the pot to drain. It can be thrown into the dishwasher for cleaning too – much easier cleanup than a colander!
3. Meat chopper tool.
Here is one more meat cooking-related gadget…a meat chopper tool. This little tool makes it so much easier to break meat up as you brown it than a spoon, and it's kind of fun too! It is BPA free, dishwasher safe and heat safe to 430 degrees.
4. Food huggers.
These Food Huggers are another silicone kitchen gadget that I think is so cool! They come in a set of assorted sizes and have so many uses for saving food. I like to use them to store fruits and vegetables that I cut but don't use all of, like onions, lemons, limes, and bananas. I place the cut side down inside and it wraps around "hugging" the freshness in, helping them to last longer. I also love that when I have a little something left in a can I'd like to save, like tomato paste or dog food, one of these always makes a perfect lid! You can also make just about any glass an instant storage container by sealing it with one of the food huggers.
5. Microwave tray.
Another problem solver is this Microwave Cool Caddy with handles. It helps you safely remove dishes that have gotten too hot in the microwave without burning your hands! This used to be a huge issue for my family, especially when we had dishes made from stoneware which really absorbed the heat. Between discovering this handy dandy gadget and finding my favorite everyday white dishes that don't get too hot in the microwave, we can get our food hot without scalding our fingers! It's also designed to catch food sloshes and will hold plates as well as bowls.
You can see ALL of the reasons I love these everyday white dishes here!
---
It's amazing how happy an item less than $20 makes me…it's the little things in life, right?
Do you have a favorite kitchen gadget that's not on this list? Let me know in the comments…I'm always on the lookout for more!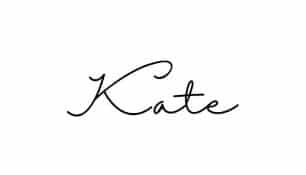 Don't forget to sign up for updates to keep in touch…I have lots of fun and useful freebies you may be interested in in my subscriber-only library like my cheat sheets for where to place lighting, bathroom fixtures, artwork, and furniture!