How to Set a Simple Al Fresco Table Brimming with Autumn Ambiance
Inside: How to set an easy fall outdoor table with a few simple things so you can enjoy autumn's beauty over dinner with family members and close friends! ➡
Al fresco dining. It sounds fancy, doesn't it?
But there's no finer way to leisurely enjoy a casual meal and beautiful fall weather.
There's an innate charm to dining outside. Because the ambiance that nature creates enhances any table, a few casually placed decorations are really all that's needed to make a beautiful tablescape!
I'll show you how easy it is to set a casual fall table using only a few simple things.
And this easy outdoor table setting on my back patio will work for a random al fresco dinner party, a picture perfect Thanksgiving, or even a casual backyard picnic breakfast.
I'm joining together with friends for the "Celebrate the Holiday" Blog Hop, hosted by Carol of Bluesky at Home! This month it's all about fall with plenty of creative ideas to inspire you so make sure to check them all out at the end of this post.
Elements for an outdoor fall table.
Let's look at what you need for this autumn al fresco tablescape:
I follow the same five steps for most of my tablescapes (see them in detail here).
This post contains Amazon and other affiliate links for your convenience. As an Amazon Associate I earn from qualifying purchases. If you purchase something through any link, I may receive a small commission, at no extra charge to you. I only recommend products that I love or would purchase for myself. See my full disclosure here.
The table.
If you already have a dining table on the back patio, check this one off. If you don't, you can still easily set a table in your outdoor space.
Use a picnic table, card table, folding table, or bring a table from inside outdoors. No patio space? A table looks even more charming set out in the grass!
Fall blanket, scarf, tablecloth, or table runner.
Drape one of these over the table as a centerpiece base and to set the tone. One of my favorite fall tablescape ideas from magazines and the internet are pretty plaid blankets sprawled across a fall table.
Or you can go the opposite direction for a special meal with a white tablecloth.
For this porch setting, I placed a small fall plaid tablecloth at an angle over the table:
Mums.
An irresistible table set outdoors always seems to include flowers. But no fancy, expensive flower arrangements are required. A pot of mums from the garden center makes the perfect simple centerpiece.
In the center of this table, I've placed one yellow mum. And a twig grapevine wreath was the perfect way to disguise the top of the cheap plastic pot.
The container they sit on with the busy squirrels is one of my favorite things to bring out every fall when the squirrels in our yard are working overtime to ready for winter!
I really do think they're cute. Until they start tearing into my outdoor cushions and chewing on my house. Then they are no longer my furry friends.😠
See the trick for how I saved my outdoor patio cushions.
Pumpkins.
Bring out all the pumpkins, large and small, in all the colors. The more the merrier!
I gathered all of the pumpkins I had and ran them down the table on each side of the centerpiece. This year I have an assortment of green, soft oranges, and white mini pumpkins.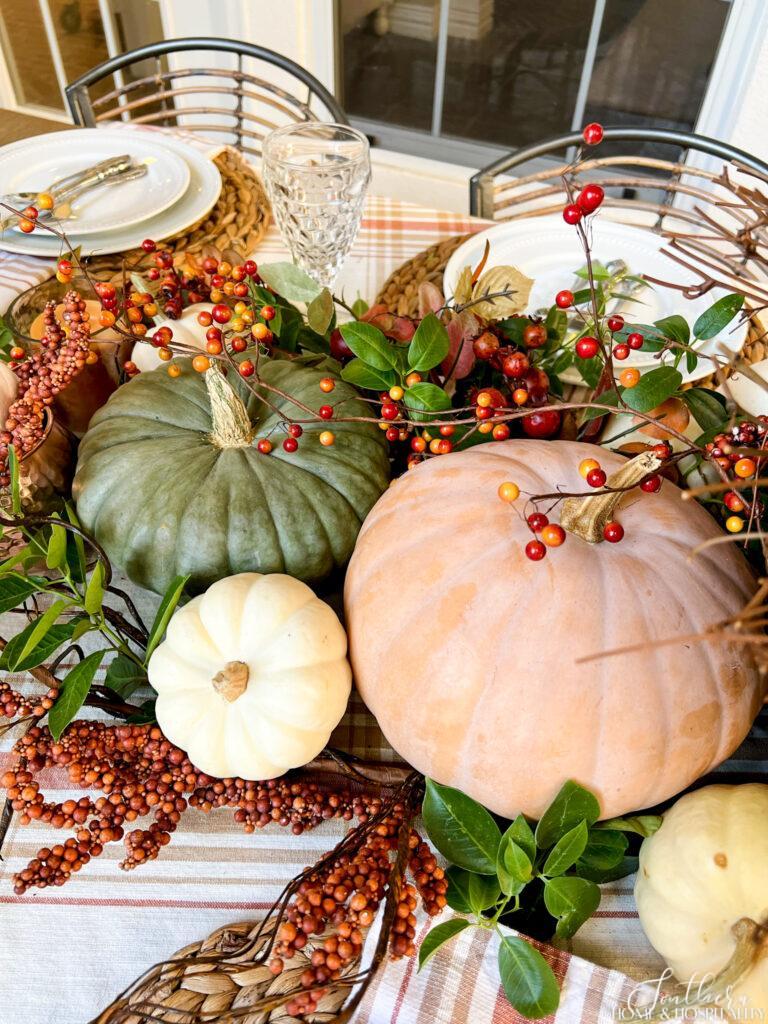 Faux fall stems and garlands.
Weave or place some fall leaves and berries around the pumpkins for more dimension.
I pulled out faux stems and sprigs of berry garland from my fall decor bins in burnished oranges and reds and wound them around the pumpkins.
Clip some greenery from the yard.
Make the centerpiece look abundant and right at home outside with trimmings from plants around the yard.
I've clipped pieces of Mandevilla from one of my container pots and tucked them in to fill out the centerpiece. I've never used this plant for floral filler before and it's stayed green a really long time!
The outdoor table place settings.
Bringing out real dishes, utensils, glasses, cloth napkins, and napkin rings always make an outdoor table setting more special.
Or simply leave just the centerpiece and placemats for a while and have an impromptu little dinner party with paper plates and paper napkins.
I set this table with rustic hyacinth woven placemats and topped them with my favorite white plates (see why they are here).
And I completed the table settings with fall plaid fabric napkins and vintage Fostoria stemware.
Candles.
The golden light of candles is the finishing touch for any special dinner.
I've used a couple of large vase candleholders as well as amber glass cylinders around pumpkin colored candles for lots of warm glow.
SH&H Tip: Protect the candle flame from wind and flammable decor and foliage outside with a candle holder that surrounds it.
Sources for this post or similar.

---
Here in Texas, the weather keeps us guessing. We can go from 90 to 40 in the span of a day. So we really soak every bit of goodness from the perfect fall days.
And alfresco dining is a great way to slow down and really take in the beauty that mother nature displays for us this time of year – if we just take the time to notice.
So let's agree to linger over that glass of wine (coastal grandmother style) or apple cider cocktails, and enjoy the fresh air in the best dining room we have.

Before you go:
As always, I appreciate your visit, comments, and shares here on the blog! I'd love it if you also follow along with me on Pinterest, Instagram, Facebook, TikTok, and YouTube so you won't miss any of my inspiration and ideas.
Don't forget to sign up for updates to keep in touch.
If you're not already a member of the SH&H family, I'd love to have you join me! You'll not only get email updates, but you'll have exclusive access to all the bonus materials in my free subscriber-only library, like this:
---
Pin it to remember it!
If you've enjoyed this post, please pin and share this on Pinterest:
Are you ready for more? Check out all the ideas below. Our next stop is Everyday Edits – you'll love Laura's pretty and simple ideas for another fall table!