The Perfect Cozy Guest Room: Make Them Feel at Home with These Essentials
Inside: A comprehensive list of guest room ideas and essentials for the bedroom and bathroom to make guests feel comfortable, welcome, and even pampered! ➡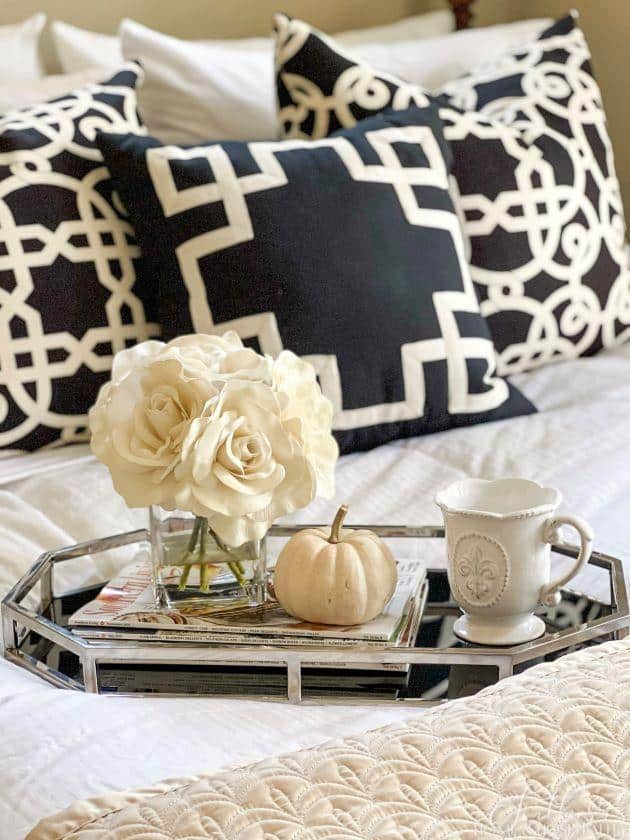 Make yourself at home.
We all say it, but it's easier said than done.
You know that feeling. Being an overnight guest and that lost night of precious sleep because you're uncomfortable. You don't know where to find anything but don't want to be a bother.
So you just sleeplessly suffer through (and then gush that everything was delightful the next day). Note to self: replace the stinky, stained bed pillows on the guest bed when I get back.📝
If you have guests coming and want them to truly feel at home, you're in the right place! Because here it's all about hospitality. Making our family members and guests feel as comfortable, welcome, and relaxed as possible in our homes.
hos·pi·tal·i·ty/ˌhäspəˈtalədē/, noun, The friendly and generous reception and entertainment of guests, visitors, or strangers.
It's the little things that can make all the difference, so I've brainstormed every little thing I could think of and all kinds of special touches. I've included things that are wonderful to have available as a guest, as well as what you should check before they arrive.
This comprehensive list will make your overnight guests not only feel comfortable, but even pampered!
This post contains Amazon and other affiliate links for your convenience. As an Amazon Associate I earn from qualifying purchases. If you purchase something through any link, I may receive a small commission, at no extra charge to you. I only recommend products that I love or would purchase for myself. See my full disclosure here.
What do I need to make a cozy guest bedroom?
1. Layering options for the bed. Making a cozy, comfortable, resort hotel-worthy bed is the most important thing in a guest bedroom!
Make it a welcoming place to sink into with a comfy, cooling mattress pad.
Provide a light coverlet, quilt, or bedspread along with a heavier fluffy warm comforter at the foot of the bed.
Offer a variety of pillows. Make sure they aren't old or stained (yuk!) and allow enough for people to sleep with two.
Have easy access to extra blankets and a throw.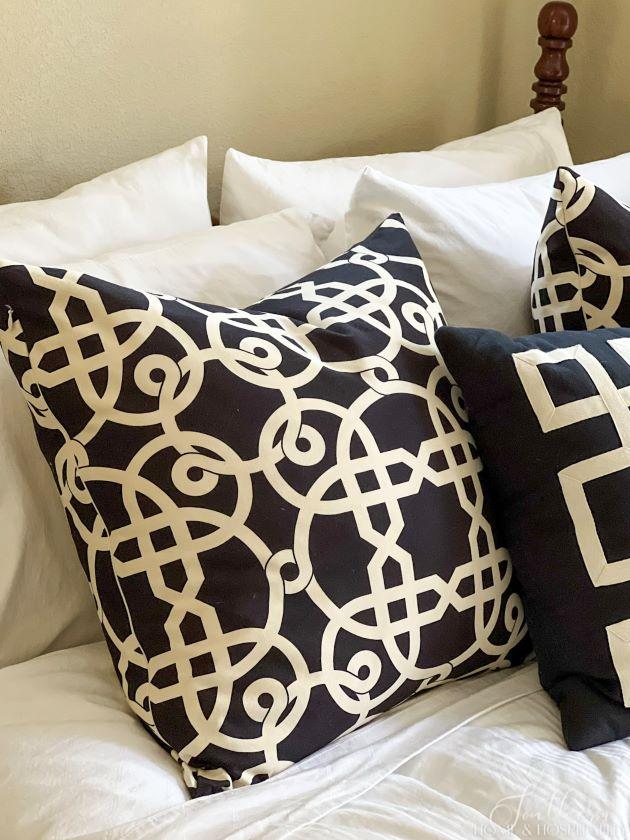 2. A welcome basket. This is one of those guest bedroom ideas that turn a regular old room into an extra special, welcoming space. Have a basket in the room awaiting your guests with thoughtful things like magazines and catalogs, snacks, and bottled water.
Having snacks in the room is usually appreciated because guests don't always have control over mealtimes and don't like to ask for snacks. Stock a few cereal or protein bars, some nuts, and add some nice chocolates as a special treat.
If they're from out of town you can include info about your city and something it's known for.
And a few electrolyte packets are a good idea too. I know I like these if I've enjoyed some cocktails with the hosts the night before!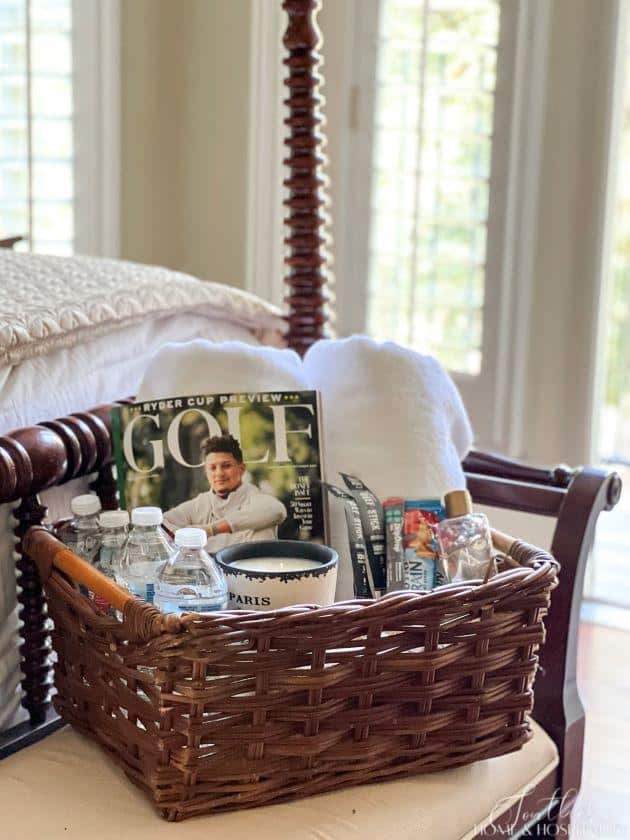 3. Electronic and technology needs. Second to a comfortable bed, these can be the next most important item to guests. Here are a few amenities you should have available in your guest room: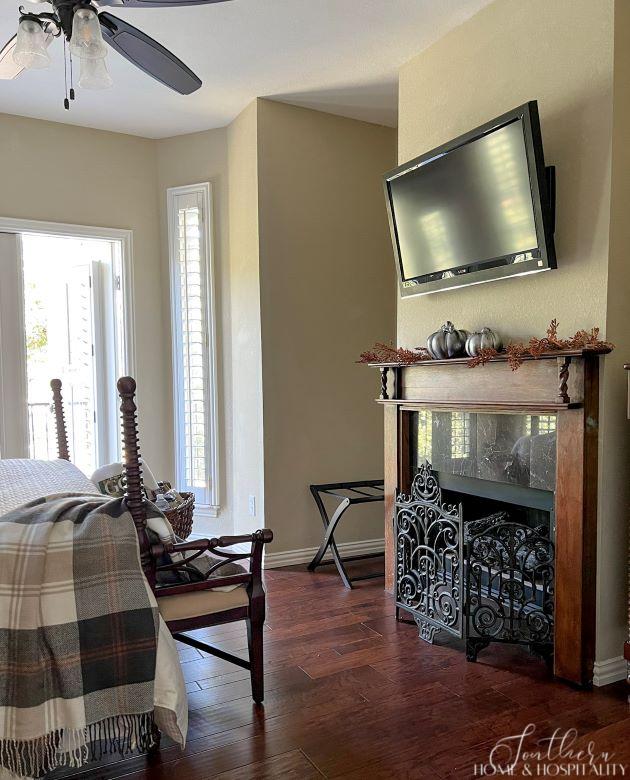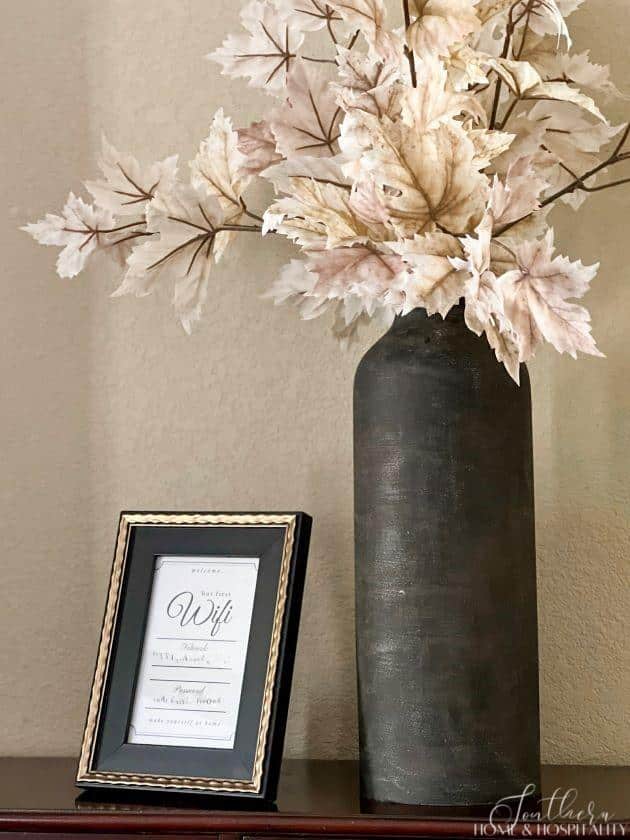 The wifi-password. We have a framed printable in each of our rooms. If you'd like to use mine, you can find it in the subscriber only library! It's available in a blank version or an editable version and fits in a 5×7 frame.
Not a subscriber yet? I have lots of fun and useful freebies you might like in the library! Just fill out the form below to receive the password:
Go the extra mile and make a little home office area for them to work at with a small desk and chair. And even an old computer – it's a great way to put your old equipment to use after you upgrade!
4. Storage space for their belongings. This includes a place for a suitcase, closet space and empty hangers, empty drawers, and room on the surfaces to put their things.
A trinket dish for small, loose items is also nice to keep things together and not have surfaces look like a dumping ground.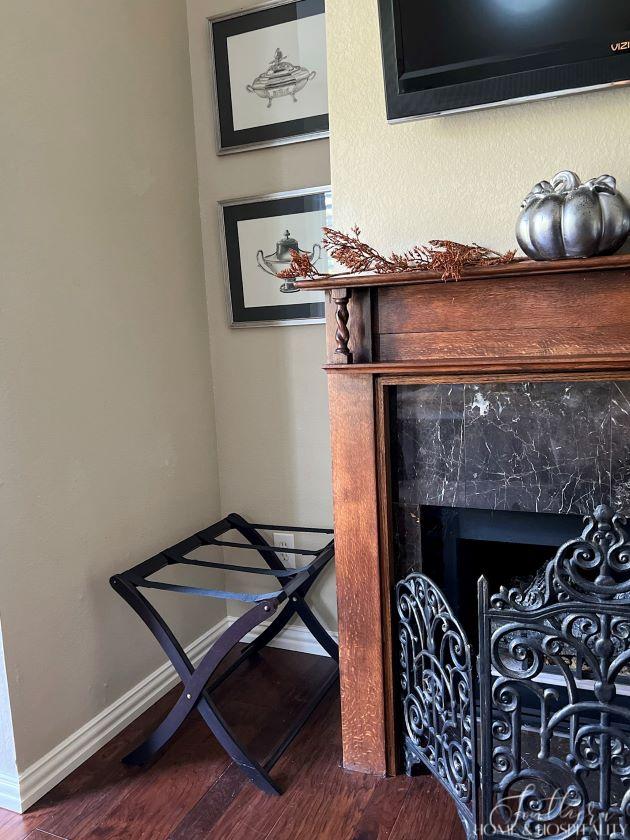 5. A mirror or makeup mirror for additional "getting ready" space outside of the bathroom. I know I always appreciate a full-length mirror for getting ready as well.
6. An additional place to sit besides the bed.
7. Neutral, unisex decor. You want your guests to feel comfortable with the room style. You may love flowers and lace, but I bet your brother-in-law doesn't. So don't go to extremes with the style.
Keep accessories on surfaces to a minimum so guests have room for their things just like they would in a hotel room. And don't fall into the trap of putting all of your old hodge podge and outdated accessories into your spare room because you don't want them in the main rooms anymore.
8. White sheets. They help make your guest room feel like an upscale hotel.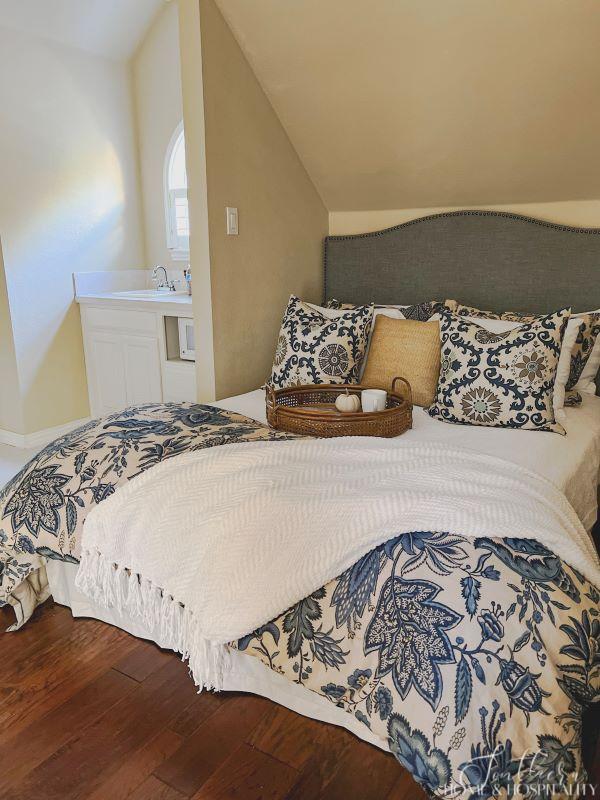 9. A bathrobe. Another luxury hotel touch – a nice fluffy white unisex robe in XL that fits everyone.
10. Pen and paper.
11. An iron and ironing board.
12. A bedside lamp.
13. A nightlight.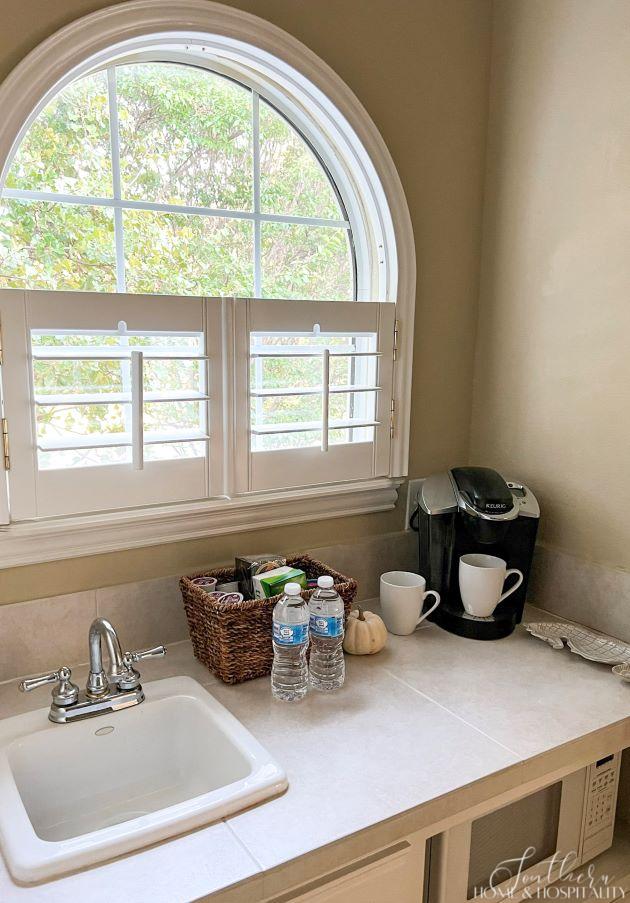 14. A coffee pot. If you have room, a small single cup brewer is nice along with cups, an assortment of coffee pods, and sweeteners, syrups, and creamer. We are fortunate enough to have this "kitchenette" in one of our bedrooms for guests to use.
15. A fan or ceiling fan. Even in cooler temperatures, moving the air makes the room more comfortable.
Things to check in the bedroom:
Sleep in the room occasionally to see how the temperature is and how the mattress and bedding feel. This also allows you to catch other things you wouldn't notice.
Check the light bulbs in the ceiling and lamps.
Check the tv remote batteries and make sure the tv is logged into streaming services.
Make sure nothing smells musty or sour. It is always nice to wash the sheets right before so that they smell fresh. You can see my tips for removing musty odors from furniture here.
Make sure there are accessible plugs with a power strip for things like chargers and cpap machines.
What should I have for guests in the bathroom?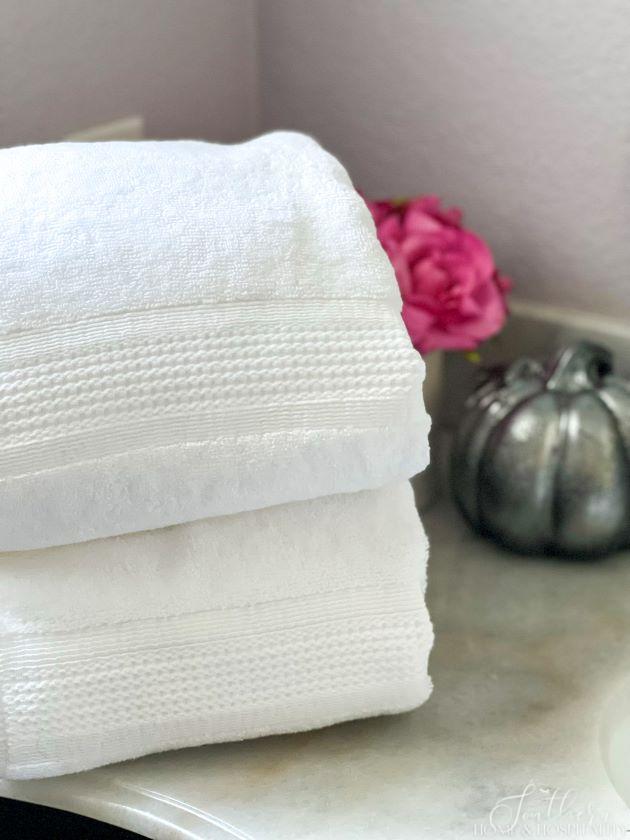 Fluffy towels. Don't have your visitors use your worn out castoffs. Provide new (or new-ish) fresh towels that are still soft. And bonus points for white to create a spa or hotel feel!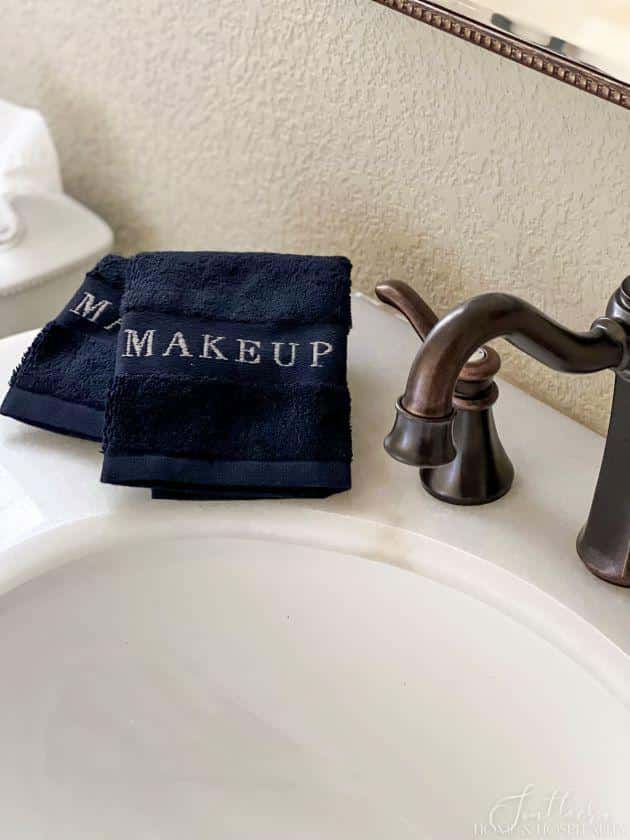 And having these makeup washcloths is the best idea! I'm always embarrassed when I stain the washcloths in someone's home or in a hotel. I even keep one in my travel bag so that doesn't happen anymore.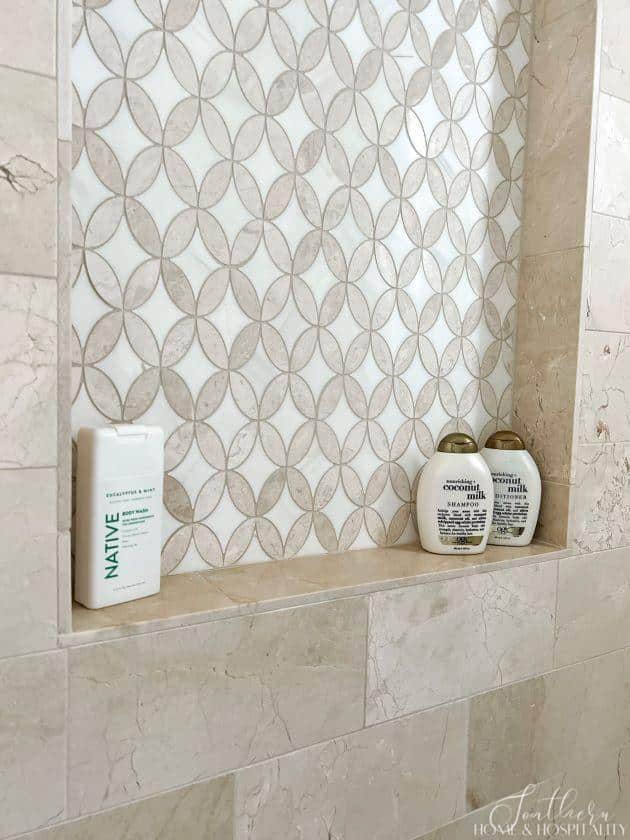 2. Shampoo, conditioner, body wash, and bar soap. Outfit your shower or tub with new. Again, not mismatched rejects from your bathroom, bar soap chips, or (eewww) soap with hair already on it.
3. Extra toiletries. Any personal items your guests might have forgotten. I find that the most forgotten toiletry item that our guests ask for is a toothbrush. I save travel sizes of products just for this purpose.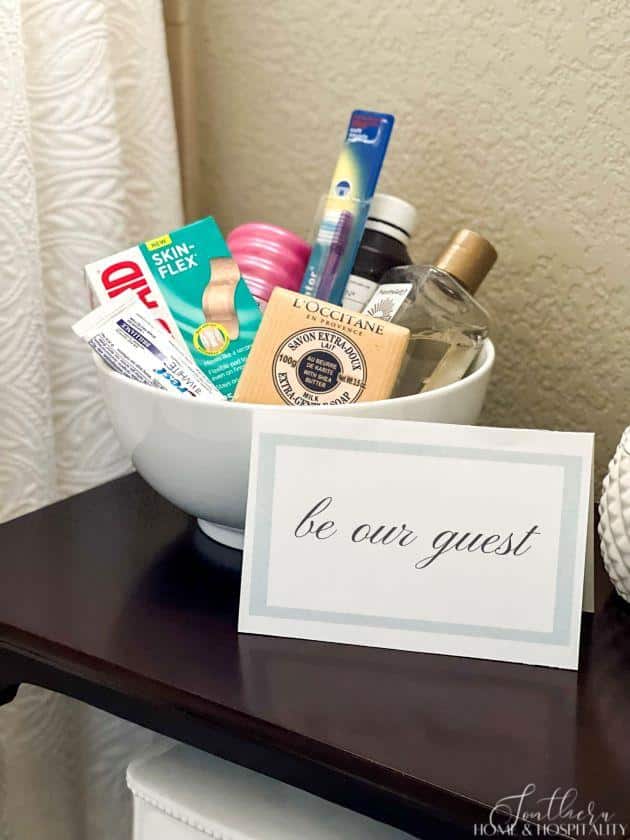 Here are a few ideas for toiletries to stock:
Toothbrush and toothpaste
Floss and mouthwash
Razors
Basic medicines for things like pain relief, stomach upset, and heartburn
Feminine products
Bandaids and antiseptic
Contact case and solution
Lotion
Qtips, cotton balls or cotton pads
Scissors/nail clippers
Shower cap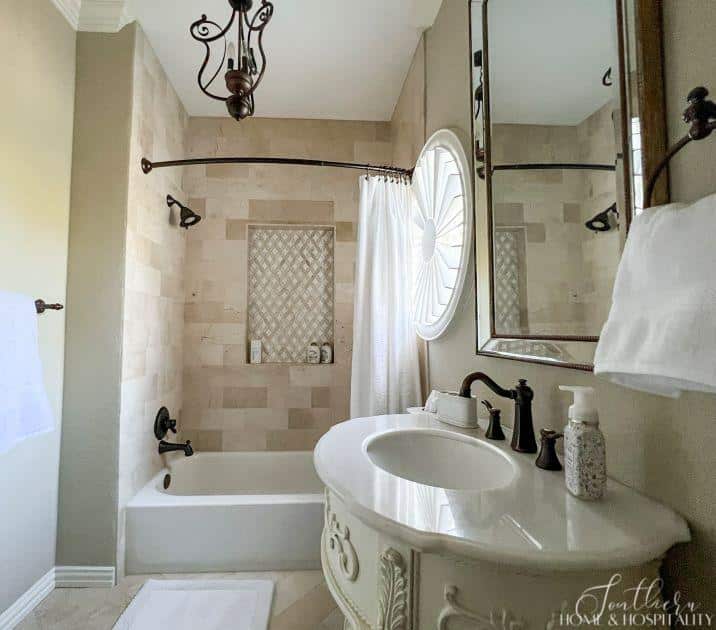 4. A hair dryer.
5. A plunger and air freshener. And some Poo-pourri.
Things to check in the bathroom:
Make sure there is plenty of toilet paper, an extra box of tissues, an extra bar of soap, and an extra bottle of hand soap. Everyone hates when they don't know they're out of TP until it's too late!
Check to make sure everything is clean. Deal with any mildew issues in the shower. And do a last minute check of the sink and toilet for hair and gross things.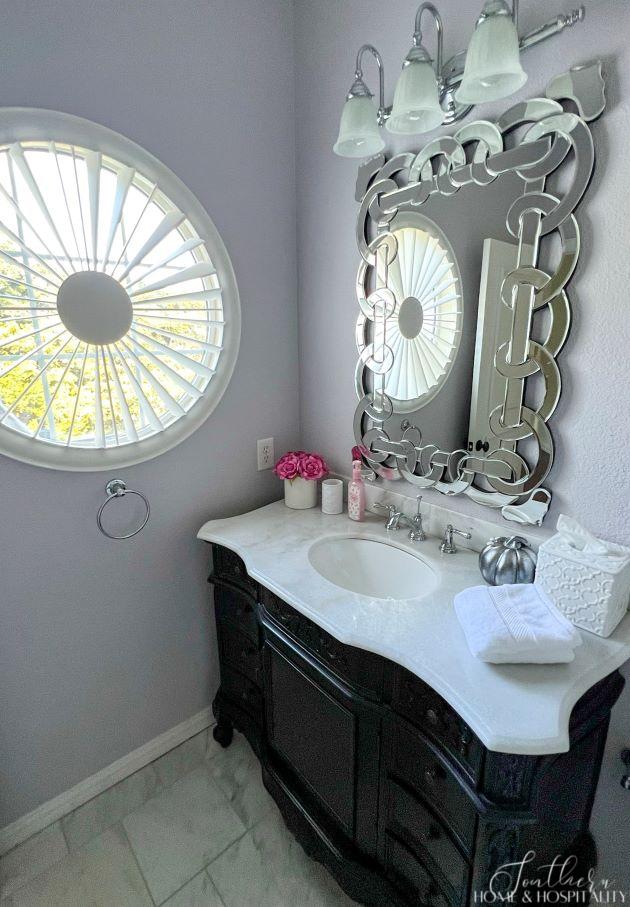 Have a trash can available and make sure it's emptied.
Have plenty of hooks and bars to hang towels. A simple Command hook on the back of the door is always useful!
Have you ever needed to know the correct height for all of your bathroom hardware? See my guide here.
A few final touches.
And a few little extras to make your guests feel extra special!
Leave a welcome note.
Add a small vase of fresh flowers for the occasion.
And top it off with a diffuser or a candle with a nice, pleasant scent.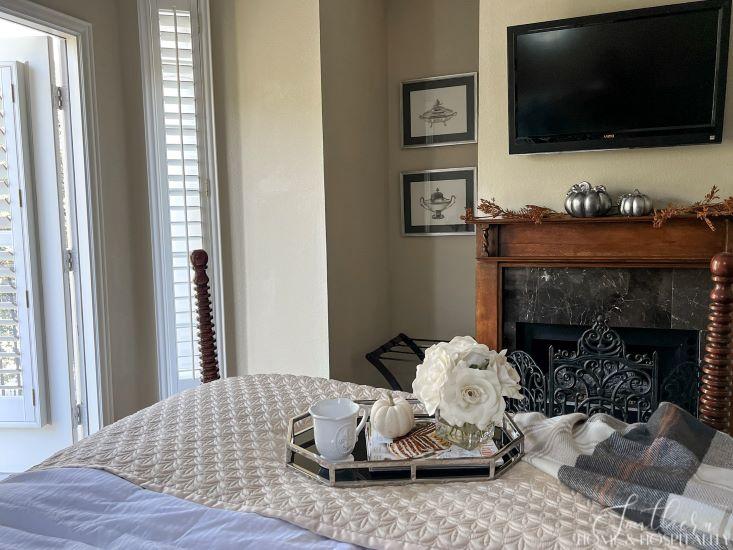 ---
Wow, that was a lot of ideas!
So don't feel like you need all of them right now – I don't have all of these available to my guests. Yet.
But it's easy to add small details little by little to make everyone feel as comfy-cozy in our homes as possible. Let me know in the comments if you have any great ideas that I've missed!