The Complete Guide To Deep Clean Your Mattress and Bedding
Inside: Easy ways to clean the mattress, comforter, coverlet, bed pillows, and more, plus stain removal tips and how often you should clean everything on the bed!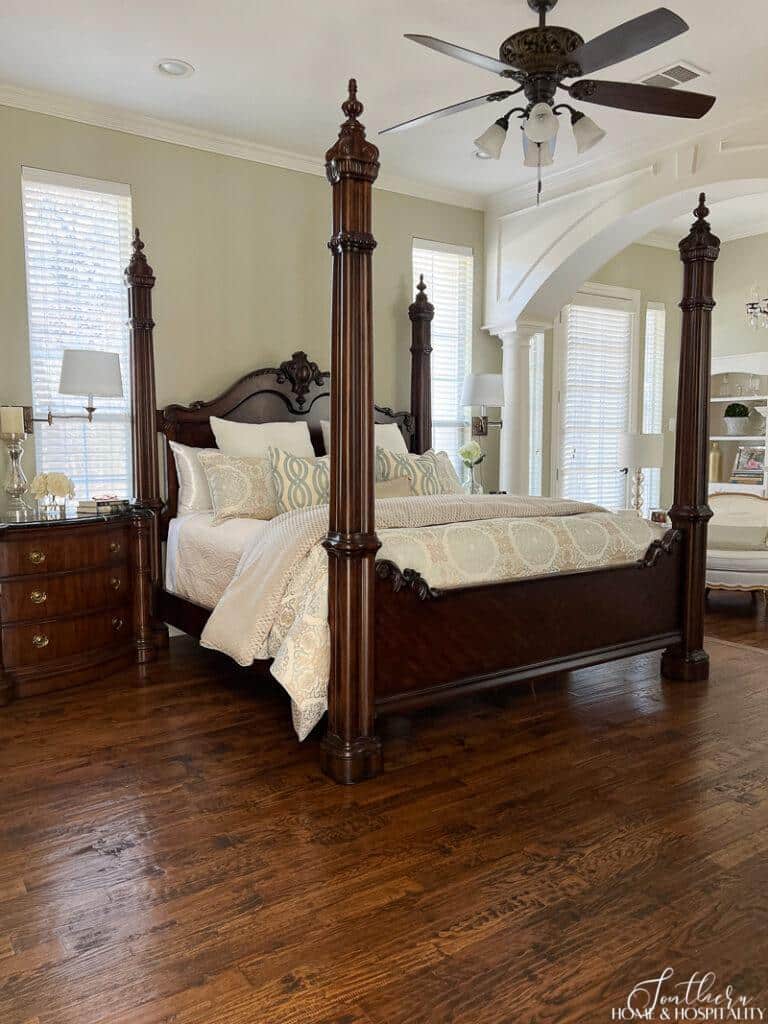 We spend a large part of our lives in bed. And wherever people spend a lot of time, follow stains, dirt, and things you can only see under a microscope (or a blacklight).😱
So do you clean every part of that bed and bedding? Washing the sheets is a no-brainer, but you may not be sure how to go about cleaning the rest. Here are some simple ways we can get every part of that bed clean from the comforter down to the bed frame.
This post contains Amazon and other affiliate links for your convenience. As an Amazon Associate I earn from qualifying purchases. If you purchase something through any link, I may receive a small commission, at no extra charge to you. I only recommend products that I love or would purchase for myself. See my full disclosure here.
Why you should clean your bed and bedding.
To remove stains and dirt. The most obvious reasons that motivate us to clean are visible dirt and the inevitable mishaps in our beds. Like spilled drinks, nosebleeds, or child and pet accidents.
For your health. Just because it looks clean, doesn't mean it is clean. Cleaning the mattress and bedding removes and reduces dust mites, bacteria, dead skin cells, pet dander, and natural body oils (eeewww). Dirty, musty mattresses and bed linens can contribute to allergies, asthma, and even skin breakouts.
For better sleep quality. Sleeping on fresh-smelling and clean bedding makes you more comfy, helps regulate body temperature, and creates a calm and relaxing environment which all promote more restful sleep.
How to deep clean your mattress.
1. Start by stripping all of the bedding.
2. Vacuum the mattress thoroughly to remove dust, dirt, and debris using the vacuum cleaner's upholstery attachment. Pay special attention to the edges and corners of the mattress.
3. Treat any stains or spills on the surface of your mattress (see the stain treatment section below).
4. Then disinfect and deodorize.
Either use a mattress spray that disinfects and deodorizes and spray the entire mattress according to directions. For urine and vomit spots, use a special enzyme cleaner.
Or for a natural method, I like to use baking soda (because I'm not a fan of the smell of vinegar that some people use). Sprinkle baking soda over the entire surface of the mattress and let it sit for at least 15-30 minutes before vacuuming it up. You can even add a few drops of essential oil to the baking soda first for further deodorizing power.
5. Leave the mattress to air out and dry completely before replacing the bedding.
To protect the mattress in between cleaning, encase it in a mattress protector. I made sure to always put one of these on my kids' college dorm room mattresses. I wasn't letting my babies sleep on other people's funk and possible bed bugs.
How often should I clean my mattress?
It's recommended to clean your mattress at least twice a year.
While you're deep cleaning the mattress, it's also a good time to flip it if you can, to balance the wear and tear. Sadly, we can't flip our pillow top mattress over, so my husband and I have our own custom body divots in the bed with a hill in the middle.
How to clean your comforter.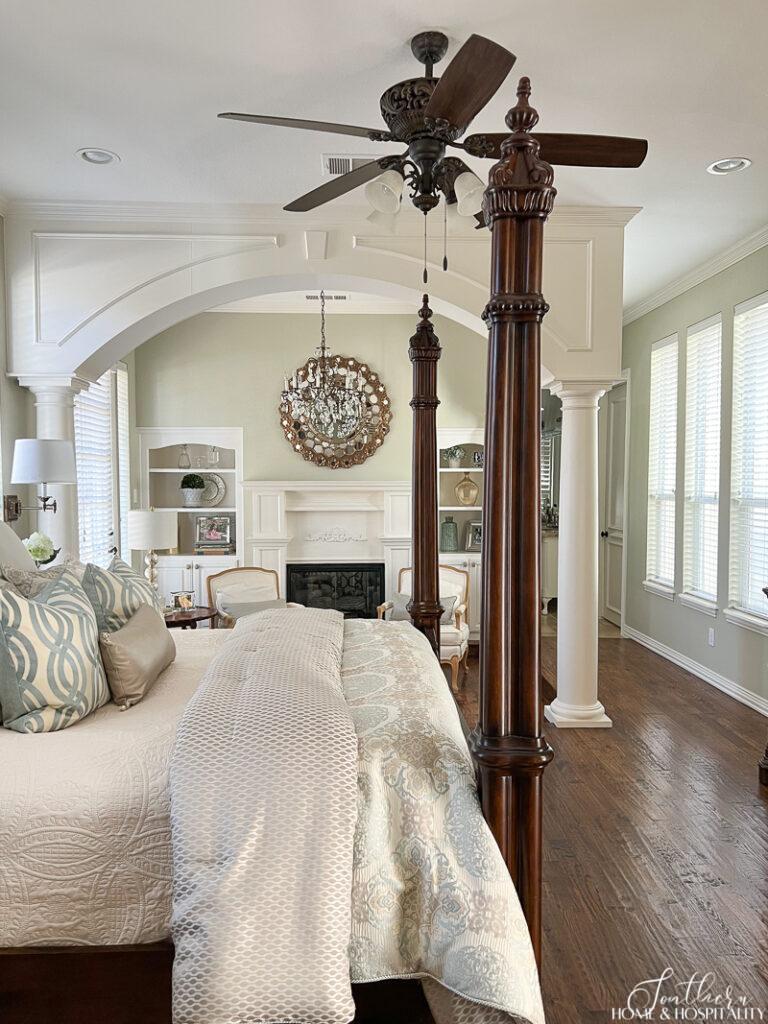 Before cleaning your comforter, check the care label. Whether it's washable or not will determine how you clean it.
For dry-clean only, nonwashable comforters:
You can send it to the dry cleaner and they'll clean it for you.
Or you can be lazy and cheap like me and clean your nonwashable comforter at home:
Vacuum the comforter with the upholstery attachment to remove dust, dirt, and pet hair.
If there are any stains or spills on the comforter, spot clean with a clean, damp cloth and a mild detergent like Dawn. Be sure to test the detergent on a small, inconspicuous area of the comforter first. (See the stain section for more and my real-life example with my dry clean-only comforter that I'd been so careful to keep pristine.😭)
Follow with a fabric disinfecting spray if you need to deodorize and get rid of any unpleasant smells.
For washable comforters:
1. Wash in an appropriately sized washing machine: Make sure your washer is large enough to handle a comforter – usually only larger home washers can, but look up your model's manual on the internet and it should tell you. If not, you may need to take it to a laundromat. For a king size comforter you need a washing machine with a 4.5 cubic foot capacity.
Treat any stains (see below) and then wash the comforter on a gentle cycle. If the colors will bleed or fade, use cold water. For my white down comforters, I'm able to wash them with the hottest water possible to kill the allergens, which is a "sanitize" setting on my washing machine.
2. Dry: Either dry in the dryer or hang to dry. If the comforter will shrink make sure to air dry using the air dry setting on the dryer or hanging it to dry. Either way, make sure it gets completely dry so it won't smell sour.
How often should I clean my comforter?
It's recommended to clean your comforter at least twice a year, or more frequently if you have allergies or pets.
How to clean quilts, coverlets, and duvet covers.
Just like comforters, you'll need to check the care tag first to make sure they're washable. All of my coverlets are washable, but I've learned the hard way that some need extra TLC in cleaning or they no longer fit the bed!
Check the care tag. If it is washable, check the water temperature recommendations and drying instructions.
Pretreat any stains (see stain section below).
Wash in the hottest water the care tag recommends.
Dry on the lowest setting possible. Or if there is any danger of shrinkage, air dry it by draping it over a clothes rack, shower rod, or some chairs.
I shrunk countless matelasse coverlets before I finally figured out I could not use even the lowest heat in the dryer. The best way to clean them was to wash them in cold water and air dry them over a shower rod, repositioning throughout the day—they love to get creases in them when wet.
(It was such a pain that I've found this extra wide quilt that more than covers both sides of the mattress—yay!)
How often should I clean the bed covers?
At least twice a year, or more often depending on how heavily it's used and if you have pets.
How to clean bed pillows.
You can wash most bed pillows (check the care instructions), but I've found that the stuffing is never really the same after and that bugs me. And those yellow stains never seem to completely come out.
So my preferred method for having clean bed pillows is to use pillow protectors underneath the pillow cases. They help keep them clean long enough until the pillows get flat and we're ready for fresh, fluffy new ones. The removable cover can be washed with the sheets and bleached if necessary.
How often should I clean or change the bed pillows?
It's almost as important as cleaning your sheets but it's something people don't typically do often enough. Wash those pillows every 3-6 months (if you don't use protectors) and change them out every 1-2 years.
How to clean mattress pads and mattress toppers.
For a regular mattress pad, treat any stains (see stain section below) and wash and dry according to the instructions on the care label. After a while, most mattress pads develop those yellow stains (mostly from sweat and age). A soak in bleach and water before washing will help fade them somewhat.
Memory foam mattress pads, toppers, and even those weird curvy pillows can't be put in the washer and dryer or they'll become a torn-up mess. The best way to clean and deodorize these is to use the same methods as you would to clean a mattress (see how to deep clean a mattress above).
How often should I clean mattress pads and toppers?
It's recommended that you wash a regular mattress pad every two months. And clean mattress toppers every three months.
How to clean weighted blankets, throws, and throw pillows.
Since our beds are our sanctuaries, they come with lots of cozy bedding accessories.
Toss blanket throws in the washer and dryer according to the care instructions.
Vacuum throw pillows and spritz with fabric disinfecting spray. Same for stuffed animals. Running them through a hot dryer for 15 minutes will also help reduce allergens. My dryer has a "steam sanitary" setting that I sometimes use for my pillows.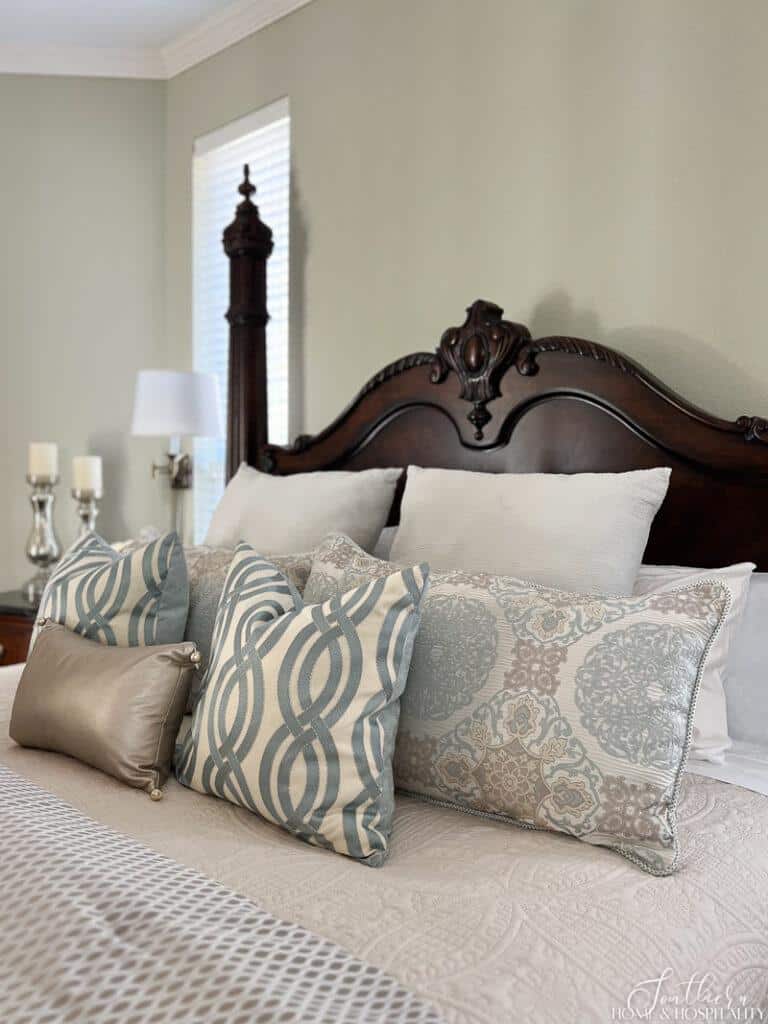 To clean a weighted blanket, wash it in the washing machine on a gentle cycle in cold water if it's 15 pounds or less. Heavier blankets should go to a laundromat's industrial machine. Dry it on a low heat setting or hang it up to air dry.
How often should I clean throws, throw pillows, and weighted blankets?
It's recommended to clean throw pillows every six months. Throw blankets and weighted blankets depend on how you use them. If you sleep under them every night, it's recommended to clean them every month. If they're used as lap blankets, every few months.
Best way to wash sheets.
Everyone knows how to clean bed sheets if they know how to run a washing machine so there are no secrets here. The best tips I have are to remove them from the washer ASAP so they don't sour. And remove them from the dryer immediately to reduce wrinkling.
If you want to sanitize the sheets, set the washer to its high temperature for its allergen and bacteria-killing best hot water.
Laundry stripping has been the craze to remove the residue from fabric softener and the dinginess from sheets and towels. I experimented once with several different kinds of white items, but I personally didn't feel like it made that much of a difference.
How often should I wash my sheets?
Once a week is ideal, but at least every two weeks. They're what touch our bodies the most so if cleaning nothing else, make sure to wash the sheets on a regular basis.
How to clean stains on bedding and mattresses.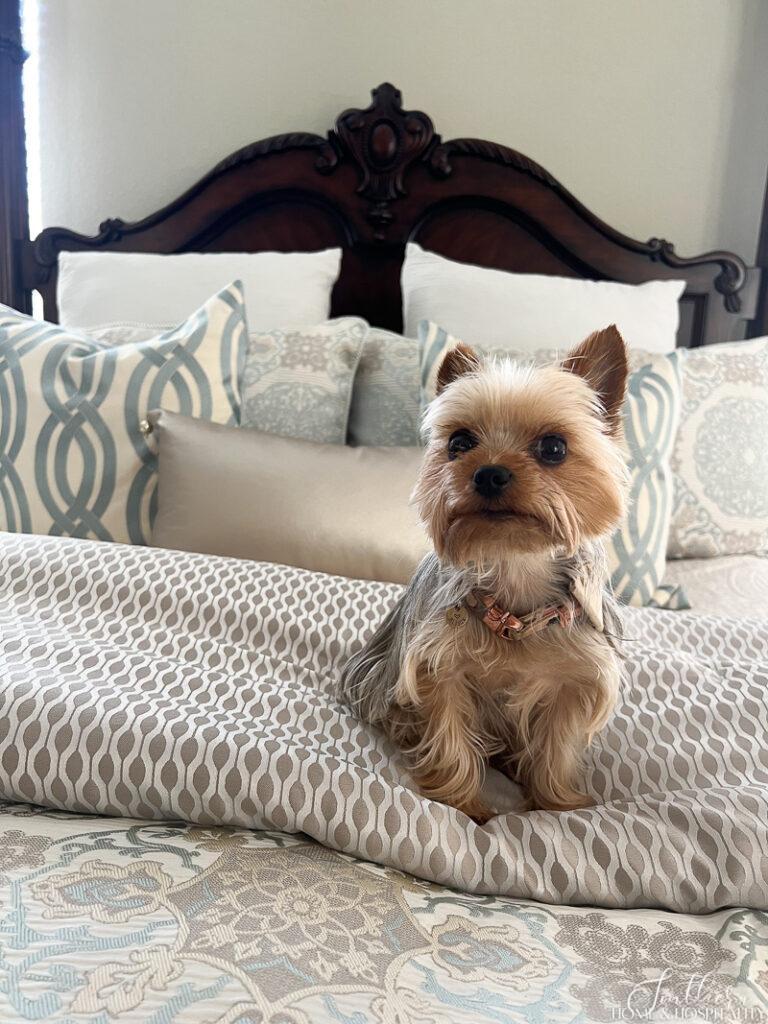 The inspiration for writing this post came to me unexpectedly at 2 a.m. one night. In the form of my dog having diarrhea. On every horizontal surface of our bed. Including my dry clean-only comforter. Good times.
You'll see lots of options for cleaning bedding including vinegar, hydrogen peroxide, baking soda, and more, but these are my go-to easy ways to get rid of bed stains:
For fresh stains and accidents:
Blot up as much of the substance as possible with towels, paper towels, or a clean rag (or suction some of it away with the upholstery attachment of a carpet cleaning machine). Then spot clean the stained area with a wet cloth and a bit of Dawn dish soap. For most wet stains this will do the trick—it worked on my comforter and it looks like the poo incident never happened.
SH&H Tip: Never scrub urine or it will go further down into the fibers.
For set-in dry stains:
My favorite stain cleaner has to be Folex carpet cleaner. Not just for carpet, but spot cleaning every part of the bed, especially the mattress. Just test in an inconspicuous area first as it may fade certain materials.
Stain removers don't remove odors from pee or puke, so after you've removed these stains, use an enzymatic cleaner to neutralize the smell.
Don't forget the dirt below.
After you get your bed all clean and fresh, make sure the frame and floor underneath aren't holding onto dust and allergens too.
Dust wood and metal bed frames with a microfiber duster or vacuum upholstered headboards. Make sure to get the rails including the ones at the head and foot. Vacuum or mop the dust bunnies away on the floor underneath the bed.
---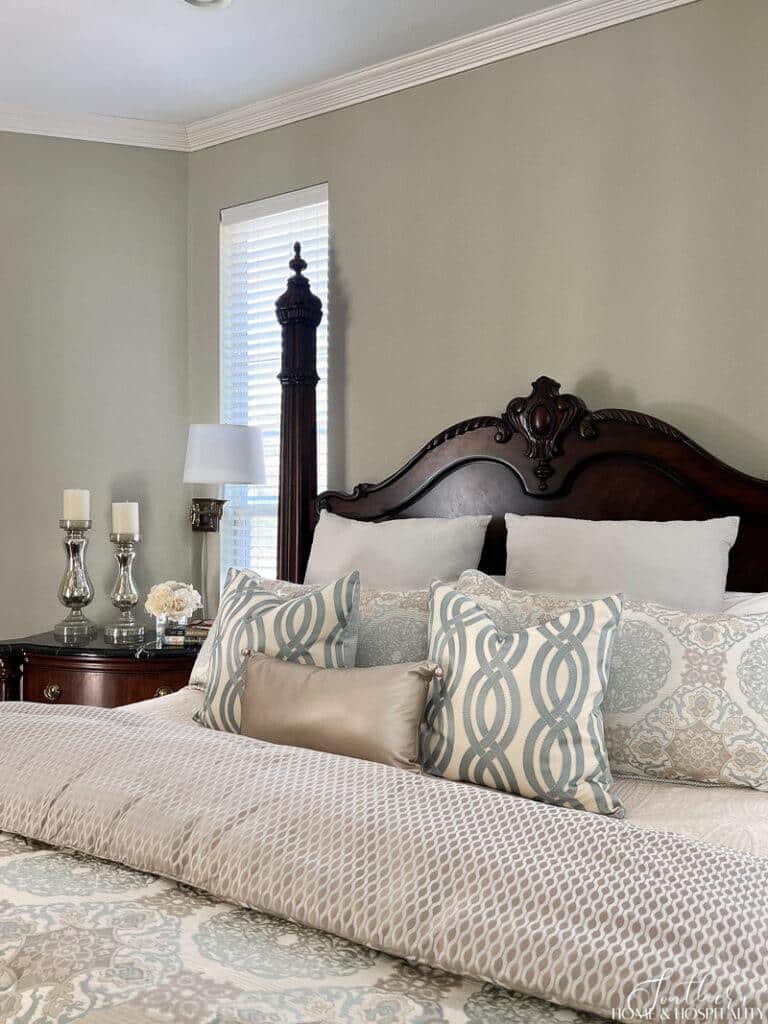 There's nothing like the feel of fresh clean bedding to start the night right. And I'll fess up and admit I don't clean all the parts as often as recommended. But now that we know how and that we should, I'll put some of this on my spring cleaning list.
If freshening up your bedding inspires you to freshen up your whole bedroom, you might be interested in the posts, "How to Make Your Bedroom into a Dreamy Spa-Like Sanctuary" and "50 Best Paint Colors Designers Swear by for Master Bedrooms".
Let me know in the comments if you have any tried and true tips for cleaning the bed!

Before you go:
As always, I appreciate your visit, comments, and shares here on the blog! I'd love it if you also follow along with me on Pinterest, Instagram, and Facebook so you won't miss any of my inspiration and ideas.
Don't forget to sign up for updates to keep in touch.
If you're not already a member of the SH&H family, I'd love to have you join me! You'll not only get email updates, but you'll have exclusive access to all the bonus materials in my free subscriber-only library, like this:
---
Pin it to remember it!
If you've enjoyed this post, please pin and share this on Pinterest:
Sources for this post or similar.
---