Inside: How we made over a tired, tacky, out-of-date primary bedroom into a tranquil, relaxing retreat! ➡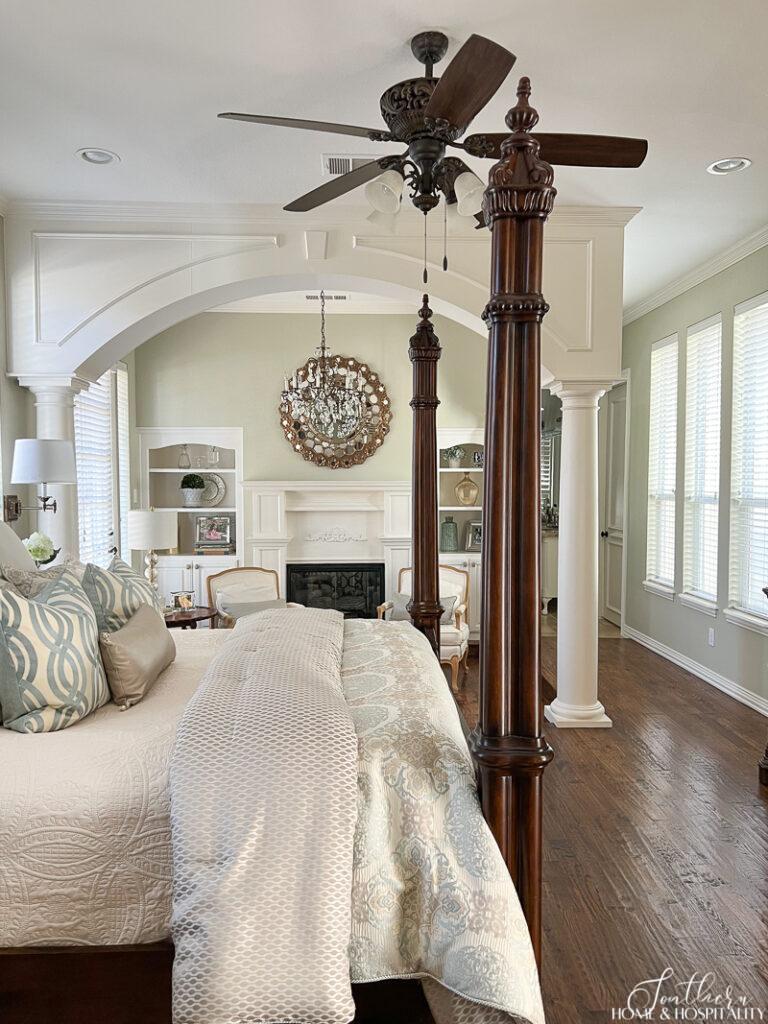 ---
Let's talk about our most personal space. The one where we start and end each day. And that sets the tone for everything in between. The one where we let everything go in the privacy of our own little haven away from the world. Our bedroom.
There's a backstory to every great makeover. When we bought this house, the master bedroom was far from a dream. There was so much strangeness, so much brokenness throughout the entire house that every room caused us stress.
And we badly needed a calming place to recharge and reset after a day of dealing with repairs, remodeling, and the inevitable unexpected issue. So this was one of the first rooms we tackled.
And with a few simple cosmetic changes, this neglected bedroom was transformed into a calming, tranquil, relaxing retreat that I look forward to winding down in at the end of each day.
This post contains Amazon and other affiliate links for your convenience. As an Amazon Associate I earn from qualifying purchases. If you purchase something through any link, I may receive a small commission, at no extra charge to you. I only recommend products that I love or would purchase for myself. See my full disclosure here.
The bedroom before.
So that you can truly appreciate this makeover, let's look at photos from when we first toured the house as buyers.
The bedroom before had great bones and so much potential to be our dreamy luxury oasis. But the beautiful architectural features – a dedicated sitting area framed with arches and columns, a fireplace, and built-ins were overshadowed by ugliness.
There was cheap, unhemmed damask and leopard fabric literally thumbtacked to the wall:
And one piece was disguising a huge hole in the sheetrock that we didn't see until we were pulling it down.
Adding to the ick factor were more tacky details. When you have columns in a room, please don't add Greek appliques to the mantel – unless you're in Rome:
You can see an even worse mantel in the before photos of our family room makeover.
And the spindles on the fireplace and the chandelier read more granny than chic.
So how did we get from there to here?
By doing the following ten things that create a cozy and restful bedroom oasis. Things you can also use in your own home, whether it be your primary bedroom or guest rooms!
Clean up and touch up.
The very first thing we did was clean up and clean out all the remaining clutter (yes they left some of their things including the offending fabric).
The room still felt sad and abused with the many dings and marks on the walls. And it looked outdated with the glossy and yellowing trim.
Just a fresh coat of wall paint in a soothing green and warm white satin on the trim made a huge impact!
We arrived at this soft green paint color after we felt one shade was going to be a bit too saturated and dark (SW Grassland) and the next lighter shade might not read green (SW Ancient Marble). So going in between made this heavenly green. (If you'd like to use it, it's Ancient Marble at 150%.)
We repainted all the glossy trim with a creamy warm white (Swiss Coffee) in a soft satin finish. The beautiful wood arches now looked much more timeless and less dated.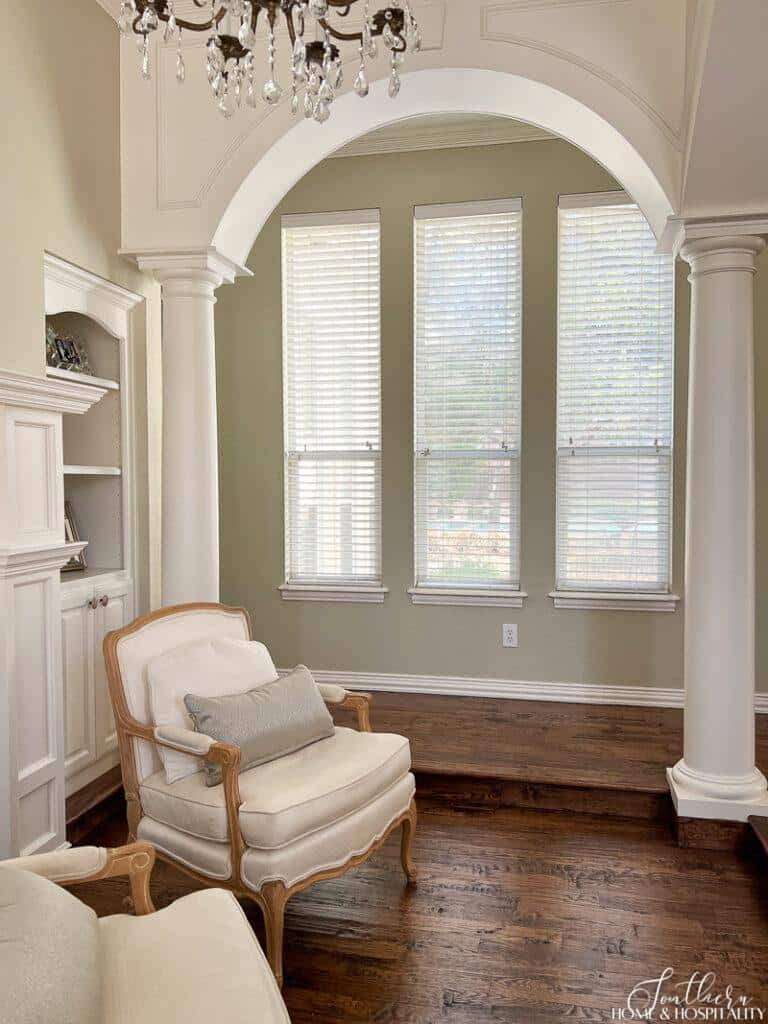 I took some of the shelves out of the built-ins for a cleaner, less cluttered look and replaced the knobs. Then we needed to address that mantel.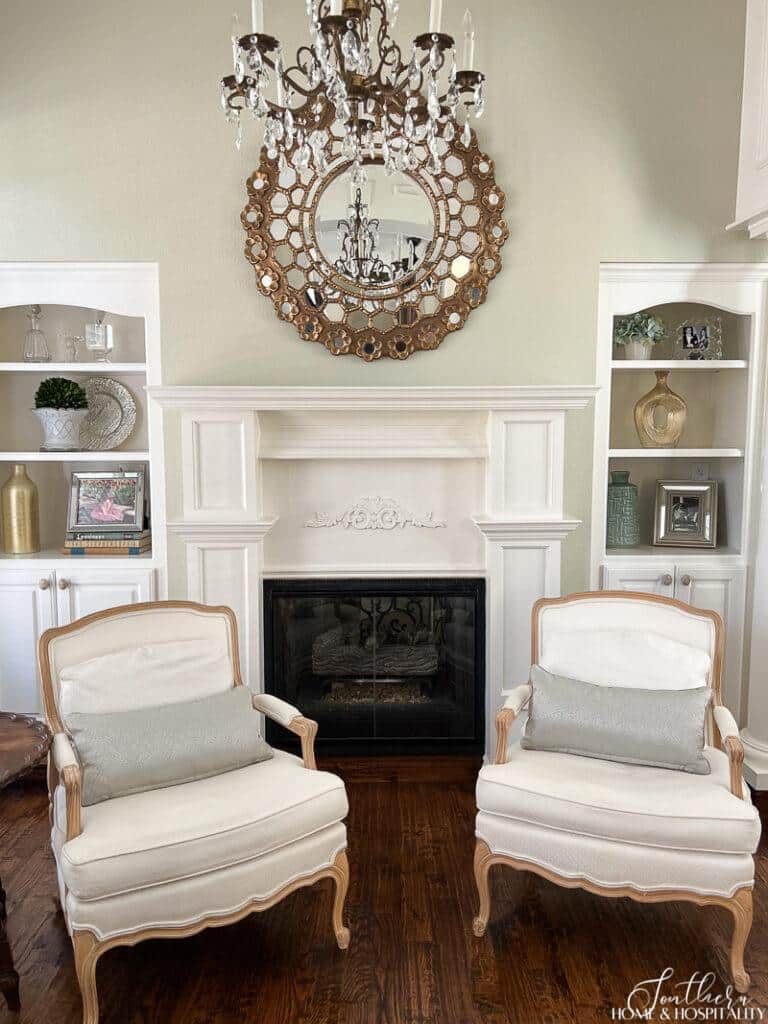 We removed all of the plastic yellow Grecian appliques and the spindles. We had a carpenter frame in the spindle area with some matching trim. A little black paint updated the fireplace cover. And we added one simple wood applique in a more classic design:
Sometimes small changes make all the difference!
Use a serene color scheme.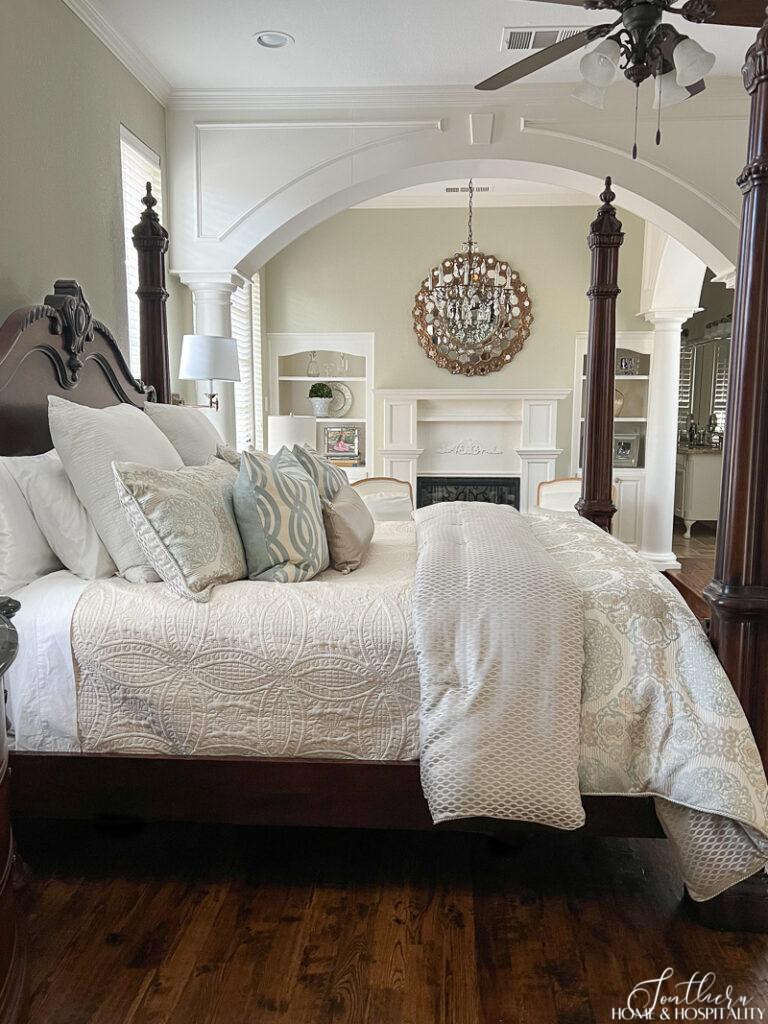 To achieve that restful calm through color, I chose a color palette of the most soothing colors for a bedroom – soft green and spa blue. These colors are a favorite for interior designers to create a calming bedroom for just about every style – you'll see it in everything from the French-inspired bedroom and European bedroom to Coastal and Cottagecore.
The wall color was an easy way to immediately make the room feel more tranquil. For the rest of the room, I used only quiet, neutral colors in ivory, tans, and soft gold. And the perfect quiet complement to the soothing green was the spa blue accent color in the throw pillows and bedding.
Dress the bed in fluffy, fresh luxury hotel-inspired linens.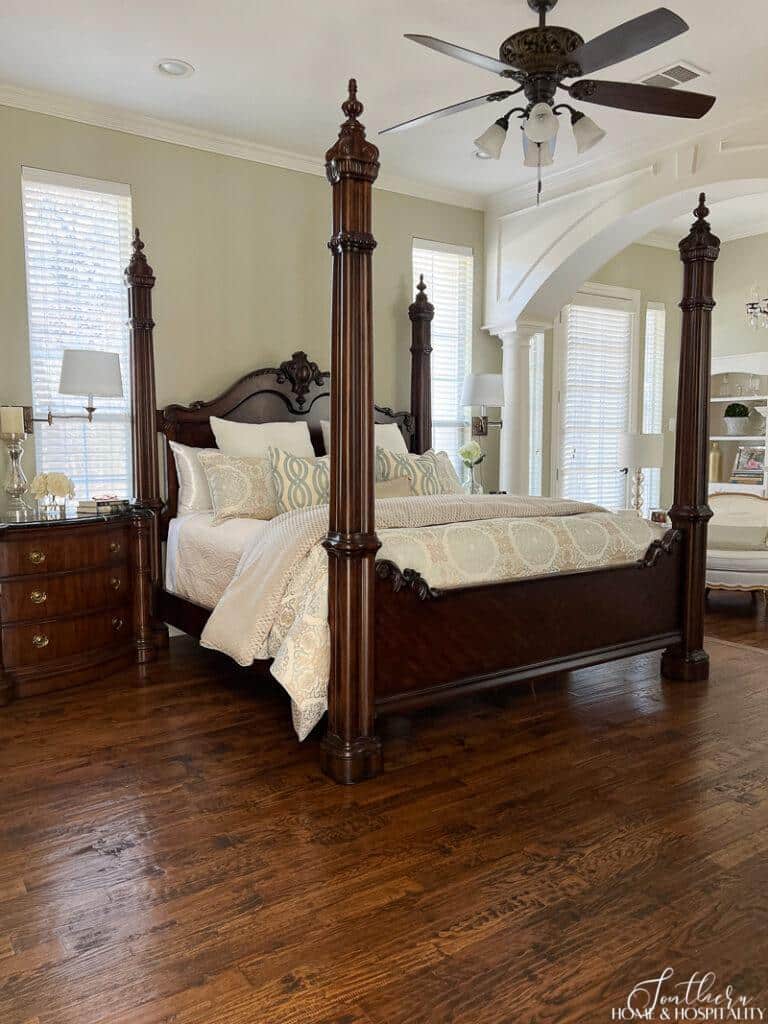 The bed is the star in the bedroom, so I made sure it was as cozy and restful as a 5-star hotel room to invite a delicious night's slumber. Solid neutral sheets that feel good against the skin and a light quilt are the workhorses of our comfortable bed. And a couple of satin pillowcases are supposed to be better for your hair and skin.
To dress up the bed, I found this luxury comforter set that incorporated that beautiful blue.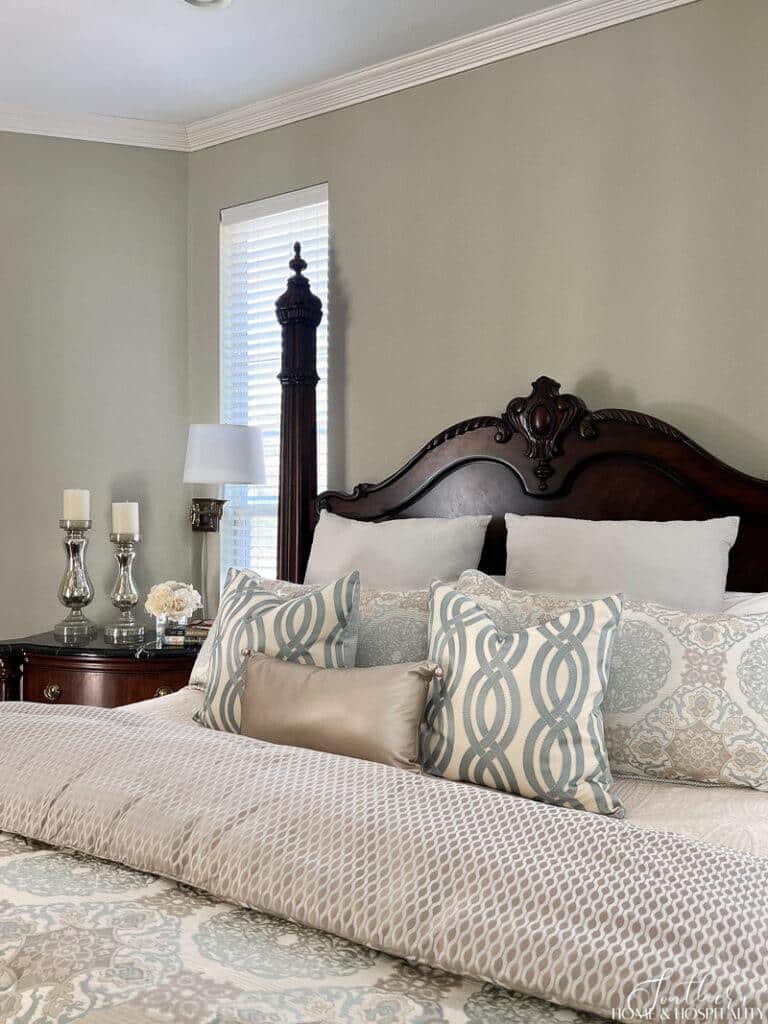 I always fold the comforter up into a fluffy layer at the end of the bed, ready to pull up if we get cold at night. And I found a couple of spa blue euro pillows and throw pillows at HomeGoods that matched perfectly.
See more great places to buy beautiful budget throw pillows.
Mix cozy and luxe textures.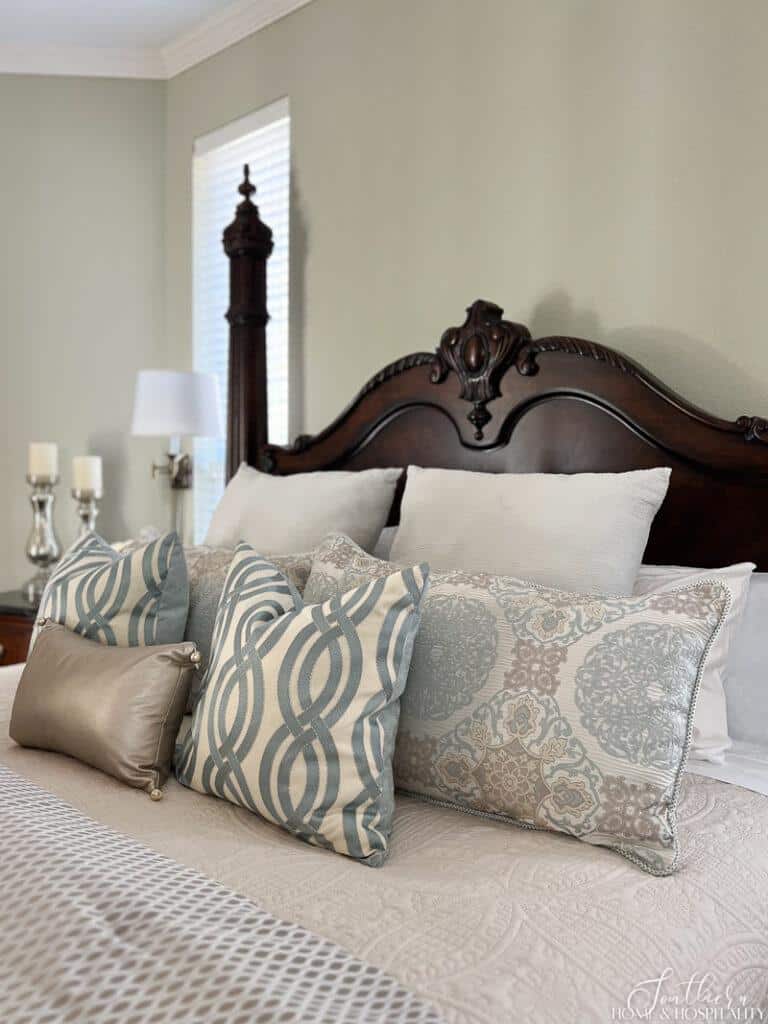 To really make the bedroom feel like a luxury retreat, I made sure to mix both soft textures, like the quilt and euros, with luxe fabrics, like the satin of the comforter set, and a champagne gold leather pillow.
Soft lighting.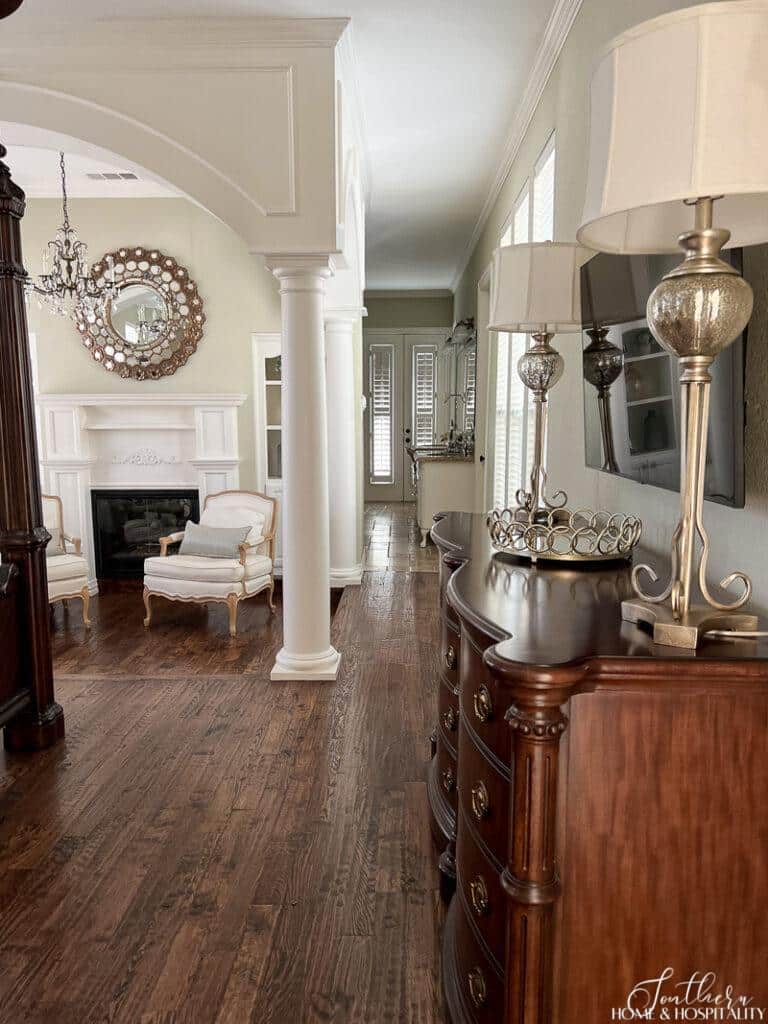 Soft bedroom lighting is important for relaxing – no one feels at ease under the harsh bright light from overhead light sources. I spread lighting options throughout the room that would fill the room with a soft glow with table lamps and wall sconces.
Let in the light.
One of the other features I love about our room is all of the natural light from the many windows and French doors. There's a lot going on visually in this room already so we chose to forgo drapes for a cleaner look and to let as much light in as possible. And views of the outdoors make the room an even better place to chill and relax.
A sitting area.
A retreat should always have a place to sit and reflect. After the sitting area was revamped, I added a couple of small French chairs. I still can't believe these were sitting on someone's curb – there wasn't a mark on them! It's now a nice, quiet place to get engrossed in a good book or chat on the phone.
Photos that spark joy.
A few special family photos that bring happiness to my heart make the perfect accessories for our haven from the outside world.
Natural elements.
Every room needs a touch of life from nature. Fresh flowers would definitely be in order, but I made it easy on myself with a few faux blossoms and preserved boxwood.
Add bed and breakfast charm with vintage pieces.
Some romantic historical touches really add to the bed and breakfast pampering vibe. My mother-in-law's heirloom scalloped round table is a lovely addition to the sitting area, and my parents' LSU yearbooks from the 1940s add another sentimental detail on the shelves.
And I replaced the granny chandy with a real vintage chandelier that I found on FBMP:
Other restful bedroom ideas.
These ten things helped make our bedroom into a special retreat just for us – but they can work in any bedroom of yours to make it more restful too. And here are a few more things we can both do to feel more zen in our bedrooms:
Keep it clean.
Sometimes it's easy to ignore the bedroom since no one else sees it. But clutter feels chaotic and stressful, so keep what you have on nightstands and dressers as simple and clear as possible. Make sure trash and clothes are picked up. And if you really want to start each day right, make your bed first thing.
Create a sleep sanctuary.
There are so many things we know about now that promote better sleep:
White noise. I've used this white noise machine for years at home and I use this free app when I'm traveling.
Block out the light. Our bodies naturally want us to be awake when there's light. Use blackout curtains. Cover any electronics that cast blue light. And avoid the blue light from phone screens before bed. (I use this memory foam sleep mask that takes care of it all for me.)
Keep the room cool. The ideal temperature for sleeping according to experts is 68 degrees. I don't know if that's true, but I know I sleep better when I'm not hot. We run the ceiling fan on low all year round. And I do love a cooling mattress pad.
Other decor ideas for a restful bedroom.
An essential oil diffuser. Try oils like lavender that promote good sleep. Or eucalyptus or mint that will have your spa retreat actually smelling like one.
Make the bedroom cozy by adding a throw blanket to the bed or sitting area. And soften those spots with area rugs.
Put a dimmer on the overhead lights.
---
Our primary bedroom makeover wasn't extensive like some of the other rooms in our home. But its change feels pretty dramatic. And our now peaceful oasis is my favorite place to sleep in the whole world. Even over that 5-star hotel. 💗

As always, I appreciate your visit, comments, and shares here on the blog! I'd love it if you also follow along with me on Pinterest, Instagram, and Facebook so you won't miss any of my inspiration and ideas.
Don't forget to sign up for updates to keep in touch…I have lots of fun and useful freebies you may be interested in in my subscriber-only library like my cheat sheets for where to place lighting, bathroom fixtures, artwork, and furniture!
---