How to Get Rid of the Musty Smell in Old Furniture
Inside: Proven and effective ways to remove musty, stale, and foul odors from wood, fabric, and upholstered furniture. ➡
If you're a fan of the curated, collected look like I am, you love scoring and bringing home that special, unique vintage furniture find.
What you don't love bringing home is that smell.
That musty, funky, mamaw's house smell that comes trapped inside those beautiful, antique pieces. That ugly stale stench that makes you brace your nose every time you open its lovely drawers.
Well, I've got a whole list of solutions to get rid of all levels of that musty odor.
From knocking down the slightly stinky all the way to exorcising DEFCON 5 stank.
And you'll be able to use them in not only dressers, chests, and drawers, but also in wood cabinets and vintage accessories like suitcases and trunks!
Why does my furniture smell musty?
First of all, why does this happen?
The main culprit of that old furniture smell is mold, mildew, bacteria, and germs. Ewwww.
After you hear that it's not just a bad scent, it's even harder to look past.
And stinky smells in furniture can be caused by a variety of things besides age. Pet odors, cigarette smoke, mothballs, and even overly fragrant candles or potpourri stored inside.
This post contains Amazon and other affiliate links for your convenience. As an Amazon Associate I earn from qualifying purchases. If you purchase something through any link, I may receive a small commission, at no extra charge to you. I only recommend products that I love or would purchase for myself. See my full disclosure here.
Five ways to remove the musty smell from wood furniture.
Let's first talk about how to get rid of the musty odors from wood furniture. And we'll start with methods for lowering and masking those less severe old musty smells.
1. Wipe it down.
Removing years of dust and dirt should be the first thing, so wipe the entire piece thoroughly with a damp cloth. You can use a mild cleaner made for wood like Murphy's oil soap.
Next, you'll want to kill any mold spores and mildew.
Try one of these cleaning solutions on stained or painted nonporous wood where the mold will remain on the surface:
Vodka or rubbing alcohol. Mist it on with a spray bottle or apply it with a saturated rag. People really swear by this vodka hack!
Borax. Mix a tablespoon with a cup of water and apply with a soft cloth and toothbrush to get in the crevices. Let it dry to inhibit further mildew growth. Then wipe any residue that might get on furniture contents.
Liquid dishwashing detergent. Combine a teaspoon with a spray bottle full of water. Spritz on and wipe with a clean rag.
And for unpainted, unstained porous wood that mold may have penetrated down into, try one of these:
Distilled white vinegar. Combine equal parts vinegar and water in a spray bottle. Mist the furniture lightly, let dry for an hour, wipe down with a damp cloth, and then dry thoroughly with a dry cloth.
Hydrogen peroxide. Spritz the wood surface to disinfect with some household hydrogen peroxide and let it air dry.
Storebought fungi and mold killing products. Solutions like Odoban are made to disinfect and remove odors (this one is even made for the super hard to remove house fire smell). Just be careful to test a small area first.
SH&H Tip: Bleach is not a good way to kill mold on wood because the chlorine doesn't penetrate effectively enough to kill the roots.
2. Dry it out.
Wood absorbs moisture as well as the smells around it. Dehumidify that excess moisture and air out old odors by placing the furniture with all drawers and doors open to the fresh air in natural sunlight. Mold loves to live in dark, moist places so the UV rays help kill any remaining mildew. The air circulation will let some of the mustiness out as well.
Leave it outside for a full day and repeat for one or two days more if needed (watch the weather forecast). For added power, spray it first with one of the mold killing solutions above.
If you can't take the furniture outside, or live where the humidity level is really high, use a dehumidifier in a small enclosed room for a few days.
3. Absorb the odor.
Set one of these in a container inside the furniture for a couple of weeks to help remove some of the mustiness:
Baking soda
Coffee grounds
Cat litter
Silica packets
Charcoal briquettes
Or these storebought odor absorbers work well: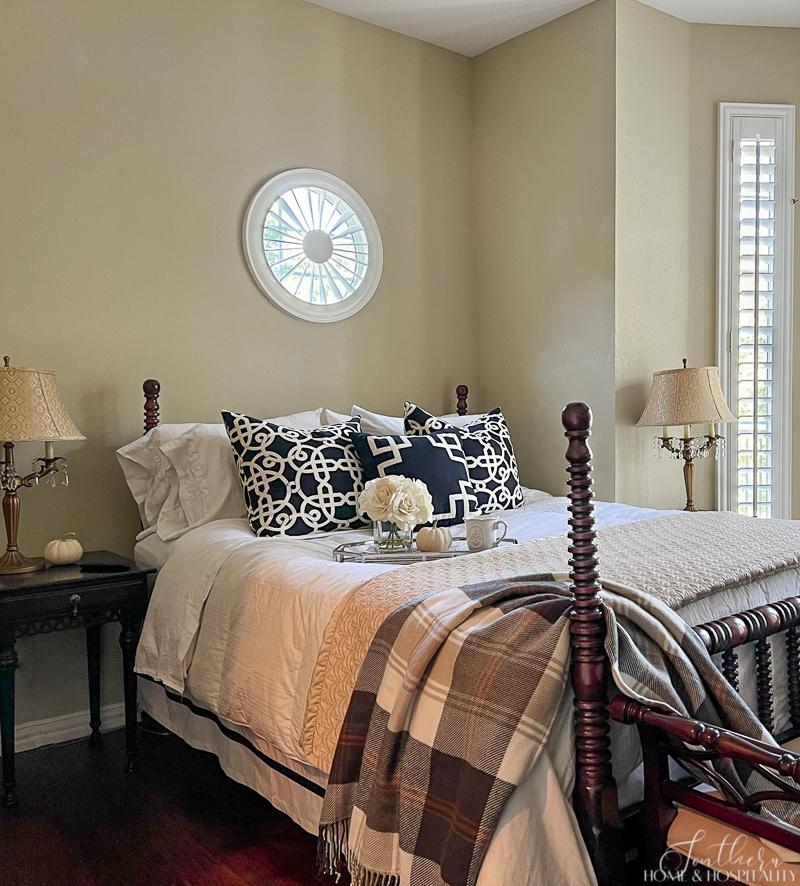 4. Mask the odor.
To help cover the lingering odors after the first two removal techniques, the following will further mask smells and add a pleasant, fresh scent:
Carpet odor powder
Dryer sheets
Drops of your favorite essential oil
Air fresheners
Fresh smelling bar soap
Just be careful about storing heavily scented items that permeate the wood. The next owner may not have the same love for your favorite flowery soap.
All of these solutions for removing unpleasant smells so far will only go – so far. But they are fantastic for lessening the musty smell when you want quick fixes or you're dealing with a piece that you don't want to alter the inside of, like a cedar chest.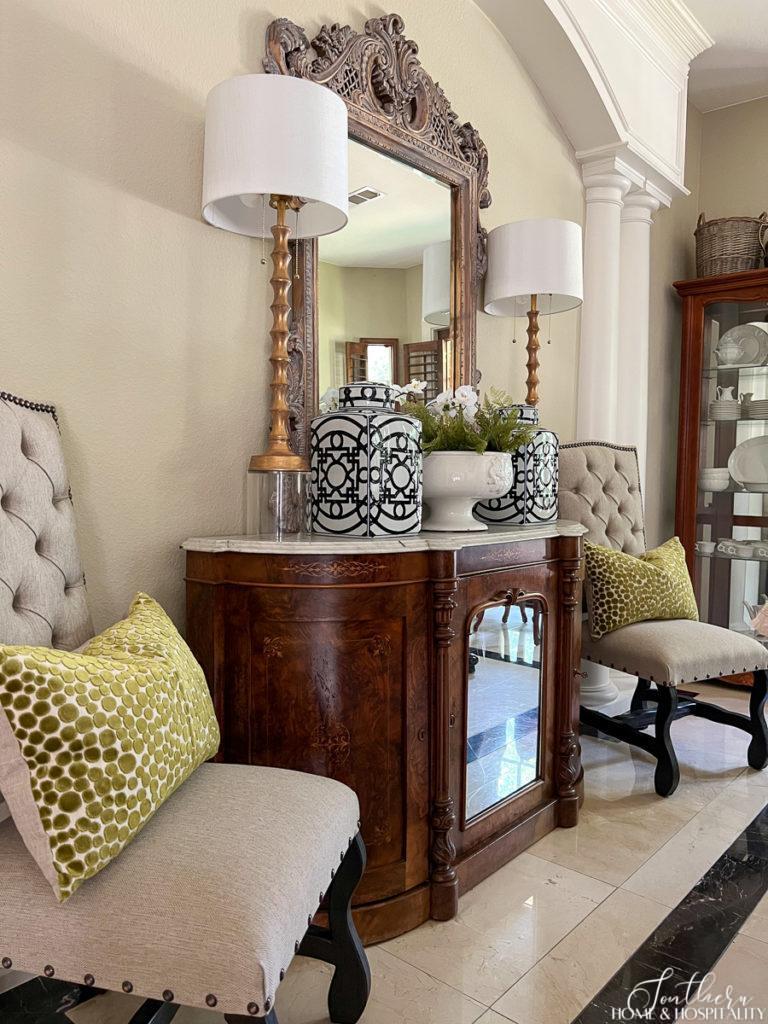 5. Sand and seal.
But there are some cases where all the airing, masking, and cleaning efforts don't go far enough to pass the sniff test. If you truly want to remove the old smell from the inside of wood furniture, you'll have to invest a bit more time and work.
You can sand off the stain or paint finish to let the wood breathe out the smell.
Most of the time you won't want to go to this trouble, so the best way is to seal it in. Cover up that nasty smell with a clear polyurethane odor blocker like this Zinnser Odor Killing Primer.
How to get bad smells out of upholstery.
Stinky furniture also comes in the soft variety. And it is without a doubt, harder to completely rid fabric and its filling of odors. But you'll be able to make it more tolerable with these solutions.
Upholstery becomes smelly much faster than wood furniture. It really soaks in smells around it like cigarette smoke, B.O., and cooking odors. And everyone who has a dog knows the constant struggle of making sure your couch smells like you don't have one.
Fabric upholstery.*
For deodorizing general foul smelling odors from fabric sofas and chairs, sprinkle the upholstery with baking soda or carpet cleaning powder. Let it sit for at least an hour and then vacuum.
If this doesn't go far enough to remove the stench, steam clean fabric upholstery. For real steam cleaning, you'll have to hire a service.
You can clean the fabric somewhat yourself by renting a steam cleaner or investing in your own carpet cleaner (a well used cleaning tool in our household). Just be careful not to overwet. And make sure cleaning it this way won't leave water spots.
If the furniture has removable covers, you can give them a good clean in the washing machine.
If the bad smell is caused by moisture, sit the furniture out in the sun for a day to help kill any mold, mildew, and bacteria. The cushion foam may still trap the odors so remove the cushion covers and lay them out separately.
Then lightly mist the furniture with white vinegar (the vinegar smell will soon dissipate).
For persistent, tough pet odors that can't be removed with regular enzymatic pet cleaners, Genesis 950 Pet Stain and Odor Remover gets good reviews for removing stains and smells after failed other attempts at cleaning. Expensive yes, but worth it if you're dealing with the deadly cat urine.
For smoke and other super rank odors that baking soda and sun can't handle, lightly spray the fabric with some Odoban Fabric & Air Refresher or Oziom Air Sanitizer. These are meant to be air fresheners so don't oversaturate. And know that the smell of both of these powerful odor removers is strong, but will dissipate. Open some windows, or stay out of the room for a while.
*Make sure to test any of these solutions that wet the fabric in a small inconspicuous area first.
Leather and vinyl furniture.
To remove bad smells from a vinyl, suede, faux or real leather couch, sprinkle it generously with baking soda and let it sit for at least an hour, then vacuum away.
Or use white vinegar (only on smooth, protected leather or leather-like fabrics). Mix equal ratios of vinegar and water and lightly spritz over the sofa or chair. Then immediately wipe away so it won't harm or bleach the leather. The vinegar smell will eventually dissipate, along with the odors!
On real, protected leather a good leather cleaner and conditioner will also greatly help remove bad smells.
How to prevent the bad smell from returning.
A few proactive measures to stay ahead of the stink:
Wipe wood surfaces regularly with a cleaner and keep one of the odor absorbers inside.
Don't let smelly animals sit on upholstered furniture, or smelly people for that matter. I know it's hard to tell them no ("them" being the pets, not the people that need to shower). Or have a special blanket for them to lay on.
Vacuum fabric upholstery and wipe leather clean regularly with either a damp rag or leather cleaner.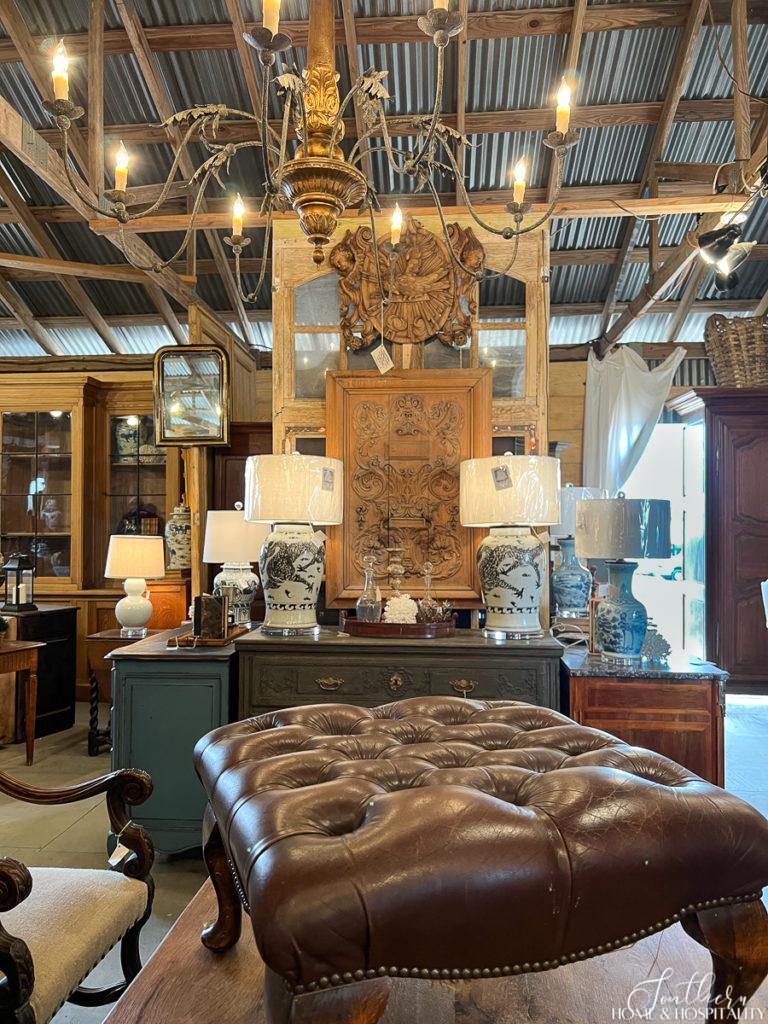 ---
Now next time you see that piece at the thrift store that just has to come home with you, you'll feel even happier about it knowing you'll be able to get rid of its unpleasant stale sidekick.
If you have any tried and true hacks for removing odors from furniture that I haven't covered, let me know about them in the comments!

Don't forget to sign up for updates to keep in touch…I have lots of fun and useful freebies you may be interested in in my subscriber-only library like my cheat sheets for where to place lighting, bathroom fixtures, artwork, and furniture!