A Beginner's Guide to the Round Top Antiques Show
Inside: How to plan a trip to and navigate the Round Top Antique Fair. Where to shop, when to go, what to bring, what to wear, and where to stay!
I heard about the Antiques Fair in Round Top, Texas for years.
I didn't quite understand what it was. All I knew was it was where interior designers and retailers find those standout, special and unique home decor items. And I knew I had to see it for myself.
I finally got to mark it off my bucket list and now I get it.
Oodles of decor that you just can't run to a chain store and buy. I enjoyed it so much that I went back for the next two shows.
Only visiting a couple of days on each trip, I definitely haven't seen and done everything Round Top market week has to offer so I'm no expert. But having experienced it as a newbie, I'm sure I had the same questions that you might about planning a trip there.
This post contains Amazon and other affiliate links for your convenience. As an Amazon Associate I earn from qualifying purchases. If you purchase something through any link, I may receive a small commission, at no extra charge to you. I only recommend products that I love or would purchase for myself. See my full disclosure here.
What is the Round Top Antiques Fair?
In case you've never heard of this tiny town in Texas and its renowned Antiques Fair (which if you're not from Texas there's a good chance you haven't), it's a quiet, rural community somewhere in the countryside between Austin and Houston and is home to less than 100 residents.
But twice a year, it balloons into the largest antique show in the country bringing over 4,000 vendors from all over the world to set up shop in fields, tents, and barns for tens of thousands of shoppers!
In the last 50 years, the original show has grown from a single weekend in Round Top proper into a multitude of show venues spread out over 18 days and 20 miles, along a two lane country road that runs through the towns of Round Top, Warrenton, Carmine, Fayetteville, and Burton.
Calling it a single market, fair, or show is a little misleading. It's actually a string of independent venues along Highway 237 that advertise and open their own shows at different times during the 2 1/2 week period which is generally referred to as the "Round Top Antiques Fair".
This can make planning a first time visit very confusing.
Let me first give you a glimpse into some of the beautiful wares that I saw offered there and my favorite spots to shop. Then I'll share some of the basics of attending that I've learned from my three trips. (So if you're planning a trip to Round Top make sure and scroll down all the way to the end!)
What they sell at the Round Top Antiques Fair.
The Round Top Antique Show offers everything from stunning high-end antique furniture to vintage neon signs to open fields where you can go junking to your heart's content.
And it's all set amongst picturesque Texas farmland. I think the population of cows in Round Top may be higher than the people.
It really feels like you're getting away from it all but still shopping design district level goods!
I wasn't in the market for any furniture on my trips so far, so many of these photos are of accessories. But I would love to make room for some of the furniture I've seen, or to even have a home that some of the pieces would fit in.
The selection of vintage mirrors out there is endless.
And the sheer amount of French and European accessories and furniture in one place will probably draw me back every year from now on!
Even though the shops are set up in tents, barns, and warehouse type buildings, the prices are not cheap by any means, so don't go with that expectation.
As a matter of fact, it took me a bit to get used to fine pieces costing thousands of dollars sitting around in these dirty outdoor settings.
But even in the pricier places, I have fun browsing because they are a great source for DIY and styling ideas.
Round Top is also a great place to shop for unique and large scale artwork.
And the next time I'm in the market for lighting with a statement piece pendant or chandelier, I will definitely wait to look at Round Top.
The selection of unique lighting out there is incredible!
Pretty sure this chandelier is not gonna fit in any of my friends' homes:
So many things you'll see in Round Top are oversize and only suited for commercial use.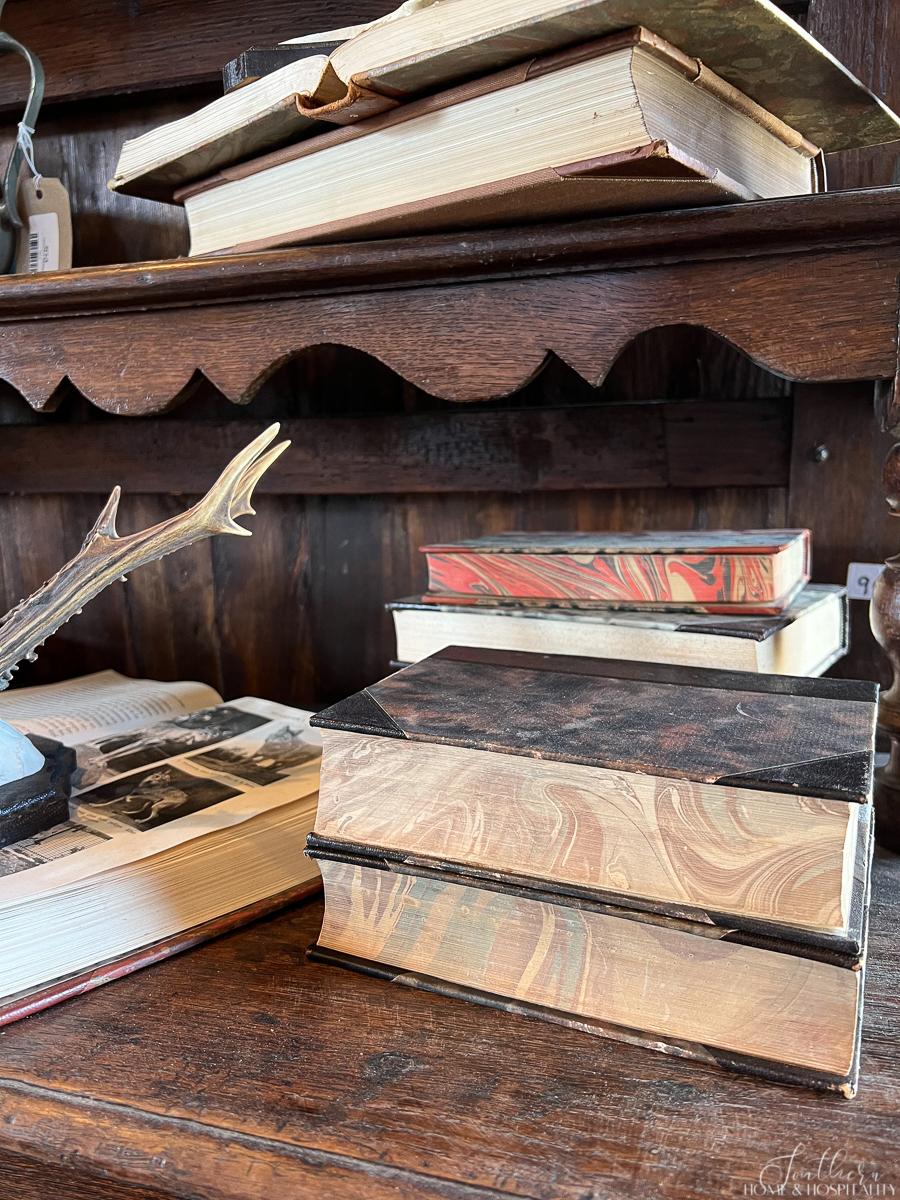 They have an amazing array of architectural items including the best selection of vintage doors I've seen anywhere.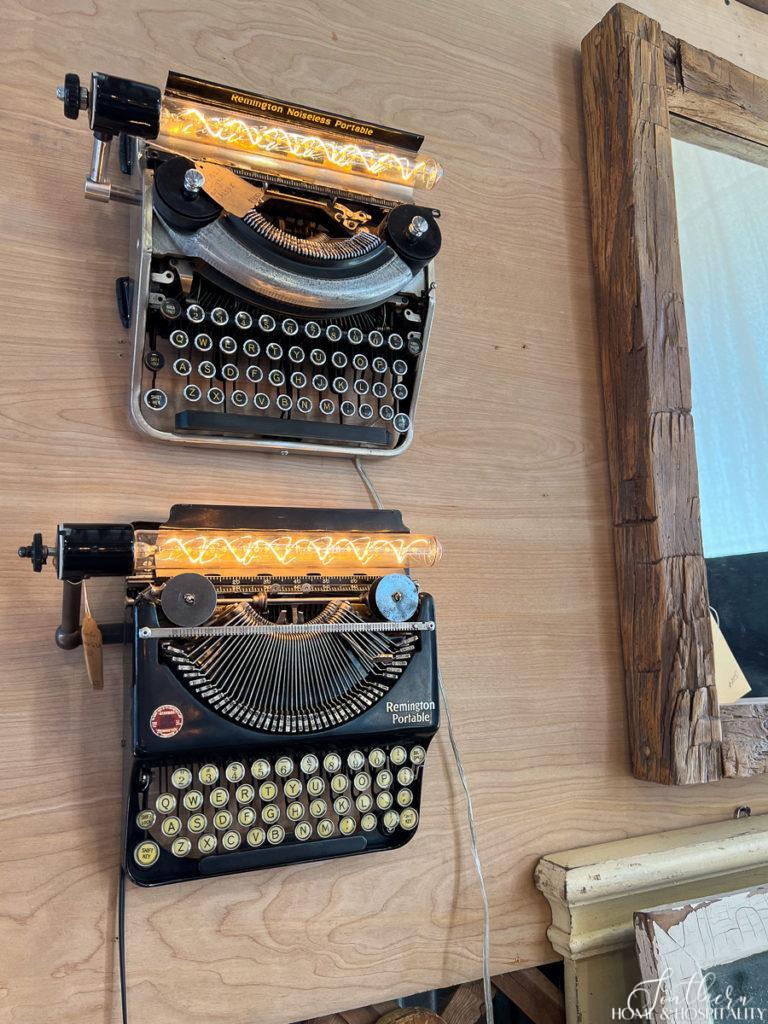 There are so many artisans and vendors with unique and unusual accessories.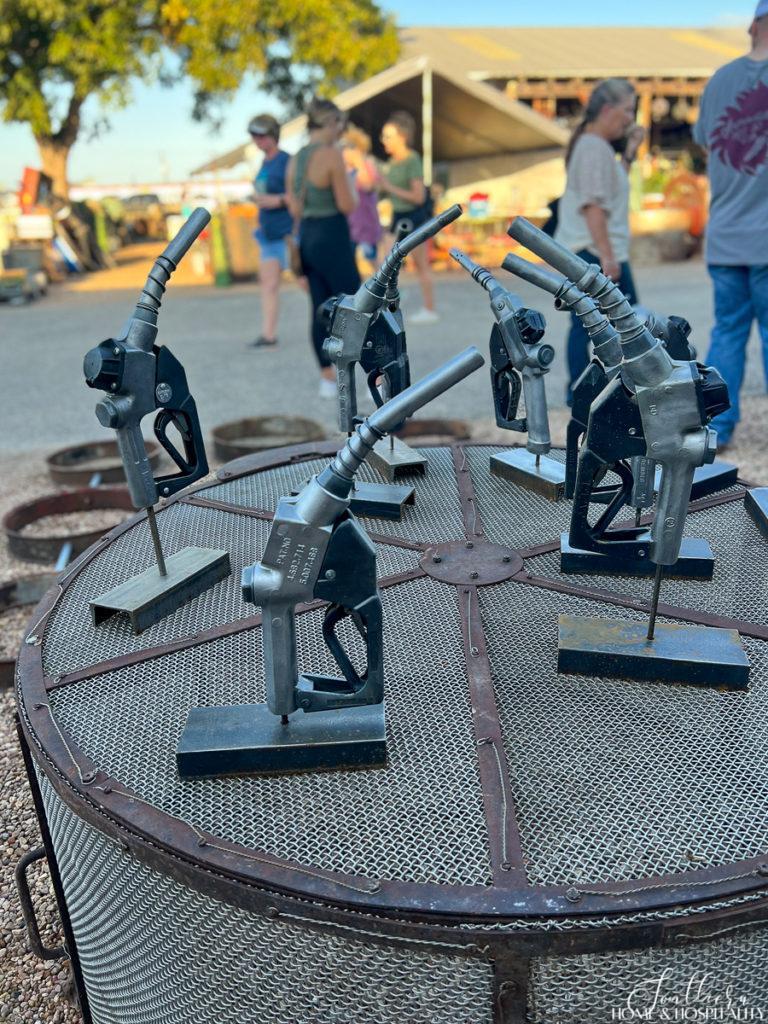 Also some downright bizarre…
There is always a nice selection of vintage copper in Round Top. One of my favorite places to shop for copper pots is in Excess, where I've found some fantastic deals.
You can see my collection of pots from Round Top over the stove in my French Country kitchen here.
I'm always drawn to all of the glass bottles, jars, and jugs.
I bought one of these extra long dough bowls on my last trip:
And my friend bought these animal hide and crocodile leather barstools at a great price:
And Round Top is no longer just for furniture. There are loads of fashion vendors as well.
We saw some really unique clothing, jewelry, hats, boots, and purses, mostly in The Arbors.
My favorite venues at the Round Top Antiques Show.
We usually start down in Warrenton and work our way back up Highway 237 to make sure we've stopped at every place that interests us.
The Bar W Fields in Warrenton are quite popular for bargain pickers and flea market fans. But we had to budget our time and energy so this one had to go for us.
We focused on the kinds of things we wouldn't be able to see at Canton Trade Days which is only an hour and a half away from where we live.
I learn a little more each time about the best way to "do" Round Top to see what interests me. And I've learned which venues I definitely want to revisit.
It definitely helps you be more efficient with your time there to have a game plan. And it helps with the overwhelm.
One of my first stops is the Excess barns. I've bought several accessories there and found prices to be fairly moderate. There's a vendor that sells European vintage decor that I always buy several things from. It's where I've found all of my copper pots (don't believe he posts a name on his booth, sorry!)
The Grainery is another great spot in Excess to find reasonable rustic decor and architectural pieces.
The Marburger Farm Antique Show is also down on that end of the highway and was only open during my first trip there. Marburger is one of the only paid entry venues – I believe about $10. But if you want to see a lot of high end gorgeous European antiques in one place, it is well worth it!
Marburger is only open during the final days of each show, so if you want to make this one of your stops, plan accordingly. The word is that this is the place the famous designers shop!
The only other paid entry place that I'm aware of is The Big Red Barn. Unless you like old style antique malls, I would skip this one if you're short on time.
Another stop that makes our list every time is the Compound. My favorite vendor here is Old World Antieks and we like to spend a little extra time looking at everything here. They also have a smaller space in Blue Hills. I've bought a couple of really pretty copper pieces and one of their French glass jugs.
But mostly I just add things to my wishlist.😍
This is a fun photo opp in the Compound that definitely says "girls trip" complete with a champagne vending machine:
The Arbors is the next venue on our list and probably the most different from the others. This is where you'll find clothing, purses, jewelry, and lots of original artwork.
25 Mackenzie Lane is one of my favorite vendors in this venue. I adore their botanical art:
And the bedding and pillows are beautiful but a little pricey for me so I've only window shopped so far. I do love a monogram pillow!
And their pillow "headboards" are a great idea.
Botanica usually has a space in the Arbors with their amazing moss bowls that I just had to try and knock off with my own DIY moss bowl.
There's even "jewelry" for the furniture in the Arbors:
Market Hill is another stop that includes Paul Michael. We mostly shopped in their accessories store all the way in the back and their Christmas warehouse (only open during the fall show).
Market Hill can simply be a godsend to stop in when it's really hot because it's all air conditioned.
Another venue we make sure to walk through is Blue Hills. Old World Antieks' other location is here and I like to visit Maison Sud and the Ginger Bee.
On one trip we walked through McClaren's Interiors. Talk about a crazy floor. It kept changing materials and levels. And it felt like an Alice in Wonderland house that just kept going.
Lots to see in here though!
Another small venue that's worth a mention is actually called The Venue. We happened upon it while waiting for the Arbors to open one morning and discovered a furniture maker from North Carolina called Adams Furniture. Great prices and they make and sell directly rather than through retailers. It's worth checking out if you are in the market for new furniture.
The majority of the shopping venues in Round Top open around 9:00am and start shutting down around 5:00pm.
Round Top show dates and when to go.
There are two big shows, one in the spring and one in the fall, with a smaller winter show I've never attended.
This is where it gets a tad confusing. The different venues and vendors decide which dates they want to be open during the 2 1/2 week show.
And each venue has a website that posts different show dates and make them sound like it's the whole Round Top Antiques Fair. Some vendors and venues are open the entire 2 1/2 week time, some are open part, and some are only open the last few days.
The late ones include the Big Red Barn and Marburger Farm, so if you want to see those, plan your trip days for the last week.
I've read that for best selection it's better to go early in the show. We timed our trips at different points in each show and saw plenty, but of course I'll never know what I missed out on.
I've also read that a few vendors that don't want to carry a lot of inventory back may offer deals on the last day.
From personal experience, there is no best time to go, other than planning around the weather!
You can see when the upcoming show dates are at this site: www.antiqueweekend.com.
Where to stay in Round Top, Texas.
Since these are such small towns, lodging is at a premium. I've even heard you should book a year in advance for certain places in town so if possible book early. You may be required to stay 2-3 nights minimum for home rentals and B&Bs.
And you should expect to pay high season prices. You can find available lodging by going to Round Top Chamber of Commerce or VRBO Vacation Rental.
I've actually never stayed at any of the hot spots in town because I've never planned my trips far enough out.
Only one stay did we need a last minute hotel and I was able to find a room in neighboring Brenham. We paid $180 a night for a room which was probably double its normal cost. It was a well known chain but was definitely not the cleanest or most updated. La Grange is another nearby town with hotel options.
Lucky for me, one of my girlfriends has friends with the most charming farmhouse in Round Top and when we dragged in after our first day of shopping, what a surprising treat it was!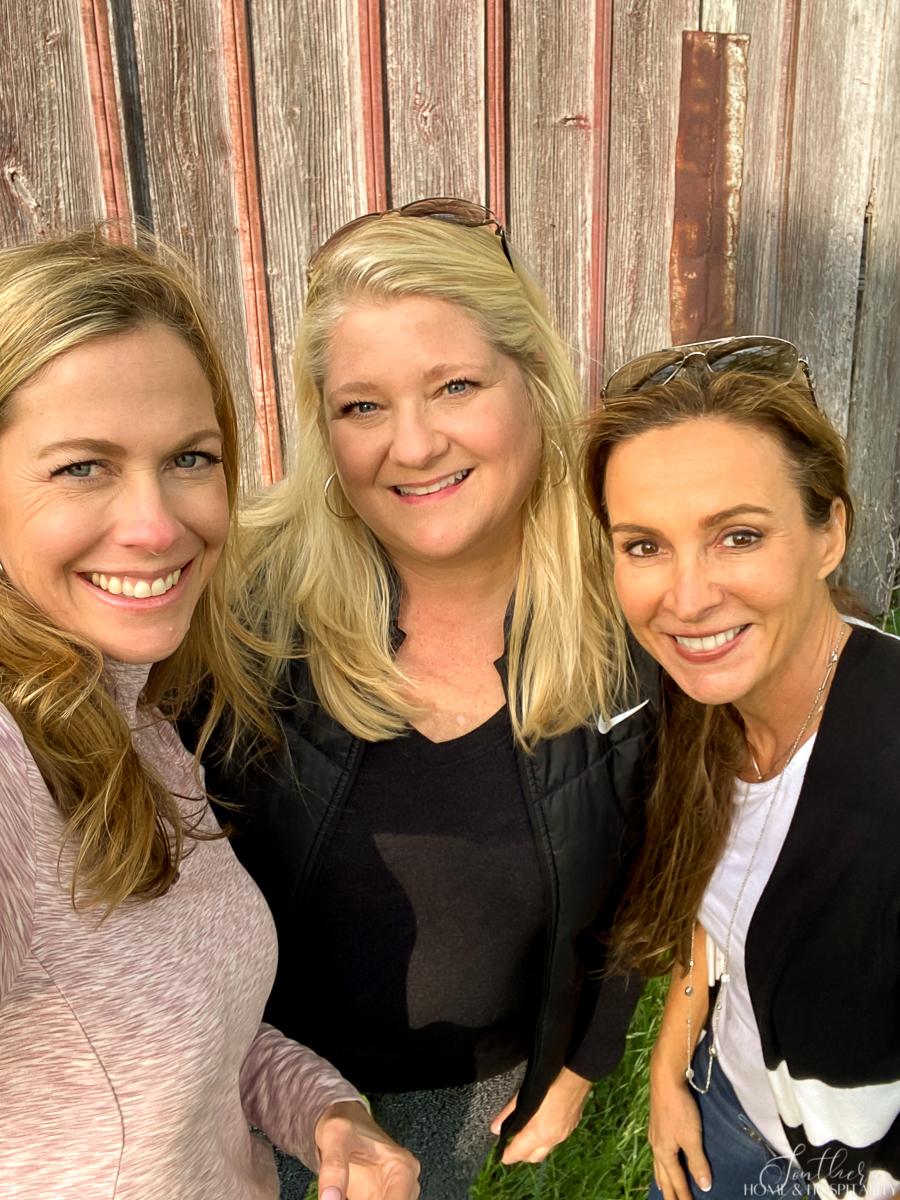 We goofed around on their land for a while and even had to climb up on the hay bales.
The views were postcard perfect of this area of Texas.
And our hosts are such, lovely interesting people. We immediately forgot how tired we were because we were really soaking in the Texas hill country experience!
But if you are staying in town, there are lots of cute places to eat, drink, and hang out in the evening. You'll see guides and magazines all over with lists of activities, events, and live music.
What to wear to the Round Top Antiques Fair.
You'll be walking outside a lot so the most important things to wear in my opinion are:
Comfortable shoes you don't mind getting dirty. You will be walking in the dirt and mud in fields, so do wear shoes that you can clean later. Sneakers are the most practical and can be cute too!
A small crossbody purse for your essentials. You won't want to lug around a large tote all day and since you park at each venue, there's no need to carry around a lot of purchases.
Sunglasses. Because again, you'll be outside all day.
The weather in Texas in the spring and fall can change drastically and very quickly so dressing in layers will be your best plan.
Here are some items you may want to bring to be prepared for the fickle weather in the spring and fall:
Pullover, sweater, jacket, hat, gloves for cold weather
Raincoat, rainboots, umbrella
Sunscreen
Shorts or casual sundresses for hot weather
There has become sort of a Round Top "look" for the ladies with cowboy boots and broad flat brimmed western hats. Think Texas boho/hippie meets Yellowstone.
If I were staying for a few days and going at a slower pace, I might dress like this once or twice because it's so stylish, so cute, and so "Texas".
But we walk from the time everything opens till it closes and we dress for comfort!
We've been there when it's miserably hot and also when there's been a strong biting north wind, and would not have wanted to be wearing a cowboy hat either time.
And unless your boots are well broken in, you won't be a happy camper.
But if want to dress the part, they have excellent selections for these outfits at Round Top, so you may want to wait until you get there to buy anything.
What to bring to the Round Top Antiques Show.
Bring some sort of bag that you don't mind carrying all day for essentials and small purchases. Vendors will hold anything for you that you don't want to carry around.
Your phone for the usual reasons, but also to take pictures of the vendors you need to come back to. You can also use your phone to make notes for the same reason. If you have a phone battery booster bring it in your car in case you need it so you can grab it before the next stop.
Bring a list of items that you're shopping for.
Bring a small measuring tape and any measurements and photographs that may help you shop for your rooms.
Bring some cash just in case you come across a vendor that doesn't take credit cards or is having cell service issues.
Carry a water bottle with you. And bring a case of bottled water to keep in your car. I'm always surprised how much we go through each time.
Parking and getting around.
Every venue has parking areas around and behind and most are free. This is something I love about shopping here. You're never far from your car and you drive to each location.
Getting your purchases home.
Bring your largest vehicle (SUV, van) and make sure the back is empty. You may want to throw in a few towels or blankets to cushion your purchases.
There are companies that offer shipping for large items. Your best bet is to ask the vendor you're buying from. Most of the large venues offer shipping services.
If not, a simple Google search for shipping from Round Top Market will give you some choices.
---
A little more accessory and styling eye candy:
I hope my Round Top Antique Fair experience and advice has been helpful. If you'd like to plan a trip to the next show, now's the time to start!
Hopefully, I'll see you out there!!

Before you go:
As always, I appreciate your visit, comments, and shares here on the blog! I'd love it if you also follow along with me on Pinterest, Instagram, Facebook, TikTok, and YouTube so you won't miss any of my inspiration and ideas.
Don't forget to sign up for updates to keep in touch.
If you're not already a member of the SH&H family, I'd love to have you join me! You'll not only get email updates, but you'll have exclusive access to all the bonus materials in my free subscriber-only library, like this:
---
Pin it to remember it!