Do you need fast ideas to decorate your home for the summer months? These simple tips will have your home feeling light, bright, and ready for summer in no time at all! ⟹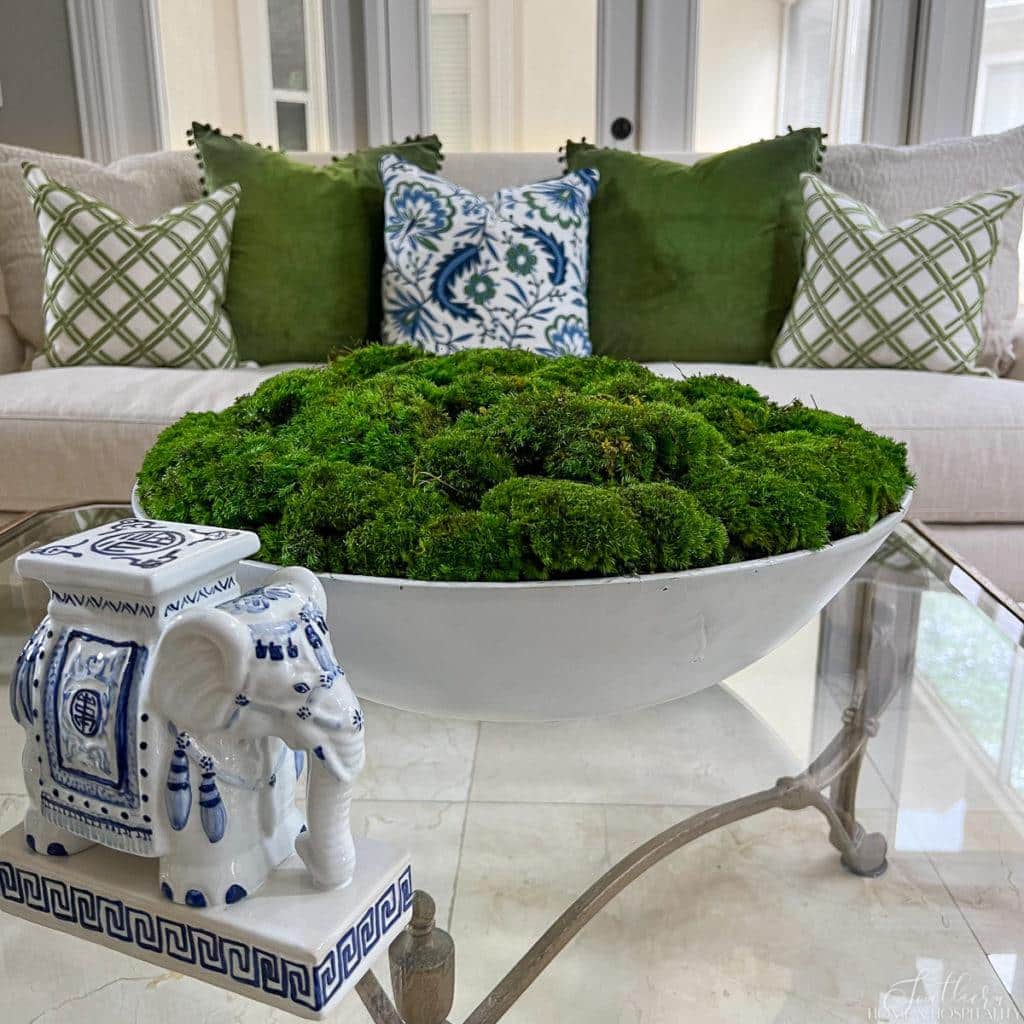 Aaaaahhhh…. Like the song says,
"Summertime and the livin' is easy…"
We want to spend our time outside right now doing all of the fun summer things…
Like going to barbeques, hanging out by the pool, and resting in a hammock with a cold drink, right? And who wants to spend their precious summer on a major decorating overhaul? It's too hot and there are so many other things we would rather be doing.
But if you're like me, we want our homes to have that same laid back carefree summer vibe inside too!
What if I promise all of the summer feels when you walk into a room will only take you a few minutes?
You know the feeling when you bring home a fresh pair of throw pillows in a color you've been crushing on? And that one little change makes you happy every time you see it?
I'm talking those kind of tiny things to give your home some summer lovin'!
If you missed it, you can see an overview of my summer home tour here. But today I'm getting into the nitty-gritty details and sharing with you my favorite easy ways that I use to make my house match my summer state of mind.
Before we check them out, I'd like to give a big shout out to Kelly at The Tattered Pew for bringing together 30 home decor bloggers for this year's Bloggers' Best Summer Home Tour. Make sure to scroll all the way to the bottom for loads more summer inspiration because this is just one stop on a week-long summer mega tour!
If you came over on the tour from the Country Peony, welcome, welcome! Elizabeth's new craft studio at her charming farmhouse is a dream! If this is your first time visiting me, I hope that you'll take a few minutes to look around and get to know me through my "a little about me" page. And after that, make sure to subscribe so we don't lose touch!
Now on with the show (or tour) and simple ideas to decorate for summer!
1. Add green plants and summer flowers.
I love to decorate with different types of greenery for every season, but nothing says summer more than plants and florals at their peak so of course, I've used them in all of these rooms.
In the kitchen, I have a big outdoor rustic garden pot filled with white hydrangeas and airy greenery as the island centerpiece. And a simple sprig of green fern in a big wine jug on the kitchen table.
I used all greenery and no flowers in the family room, mostly in the form of ferns. Here's one in my coffee table vignette:
And some magnolia branches on the fireplace mantel. And another fern and little green tropical plant in the built-ins.
The dining room sideboard holds a pedestal bowl filled with orchids and airy, light ferns.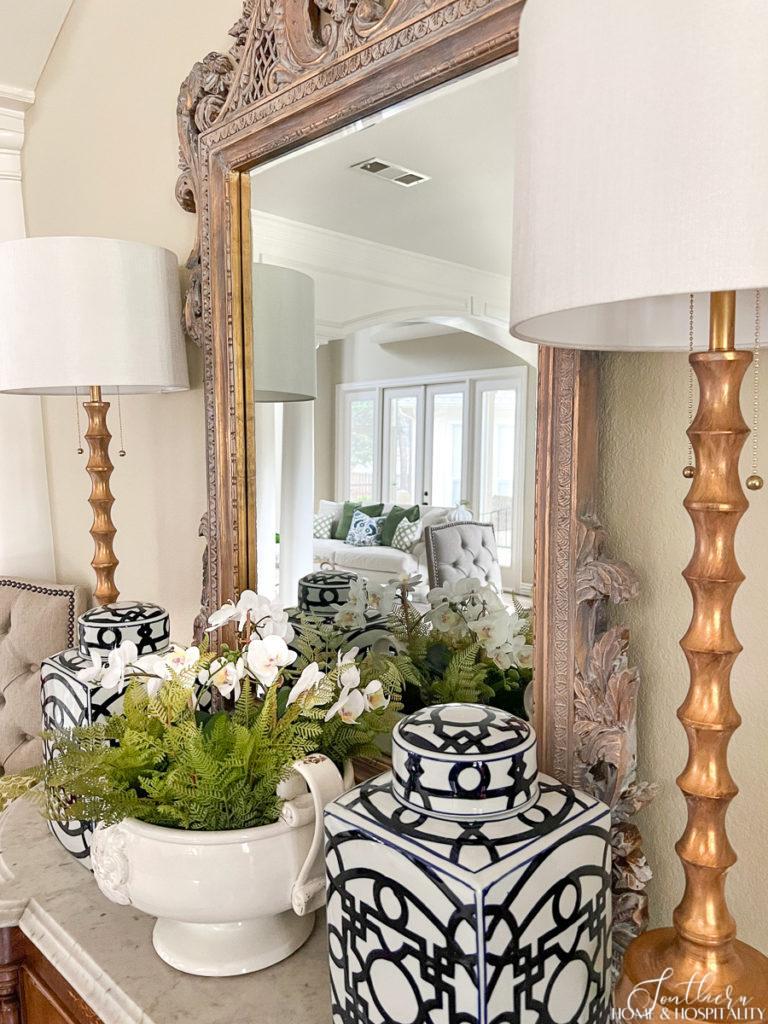 And over in the living room, my large DIY moss bowl on the coffee table brings in the green in a cleaner, more modern way.
All of my plants here are faux, but when the mood strikes, I bring in a fresh potted plant or cut some flowers from the yard and plop them in a vase for briefer periods during the summer!
2. Keep tones light and white.
The more white, cream, ivory, sand, and other light colors you use in a room, the more cool, bright, and ready for summer a room will feel. You're ahead of the game if you've already got white or light walls and furniture. But if you don't, you can still switch out less permanent accessories like decorative accents, drapes, rugs, and pillows.
Because I like my rooms to be full of light year round, I tend to use a lot of light colored accessories already. Plus I have to balance a dark slate floor in the family room and kitchen and dark furniture.
The pillows in the den really lighten up my dark leather sofa for summer!
And one of my favorite decorating tricks is to use white dishes as decor!
3. Add pops of bright color.
Nature is at its brightest during the summer. So once you've lightened things up to bring the sunshine in, try some pops of bright, happy color! It's the perfect time to inject a little color, especially if you usually stick to neutrals. Try adding a dash of fun with vibrant pink, yellow, orange, blue, or green.
I stayed with a neutral color palette in the family room, but in the formals I used one of my favorite color combinations this summer. I keep the backdrop for these rooms neutral so that I can easily change the color palette with just a few accessories. The color scheme changed instantly for summer with pillows and accents in the colors of green grass, blue skies, and white fluffy clouds!
I'm swooning over this crewel throw pillow that brought in all of the colors! I bought two and displayed the two different sides because I love them both…the green side shows in the Bergere chair. I also brought in the green with these lattice pillows and the oversize green velvet pillow covers that were an Amazon bargain!
Other than pillows, I brought in the blue with a temple jar on the mantel and my mother-in-law's heirloom blue and white elephants.
If you hop on over to the dining room, you'll find more blue and white ginger jars on the sideboard and some fun green cut velvet pillows in the chairs.
4. Change out the throw pillows and blankets.
Cozy up your reading areas and summer up sofas and chairs with throw blankets in lightweight fabrics and tones.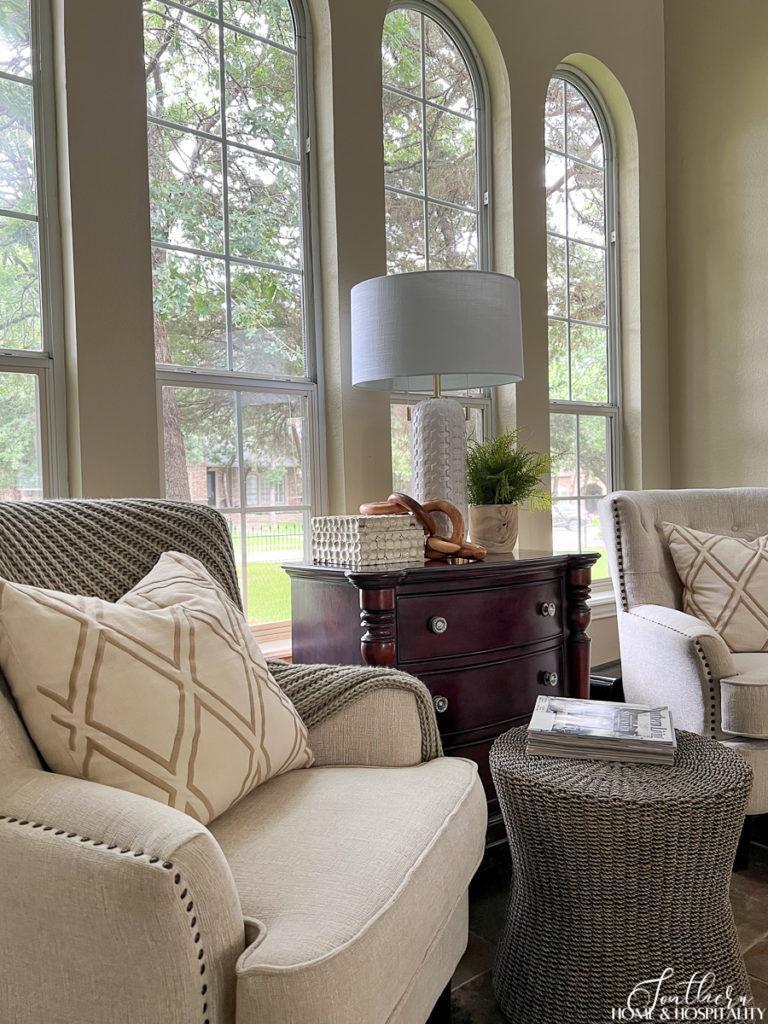 And switch out the throw pillows on the couch for some in light, summery fabrics like linen, cotton, chambray, or natural fiber.
These throw pillows in my family room really lighten things up. And I kept the color palette neutral and natural with a couple of soft moss green throws.
And we've already chatted about how these pillows brought my summer green and blue to the living room!
5. Bring the outdoors in with texture.
We automatically associate some materials with "outdoors" so when we bring them in, we bring in the summer! And it's so easy to work them in right now because they are on trend for this year…wicker, rattan, caning, rush, and jute just to name a few.
6. Set the summer scene at the front door with a new wreath.
New season, new wreaths! For summer, I like to use summery lush looking greenery and flowers. This year's summer wreaths sport fresh white and green with faux hydrangea and fern, and a crisp black and white gingham bow.
I was done with these in ten minutes and reused wreaths I already had! See how here.
7. Go coastal.
I love the coastal decorating style, but it's not my main decorating style. I do however, like to mix in a few coastal-inspired accents during the summer months!
No overly themey beach house or nautical decor, but coral, shells, rope accents, and the like are a nice salute to summer.
I added this gold crab to the coffee table to bring the beach:
You can take a cue in your summer decorating from the new hot girl of summer, the "coastal grandmother". If you study her style, it's made for a beach house in the Hamptons! It's perfect classic summer style with light, gauzy fabrics and casual, light filled rooms!
8. Swap for summer scents.
Switching the scents out in your home is a quick, inexpensive way to set the summer mood!
Plus, candles can double as decorative accents. I set this wicker candle (outdoor texture!) on the kitchen island with a heavenly "Havana coconut" scent:
Other fresh summery fragrances include florals, ocean scents, melon, cucumber, and citrus.
Don't stop at candles. You can also switch your cleaners, wall plugs, room sprays, and diffusers.
9. Add a squeeze of citrus.
Adding some citrus fruit in a bowl to the kitchen counter instantly makes a room feel happy and bright and it's so simple!
I've currently got a bowl of lemons on the counter but you can also use limes or oranges, their colors just as bright and happy!
10. Dress the bed for summer.
If you live in a cold climate you probably change your bed seasonally for comfort and put lighter weight covers on. So it's time to pack away the flannel sheets and down comforters. Linens, cottons, and light and summery colors just make you feel cooler!
11. Add a splash of summery patterns.
Mix in some some summer pattern like lattice, florals, and stripes. I've brought them in with my throw pillows. I used summery stripes in the family room:
I love this soft green stripe Pottery Barn pillow cover! I've had it in place since I decorated for spring.
And again, that floral crewel blue and green pillow!
12. Prep the patio and porch.
These last three tips for summer decor ideas don't really cost anything! You can see more free ways to freshen up your rooms here.
We've mostly been talking about decorating the inside of our homes. But we can't not talk about the outdoor space in a summer decorating post because it's where we live so much of the summer!
So make sure to give your patio and front porch as much attention as the inside. Fresh summer pillows. A new welcome mat. Spruce up the planters with summer color. Set up a bar cart on the patio. Set the table for dinner al fresco on the patio with some summer placemats and a live plant centerpiece.
13. Clean up.
Rooms in the summer should feel uncluttered, clean, and relaxing. So the first order of business before you even think about decorating is to tidy up.
And after everything is put away, clean and polish mirrors, windows, and shiny objects so they reflect that beautiful summer sun!
In my kitchen, I polished my copper pots and decor for the season. Some of these pots are from the 1800's but shine up like new with a little copper cleaner!
14. Move things around.
Consider a fresh perspective in a room for summer. A different arrangement of the furniture. Maybe one that focuses on the view outside the window as the focal point.
15. Display summer vacation photos.
Aren't some of our best photos taken on vacation and during the holidays? That's why I love to change photos on display out seasonally!
This summer I have a throwback of me and my husband on the beach in Cabo at sunset in the shelves. We look so relaxed!
---
Summer is the perfect time to enjoy your indoor and outdoor spaces as one. I hope these simple summer decor ideas have gotten your creative juices flowing to refresh your home for summer! If you need even more inspiration, check out the next stop on the tour, Shiplap and Shells. Kim lives in an actual gorgeous beach cottage on the Puget Sound!
Happy Summer!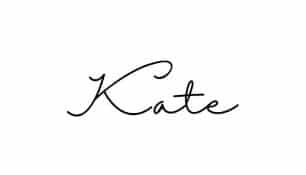 Don't forget to sign up for updates to keep in touch…I have lots of fun and useful freebies you may be interested in in my subscriber-only library like my cheat sheets for where to place lighting, bathroom fixtures, artwork, and furniture!
Pin this for reference later: