Ten Ways to Decorate for Free Using What You Already Have
Inside: Use these ten easy (and free!) tips to update and refresh your rooms using what you already have without spending a dime! ➡
---
Do you look at your rooms some days and feel like everything needs to go to make it feel current again?
I know I feel that way sometimes.
But that's not logical. Or in the budget. Or even necessary.
And I would never actually want to part with some of my lovelies that I've collected over the years.
Because I decorate with a lot of classic and vintage pieces, it's easy for my home to look tired instead of timeless. And stuffy instead of stylish. But I've learned that sometimes a little creativity and moving things around can freshen a space just as much as a trip to the store to spend more money on more things.
If you feel like your home's decor is stale, outdated, or you are just downright tired of it, here are ten very simple ways to redecorate that cost little or no money!
This post contains Amazon and other affiliate links for your convenience. As an Amazon Associate I earn from qualifying purchases. If you purchase something through any link, I may receive a small commission, at no extra charge to you. I only recommend products that I love or would purchase for myself. See my full disclosure here.
1. Edit and then edit again.
Okay, this first trick is more about undecorating than decorating. But out of all ten tips, I feel like this one makes the most difference. One of my favorite ways to update and refresh rooms that costs absolutely nothing and makes a HUGE difference is editing!
Take it out.
We become blind to the things in our room after a while. We even feel like something's out of place if it's moved. Most of us are also guilty of buying decorative accents and tchotchkes every time we see something pretty and adding it in with no overall plan.🙋‍♀️
Before we know it stuff has taken over the coffee table, sofa table, end tables, mantel, kitchen counters, and shelves. It's suffocated every surface like kudzu in the country.
And too much decor seems to invite its friend clutter, which is easily overlooked because you don't "see" those areas anymore.
Before you begin, clean up and put everything away. Just this step alone will have your entire space feeling so much better.
The first order of business is to look at each room with a critical, ruthless eye and pare down accessories and unnecessary furniture.
First, take pictures of your room with your phone and study them. It definitely helps you see the things you usually don't notice.
Then, remove all of the accessories from the tables, bookshelves, and mantel, and any small furniture from the room like accent chairs and tables.
Live with the room this way for a few days to get past the feeling of something being out of place. It helps reset your thinking and see the space in a fresh way. Take more pictures of your room at its most basic and ponder over those.
Decide where accessories will make the most impact and begin shopping what you've taken out. Then slowly add some back in.
Keep in mind interior designers never scatter decor items around a room – they are always grouped together. Or they are large enough to stand on their own. Or they are placed in relation to a piece of furniture or art.
Tip: Make sure to arrange smaller accessories together in vignettes, use uneven numbers, place really small items on trays, and combine different textures and colors together in your groupings to add interest.
Don't give in to the need to fill up every area with furniture, accessories, and collectibles!
Every wall and empty surface should not be decorated.
As someone who loves to decorate this is a constant struggle for me. But I know that leaving empty space lets the eye rest so it can appreciate what is in the room, including the architectural features and the most special pieces. And a room with visual space always looks more updated.
So mindfully leave some empty and negative space in your room as you are adding decor back in.
Less is more.
You will most likely find your room looks better with less or that something you took out works better in another room (more about that later.) You may also decide something works well but the color looks outdated (more about that later too!)
Tip: To reign in the clutter that you've just gotten rid of, large storage baskets make nice double-duty decorative storage accessories and are a great way to bring texture to the room.
Take it down.
To further freshen your rooms, take down any heavy, frilly, ornate drapes. I know you've probably paid a lot for them, but they can really date a room.
If you want to use window treatments, opt for drapes or decorative shades with a simple neutral color and pattern, and cover as little of the window as possible.
Hang curtains as high as you can while still having them graze the floor. A light-filled room is always fresh and in style.
Tip: Cleaning and shining those windows amps the freshness up another notch!
Also, remove area rugs with dated patterns or color combinations that were trendy in another decade. Rugs with a modern pattern, solid geometric prints, animal hides, or natural materials such as jute, seagrass, or sisal have a much more updated look.
Replacing a rug is definitely not free, but taking a dated or too-small rug out is an easy way to make your room feel more current. Keep your eye on FBMP and estate sales for an affordable replacement in the future. If you look long enough, a flea market, thrift store, or consignment store can also be a great place to find good deals on large, and expensive rugs that have been gently used.
Tip: If you have wall to wall carpet, try adding an updated area rug on top.
2. Try it in a new spot.
When I was a kid with no decorating dollars of my own, I would rearrange my bedroom in every way possible (am I the only one?) It's actually fun and gratifying to get resourceful when you don't have money to spend!
So rearrange the room and play around with different configurations. It can always go back. If you don't feel like the furniture could go anywhere but where it is, it might be possible now that you've removed a couple of pieces.
Try pulling the furniture away from the walls in the living room.
Remove furniture out of walkways.
Split up your sectional and remove the center if it's too large for your room.
Be aware of the focal point from your seating area.
Try furniture in different rooms. Chairs, side tables, benches, and other small pieces of furniture can be interchangeable throughout your home. The same applies to decorative accents. If you gravitate toward one decorating style, you'll be surprised how easy it is to move things from room to room to make a whole new look!
If you need help with placing the furniture, see the post, "Where Do I Put the Furniture in a Room? Basics for Placing and Spacing".
3. Repurpose and recycle.
The third way to decorate on the cheap is to reuse what you have in a new way.
Sometimes it's hard to let go of things we paid good money for so we keep them. And when we get more, we relegate the oldest stuff to the rooms guests don't see – bedrooms, offices, game rooms, etc.
We all have those cluttered rooms decorated with a mish-mash of things we really don't want anymore. Some of it needs to go when you complete the first step of editing, but the outdated things you choose to keep can be brought back to life!
These French-ified candlesticks were old world bronze and gold before a craft paint makeover!
Paint is your best friend and the number one tool for decorating on a budget, so give your furniture and accessories a facelift with it. I cannot tell you how many old accessories that were trendy (think "old world early 2000's) that I have loved again after a fresh coat of paint.
I figure trying a new look with paint can't hurt if I don't like something anymore anyway. And if I don't like the first paint job, I can always paint over it.
I've used all kinds of paint including craft paint, leftover house paint, spray paint, and Rub N Buff to transform furniture and accessories.
The original 90s worn drawer pulls on my desk got a refresh with copper spray paint.
Some good candidates for painting are:
Cabinet or furniture hardware – metallic spray paint or Rub N Buff work wonders for updating
Lamps
Furniture – break up matchy-matchy dining room sets by painting either the table or the chairs
Mirror frames
Picture frames
Baskets
Pottery
Light fixtures
Any knick-knacks are fair game
You can find some fantastic deals at thrift stores on outdated decor pieces that have loads of potential with a new color or faux finish!
You can also repurpose things you already own by thinking outside of the box. Use them in a different way than they were intended:
Hang something on the wall besides family photos and art. I pulled the iron gate pieces in the photo above out of the back junk corner of our yard!
Other ideas for wall art are to hang a collection of baskets, hats, or plates in a grouping like they are one large statement piece of art.
Use a wall mirror as a tray.
Bring outdoor planters and garden accessories inside for home decor with loads of rustic charm.
4. Use plates, glasses, and dishware to decorate.
Sometimes dishes and glasses are too pretty to be hidden in the cabinet. One of my personal favorite accessory staples are white dishes and ironstone.
White dishes make such a statement displayed together in bookshelves or a hutch. Plates can be propped up behind other decor in a shelf or hung on the wall. Don't stop at just plates – soup tureens, serving bowls, teacups, and gravy boats are just several more possibilities.
You can see all of the reasons they are considered the "little black dress" of the decorating world in the post, "Ten Reasons Why White Dishes are the Perfect Decorating Accessory".
5. Frame some free art.
Make your own free artwork from:
Pictures or pages from old books
Your kids' artwork
Favorite fun candid family pictures
Wallpaper or fabric samples
Free artwork can also be found online on public domain websites – just give Google and Pinterest a search
Many bloggers offer free printable artwork
Since art from any of these sources won't be large, make sure to display them in a matted frame and make a gallery wall to display them in a collection. Paint all of the frames the same color for a unified look. Just like with accessories, designers never sprinkle small art around on the walls alone but use large pieces or groupings that act like a large wall piece.
You can see all of my tips for hanging artwork in the post, "Must-Have Home Measurements: Where to Hang Artwork".
6. Decorate with books.
Books are another decorator staple that we often have stored away somewhere.
Unless they are a coffee table book with a pretty, special interest cover, I like to make the books I decorate with as neutral as possible by removing the dust jacket, or covering them with paint, burlap, butcher paper. Or by using this unbound book bundle DIY.
Another popular way to display books is to turn the spines backward so that the pages face out – it gives great neutral texture to any shelf!
7. Decorate the bathroom with white.
Take a cue from one of my tricks from home staging to create a fresh look and spa-like feel in the bathroom:
Roll fluffy white towels and place them in a basket.
Clear off the counters and place scented white soap in a white bowl or saucer.
Fill a clear vase or apothecary jar with cotton balls or epsom salt (rock salt gives the same look if you aren't actually going to use it.)
Finish the counter off with a small green plant (faux is fine.)
8. Use clippings from the yard in a vase.
This is a hack we also use in staging a home for sale that brings an instant updated feel to a room! Trim some greenery or branches from almost any bush or tree and place it in a vase of water. Easy Peasy!
9. Decorate with fruits and vegetables in the kitchen.
Another staging trick for freshening up the kitchen's look is to clear almost everything off of the counters and add a simple white bowl of lemons or green apples and a green plant.
Try placing them on or in front of a wood or marble cutting board or cookbook (whatever contrasts with your counter and backsplash.)
10. Look for free decor from other places.
Search Facebook Marketplace and buy/sell/trade groups for items people are giving away.
It does happen when people need to get rid of things fast. Just be careful what you take. If it's outdated that's not going to help your room situation.
You may have friends that are tired of their decor too. Host a decor exchange party and swap some of the items you no longer want with each other. You could even do this virtually or in a text group so that you can share photos of what you're offering up.
More decorating ideas for under $50.
We've talked about ten no-cost ways to decorate but there are lots of low-cost ideas too! Here are a few that can be under $50 and will instantly update your space:
Replace a lampshade with a more current shade or drum shade.
Paint or add temporary wallpaper to make an accent wall.
Add new throw pillows in a current color or pattern with a coordinating throw blanket. (And these items help disguise the sofa that you don't love anymore.)
Tip: Make sure your throw pillows are large enough (usually at least 20″x20″) and that the insert is two inches larger than the cover.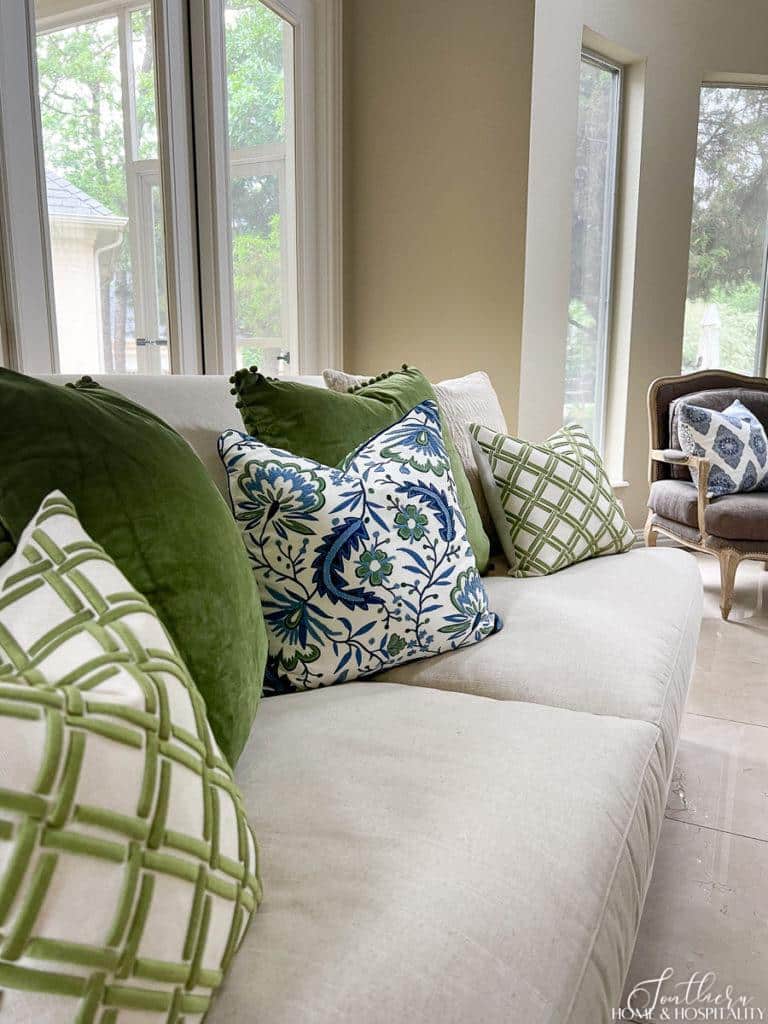 See the "16 Best Places to Buy Beautiful Budget Throw Pillows (Under $30)".
---
With just a little bit of time and imagination, you can update your rooms and give them new life without spending a ton of money.
Decorating isn't about how much things cost. It's about making your own home a place that brings you joy and makes you feel good when you're there.😊

Before you go:
As always, I appreciate your visit, comments, and shares here on the blog! I'd love it if you also follow along with me on Pinterest, Instagram, and Facebook so you won't miss any of my inspiration and ideas.
Don't forget to sign up for updates to keep in touch.
If you're not already a member of the SH&H family, I'd love to have you join me! You'll not only get email updates, but you'll have exclusive access to all the bonus materials in my free subscriber-only library, like this:
---
Pin it to remember it!
If you've enjoyed this post, please pin and share this on Pinterest:
---