Inside: Where to place and how to space furniture and area rugs in living rooms, dining rooms, and bedrooms as well as tips for choosing the correct size! ➡
---
Have you ever really thought about what makes you feel comfortable in a room? Relaxed even? It may have less to do with what's in it and more to do with where it is.
One part of it is functionality. Incorrect furniture placement and size lead to daily little annoyances. Like yet another shin bruise from the corner of the table in the walkway. Spilling your Coke because the coffee table's too far away. Or just smiling and nodding as you pretend to hear what the person across the room is talking about.
The other part is aesthetic. The wrong placement of even gorgeous, expensive furniture and area rugs can spoil the experience of being in an otherwise beautiful room. It just feels "off".
When furniture and rugs are placed correctly in a room it creates a feeling of balance, harmony, and flow.
One of the secrets of how to arrange furniture, one that interior designers use to make a room "work", is the right distance between pieces. And the correct size.
That's why Part Four of my "Must-Have Home Measurements" guide is all about the ideal placement, spacing, and size of furniture and area rugs.
I've broken the guidelines for all of these basic decorating home measurements into four posts to make it easier to find what you're looking for – lighting, bathroom fixtures, artwork, and furniture. (Don't forget to grab your free printable quick guide in the library).
So let's talk about where to put the furniture!
As with each part of the guide, keep in mind this is just a general rule to get you started. There are always exceptions depending on your room size and shape as well as the furniture pieces you are working with.
Furniture arrangement and flow.
Most of us have some undesirable situation in our living rooms that we must work around. It may be a narrow living room, an overly long wall, a small living room, or an awkwardly placed focal point. Or even a large living room with a high ceiling that you could play basketball in, but it's not cozy to have a conversation in.
Where to put furniture in the living room.
How much space for walkways around large furniture: 30″-48″
If you have a small space that doesn't allow for this, strive for at least two feet so that you aren't squeezing past anything. Plan out what the traffic flow around the room will be and avoid any awkward, zig-zagging walking paths.
Distance between the sofa and coffee/cocktail table: 14″-18″
This space allows you to easily reach the remote or a drink on the coffee table (and of course put your feet up) but still be able to walk around it. This distance also applies to other seating next to the coffee table where you want access to set things down.
Distance from the back of the sofa to the wall: at least 3″-5″
Give your couch some breathing room and don't butt it all the way against the wall. If you have the room, this rule applies to all furniture.
And never have all of your furniture pushed up against the walls in an attempt to make the room feel larger, unless you have a small room where there is no other option. In medium and large size living rooms, float your sofa somewhere within the center of the room and have seating somewhat facing each other to create conversation areas.
Distance between chairs, side tables, and end tables: about 6 inches
Or close enough to easily set down a drink or turn on table lamps.
Distance between seating in a conversation area: at least 3 feet and no more than 10 feet between seating in a group. This seating arrangement spacing allows for conversation and it's a comfortable distance for people to sit from one another without feeling like they are in each other's personal space. Keeping the whole conversation area under 10 feet allows people to hear each other and speak in a normal tone without shouting across the room.
In a very large living room or for a large open floor plan, the conversation area may go a bit larger (maybe 14 feet). Breaking up areas into multiple conversation areas designated with furniture is a great way to make the large space feel cozier.
This post contains Amazon and other affiliate links for your convenience. As an Amazon Associate I earn from qualifying purchases. If you purchase something through any link, I may receive a small commission, at no extra charge to you. I only recommend products that I love or would purchase for myself. See my full disclosure here.
Furniture size.
Ever entered a room where you thought, "what an amazing couch" but didn't notice anything else? Why didn't you say "amazing room" instead? It's probably because said couch was too big and it monopolized the room layout.
Since we've talked about distance between related pieces of furniture, let's discuss the size and scale of furniture within a room. One goal here should be for all of the furniture to have some variation in height and shape yet all relate to each other.
Furniture should also be spread throughout the room with balance in mind. Having too much furniture on one side of a room throws it out of whack. If you have a large piece of furniture on one side of the room like a large sofa, the best way to balance it is with something of equal visual weight like a pair of chairs, or a large armoire.
Here are a few general guidelines on size for relating pieces of furniture:
Coffee table size: 1/2 to 2/3 the size of the sofa, within 4 inches of the sofa seat height
End table size: No taller than the height of the arm of the chair it's beside, no lower than the seat, and no deeper than the seat's depth.
Sofa table size: Half the length to almost the full length of the sofa and the same height or a few inches shorter. Allow a few inches of space on each end so that the corners don't stick out.
Sofa and accent chairs should have seat heights that are within 4″ of each other.
Where to put an area rug in the living room.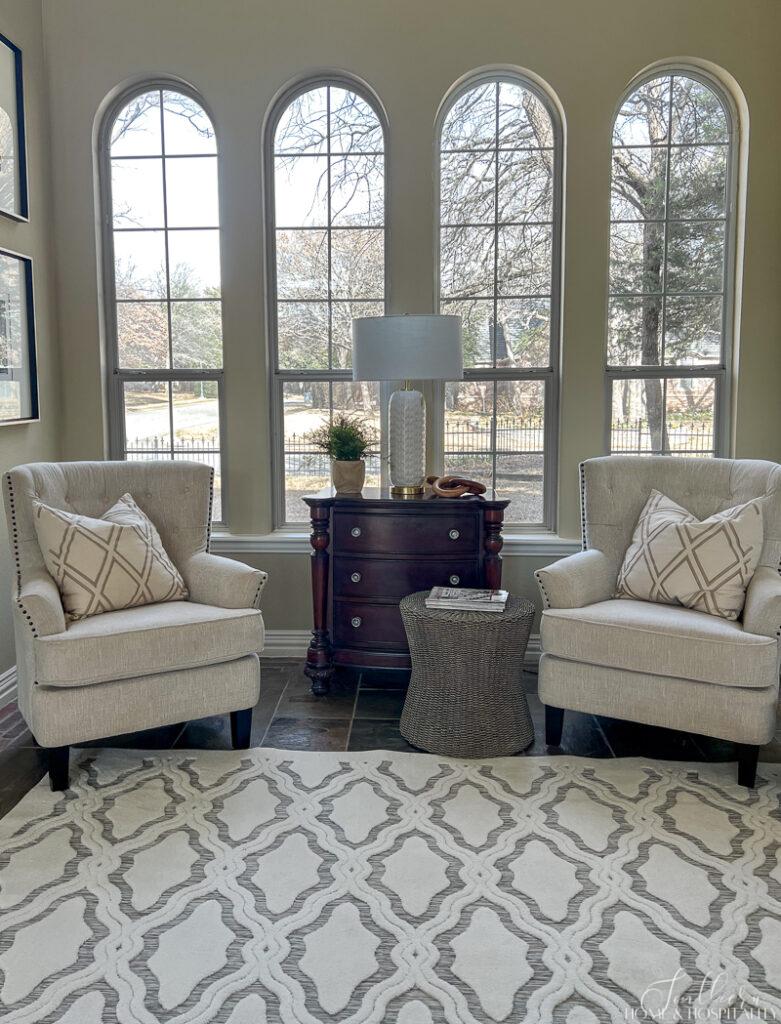 Room-size area rug distance between area rug and the wall: 12-24 inches
Leave at least two feet around it from the rug to the wall in a large room and at least one foot in a smaller room. This keeps it looking like an area rug and not like you almost had enough wall-to-wall carpet.
Area rug anchoring a seating area: Make sure at least the front two legs of the furniture are sitting on it.
Choosing an area rug that is too small automatically makes a room look cheap for several reasons.
The balance is wrong in relation to the furniture and room.
It reads more like a cluttering accessory than a decorative base layer.
It downright looks like you couldn't afford the larger rug.
Another budget-friendly easy way to solve this? Layer a less expensive larger rug under a smaller one to create the appropriate scale.
I'll admit I've struggled with this since area rugs come in several standard sizes and can become expensive the larger and more custom you go. I once bought an area rug because it was a nice, quality rug at a good price, even though I knew it was a couple of feet too short. Guess what? I always hated it.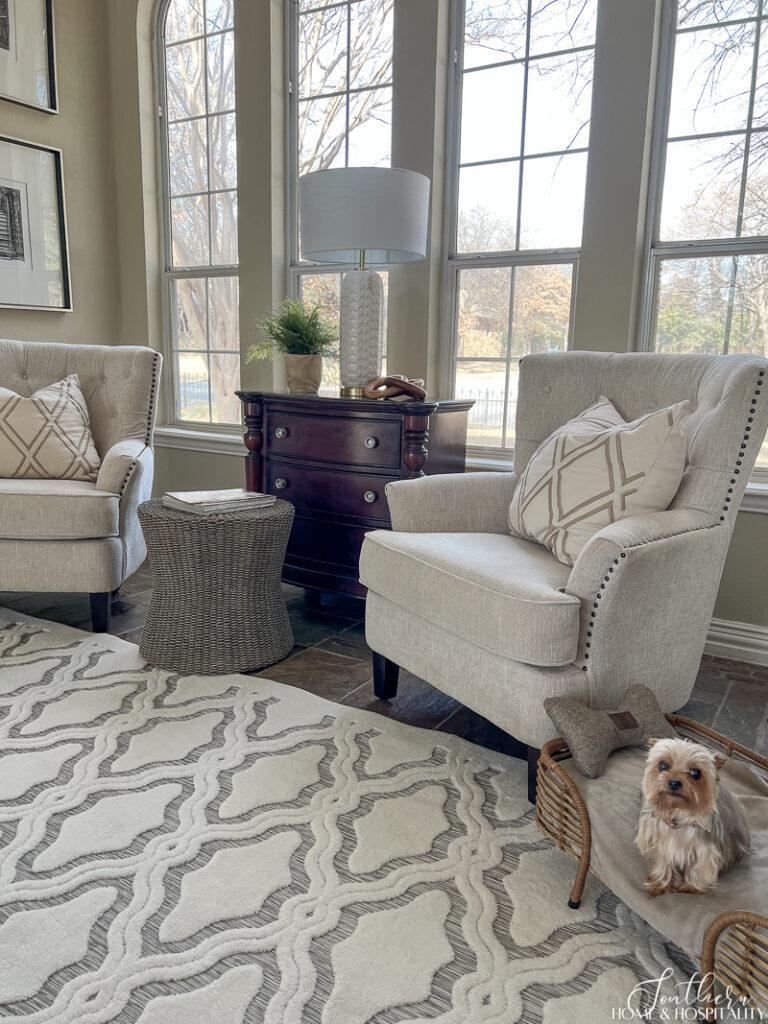 And now? I found this reasonably priced rug that's the appropriate size that anchors the whole seating area including the sectional sofa and the side chairs. And it makes the entire family room feel pulled together.
Where to put furniture in the dining room.
Distance between the dining table and the wall or other furniture: 3 feet minimum
This space allows a clear path for guests to walk comfortably around the table and also leaves enough space to open and use neighboring furniture such as sideboards and bar carts.
Space allowance for dining room chairs: 24 inches
To keep guests seated at the dining table comfortable, the space allowance for each seat should be at least 24 inches. This of course depends on how large the scale of your chair is. And this doesn't apply for those special big happy gatherings where you want to squeeze as many as possible in around the table!
Size of area rug for a dining table: 2-3 feet larger than the table diameter
Make sure to leave at least two feet between the edge of the table and the edge of the rug. This prevents the chairs from getting caught up in the rug when they are pulled in.
Where to put furniture in the bedroom.
Distance between the bed and bedside table: 3-6 inches
You want a little bit of space between the nightstand and the bed so that it won't look too crowded, but easy access to everything while you are in bed like the clock and the lamp.
Distance around the bed: at least 24″
There needs to be at least two feet of space between the sides and end of the bed and any wall or surrounding furniture so that you have room to walk around the bed, make the bed, and for opening dresser drawers or closet doors.
How large should an area rug be under a bed?
Size of area rug under a bed: 12-18 inches between the edge of the bed and the edge of the rug
This size range is dependent on what size of bed it is going under.
For twin and full-sized beds, the rug should extend out at least 12 inches.
For a king or queen-sized bed, the rug should extend out at least 18 inches.
Another option instead of a single area rug is to flank your bed with a pair of rugs. In this case, they should cover 3/4 of the space from the edge of the nightstand to the end of the bed.
---
I hope you've found all four of these "Must-Have Measurement" guidelines for the home helpful! Remember to pin these posts so you'll have them at the ready whenever you need them. And print and file the handy cheat sheet of all four guides. They include all of the basic numbers from each of the four posts. You can download it from the subscribers-only library in the footer menu.
Not a subscriber yet? Sign up below so we don't lose touch! I have lots more fun and useful freebies in the library you may be interested in.
In case you missed the other parts of my "Must-Have Measurements for the Home", Part One was all about Lighting – where to hang it and what size to choose:
Part Two was all about Bathroom Fixtures:
And Part 3 was about where to hang Artwork:
Happy home decorating and improving,

As always, I appreciate your visit, comments, and shares here on the blog! I'd love it if you also follow along with me on Pinterest, Instagram, and Facebook so you won't miss any of my inspiration and ideas.
---