Nine Easy Ways to Decorate for Early Spring
Welcome to my early spring home tour, where I'm sharing nine easy ways to add some fresh touches of spring to a few key areas of your home when it's not quite time to bring out the bunnies! ➡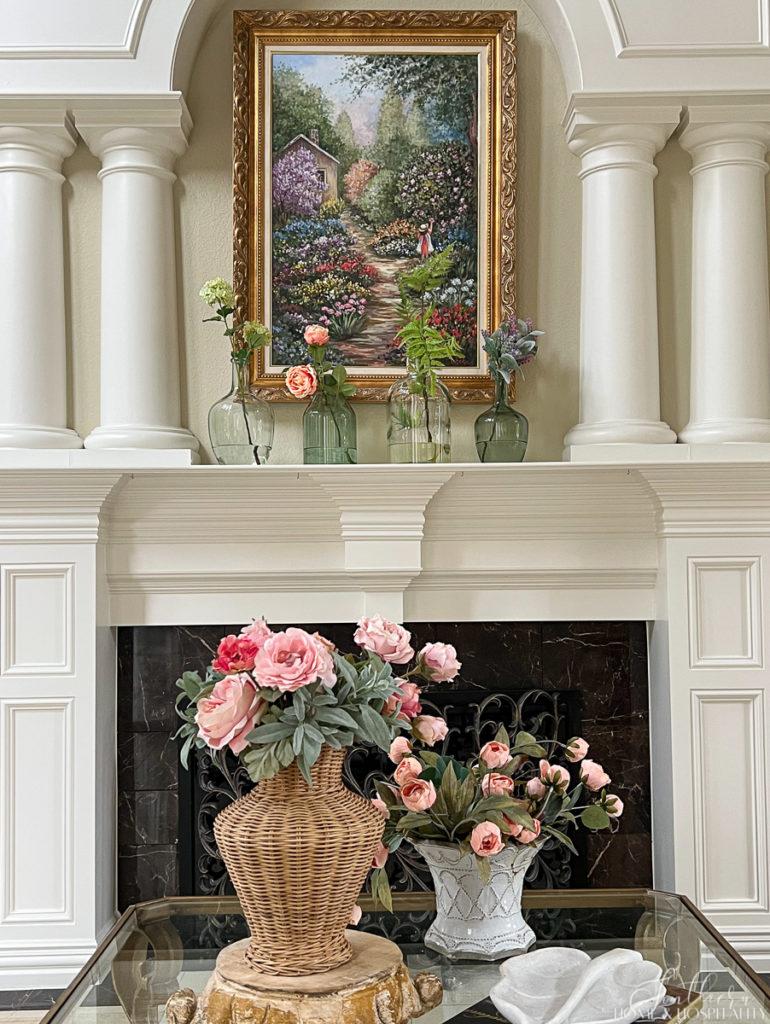 ---
The month of March where we live straddles the seasons. It's the time of year when one foot is in the warm and bright sunshine of spring and the other in dreary, frigid winter-like days.
We've recently had a stretch of temps in the teens and twenties, but the promise of delightful spring weather is just around the corner and I cannot wait another minute to bring spring freshness into my home!
I divide my spring decorating into two phases – early Spring and Easter. After Valentine's Day, I pack away the winter blues along with the pinecones, winter greenery, and heavy textiles. And I replace them with just a few accessories that make my rooms feel light and refreshed just like spring itself. But you won't see any bunnies around just yet…
Before we begin, let me thank Marty from A Stroll Thru Life for making my home one of the stops on her huge week-long tour of 28 homes for you to soak in easy spring inspiration from. Make sure to scroll all the way down to see everyone who's on the tour. If you're coming over today from Cindy's at DIY Beautify, welcome to my house! Isn't her home so full of farmhouse charm and great ideas? If you're new here, I'd love for you to get to know me and please visit again!
Let me show you how I incorporated nine super simple ways to brighten up a home for spring by decorating key areas with blooms, spring textures, and a bit of color!
This post contains Amazon and other affiliate links for your convenience. As an Amazon Associate I earn from qualifying purchases. If you purchase something through any link, I may receive a small commission, at no extra charge to you. I only recommend products that I love or would purchase for myself. See my full disclosure here.
1. Choose a spring color palette.
This first is not a specific area to decorate but accent colors definitely speak to a particular season. Spring is associated with fresh starts and new beginnings. And the plants popping their green heads out of the ground is the sure first sign of spring! Adding in light, bright pastels, and lots of those greens make us want to reemerge from our own hibernation of winter and get back outside.
Early spring decor with color in the living room.
In the living room, I've gone the colorful spring route and it looks so cheerful every time I walk through this area it instantly brightens my mood! I think of it as my version of Grandmillenial color but with a very neutral room and just a few splashes of bright, happy shades. As much as I love to look at photos of Grandmillenial design style, it's not something I want to commit to. With a neutral room, it's so easy to change color themes and I don't get tired of it the way I think I would a full-on Grandmillenial room!
Early spring decorations with neutral colors in the family room.
I went a different color direction in the family room with a neutral and subdued color palette of tan, ivory, and gray, but a added a soft grayish moss green. Green is the "it" color this year in the forecasted trends and one of my favorite colors, so I couldn't help but use it as the accent color for spring for the family room.
2. Change seasonal greenery and add flowers.
Every single one of the areas I decorated for spring involves adding spring blooms because flowers are one of the easiest ways to say "spring". Really, if you did nothing but put out a bouquet of spring flowers somewhere in a room, you'll have decorated for spring. In my living room, it feels like a French garden with all of the blooms!
And over in the family room, I added white florals to rustic, light-colored pottery to keep things neutral and bright.
For early spring, I added some lavender stems to the basket and purple and white florals in vintage ironstone teacups (one of my favorite decorating accessories) to the heirloom hutch.
3. Change pillows and throws out to lighter textiles.
Colors and textures of the fabrics of accent pillows and throw blankets should lighten up in the warmer months.
In the living room, I've injected classic spring colors in pink and green with just a few throw pillows. The green and white lattice pillow covers just say spring garden to me, but I like the green so much they will probably stay through summer paired with another color.
In the family room, I changed from the heavy cable knit sweater and fur throw pillows from winter to pillows with lighter materials that I can also leave in place through summer.
Some good candidates for pillow fabric for warmer weather are linen, cotton, chambray, and jute. Mine are all neutral in color with whites, tans, grays, and that soft moss green.
I'm loving these Studio McGee pillows anchoring the ends of the sectional and the green and white stripe accent pillow. I added another touch of lightness and more green with a coordinating soft green and white throw blanket draped over the sofa.
To pull the green over to the other side of the room, I added a chunky moss green throw on the chair to this sitting area. I also used linen tan and white pillows in the chairs and a fresh-looking, airy fern on the chest.
4. Early spring coffee table vignettes.
Now let's start looking at specific key areas that I added a bit of spring to!
For a colorful French country coffee table vignette in the living room, I went with faux cottage roses in a profusion of pink and peach shades. To hold them I used a scalloped French-style garden pot and a wicker vase that's an Instagram favorite from Target this season. Wicker looks so at home in this French garden-inspired spring decor since it's an outdoor patio staple.
The neutral vignette for the family room coffee table is made up of a couple of Veranda home and garden soft green coffee table books, a green glass candle, a rustic vase, and faux white viburnum blooms. And it's all contained in a cane and rattan tray. Rattan and caning are also so at home for spring and trending this year so using them now is a no-brainer.
5. Decorating the mantel for early spring.
To decorate the living room mantel for the spring season, I put more colorful blooms and a sprig of fern into a collection of clear and green glass vases.
A little water in each vase was a great way to create the look of fresh flowers even though these are also faux.
The family room fireplace mantel holds a light-colored rustic vase with several "just beginning to bloom in early spring" branches. There's no need to fill a mantel up with seasonal decor, especially in a room where you want to keep things more seasonally subdued with just a hint of spring.
6. Decorating the kitchen counters for early spring.
Since spring is all about freshness and renewal, one of my spring rituals is to give things a good spring cleaning in the kitchen at the beginning of the season. This usually involves scrubbing the counters, wiping the cabinets down, and polishing everything including the windows so that the kitchen is ready to gleam in the warm springtime sunshine.
The decorating in the kitchen is minimal. My spring statement here is some flowering branches on the island in white to flow with the neutral family room since the kitchen and family room are one large area. I dabbed some gray chalk paint on the shiny black stems and added water to the vase too, which made my family ask if the branches were real😉. I also put a few more lavender stems in the pitcher in the corner.
7. Early spring dining table centerpieces.
On the breakfast table, I created a spring garden centerpiece by placing a collection of aged garden pots with greenery and purple and white faux flowers on a large charcuterie board.
This centerpiece is casual and rustic and made up of things you would find in a French country garden – aged garden pots, boxwood and flowers (faux in this case), aged wood (the charcuterie board), and woven natural fabric (the table runner).
This month the dining room table centerpiece is a simple bowl of white tulips. Real tulips don't last long enough for me and these faux tulips look so fresh even though they are faux! I bunched them into a small jar and then tucked moss around them to cover the jar and fill the bowl.
8. Spring decor inspiration in the entry.
More white flowering branches in my "aged" urn give height to the space beside the stairs in the foyer and set the tone of the season as you enter:
9. Freshen up the front door with a spring wreath.
And finally, what's decorating for a season without front door wreaths? I hung white spring blossom wreaths on the double front doors (they only took me minutes to assemble), and added a sprinkling of other flowers and some spring green gingham pillows to the porch rockers.
---
Spring decorating is as effortless as adding spring color, flowers, and lighter fabrics to a few key focal points of your home. Just a sprinkling of these items and voila, you are ready to welcome spring!

Before you go.
As always, I appreciate your visit, comments, and shares here on the blog! I'd love it if you also follow along with me on Pinterest, Instagram, and Facebook so you won't miss any of my inspiration and ideas.
Don't forget to sign up for updates to keep in touch.
---
Pin it to remember it!
If you've enjoyed this post, please pin and share this on Pinterest:
---
Spring Tour of Homes Links.
Make sure you continue on our 2022 Spring Home tour – your next stop is at Jennifer's house at Dimples and Tangles. Her colorful style is sure to brighten your day! And visit the rest of my talented friends homes prettied up for spring for lots more beautiful spring decor ideas!
Monday March 7th Lineup
A Stroll Thru Life – Thrifty and Chic – Chalking Up Success – White Arrows Home – Pink Peppermint Design – Worthing Court
Tuesday March 8th Lineup
Our Southern Home – Cuckoo4Design – Country Road 407 – Decor To Adore – RemodelaCasa – Calypso in the Country
Wednesday March 9th Lineup
Whispering Pines Homestead – Up to Date Interiors – The Stonybrook House – DIY Beautify – Southern Home & Hospitality – Dimples and Tangles
Thursday March 10th Lineup
CitrineLiving – Hymns and Verses – 11 Magnolia Lane – StoneGable – Southern Hospitality – This is our Bliss
Friday March 11 Lineup
Grace In My Space – Follow The Yellow Brick Home – Quarters One – My Wee Abode