Summer Decorating Home Tour: Light, Breezy, and Easy
Inside: Easy ways to decorate for summer with a light and easy touch, just like the season itself. ➡
---
Daylight, the chirping of birds, and the chattering of squirrels have woken me up at 6:30 a.m. every day this week. It makes me feel kind of like a Disney princess.
I end the day outside watering to keep my plants alive, wearing shorts and flip-flops to stay cool (more like Cinderella).
And somewhere in between, I read the mail while sitting on the screened-in porch to keep the mosquitos from feasting on me.
In case you think this sounds like I'm complaining, you'd be wrong. These are some of the things I truly love and am soaking in right now. Because I love everything about the easy-breezy mood of summertime!
There's nothing better than that relaxed, laid-back feel this time of year and spending time outdoors, and I accessorize our home to bring that feeling inside.
Come on in, and I'll show you how I decorated for this summer season!
Want to know what makes this particular summer day even better? It's going on a house tour to see how other people dress up their homes for summer. I'm joining Marty from A Stroll Thru Life along with 29 other popular bloggers that are sharing how they incorporated summer vibes into their homes. If you're stopping in from Citrine Living, I'm glad you're here! Tamara's elegant blue and white style is absolutely gorgeous. If this is your first time here, welcome to my home and I'm so glad you've found me! I hope that you take a few minutes to look around my site and get to know me through my "about me" page. And after that, make sure to subscribe so we don't lose touch!
This post contains Amazon and other affiliate links for your convenience. As an Amazon Associate I earn from qualifying purchases. If you purchase something through any link, I may receive a small commission, at no extra charge to you. I only recommend products that I love or would purchase for myself. See my full disclosure here.
The summer front porch.
The summer vibe actually starts on the porch and the outdoors works its way inside.
The first change you'll see at my home for every season greets you at the front door as you enter. I changed up the basic grapevine wreaths on the front doors and gave them a quick ten-minute summer wreath makeover with fresh and summery greenery and hydrangeas.
Come on inside – a green tropical plant waves its hello from the entry table in the foyer.
In the formal living room and dining room, summer arrived in the form of pops of blue, green, and white. Isn't it a perfect summer color palette? They're the colors of the outdoors in summertime – water and blue skies, greenery, and white fluffy clouds.
Summer decorating in the dining room.
I made a few simple, unfussy additions to the dining room.
The dining table centerpiece is a simple pair of crisp white ginger jars on a modern gold and mirrored tray. I brought green in here with fun velvet cut lumbar pillows in the chairs flanking the sideboard:
And with the greens of white orchids peeking out of some summery ferns in a white pedestal bowl on the sideboard.
The temple jars add in a bit of blue, tying into the color palette of blue and green in the living room.
Summer decorating in the living room.
Let's stroll over into the living room where I've added more pops of blue, green, and white.
It only took a few summer accessories and mere minutes to completely change the season in this neutral room.
Summer throw pillows.
One of the easiest ways to quickly inject seasonal color is with throw pillows. I'm so happy about this combination of pillows I found for summer I'm already dreading changing them out for fall.
I found them at four different places but they all play together so nicely! The large green velvet pompom pillow covers were the best bargain and an Amazon find. I found the green and white lattice pillow covers at Wayfair, and I picked up the blue and white pillow in the Bergere chair at Kirkland's.
But can we talk a minute about this blue and green embroidered pillow from Dillard's? It's from their Southern Living Mrs. Southern Social home decor line this season. I crushed on everything blue and green in it at the store (and no, this is not sponsored).
Coffee table and side table summer styling.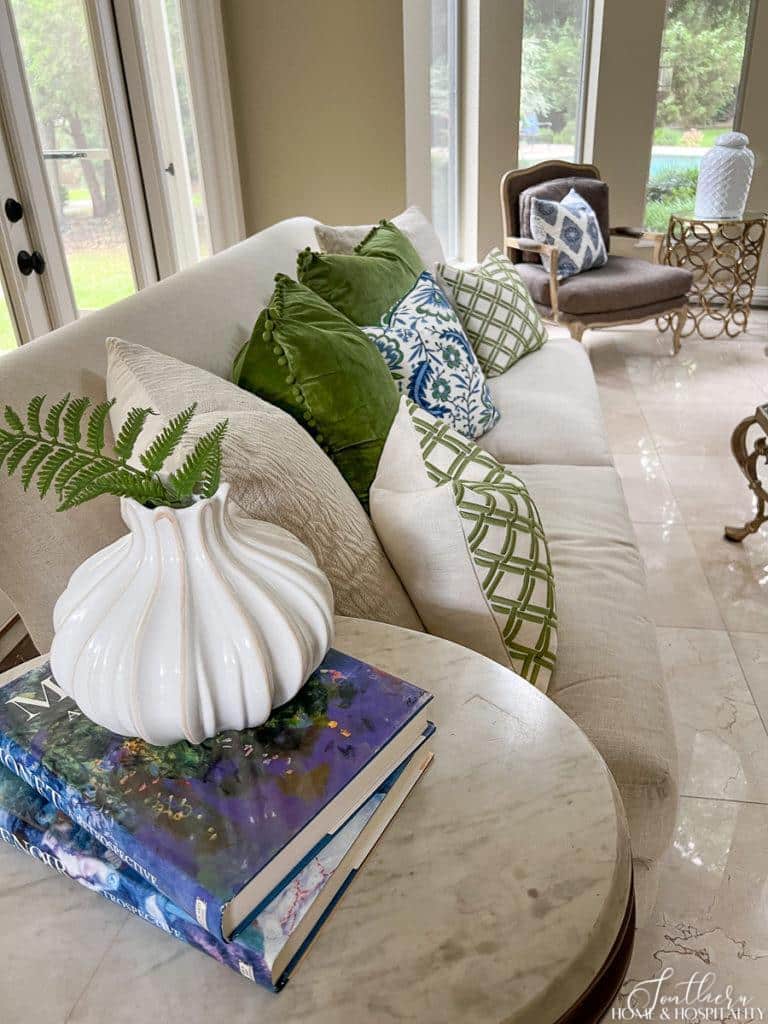 On the vintage French marble top end table, I stacked some blue coffee table art books and added a simple sprig of summer fern to a white vase to tie in the accent colors.
And on the coffee table, the DIY preserved moss bowl that I made last summer brings the green and the outdoors in.
I paired the moss bowl with two heirloom porcelain blue and white elephants for a simple, clean look for the coffee table for another echo of the color palette.
Aren't they cute? I coveted these the whole time my mother-in-law had them in her living room.
Decorating the living room fireplace mantel.
Keeping it simple and relaxed in this formal room, I only added a couple of accessories casually placed on the fireplace mantel. No stiff symmetry to bring down the easy, laid back summer vibe!
I used the same wicker vase from my spring living room and filled it with white hydrangeas, green-ish viburnum, and some greenery pieces from the door wreaths. And its summer sidekick is another blue and white temple jar.
That green pillow on the other Bergere chair? It's the flip side of the Southern Living crewel pillow on the sofa.
Now let's move into the heart of our home…
Summer decorating in the kitchen.
In the kitchen, the decor is actually seasonless – the only exception possibly being the type of florals I used.
Summer styling for the kitchen island and counters.
I polished up my copper pots like a copper penny to shine bright like the summer sun.
And added pops of lively color with green apples and yellow lemons. It's always a surefire way to freshen things up.
See more of refreshing a room with things you already own.
The kitchen island is cleared off and ready for any impromptu summer gathering, all except for a few summer accessories:
For a simple centerpiece for the kitchen island, I filled a rustic outdoor garden pot with white hydrangeas and soft greenery.
And paired it with a small pedestal cloche for just waiting for some summer treats:
Then finished the trio with a wicker candle in a summer scent.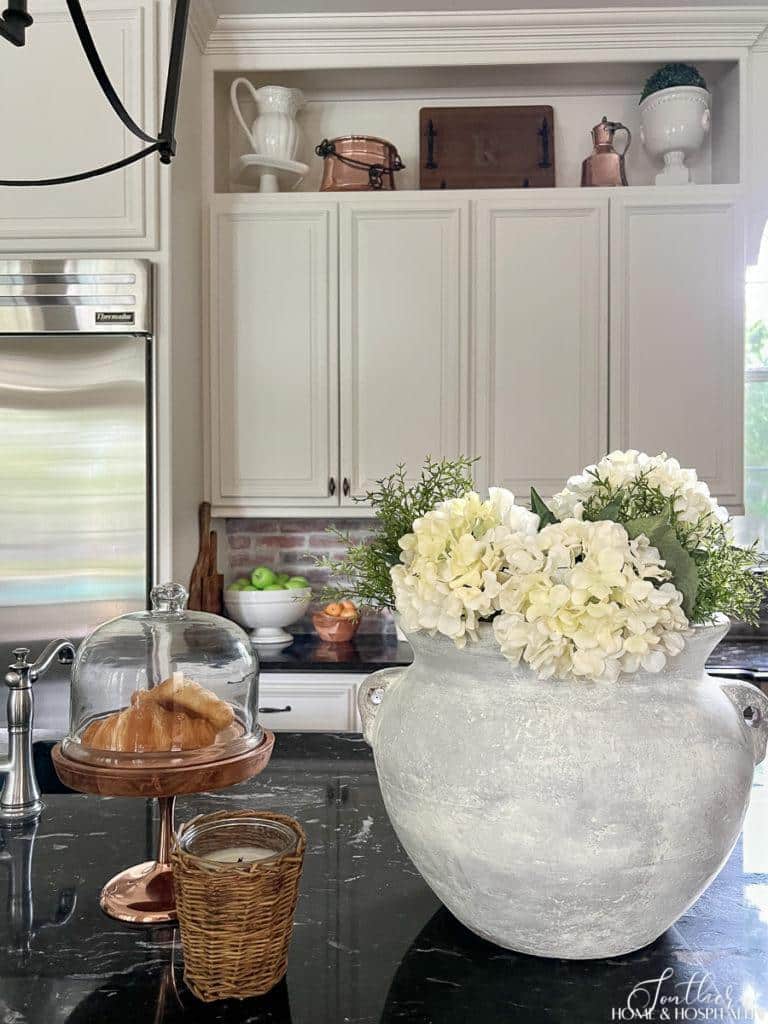 Now my furry assistant invites you to check out the simple kitchen table decor….
Decorating the kitchen table for summer.
I also kept the breakfast table simple and clean by using a neutral, natural texture table runner with a charcuterie board, topped with a glass wine jug vase as the centerpiece.
And another sprig of summery fern:
One last look around the kitchen's summer decor before moving into the last area…
As much as I love decorating for holidays, I sure do enjoy a break from all of the seasonal decor during the summer!
Summer decorating in the family room.
If you came by the family room during the spring tour, you'll only notice a few accessory switchouts. The neutral color palette of whites, tans, grays, and soft moss green still work for both spring and summer and I'm enjoying the less colorful, more quiet feel in this room.
Summer coffee table and end table styling in the family room.
I left the perfect-for-summer rattan and cane tray on the coffee table, but substituted a faux fern in the rustic vase:
And I added a marble leaf and green candle to complete the summer coffee table vignette.
I topped the coffee table books in pretty soft green colors with this gold crab. Beachy, yet not too beachy.
On the other wall, I filled the chest between the accent chairs with an airy faux fern, some wood rings, and a coastal, shell-like white decorative box.
Family room fireplace mantel and shelf decorating for summer.
Instead of the flowering spring branches, now the same rustic vase on the mantel is filled with magnolia stems:
And a couple of hints of summer in the bookcase with a fern and tropical plant. Plus a fun summer memory with a vacation photo of me and my hubby on the beach.
Summer throw pillows and throw blankets.
None of pillows or throws have changed from spring because the fabrics and colors are light and already summer-appropriate.
My new favorite in here has to be this green and white stripe pillow cover from Pottery Barn. I can see me using it for many years to come.
On the other side of the family room, I've left the neutral colored light pillows and the soft green throw in place.
My assistant seems to be sleeping on the job. Touring can be exhausting apparently.
---
I hope you enjoyed checking out my changes for summer, and come back soon!
I'll be kicking back on the screened porch touring the other homes below along with you.
Now if I could only train those birds and squirrels that wake me up to bring me a cold drink Disney princess style…

Before you go:
As always, I appreciate your visit, comments, and shares here on the blog! I'd love it if you also follow along with me on Pinterest, Instagram, and Facebook so you won't miss any of my inspiration and ideas.
Don't forget to sign up for updates to keep in touch.
If you're not already a member of the SH&H family, I'd love to have you join me! You'll not only get email updates, but you'll have exclusive access to all the bonus materials in my free subscriber-only library, like this:
---
Pin it to remember it!
If you've enjoyed this post, please pin and share this on Pinterest:
Summer Home Tour Links.
Now on to Suzy's home at Worthing Court. I've actually stayed at her house and I can attest to her outstanding decorating skills so I'm excited to see what she's done for summer on her beautiful screened porch! And below you can visit all of the talented bloggers in this week's lineup. There's so much summer inspiration you won't want to miss!
Monday – June 6th Lineup
A Stroll Thru Life – Our Southern Home – Grace In My Space
Hymns & Verses – Southern Hospitality – Chalking Up Success
Tuesday – June 7th Lineup
Calypso in the Country – StoneGable – 11 Magnolia Lane
White Arrows Home – RemodelaCasa – Pink Peppermint Design
Wednesday – June 8th Lineup
Designing Vibes – Cuckoo4Design – Whispering Pines Homestead
Decor to Adore – Thrifty and Chic – Clean and Scentsible
Thursday – June 9th Lineup
CitrineLiving – Southern Home and Hospitality – Worthing Court
The Stonybrook House – Southern State of Mind – This is our Bliss
Friday – June 10th Lineup
Follow The Yellow Brick Home – Country Road 407 – Quarters One