Easy Easter Decorating Ideas and Home Tour
Inside: Looking for Easter decorating ideas? This spring season home tour is full of ways to add Easter touches to existing spring decor in the kitchen, family room, living room, and dining room! ➡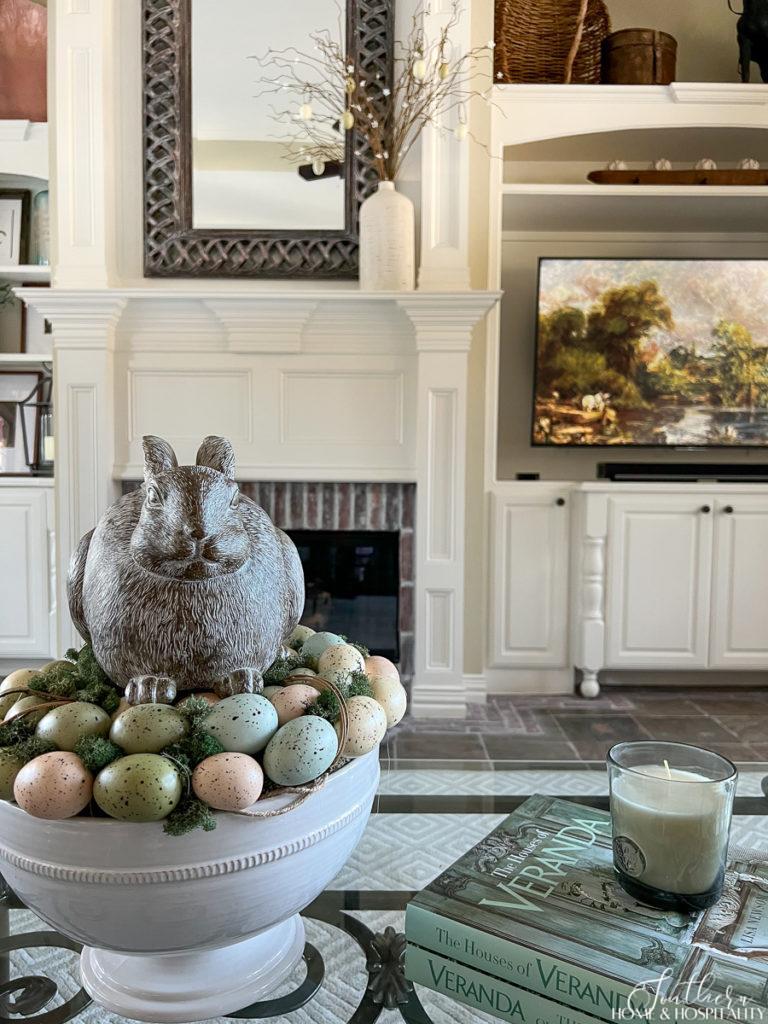 ---
Not everyone decorates for Easter. But there is something so cheerful and mood-lifting for me personally about having the symbols of spring sprinkled around with a few happy rabbits and colorful eggs.
Maybe it's the adorable factor of the bunnies and the freshness of the spring colors.
Maybe it's the warm and fuzzy childhood memories of cute Easter baskets, Paas-dyed eggs, and Cadbury creme deliciousness.
And maybe it's even my adult memories of taking our family photo in front of the blooming azaleas in our Easter finest and then spending a beautiful spring day outside after church for a backyard egg hunt.
I couldn't wait for the Easter "season" to freshen up my home for spring and say goodbye to winter. And my early spring decor was all about flowers.
Many of these are still in place but as we ease toward Easter Sunday and away from winter, the bunnies and eggs have made their annual appearance around the house to continue spreading the spring spirit.
So let me take you on a second spring tour of our home, but this time around it's the Easter edition!
This post contains Amazon and other affiliate links for your convenience. As an Amazon Associate I earn from qualifying purchases. If you purchase something through any link, I may receive a small commission, at no extra charge to you. I only recommend products that I love or would purchase for myself. See my full disclosure here.
Easter decorating ideas for the kitchen.
In the kitchen, I used flowering branches as a focal point on the kitchen island for early spring, and I simply added the Easter feel by hanging speckled eggs in muted pastel colors from a few of the branches.
These are regular decorative eggs, but I made hangers by attaching strings of jute twine with little dabs of hot glue.
The branches are faux but look more realistic with the water in the vase and a touch of matte gray craft paint on the shiny black plastic stems. They definitely wouldn't look the same after a month if they were real!
I paired this vase of spring blooms on a breadboard with a stack of sweet bunny plates from Pier One (I wish I had bought one more before they closed their stores.)
My grumpy bunny showed up this Easter under the glass cloche on the counter. His expression doesn't really show in this photo but he always looks annoyed which makes me laugh. This year that face may be because he's trapped in a glass cage.
On the breakfast table, I built a spring garden-themed Easter tablescape around the early spring centerpiece already in place, adding more garden pots, and grapevine wreath "chargers". And it was the perfect place for my mother-in-law's vintage rabbits.
I topped each table setting with vintage French inspired bunny garden pots that double as place cards and as an Easter gift. Hard to believe they started out as plain old orange terra cotta pots!
See the post "How to Create Vintage Spring Flower Pots with Transfers" for the easy steps to make these.
I had two extra clay pots from the set, so I made another very easy craft to add to the centerpiece – these decoupage garden pots:
I used purple flowers from paper napkins to add to the spring centerpiece and to match the purple flowers already there. It's so simple to use the pretty printed tissue paper layer to create a handpainted look!
See the "How to Decoupage Flower Pots with Napkins: Fun DIY for Pretty Planters" for this easy DIY.
Easter decorating ideas for the family room.
I also left the flowering branches in place here on the simple spring mantle and hung green and cream speckled eggs here too. These match the neutral spring color scheme of tan, gray, cream, and moss green I used this season for the family room.
On the coffee table, this plump bunny perches on an egg wreath on top of a large white footed bowl. I left the Veranda home and garden coffee table books for their soft green covers.
And on the hutch, another bunny under glass, and one of my favorite Easter decorations. It's dear to my heart because it decorated my youngest child's first birthday cake.
Easter decorating ideas for the living room.
The living room was already full of spring faux flowers for early spring but I added a couple of Easter touches to the coffee table. I filled a lattice bowl with wooden eggs that were decoupaged with pink and green flowers from a paper napkin using the same technique as the decoupaged garden pot!
And this room needed bunnies of course, so I replaced the French garden pot with the bottom of this pretty Fitz and Floyd rabbit cookie jar.
Easter decorating ideas for the dining room.
The dining room Easter tablescape is centered around my mother-in-law's Old Country Rose china. She loved collecting dishes and these were some of her favorites. I feel so blessed that she gave them to me while she was still alive and I think about her so much when I bring them out in the springtime.
See this elegant Easter tablescape idea in the post, "English Garden Easter Tablescape".
The plaid fabric used as a table runner brings loads of spring color and just happened to match the china to perfection.
I included two more easy Easter crafts on the dining room table. This cute bunny napkin fold that's shaped like a bunny's ears:
And a bunch of old mismatched bunny figurines became Easter table decor after a quick faux chocolate rabbit makeover. Gathering them on a cake stand makes kind of a chocolate bunny buffet – just don't try and eat them.
Over on the dining room wine bar, it looks like these bunnies may have taken a little nip:
The best Easter decorations should always make you smile!
---
I hope my spring additions of bunnies and eggs have inspired a few Easter ideas for your own home. Or at the least brightened your day with color and cuteness. 🐰

Before you go:
As always, I appreciate your visit, comments, and shares here on the blog! I'd love it if you also follow along with me on Pinterest, Instagram, and Facebook so you won't miss any of my inspiration and ideas.
Don't forget to sign up for updates to keep in touch.
---
Pin it to remember it!
If you've enjoyed this post, please pin and share this on Pinterest:
Celebrating Spring Tour links.
See even more spring inspiration at some of my friends' homes all decorated with their spring finest:

Sand Dollar Lane // Postcards From The Ridge // Worthing Court // The Tattered Pew // Noting Grace
---

2 Bees in a Pod // DIY Beautify // Cottage in the Mitten // Southern Home and Hospitality
Sonya Burgess // Thistlekey Lane // Dabbling and Decorating // Aratari at Home

Songbird // Southern Crush Home // Simply 2 Moms // Our Crafty Mom

Zucchini Sisters // Amy Sadler Designs // Bluesky at Home // My Family Thyme