Make these beautiful and easy floral flower pots with just terra cotta pots, spring paper napkins, and Mod Podge! ⟹
Torn napkin decoupage is wildly popular for spring crafts because of all of the beautiful and colorful floral napkins available. If you've never heard of it or tried it you'll definitely want to read on!
I've made decoupage Easter eggs with this technique in the past and have always wanted to try it on garden pots as well. I had a couple of extra pots left over after making the spring vintage flower pot place holders for my garden themed Easter tablescape. They became the perfect candidates for me to finally try this fun craft out on!
It is one of those truly easy, gratifying crafts. Let me show you how very simple it is to make them…
Supplies for decoupage flower pots.
Step One.
First, paint the orange pot with a coat of soft white paint. I wanted a matte finish so I used some chalk paint I had on hand. The pots are so porous it only takes a few minutes to dry.
Step Two.
Separate the layers of the napkin. You may have never noticed but most of these napkins are either two-ply or three-ply. You'll want to separate and use just the very top layer with the print on it. Tip: It's less work to separate the whole napkin before you cut out the designs…for these photos I was working with scraps I had left over from the Easter egg project so the napkin was already cut up.
This is honestly the most time consuming part. Sometimes they peel apart easily and other times it takes a minute to get it started. It may help to tear or cut a corner and try to tease the layers apart there. Since I was only making two very small pots and not completely covering them, I only used one napkin.
Step Three.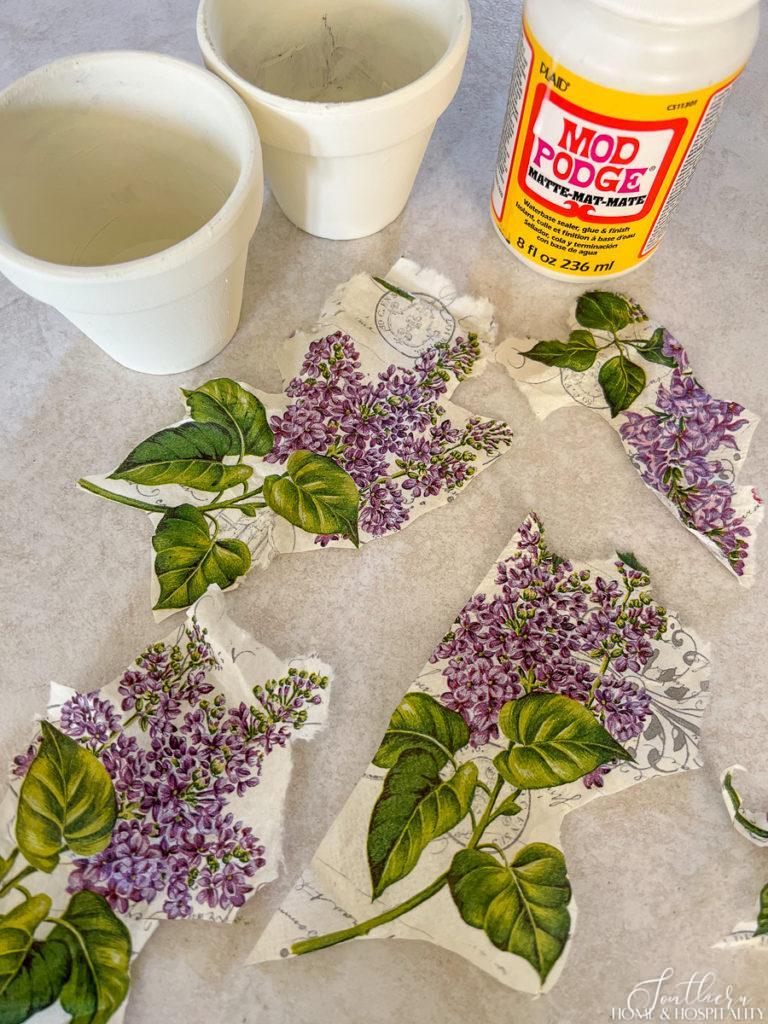 Next, cut or tear out the designs from the napkin you want to apply to the pot. I wanted just the purple flowers from my napkins so I cut out a few of those.
Step Four.
Paint some of the Mod Podge onto the pot where you want to apply a design.
Carefully lay the napkin piece on top of the wet Mod Podge and apply more Mod Podge on top of the design. You can gently do some smoothing of the paper at the same time with the brush. Don't worry that the Mod Podge looks white…it will dry clear.
Let the piece dry for a couple of minutes before moving on or the paper tends to pull up when you touch it. Continue applying the pieces in this way around the pot until you've achieved the look you want. I chose to only add two or three pieces to these pots and leave them partially uncovered. Covering the entire pot with designs looks beautiful as well!
---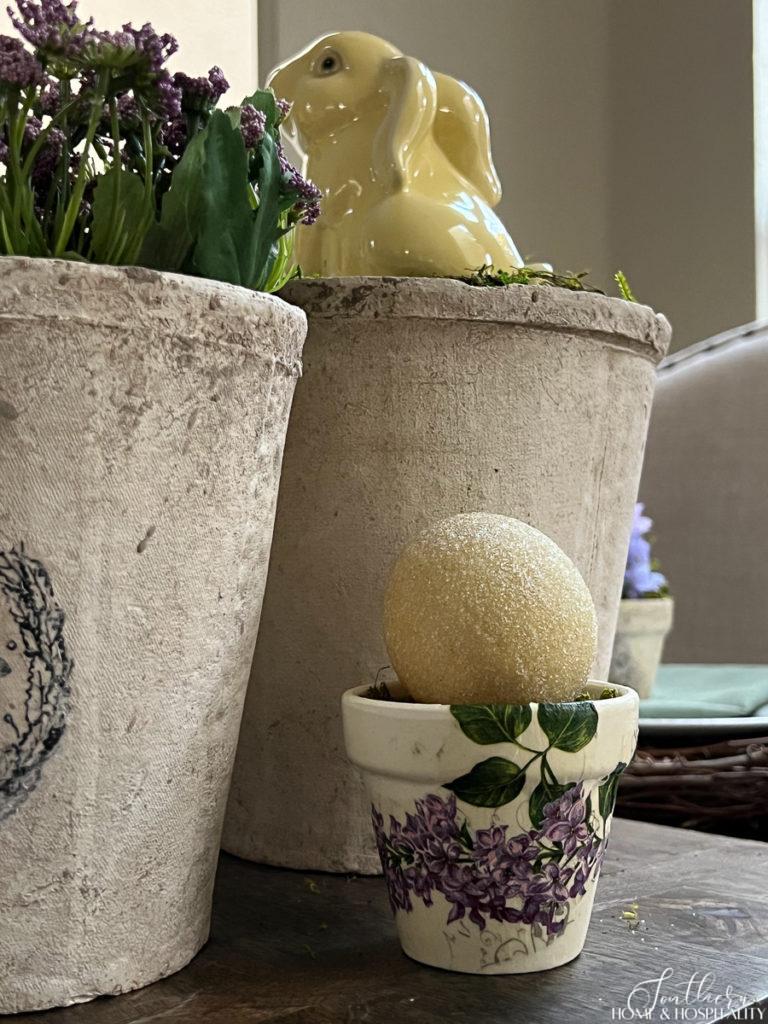 You definitely don't have to be crafty to make this project and I love how the result looks hand painted. I hope you give this fun and fast craft a try so you can add some of your own sweet little custom pots to your spring decor this week!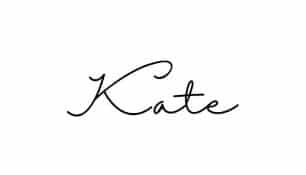 As always, I appreciate your visit, comments, and shares here on the blog! I'd love it if you also follow along with me on Pinterest, Instagram, and Facebook so you won't miss any of my inspiration and ideas.
Don't forget to sign up for updates to keep in touch…I have lots of fun and useful freebies you may be interested in in my subscriber-only library like my cheat sheets for where to place lighting, bathroom fixtures, artwork, and furniture!
Pin this for later: