Need a casual, understated Easter table to bring spring to the kitchen? This tablescape achieves the look with its soft muted colors and rustic materials inspired by the garden! ⟹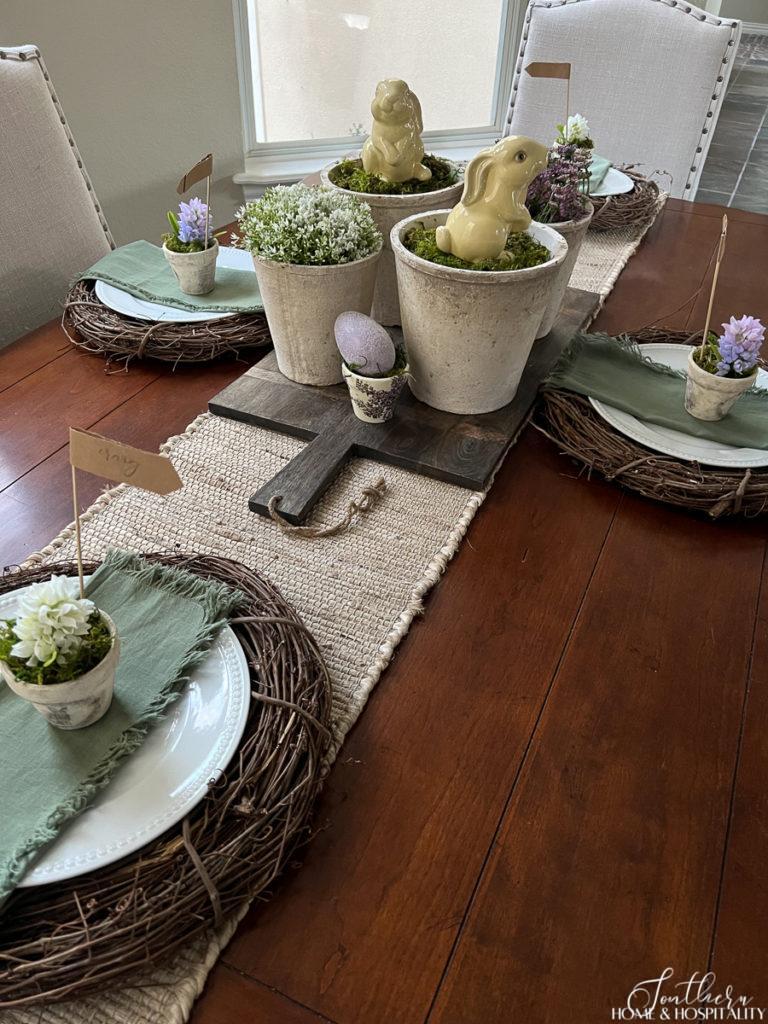 I love to create a tablescape for spring to brighten my breakfast nook…it makes the whole kitchen feel alive and fresh, just like everything sprouting new growth outside at this time! This year, my Easter table in the kitchen is all about the garden and bringing the glorious beauty and blooms of spring inside.
This Easter table does have the obligatory bunnies, but it is not overly cutesy or Easter-y. I used muted purples, greens, and creams which help it flow with the neutral colors in the rest of the kitchen and family room. I like the seasonal decorations to blend in and a lot of bright splashy spring pastels feel out of place in this room.
This post contains Amazon and other affiliate links for your convenience. As an Amazon Associate I earn from qualifying purchases. If you purchase something through any link, I may receive a small commission, at no extra charge to you. I only recommend products that I love or would purchase for myself. See my full disclosure here.
I started the foundation of this tablescape when I decorated the table for early spring. The centerpiece consisted of this nubby table runner, aged wood charcuterie board, and faux aged garden pots filled with flowers and boxwood balls.
I left the purple and white flowers and replaced the boxwood balls with preserved moss. Then I perched two vintage rabbits on each. These heirloom bunnies decorated my husband's home for Easter when he was growing up!
I brought in a little more of the purple with these sweet decoupaged flower pots. It is so fun and easy steps to make this spring craft so make sure you give it a try. I love how they almost look handpainted!
I placed inexpensive 14″ grapevine wreaths as the base for each place setting. They almost look like nests and I love the texture they give the table. I brought out the soft moss green napkins that I also used in this casual fall tablescape…the color is so neutral and versatile!
And keeping with the garden theme, instead of traditional place cards I made these vintage French transfer flower pots. On one side I used a rabbit image…
And on the other, a French postcard transfer.
I popped in a plant with some moss and a "plant marker" name card made with cardstock, a printer, and a wood skewer. They not only add to the tablescape theme but can double as a gift! I shared step by step instructions here on how I made these vintage transfer garden pots if you'd like to try this inexpensive DIY yourself. It's hard to believe they started out as brand new plain orange clay pots!
---
This Easter garden inspired table could be used for any spring gathering by just switching out the rabbits for some greenery. There are so many possibilities of things you can use from the outdoors when making a garden theme table and it's such a great casual look. I hope this post has sparked your creative side to bring a little springtime to your kitchen table!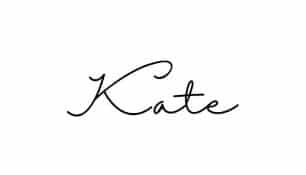 As always, I appreciate your visit, comments, and shares here on the blog! I'd love it if you also follow along with me on Pinterest, Instagram, and Facebook so you won't miss any of my inspiration and ideas.
Don't forget to sign up for updates to keep in touch…I have lots of fun and useful freebies you may be interested in in my subscriber-only library like my cheat sheets for where to place lighting, bathroom fixtures, artwork, and furniture!
Pin this for reference later: