How to make these charming aged French pots from any garden pot with paint, paper, and a printer with this simple step-by-step tutorial! ⟹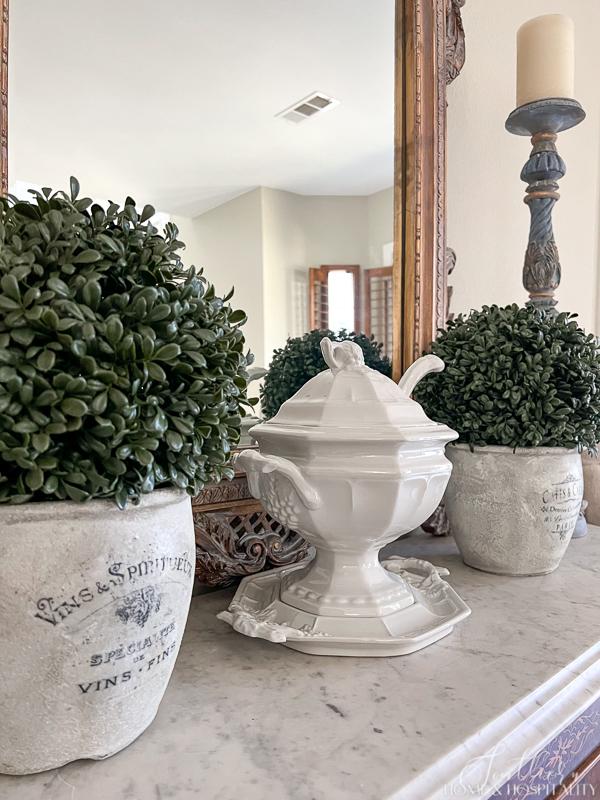 I have a weakness for French decor!
I thank my lucky decorating stars that I was the child that inherited my grandmother's French marble-topped credenza (it may have helped that I was the only girl and only taker.)
It holds court in all of her vintage European loveliness in my dining room. When I wanted to give it an all-out French look, that called for some French-style friends… French candlesticks and vintage Ironstone tureen.
I wanted to liven it up with some greenery but I didn't want to just plop it into any old plain pots not worthy of her.
I had an idea in my head of exactly what I wanted, but couldn't easily find the size, look, or price tag. What do I do when that happens? I make it!
This post contains Amazon and other affiliate links for your convenience. As an Amazon Associate I earn from qualifying purchases. If you purchase something through any link, I may receive a small commission, at no extra charge to you. I only recommend products that I love or would purchase for myself. See my full disclosure here.
I came upon the size and shape of pots at a local plant nursery that I liked but they were definitely not the look I was after with their bright blue glaze.
So a new DIY project was born and I transformed them into exactly what I had created in my head!
I'll share the easy way with you for how they became these…
How to "age" the pots.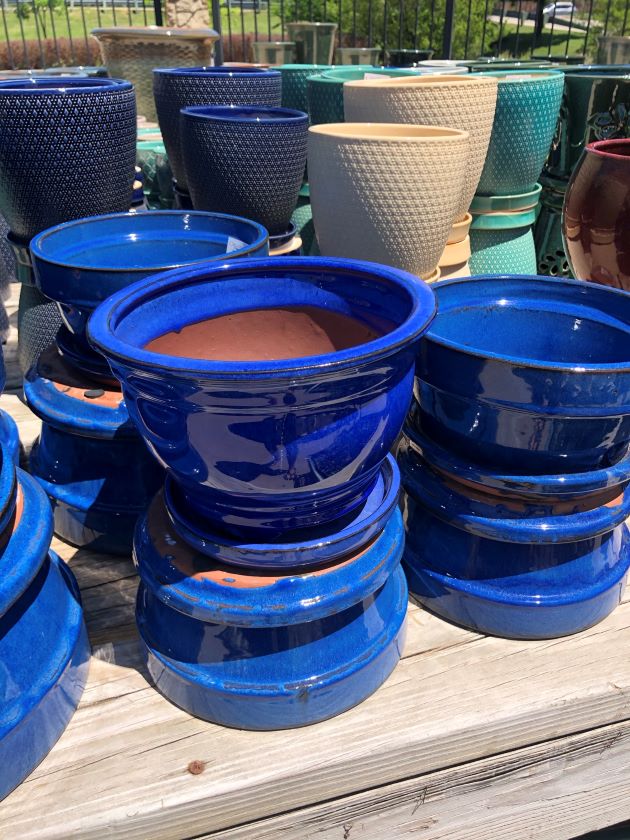 The pots I used were almost identical to these and covered in this same blue glaze.
I started by spraying the pots with some Rustoleum spray paint in Heirloom White to cover the blue.
After that dried, I gave the pots a spray of Rustoleum textured stone spray paint. Not terribly heavy or uniform, just enough to make them more rustic.
The first two steps left me with a pot that was a fairly even color, but I wanted something more mottled and aged. So I used craft paints that I had on hand in various grays and linen white.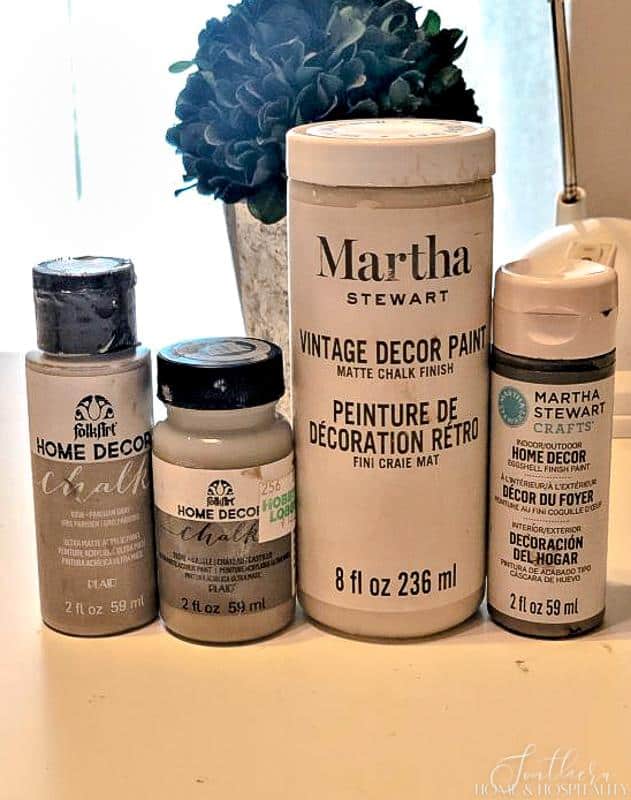 3. I dipped a brush into the paints and dabbed it off on a paper towel until it was almost dry. Then I went around the pots and dabbed a bit of the colors here and there, and blotted with a rag as I went until I was happy with the level of "aging."
How to apply the transfer.
I found these free vintage French transfer designs on The Graphics Fairy. You can look at all of their beautiful French designs HERE.
There are so many to choose from but I settled on these:
To demonstrate the process of how I did the transfers, I'm using the same method on a white, rustic pot that I found at Michaels in their spring collection.
(NOTE: This transfer method works best on white/light-colored pots since some of the white paper will remain.)
Supplies:
Printed transfer
Matte Mod Podge and brush
Spray bottle with water or wet cloth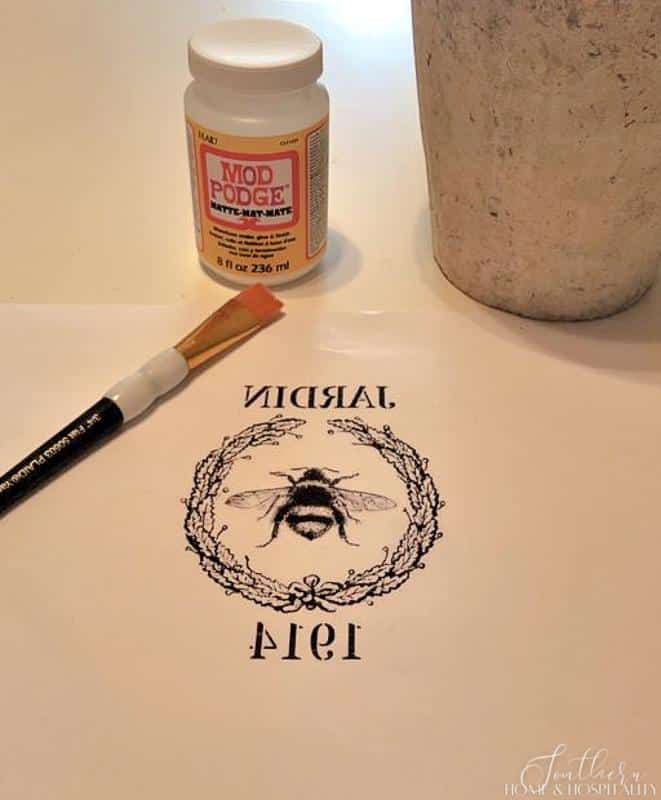 Download your graphic in the reverse format if offered. If not, you can reverse the design in your photo program. Print it onto a sheet of plain white paper.
Cut around the design…some of the paper will remain on the pot and straight lines are obvious and won't look time worn!
3. Apply the matte Mod Podge onto the printed side of the paper. Then place the design onto the pot in the desired location.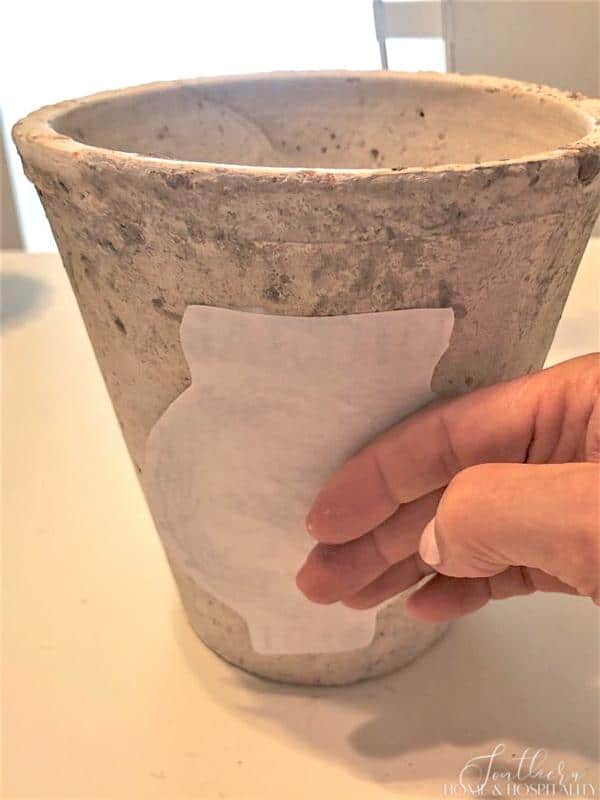 4. Smooth the graphic as best you can to work out folds and wrinkles in the design.
5. Let the design dry overnight. Don't be tempted to peel away too soon!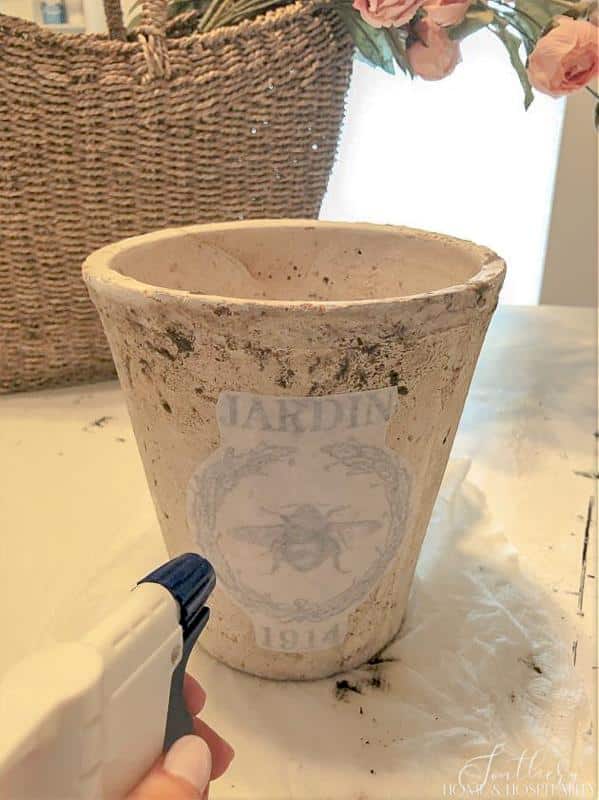 6. After the design is completely dry the next day, spray or wet the paper with water until you can see the design through it.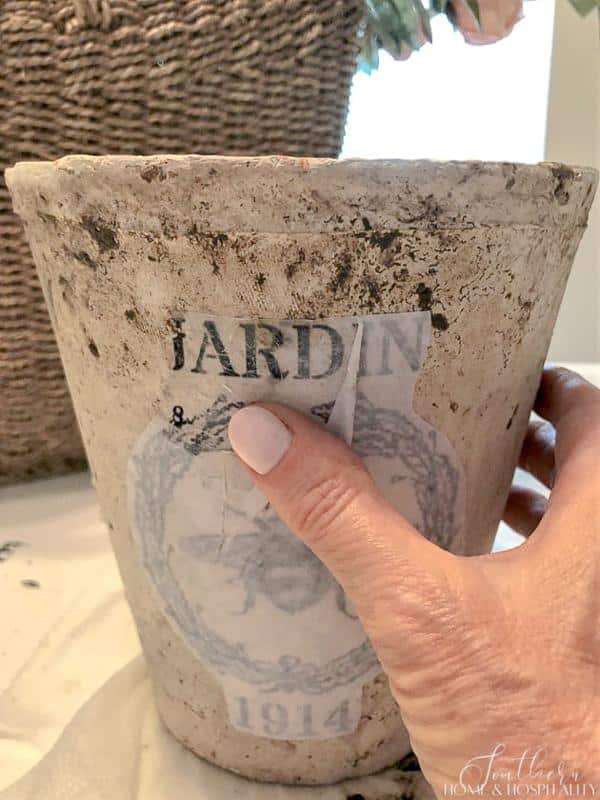 7. Rub and roll the top layer of the paper slowly and gently away with your fingers. Rewet as needed until you take off the amount of paper you are happy with. Bits of the design will come off but that is ok since the look is supposed to be aged. Just don't rub off so much of the paper that you remove a lot of the design.
To avoid this, it helps to roll the paper away in stages and let the paper dry in between so you can really see how much paper is left. I let mine dry 3-4 times and just took a little off each time.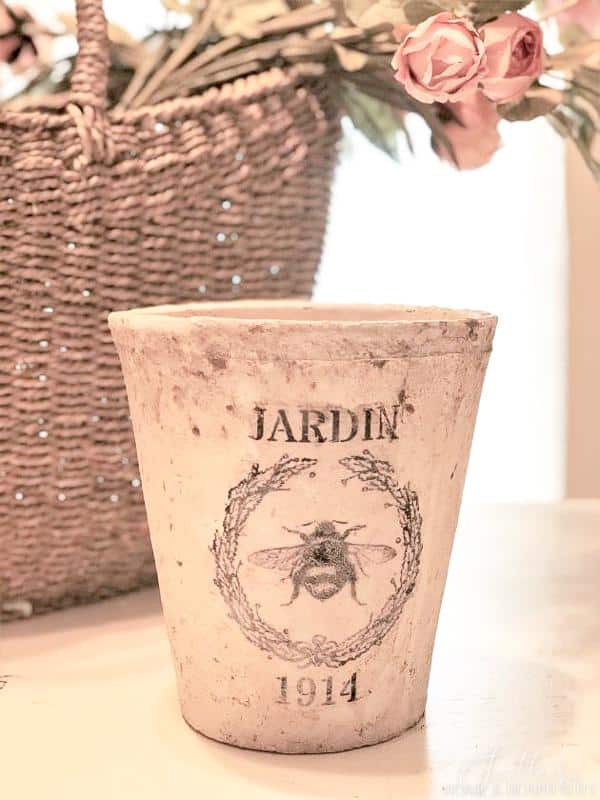 The result…lovely French pots with instant patina!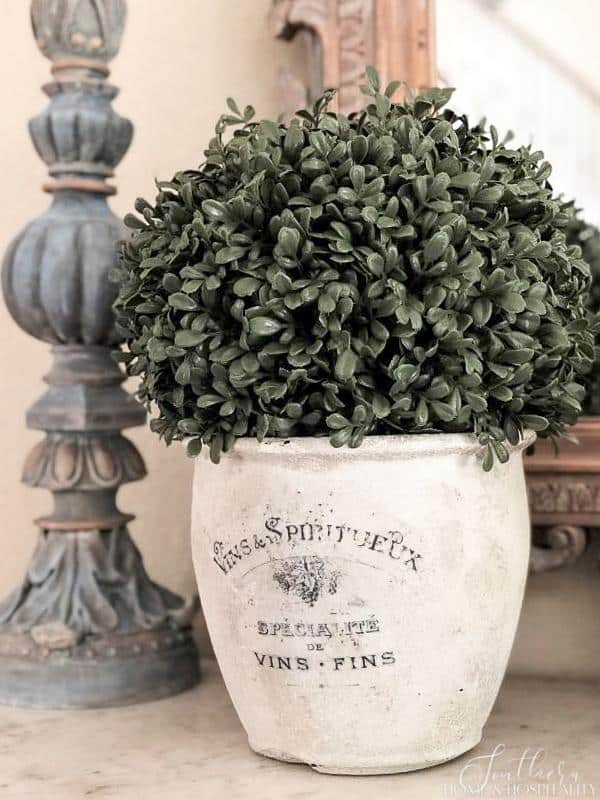 You can see how I used this same transfer technique to make this cute vintage spring garden pot "place card/gift" for the spring table here.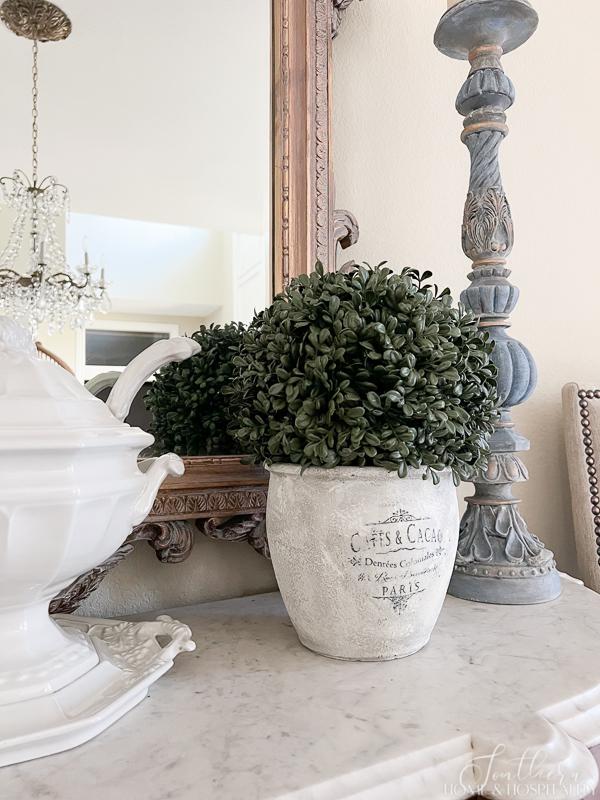 I hope you've been inspired to add some je ne sais quoi to your decor with this fun craft! If you try this method I'd love to see how they come out in the comments!
Happy crafting,
Don't forget to sign up for updates to keep in touch…I have lots of fun and useful freebies you may be interested in in my subscriber-only library like my cheat sheets for where to place lighting, bathroom fixtures, artwork, and furniture!
Pin this for reference later: