12 French Decorating Elements That Work Flawlessly With Fall
Inside: Twelve classic French design elements to cozy your home with this fall to add the European rustic elegance of French Country or French Farmhouse style. ➡
The arrival of autumn ushers in the time of year we snug up in the comforting refuge of home. And the months where we make memories with family and friends.
In fact, "home" and all that word means to us goes hand in hand with the warm and welcoming feeling of fall and rustic French decor.
French style with its muted colors and vintage, aged, patinaed finishes lends itself to fall in so many ways.
Decor aged like the drying leaves on the trees.
I'm a lover of all things French. It comes from my Louisiana heritage and the heirlooms that were passed down to me by my grandmother.
So when it's time to cozy up our home for the upcoming cold months, giving my fall decorations a French feel brings me that comfort and connection of home.
Let's look at a few of the elements that you'll typically see in French country, French Farmhouse, and European Country decor that will add some gorgeous French flair to your fall decorating!
This post contains Amazon and other affiliate links for your convenience. As an Amazon Associate I earn from qualifying purchases. If you purchase something through any link, I may receive a small commission, at no extra charge to you. I only recommend products that I love or would purchase for myself. See my full disclosure here.
Baskets.
Fresh or faux dried florals in French baskets are a beautiful fall addition. Fill them with lavender, eucalyptus, or any dried greenery. And fall-colored foliage would definitely make a statement for the season! Or simply leave them empty. French baskets themselves add such a lovely, time-worn texture.
A French market basket looks so pretty with florals of any season. But for fall, stick to combinations of blooms in muted colors. Hang it in the foyer or place it on a table.
Copper.
Copper is a French country classic. Its glow adds a warmth and patina so essential for autumn! Try switching out cooler metal accessories for a few copper accents this time of year.
Dried hydrangeas and roses.
All year long, dried hydrangeas and roses are staples in French decor. Since they dry in fall in nature, decorating with them now definitely brings in the French and the fall!
The colors of naturally dried hydrangeas are so soft. And if you have a hydrangea bush, it's a free and and easy way to fit in some French.
Roses in deeper aged color palettes and away from brighter spring hues feel more appropriate for fall. If you use fresh flowers, let them dry for a true European rustic look.
Boxwood and moss.
Classic green natural elements like boxwood add French flair and a nice touch of greenery to any season…including fall.
See how I made these French-inspired garden pots.
Cindy at Edith & Evelyn Vintage combined both moss and pumpkins for green, French, and fall! She has a great tutorial on her blog on how to make these lovely moss pumpkins:
Urns.
Chippy, aged urns just say French! Fill them with fall branches for simple fall decor.
Atelier de Campagne Antiques uses fall colored dried hydrangeas in this stunning French space. And I'm sure this urn is the real deal, probably straight outta French country home. If you love drooling over photos of French accessories you should definitely check them out.
Grain sack and linen fabrics.
The textures of grain sack and linen with their washed and faded looks and muted colors fit into the season seamlessly. Adding a single pillow or a table runner is a great way to add rustic French country style.
There are some beautiful grain sack pillow cover options on Etsy – that's where I found this one with the French crest.
The textures and faded colors of these fabrics look like they've been well loved during many a family fall gathering. (Only the one in this photo is from Target. Or should I say, "les Tar-jay"?)
Heirloom pumpkins.
And then of course there are the heirloom pumpkins in their natural French colors. Faded, muted, and soft. As a matter of fact, many heirloom varieties of pumpkins actually originate from France.
As much of a fan of faux pumpkins as I am, there's really no substitute for real pumpkins here with their gorgeous muted green, blue, and peach colors, and their interesting shapes.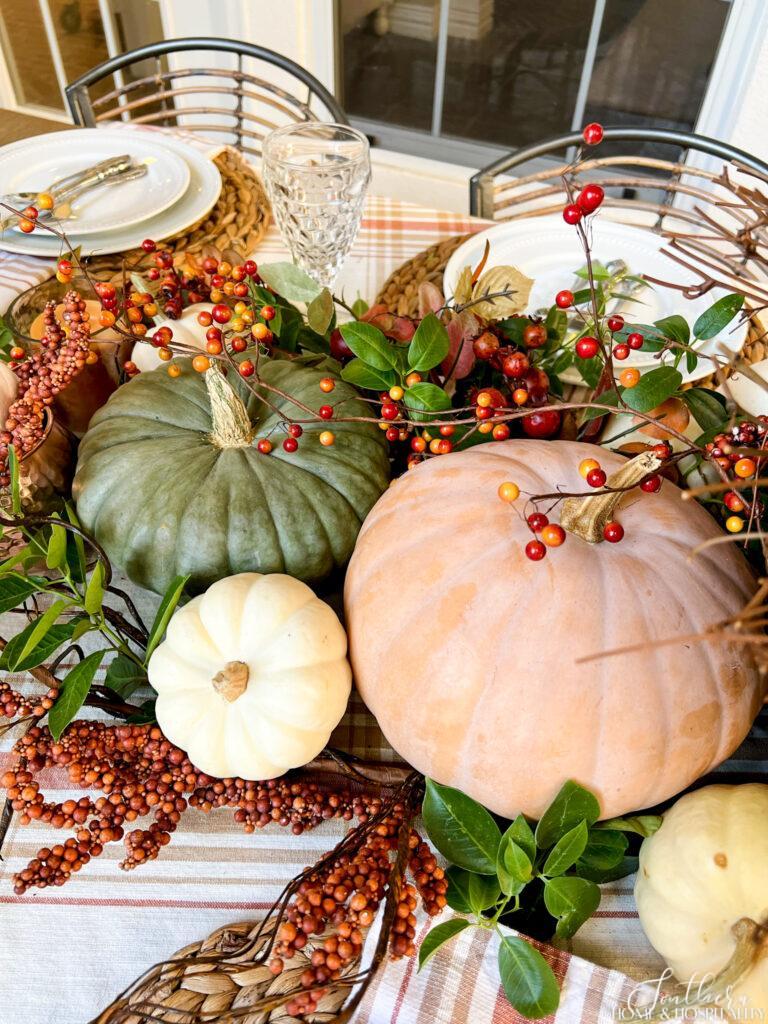 You don't need a lot. Mixing in white pumpkins, faux or real, can highlight the interesting beauty of just one or two heirlooms.
Food.
Pumpkins don't have all the French fun in the fall. Faux or fresh fruit or vegetables in a bowl or under a cloche is one of the quick ways to add some french country decor. Try some pears, apples, or artichokes. Or a loaf of rustic bread.
Wheat bundles.
Wheat stalks look lovely in a French vignette in the living room. Add them to some rustic pottery or to a shelf or counter. Many wheat bundles are even made to stand up on their own.
A stack of books.
A stack of vintage books is always an MVP for decorating shelves or vignettes. And they also bring aged elegance to French and Farmhouse fall decor.
You can see my aged unbound book bundle DIY here.
Aged wood.
French country-style furniture brings oodles of warm charm to a room. But any furniture in aged wood tones also creates that comforting, lived in feel.
Bring in the warmth of patinaed wood in accessories too. An aged breadboard is a beautiful kitchen fall touch. Or a rustic dough bowl on the coffee table.
Aged garden accessories.
Bring the French countryside indoors. Anything you'd find in a French garden. Aged flower pots. Old iron gates.
---
Whether you are a full on fan of French decorating or not, fall decor just feels more natural and home-like when it fits in with your usual style.
But a couple of French touches add interest and warmth to almost any style. So fall is a perfect time to cozy your nest with something French!
Automne Heureux (Happy Fall)!

Before you go:
As always, I appreciate your visit, comments, and shares here on the blog! I'd love it if you also follow along with me on Pinterest, Instagram, and Facebook so you won't miss any of my inspiration and ideas.
Don't forget to sign up for updates to keep in touch.
If you're not already a member of the SH&H family, I'd love to have you join me! You'll not only get email updates, but you'll have exclusive access to all the bonus materials in my free subscriber-only library, like this:
---
Pin it to remember it!
If you've enjoyed this post, please pin and share this on Pinterest: