Inside: Whitewashing a fireplace surround is a super solution for updating old, dark stone or brick. It can be a little scary to undertake, but it's actually a very easy DIY project. Here's my step by step tutorial to get you started! ⟹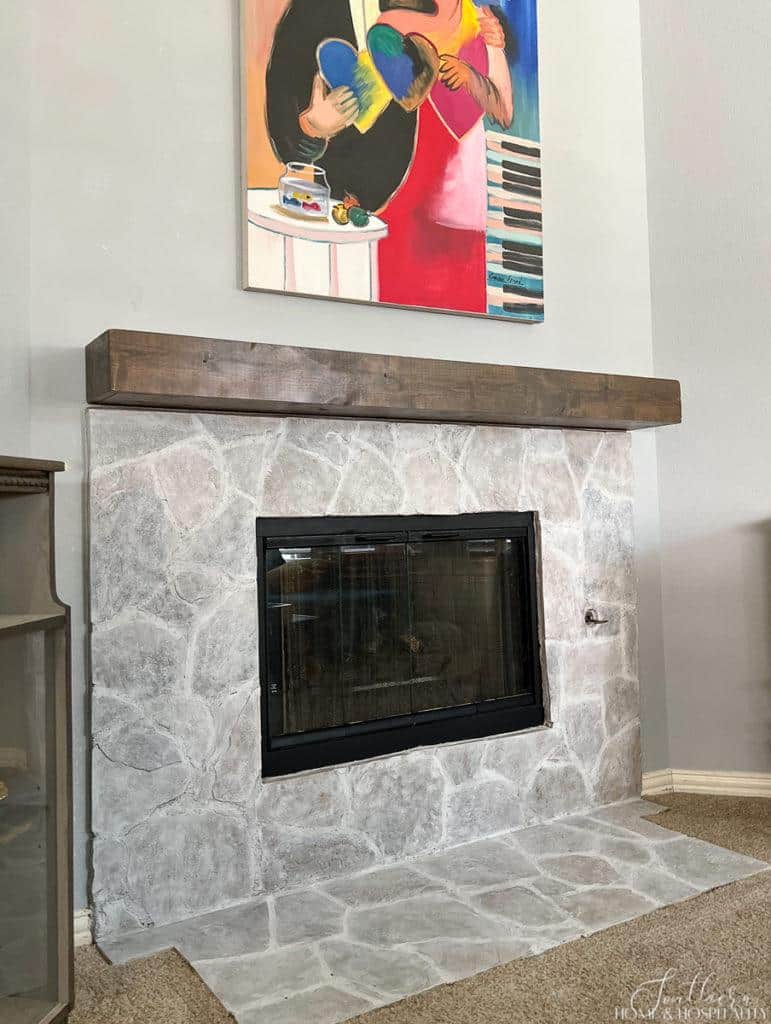 It's hard to love your living room when the very focal point is the thing you hate the most. Unless we build from scratch and pick every detail in our home just to our liking, we all have to live with something that just sticks in our craw every time we look at it. They are those things that keep us from enjoying the whole room. It's like that's ALL we can see.
Well, one of my good friends downsized recently and their new home with its updated gray and white color palette had this sore thumb: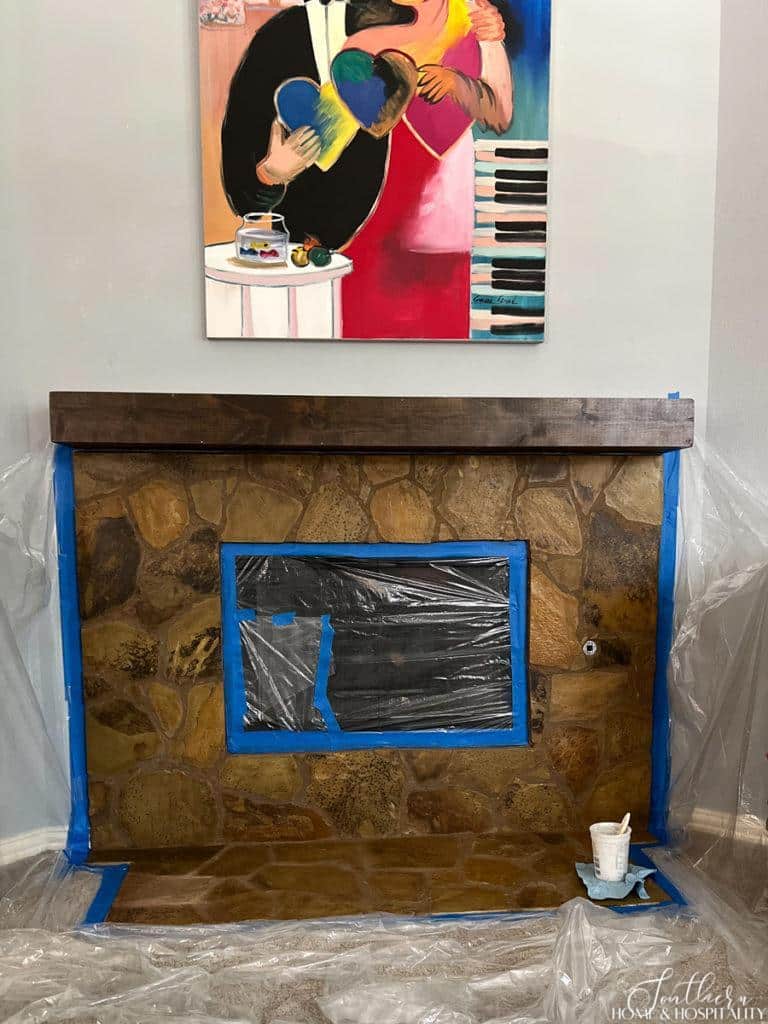 Dark, dark, glossy brown stone on the fireplace. And the surrounding light and bright colors in gray, cool tones made it look even darker. And orange. Just a golden, orange, dark hole.
The solution?
A can of paint and a few hours. No special painting skills even required. And now it fits right into the room seamlessly!
Let me show you just how easy this is!
Supplies for whitewashing a stone fireplace.
How do you prep the fireplace?
First step in prep is to clean the stone well. Her fireplace stone had been sealed so this was pretty easy in this case…she just wiped it down with a wet rag. For more porous, rough, or sooty fireplace surrounds, you can also clean it with TSP. Let the stone dry before applying the paint.
Next, cover the walls, floor, and firebox to protect them during the whitewashing process. This is a very "drippy", "splattery" project so protect or move everything right around the area. I used a plastic drop cloth and painters tape: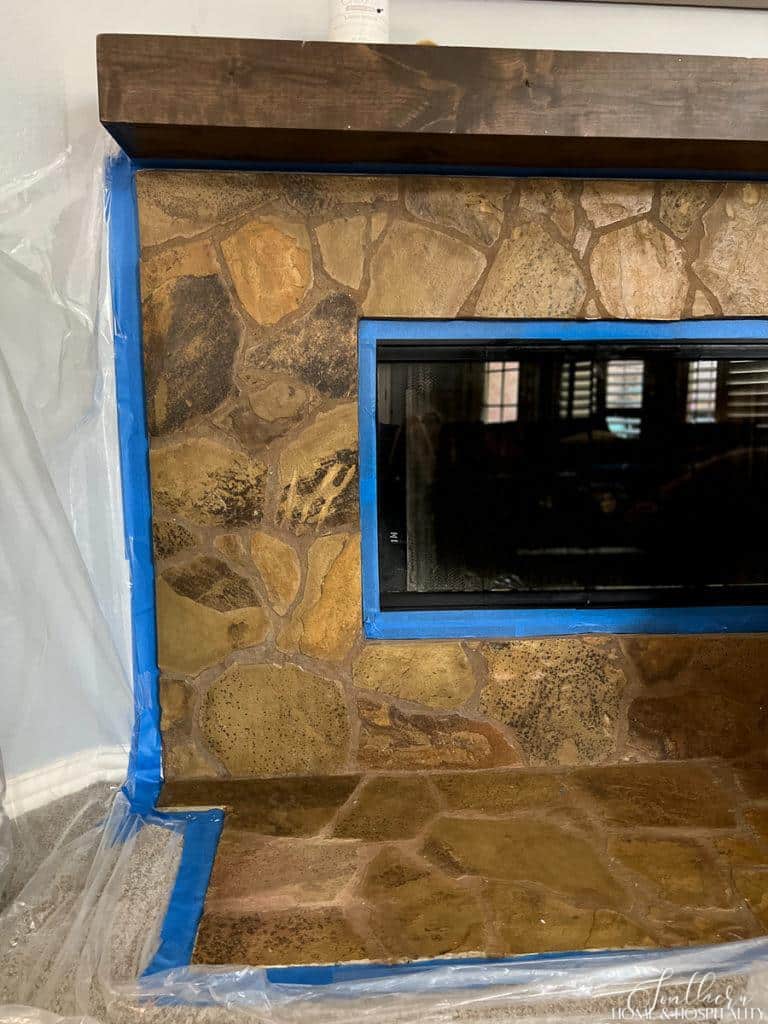 Get all of your supplies handy because your hands will be covered in paint during this process. Gloves are on the supply list and I was glad I wore them because truth be told I'm not very good about it during paint projects.
The simple steps to whitewash the stone (or brick).
Step One: Mix the whitewash solution.
I bought a quart of this Rustoleum "Chalked" paint in Linen White because it has a very matte finish. If you already have flat white paint, it will work fine. You'll want matte with no sheen because that helps the stone to look natural, not painted.
The glossy sealer on this stone was also something that made this fireplace so unappealing and orange…rustic stone should be just that. Rustic.
(The former owner of our home did this to our slate and brick floor in our kitchen too which I've had to deal with…incomprehensible.)
The whitewash "recipe" is this:
A 50/50 half paint to half water ratio.
Mix the paint and water well in a plastic paint container or tupperware that you can easily hold while you whitewash. How much whitewash to mix will depend on how large your area is. I barely used any of the quart of paint for this small area.
Step Two: Paint in the mortar lines first.
I'm going to say this second step is optional. I wanted to make sure the grout came out whiter than the stone so I painted the white wash onto the mortar lines first with the smaller brush.
Some will get on the stone but that's ok. I wiped away most of what got on the stone during this step.
Step Three: Applying the whitewash mixture to the stone.
1. Dip the large paint brush into the mixture about 1/2 to 1/3 of the way up the bristles and drain a little bit of the excess in the side of the container to help avoid some of the dripping.
2. Start with a small section at the top and paint the mixture on the stone. Starting at the top keeps you from dripping on areas you've already done. Check for drips and wipe off with a rag.
If your stone is super rough or you are whitewashing on brick, use a paintbrush with very stiff bristles and stipple the whitewash mixture into crevices painting over won't get to.
3. Then do the "dab" and "blot". Dab the paint with a rag. This technique creates more dimension that wiping the paint off. Depending on how porous your stone is, it will grab the paint differently, so you'll get to know your stone as you work on it. Just experiment to get familiar with how your stone is soaking up the paint. (I think the sealer on this one made it hold slightly less.)
4. Make sure to continue to work in small sections, painting and blotting as you move down the fireplace, wiping off the dripping paint as you go. The small sections are necessary so the paint won't set before you get to mottle it, erasing the brushstrokes.
After you've made your way all the way down through the hearth, go back and make sure you've covered all of the edges around the firebox or sides with the small paint brush.
5. After completing the first layer, you will still see a lot of brown showing through: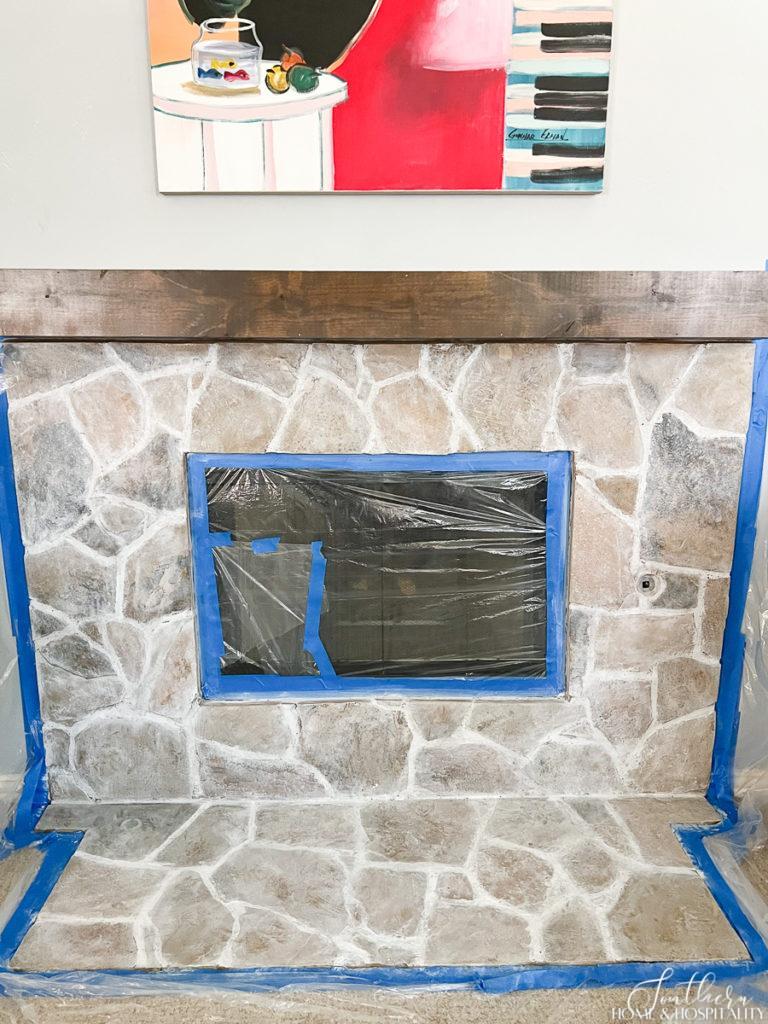 Stand back and assess and repeat with more layers until you've achieved the look you want. It's helpful to take a break in between or even overnight.
My friend didn't want the stone totally white, so I applied one more layer of whitewash following the same steps. Then we picked out a few stones that need extra attention to finish it up.
We left it at this point, agreeing that if she wanted to go even whiter I would come back and apply even more. I'll definitely update you if we decide to go lighter, but so far she is happy!
Additional tips.
You should be able to complete at least your first coat in one day. If you have a large area, you may want to let it sit overnight before applying the finishing layers so you don't overtire and you can stay consistent.
Have LOTS of rags available. Once they have a good bit of paint on them you'll want to switch out or you'll be dabbing on more paint than dabbing off.
Staining pads are another handy tool you can use to wipe up drips.
If a drip starts to set before you can wipe it, scrub it with a wet rag. You'll remove your whitewash from that stone but it's no big deal to touch up one or two stones.
If you feel like you've applied too much paint in an area, you can also wipe this with a wet rag or mist with water and wipe. Beauty of water-based paint!
If you want the end result to be white stone, you can adjust the equal parts mixture to a ratio of more paint and less water. Don't leave out water altogether though…you may end up with stones that look painted, not natural.
If you have a large area and a partner, assign one person to paint and the other to dab so the look will stay consistent.
Whitewashing a brick fireplace is just as easy.
I've also used this same whitewashing technique on a brick fireplace for a home staging client. Their living room had very little light and the dark red brick fireplace looked dirty and outdated. To upgrade this all-important room in selling a house, they hired me to whitewash the brick before it went on the market.
I'll say the brick took a lot longer than the stone with its very porous, rough texture and all of the mortar lines. And this brick was DARK. But it still wasn't difficult. And I didn't have the luxury of going back the next day so I did the whole thing in about four hours. It did make a huge difference in the room so it was totally worth it!
---
If you have a stone fireplace that you don't like, have I convinced you to go for it? If you do, show us in the comments!
That first stone is the scariest because "what if I make it even worse than before?" I'm here to tell you that I have never heard of anyone that was sorry they did this project. Actually the opposite…they wish they hadn't been afraid because it was really so dang easy.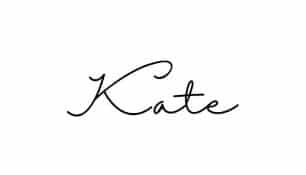 As always, I appreciate your visit, comments, and shares here on the blog! I'd love it if you also follow along with me on Pinterest, Instagram, and Facebook so you won't miss any of my inspiration and ideas.
Don't forget to sign up for updates to keep in touch…I have lots of fun and useful freebies you may be interested in in my subscriber-only library like my cheat sheets for where to place lighting, bathroom fixtures, artwork, and furniture!
Pin this for reference later: