How to Make Your House Smell Incredible: Real Estate Expert Secrets
Inside: Proven easy ways to make your home smell amazing for a showing, open house, party, or just for you! ➡
---
The most appealing homes are not necessarily the most finely decorated or the most expensive. How is it possible that we can enjoy our time more in an ordinary three-bedroom than a stately three-story?
It's not about the eyes. It's about the nose.
The most inviting homes have just a hint of scent – of fresh. And clean. And comfort. They make you want to linger. And maybe even picture yourself living there. That's why real estate professionals have honed a shortlist of proven tricks over the years that make a house smell good enough to sign on the dotted line.
And why not enjoy a great smelling home whether we're selling or not? Or at the very least, when we're having people over? Because these tricks of the real estate trade are not only perfect for showing your home and for open houses, but for parties, gatherings, or any time you simply want your haven to smell ahh-mazing.
How to make your house smell good for a showing.
We all have mental associations with smells – some positive, some negative. And it's important to remember that other people may not share the same ones as you. So let's talk about the three things you can do for a great-smelling house that will pass the sniff test with the most people.
How to deal with unpleasant odors
Pleasant, universally pleasing scents and ways to add them
Things to avoid
This post contains Amazon and other affiliate links for your convenience. As an Amazon Associate I earn from qualifying purchases. If you purchase something through any link, I may receive a small commission, at no extra charge to you. I only recommend products that I love or would purchase for myself. See my full disclosure here.
1. Remove the source of bad smells.
Before you even start adding pleasant scents to your home, you need to deal with the not-so-pleasant. Like garbage, cooking odors, pets, and smoke just to name a few.
Open windows and doors to let in some fresh air.
Clean, declutter, and dust to help combat mustiness and that stale smell.
Make sure the garbage and trash cans are empty. If old garbage odor lingers in the can, sprinkle baking soda in the bottom, or use some fresh-scent trash bags.
Freshen fabrics and carpets. Upholstery and rugs are big odor trappers. Sprinkle baking soda or carpet freshener on and let it sit for 15-30 minutes, then vacuum it away. As an added bonus, your vacuum cleaner will smell fresh too!
Mist drapes and fabrics that aren't easily vacuumed with a fabric refresher spray.
See more tips on removing smells and stains from fabric in the posts, How to Get Rid of the Musty Smell in Old Furniture and The Complete Guide To Deep Clean Your Mattress and Bedding.
Use activated charcoal or an air purifier to remove unpleasant smells.
When cooking potent spices, onions, or frying food, remember to turn on the vent hood fan. And clean the filter if it's holding onto a funky grease odor.
Grinding half a lemon through the garbage disposal is the best way to freshen the disposal – and it will make the kitchen smell good too.
Make sure the dishwasher doesn't smell sour. If it does, run a dishwasher cleaner through on a hot cycle.
Same with the washing machine, especially front loaders. I keep a box of washing machine cleaner in the cabinet all the time for when the washer accidentally gets closed when it's still wet.
Pour a cup of bleach into any smelly drains and let it sit for 30 minutes (just not the same day as having people over).
Remove old food from the refrigerator and disinfect the microwave.
Don't stockpile smelly dirty laundry.
Deodorize any stinky shoes in the closet.
Deal with pet odors. Wash pet beds and blankets and remove litter boxes. Use enzymatic cleaner for dried pee accidents (my favorite way of finding invisible spots on the area rug is with this blacklight flashlight).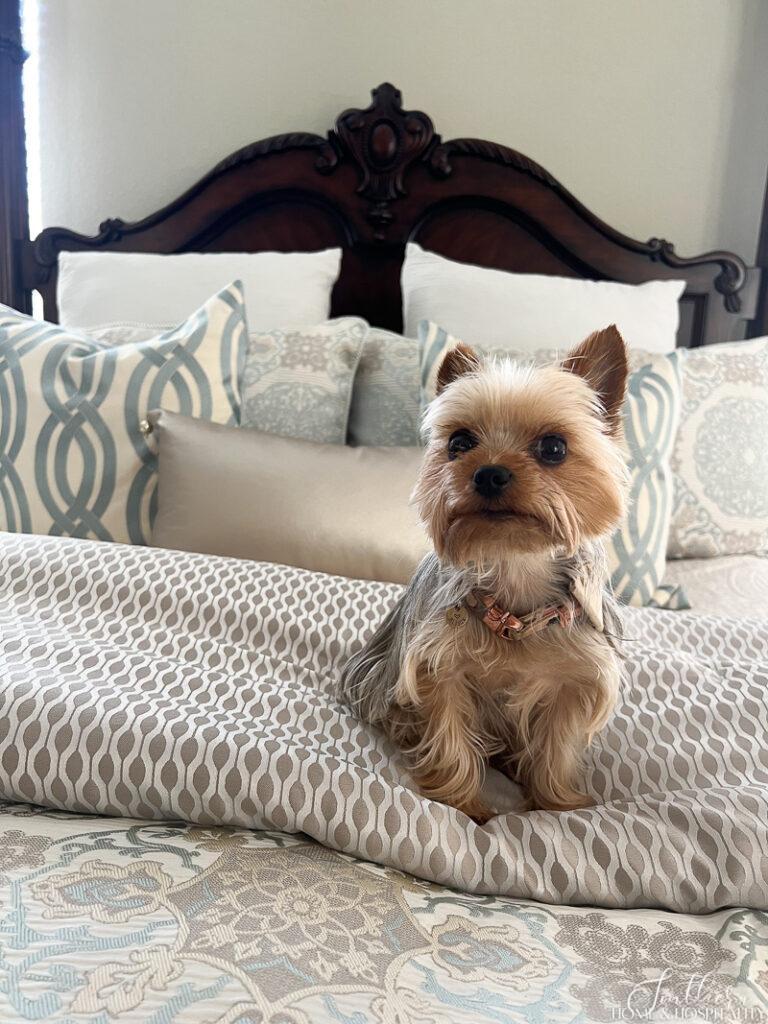 Invite an honest friend over and ask their opinion. We really do become nose blind to smells in our own homes. You may not notice the dog smell or your favorite spice that you cook with every night but it's probably the first thing someone from outside will.
Inviting scents that sell houses.
Now that we've dealt with the bad odors, it's time to add some pleasant scents that make our houses more appealing. Real estate agents have found that the smells that work best are the ones people associate with cleanliness, freshness, and the comfort of home.
Fresh scents: Citrus scents like lemon, lime, and orange are fresh and invigorating, and can help make your home feel clean and bright.
Clean scents: Freshly washed laundry and fresh linen are some of buyers' favorites. Because clean smells make your home seem taken care of and well, clean.
Comforting scents:

Vanilla is a warm and cozy scent that makes your home feel inviting and comfortable.
Cinnamon is a familiar and comforting scent that can create a sense of home and nostalgia.
Lavender is a calming scent that can help make your home feel relaxing and peaceful.
Pine is a crisp and refreshing scent that be used at Christmastime to create a sense of "home for the holidays".
Twelve ways to make your house smell good.
1. Simmer scents on the stovetop starting an hour before your event. Here's a popular blend stovetop potpourri recipe from Real Simple:
Bring 2 cups water in a 1-quart pot to a boil
Add 1 lemon, cut into thin slices, 3 sprigs rosemary, 1 tablespoon vanilla extract, and 1 tablespoon orange zest (or some orange peels).
Lower the heat and simmer to release the fragrance throughout the space.
SH&H Tip: Place a simple bowl of lemons on the counter for another home staging go-to trick that's a great way to convey freshness.
2. Use essential oils in a diffuser with citrus, vanilla, or minty-spa scents. An essential oil diffuser is great for large open areas or a reed diffuser is an easy way to scent a small space like the bathroom. Try a combination of lemon, lavender, and eucalyptus.
3. Bake the cookies. You've probably heard of this trick to attract buyers – because it works. The easiest way is to buy precut ready-made cookie dough or canned cinnamon rolls that you only have to pop onto a cookie sheet and bake. Or toast some slices of cinnamon raisin bread. Time the baking right before people come so that the scent is at its peak, but you won't get distracted and burn anything.
And if you're going to fill the room with one of these homey aromas that bring the buyers to the yard, make sure to make the treats available to visitors on the kitchen counter.
4. Place a dish of white scented soap in the bathroom for another easy trick we use in home staging. Buy a pack of original Dove brand white soap (not unscented) and place it in a dish or bowl on the bathroom counter. It fills the bathroom with a wonderfully fresh clean scent that lasts a long time.
5. Make a room spray with essential oils for a fragrance more subtle than store-bought.
6. Hide a few DIY laundry scent bead sachets. Make your own sachets with inexpensive organza bags filled with a laundry scent booster like Unstoppables. Tuck them in drawers or hide them in bedrooms, closets, and bathrooms.
7. Scent large fabric items like throws and towels to serve as air fresheners. Wash them with fresh scent fabric softener and laundry scent-boosting beads and use them to freshen rooms. Drape a laundry-scented blanket on the living room sofa or on the foot of the bed. Stack some fresh-smelling white fluffy towels in the bathroom.
8. Dab a little essential oil or vanilla extract on cool lamp lightbulbs before turning them on. The warmth from incandescent bulbs will give off a nice hint of scent.
9. And add a few drops of essential oil to the furnace air filter to lightly scent the entire house.
10. Soak some cotton balls with essential oils. Hide them away or place them in a dish on the bathroom counter.
11. Add a few drops of essential oil to the inside of the cardboard toilet paper roll.
12. Tuck fabric softener dryer sheets in closets or musty, stale areas.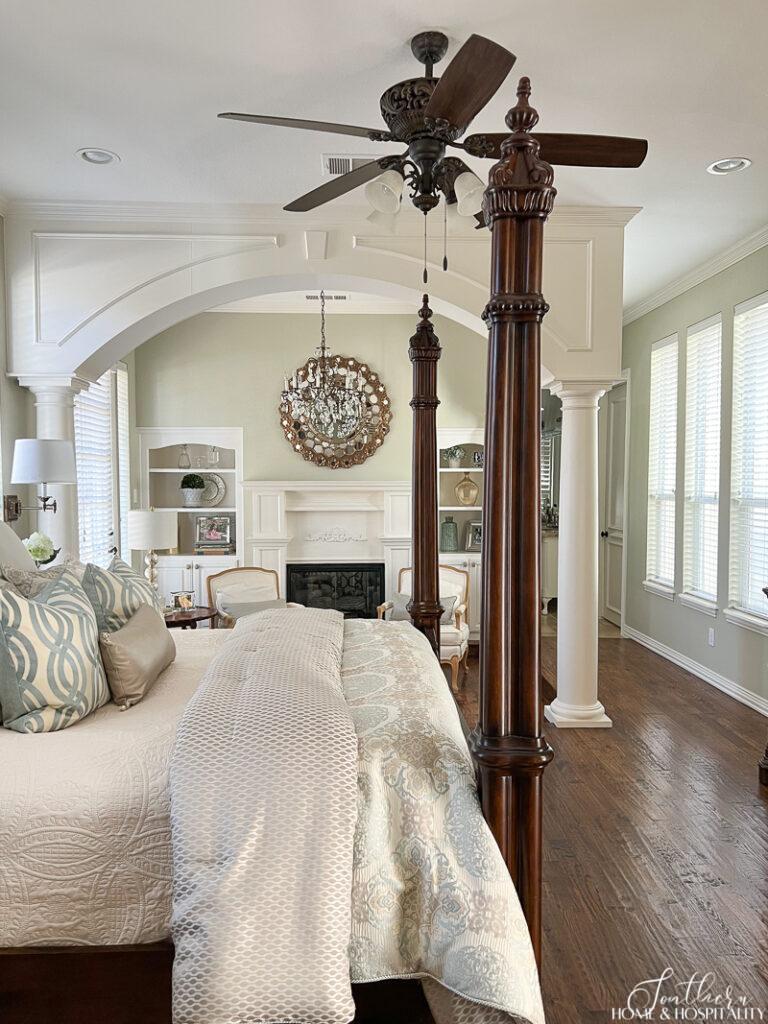 Always remember to use these scent ideas in moderation! While subtle and pleasant smells can help create a positive impression, the bombardment of different fragrances can have visitors looking for the quickest exit possible.
What to avoid.
Don't use strong fragrances.
You want only a subtle hint of scent. Even the universally loved citrus, vanilla, and laundry can be so overpowering that people can't wait to leave. When you scent too heavily, it can also look like you're trying to cover up a smelly problem.
And never stray into other fragrances when selling your house just because you think they smell amazing. Steer clear of roses, florals, and baby powder. And the fruity, woodsy, spicy, or musky.
Don't use plug-ins, candles, or room sprays.
Plug in air fresheners are too strong to be subtle. Especially for people who are hypersensitive to smells (or should I say scent-sitive)?
Candles can also come off too strong and overpower the room. Plus it's dangerous to leave them unattended while you have groups of people coming through.
And store bought room sprays are too intense and are a big clue that you're trying to mask something unpleasant.
Stay away from chemical smells.
Although you want your house to seem and smell clean, be careful with cleaners. You don't want your home to smell like chemicals, and a lot of people are sensitive to the fumes. (I know I'm 100 percent guilty of associating the smell of clean with bleach.)
For a freshly scrubbed bathroom right before a gathering, try using natural products like Mrs. Meyers. Or Fabuloso lavender cleaner has a good reputation for a light pleasant scent. And did you know that people associate classic Lemon Pledge furniture polish with the smell of a clean home? So a light last minute dusting with Pledge can add a touch of lemony freshness to the living room.
Don't overdo it with different scents.
The best smell to sell a house is really no smell at all. So if you plan to use some of these scent tricks for showing your home, don't go overboard. There's no need to add a fragrance to every room.
When choosing subtle scents to add, keep in mind:
How different scents will work together. Choose a single scent, or make sure different fragrances are well separated or will flow well together.
Choose aromas for the kitchen that are fresh and citrusy or that evoke that "home" feeling.
Choose scents for the bathrooms that smell clean, spa-like, or like fresh laundry.
---
I'm feeling extra zen as I sit in my home writing today. Because I've been treating myself to a couple of these tricks and the house smells AMAZING. (Why don't I do this more often??)
In our never-ending quest to make our homes more attractive and comfortable, we only focus on them through our eyes. Let's take it to another level and make sure they smell as good as they look.
Did I miss any tips that you like to make your home smell great? Tell us in the comments!

As always, I appreciate your visit, comments, and shares here on the blog! I'd love it if you also follow along with me on Pinterest, Instagram, and Facebook so you won't miss any of my inspiration and ideas.
Don't forget to sign up for updates to keep in touch…I have lots of fun and useful freebies you may be interested in in my subscriber-only library like my cheat sheets for where to place lighting, bathroom fixtures, artwork, and furniture!
---