How to Decoupage Flower Pots with Napkins: Fun DIY for Pretty Planters
Inside: Make a beautiful and easy floral decoupage flower pot in minutes with simple terra cotta pots, pretty paper napkins, and Mod Podge! ➡
---
Torn napkin decoupage is super popular in the Pinterest crafting world. Because it's fun. And easy. And your artist palette is unlimited. Florals, geometrics, chinoiserie – pick your favorite pattern and "paint" it onto a simple garden pot for a handpainted look!
I had made decoupage Easter eggs with this technique but had always wanted to try it out on garden pots. So when I had a couple of extra pots left over after making the spring vintage flower pot place cards for my Easter tablescape, they became the perfect guinea pigs for me to finally try this fun project out on.
Let me show you how very simple these decoupage terracotta pots were to make – it's one of those truly easy, gratifying crafts.
I'm joining together with friends for the "Celebrate the Holiday" Blog Hop, hosted by Carol of Bluesky at Home! This month we're excited for spring and have lots of creative ideas to get you excited too, so make sure to check them all out at the end of this post. If you've landed here from Carol's house, thank you for your visit and I hope you come back again! Don't her spring refresh tips for the kitchen want to get you going for the new season?
This post contains Amazon and other affiliate links for your convenience. As an Amazon Associate I earn from qualifying purchases. If you purchase something through any link, I may receive a small commission, at no extra charge to you. I only recommend products that I love or would purchase for myself. See my full disclosure here.
Supplies for decoupage flower pots.
How to decoupage a terracotta pot.
1. Paint the pot.
First, paint the orange pot with a coat of soft white paint. The pots are so porous it only takes a few minutes to dry. Paint the inside of the pot too, just in case you ever want to display it empty.
I used chalk paint I had on hand that gave me this nice matte finish.
2. Separate the layers of the napkin.
It's easiest to separate the whole napkin before you cut out the designs. But in these photos, I was working with scraps I had left over from the Easter egg project so the napkin was already cut up.
You may have never noticed, but most paper napkins are either two-ply or three-ply. You'll want to separate the napkin layers and use just the very top layer with the print on it.
This is honestly the hardest part, but not even hard with this trick to get it started:
Tear or cut off the corner. Holding the edges of the cut in each hand, pull the napkin in and out quickly a few times. You should see the layers start to separate. You can then start to tease them apart and peel away the back white layer. You'll be left with the printed layer that looks like tissue paper.
3. Cut out the designs.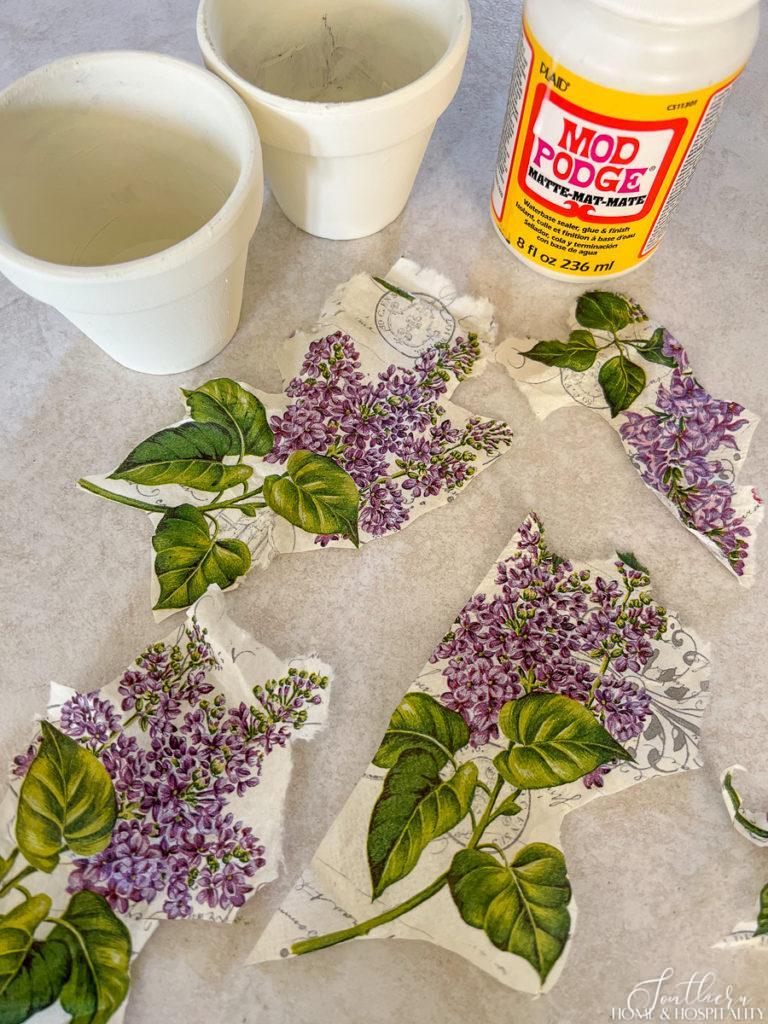 Next, cut or tear out the designs from the napkin you want to apply to the pot. I wanted just the purple flowers from my napkins so I cut out a few of those.
4. Apply the napkin pieces to the pot.
Paint a coat of Mod Podge (a decoupage glue that looks like school glue) onto the pot where you want to apply a design.
Carefully lay the napkin piece on top of the wet Mod Podge area. Then apply more Mod Podge on top of the design.
You can gently do some smoothing of the paper at the same time with the brush. Don't worry that the Mod Podge looks white – it will dry clear.
Let the piece dry for a couple of minutes before moving on or the paper tends to pull up when you touch it.
Continue applying the pieces in this way around the pot until you've achieved the look you want. I chose to only add two or three pieces to these pots and leave them partially uncovered. You can also cover the entire pot with designs or somewhere in between – all different ways will make for a pretty planter!
---
I'm no artist but this craft lets me create pots that look hand painted. I popped some moss and an Easter egg inside the pots and they became a cute addition to my Easter garden theme table centerpiece.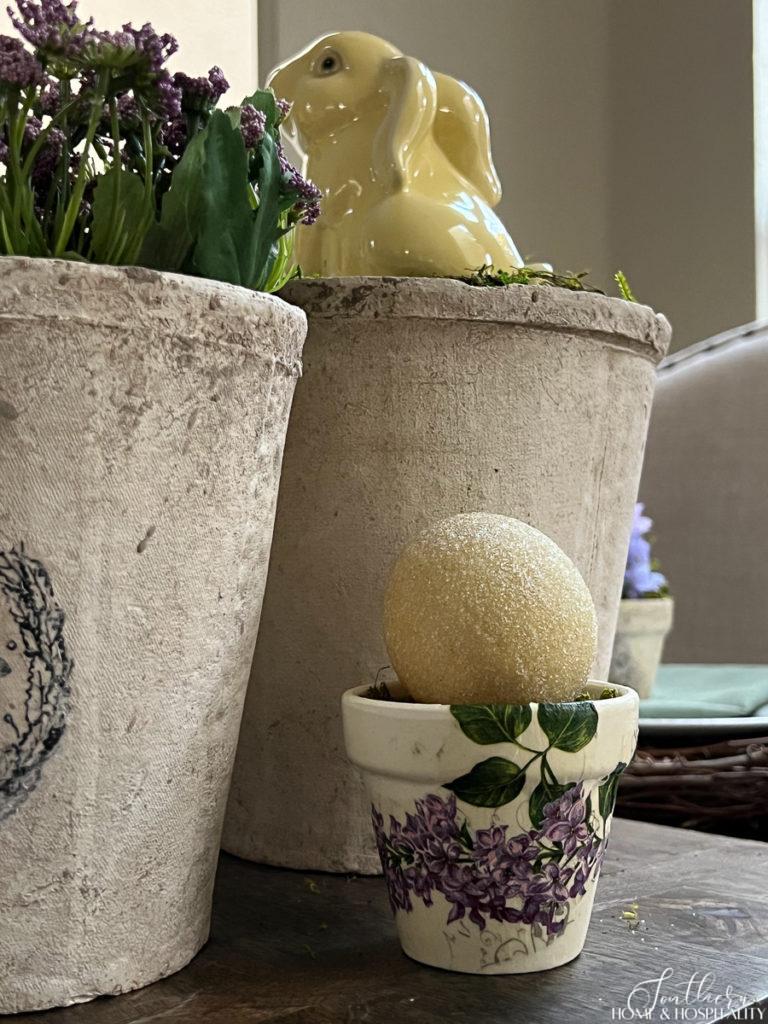 You definitely don't have to be crafty to make this decoupage project. And it doesn't cost much – only one or two pretty napkins and the cost of the pot. And terra cotta pots are cheap – you may already have pots laying around, or you can pick some up at Dollar Tree or a local flea market. You could even use this same technique on some old inexpensive plastic pots.
I hope you give this fast and fun craft a try and add some of your own sweet little custom pots to your spring decor.
Maybe people will even think you painted them.😉

Before you go.
As always, I appreciate your visit, comments, and shares here on the blog! I'd love it if you also follow along with me on Pinterest, Instagram, and Facebook so you won't miss any of my inspiration and ideas.
Don't forget to sign up for updates to keep in touch.
---
Pin it to remember it!
If you've enjoyed this post, please pin and share this on Pinterest:
Celebrate the Holiday Spring/Easter links.
And now on with the tour – next up is Kim's house at Perfecting Places – don't miss her cheery spring kitchen ideas!