60 Creative Graduation Cap Ideas That Stand Out From the Crowd
Inside: How to decorate a graduation cap with inspiration from 60 awesomely creative ways to let your personality shine on the big day! ➡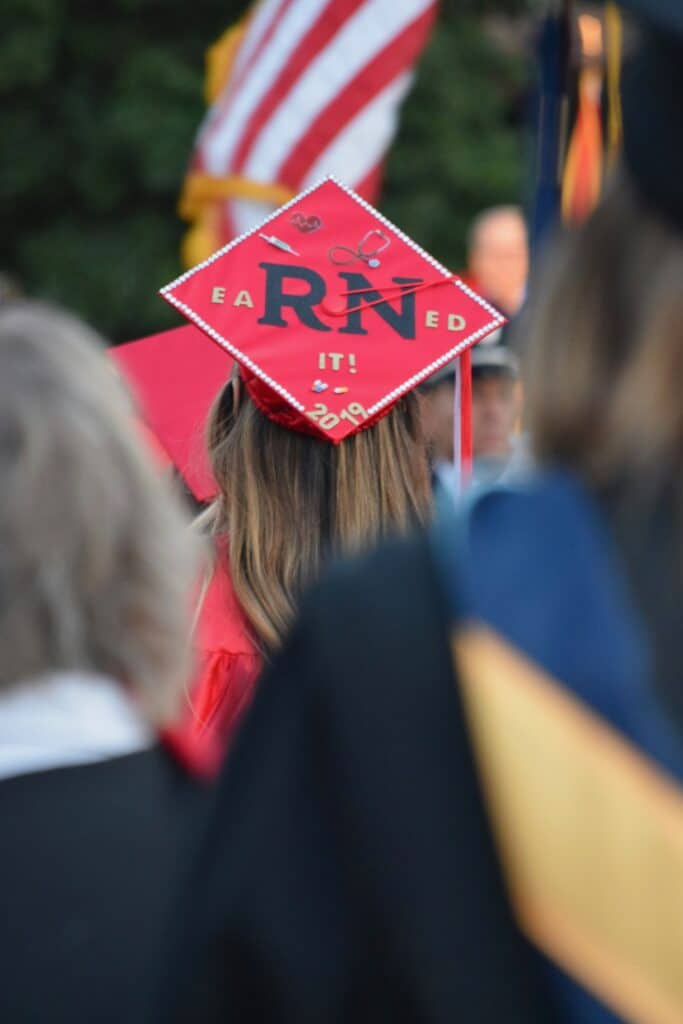 ---
Graduation season is upon us.
And there is so much preparation for this special event. We want to do all the things so there are no regrets.
Last May we were celebrating what is probably the last graduation for the last child. And said child almost didn't want to go to the huge campus-wide college ceremony.
Yes, it was hot. It was crowded. It was loooooong.
And it was amazing. Regret averted.
So what was the only regret? That she didn't know about decorating the graduation cap!
Since you're reading this post, you're obviously ahead of the graduation game.
You've ordered the traditional cords, stoles, and tassels – check. Picked out the perfect graduation outfit – check.
Now it's time to add your own fun and flair to that boring graduation get-up.
So buckle up, because I've come up with a collection of 60 of the best graduation cap ideas for you to peruse to get your creative juices flowing!
Why should you decorate your graduation cap?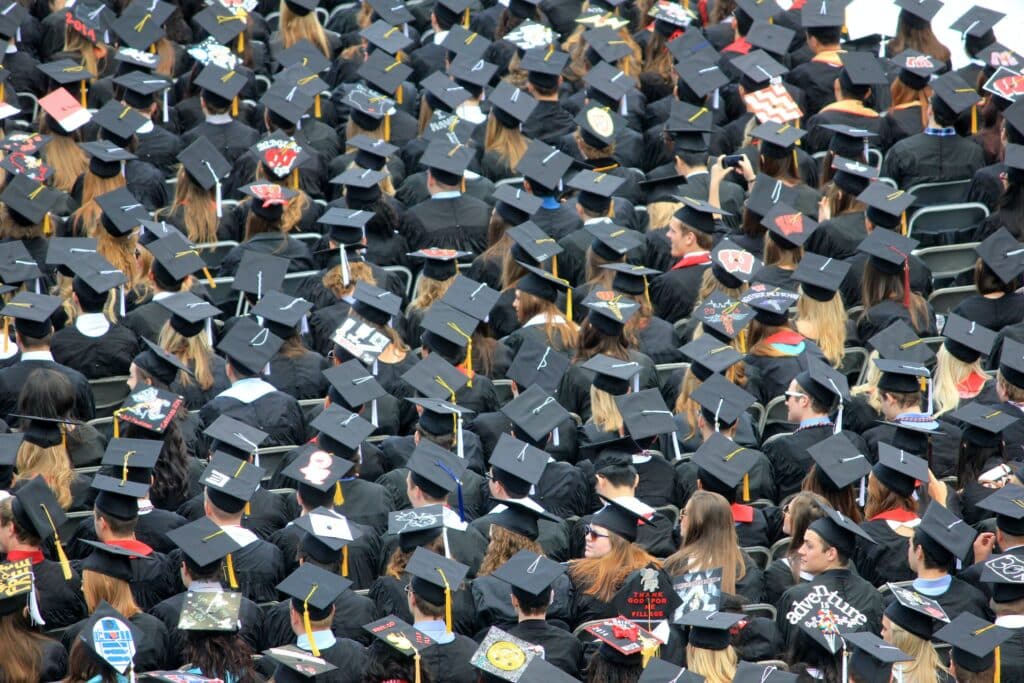 Your friends and family will be able to find you in the ocean of mortar boards.
That perfect graduation outfit will be covered up with the customary gown but this is a great way to show your personality and stand out from the crowd. Don't just be one more cap crossing the stage (yawn).
It makes for fantastic photo memories.
And we've already covered the regret factor. The crowd will ooh and aah and laugh and talk about how original and clever those students are. And you'll think to yourself as your friends and family are focused on them, "I'm clever too – AND you're here for me!"
Pin it to remember it:
Make sure to pin this graphic so you can find all of these ideas in one place when you need them: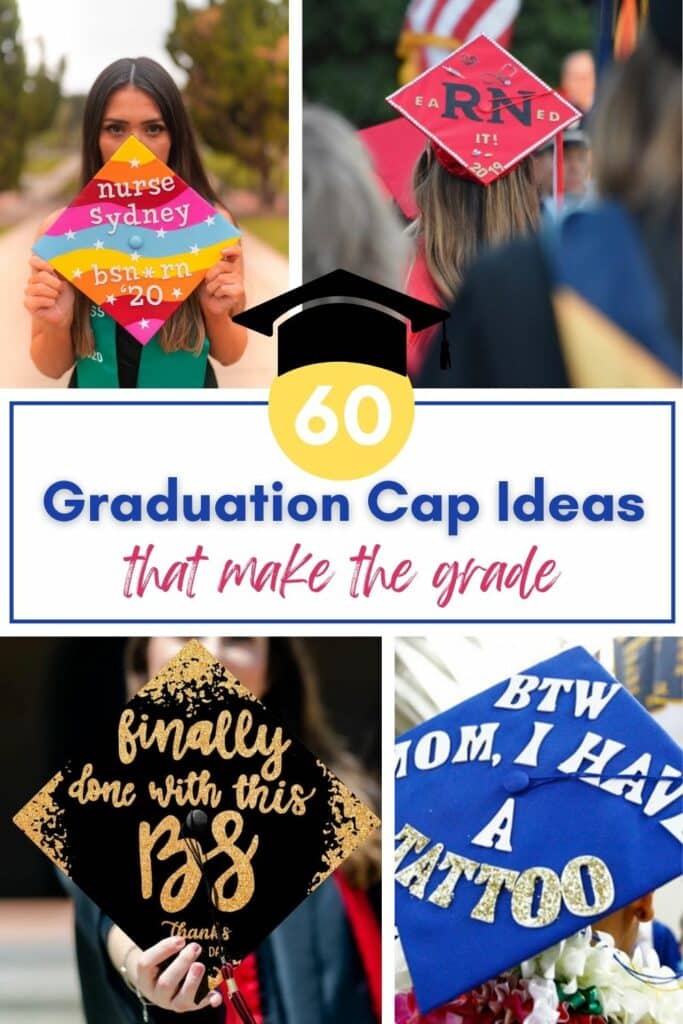 This post contains Amazon and other affiliate links for your convenience. As an Amazon Associate I earn from qualifying purchases. If you purchase something through any link, I may receive a small commission, at no extra charge to you. I only recommend products that I love or would purchase for myself. See my full disclosure here.
Graduation cap decoration ideas for college.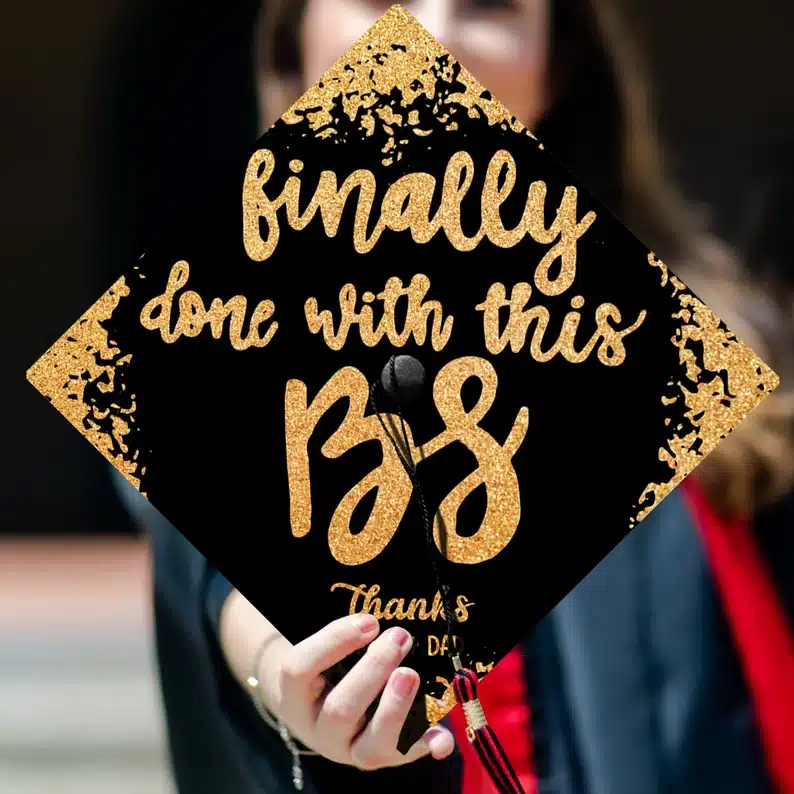 For the Bachelor of Science grad, you gotta love this one. Make your own or you can buy this B.S. Topper ready to go on Etsy.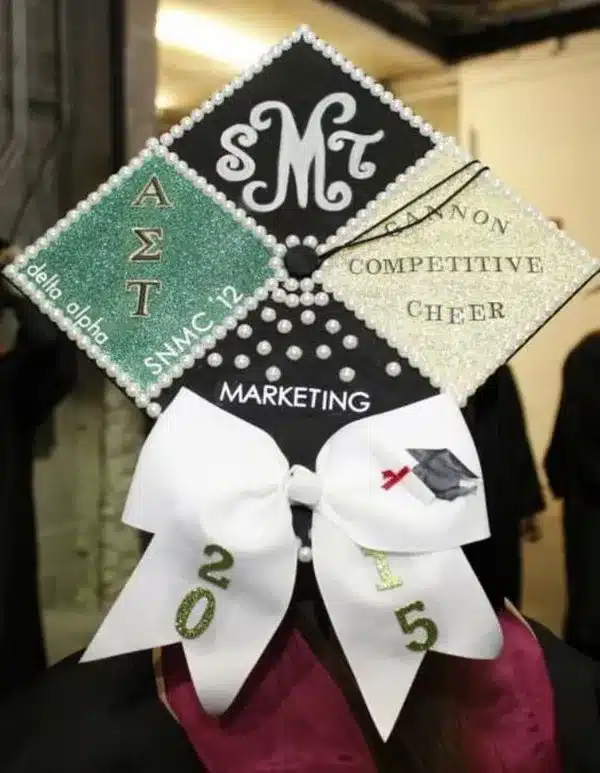 You know exactly what this graduate's been up to the last four years with this graduation cap design. She must have had a well-rounded college experience.
Graduation cap ideas for college majors.
Nurse grad caps.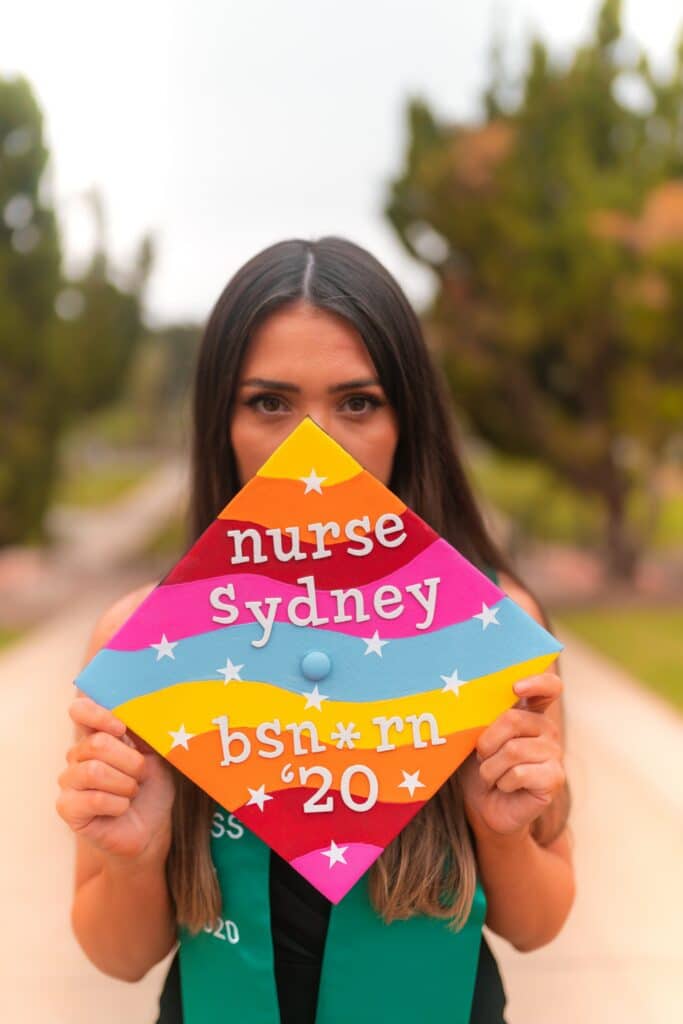 This colorful cap is a fun way to stand out from the crowd.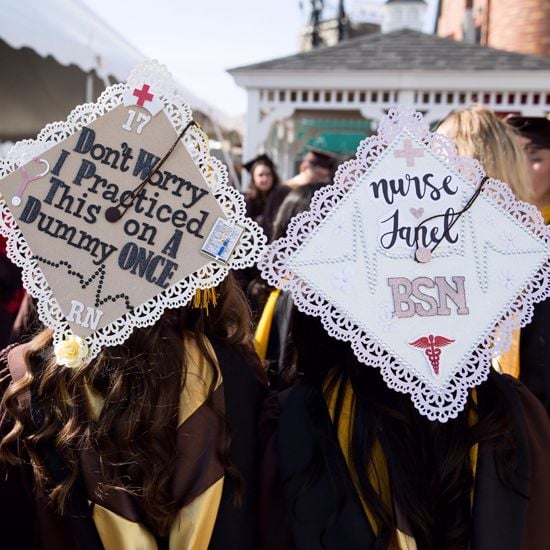 Nursing graduation cap ideas are plentiful on Pinterest. The lace trim on these make them a little extra.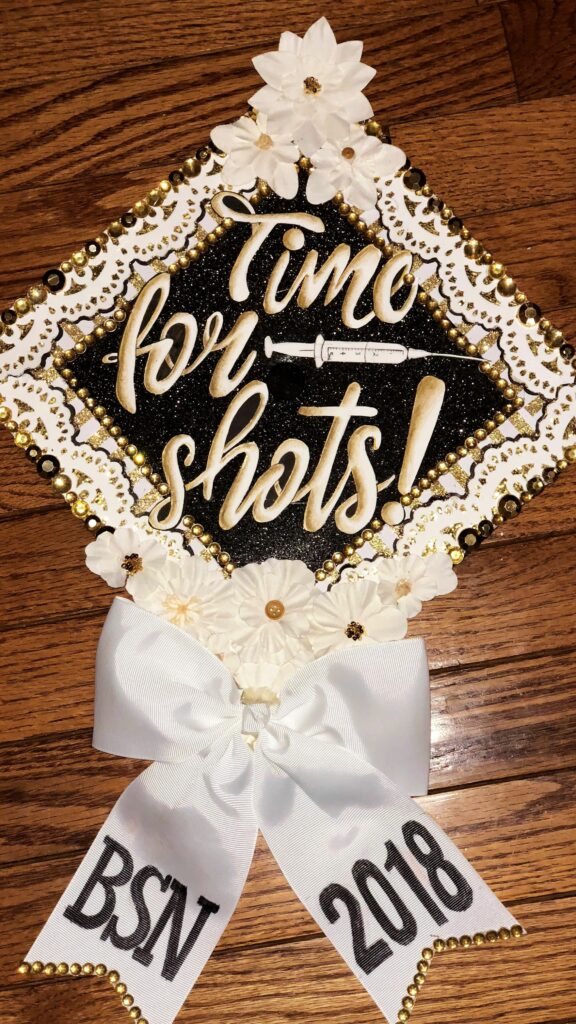 Shots, shots, shots, shots, shots, shots, everybody?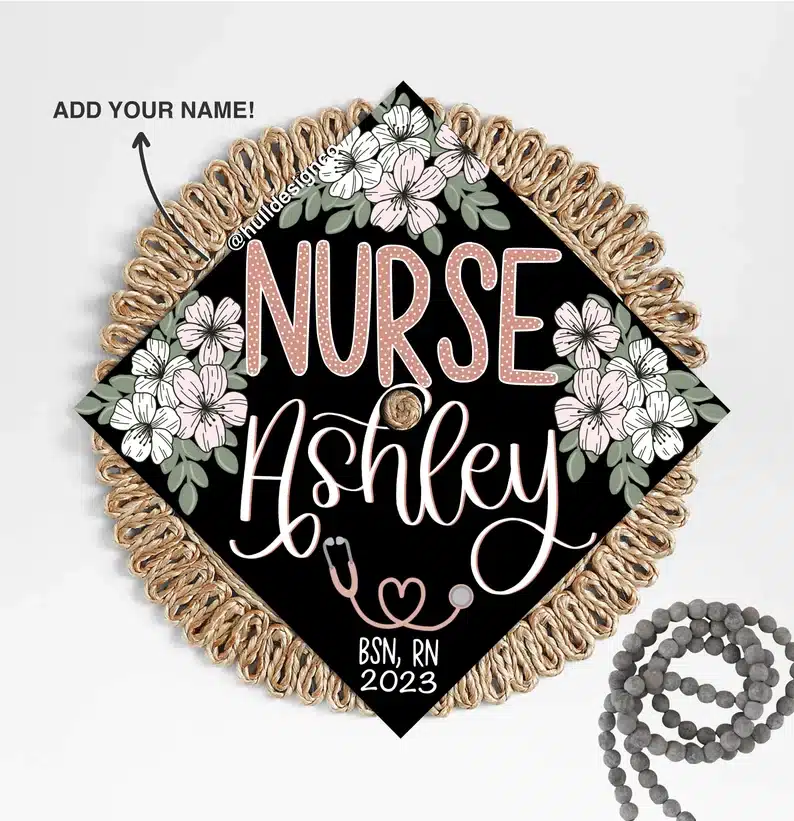 This super cute nursing grad cap topper can be customized just for you on Etsy.
Biology and science graduation cap ideas.
A colorful DNA strand makes the perfect grad cap design for a biology major.
There are endless science humor possibilities with the periodic table.
Psychology major college grad cap idea.
Wouldn't you know a Psych grad would have a message with a double meaning.
Theater major graduation cap ideas.
And we would absolutely expect the theater majors to decorate their caps. All the world's a stage, right?
This graduate definitely didn't throw away their shot at the ceremony with this "Hamilton" tribute.
English major graduation cap ideas.
This English major's grad cap is lit as well.
It's an easy read for literature majors to glue book pages onto their cap as a background (or should I say back story?)
Business majors graduation cap ideas.
Business majors can be fun too. And this one took care of business on graduation day.
Education major graduation cap ideas.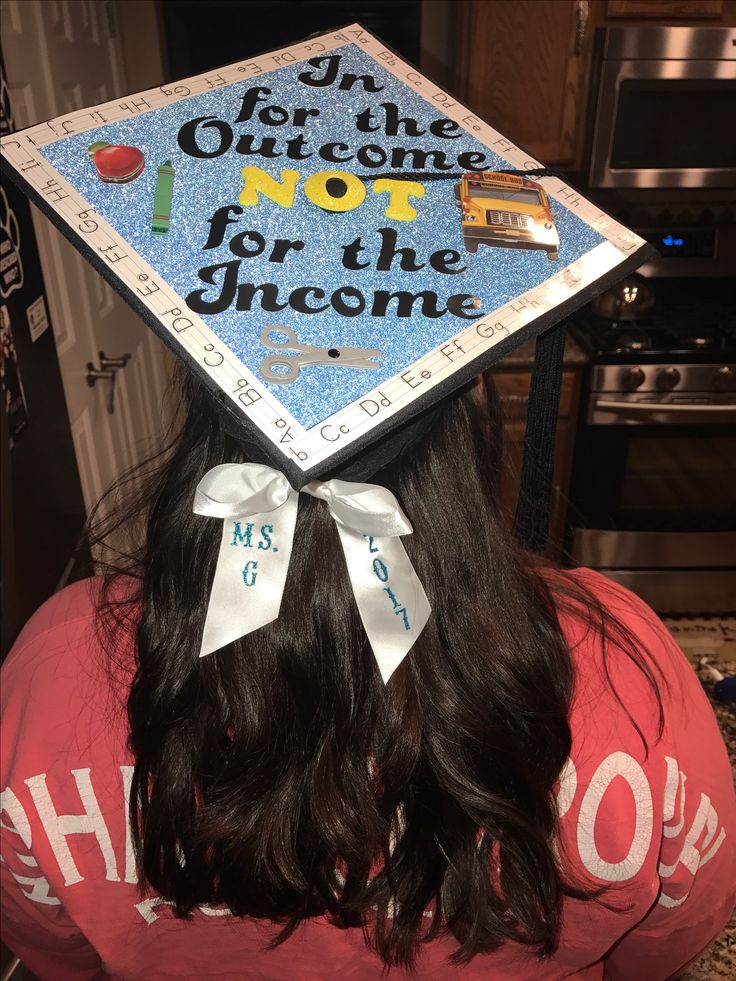 This cap's message is why there's a special place in heaven for good teachers.
Veterinary school major graduation cap ideas.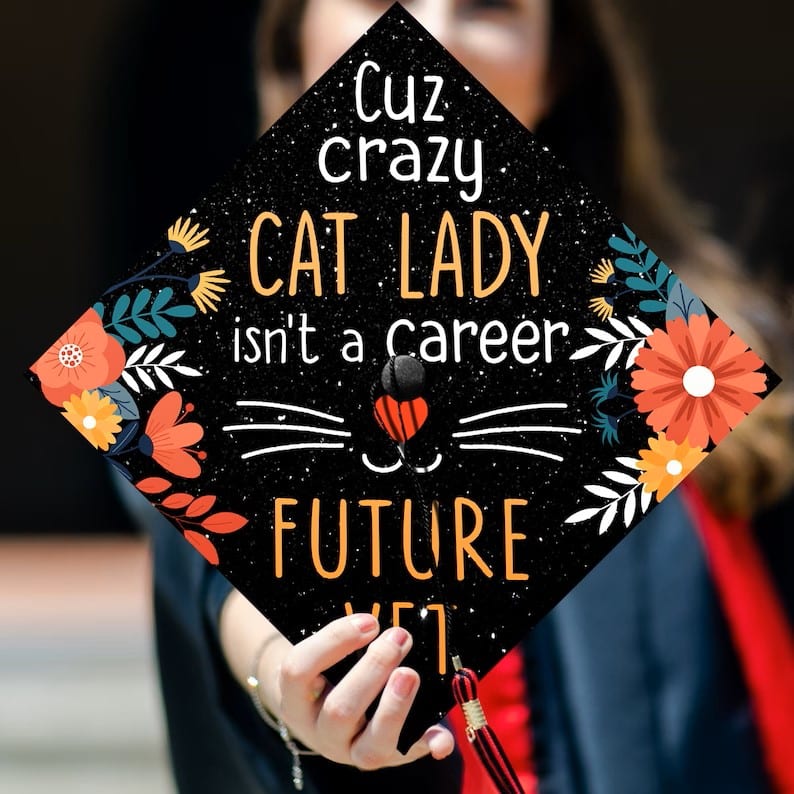 Too bad for the cats, but this Vet School grad cap is purr-fect.
Need a creative way to give a graduate a gift card? See the post "Creative and Fun Ways to Give Gift Cards".
Graduation cap decoration ideas for high school.
It seems a little less common to see decorated grad caps at high school ceremonies. Maybe it's because graduates are less willing to stand out at that age, or some schools may not allow it (always check first).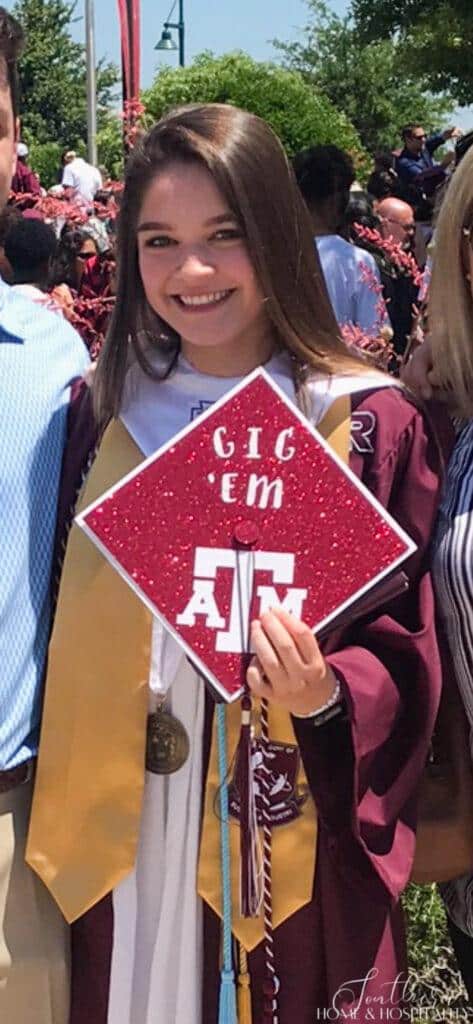 Decorating your high school grad cap is the perfect way to let everyone know what college you're headed to.
Or shout the graduation year in bling. That year that always seemed so far in the future is now. Make your own or purchase this custom year grad cap on Etsy.
And this custom photo grad cap topper is a wonderful way to honor family members, special friends, or high school memories.
Grad cap designs that show school spirit.
You can't go wrong with a simple bedazzled college logo.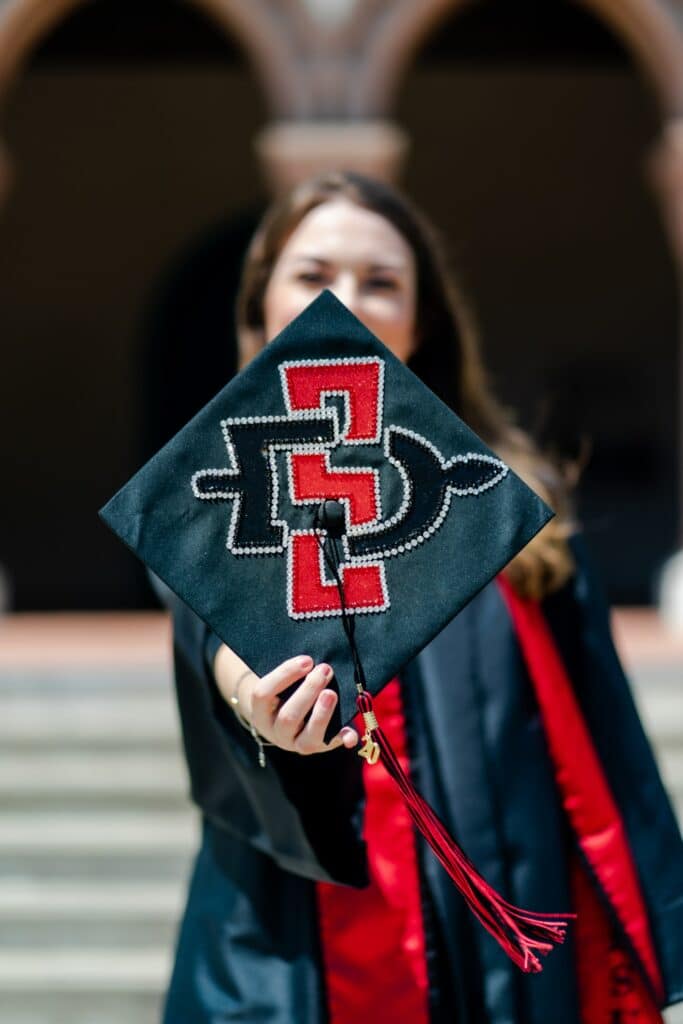 The red of Alabama and San Diego State really pop on the black mortar boards.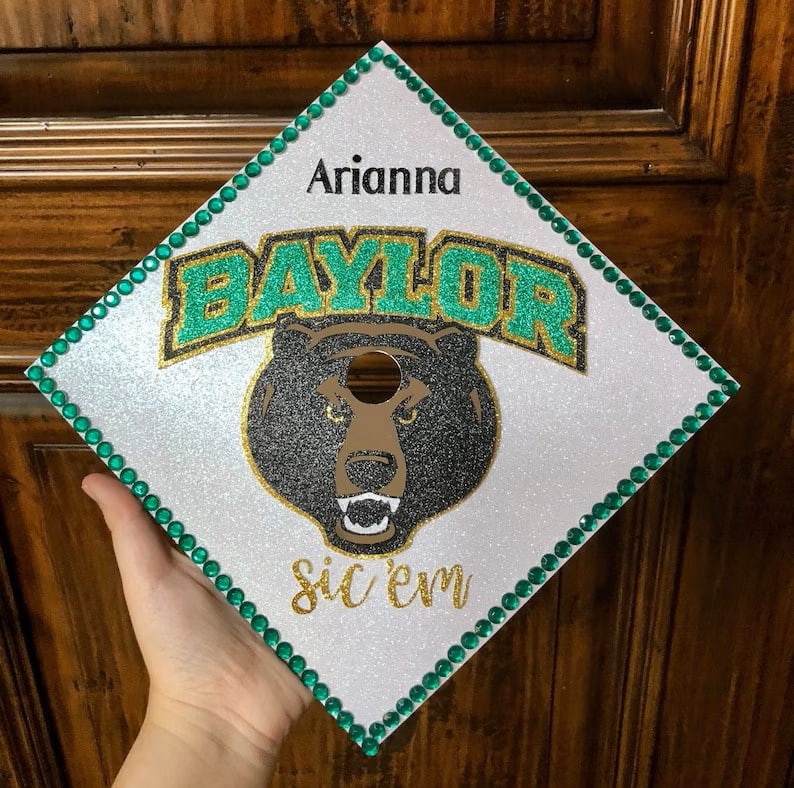 You can use this Baylor Bears cap for inspiration or find this glitter and rhinestone school logo cap topper already done for you on Etsy.
Graduation cap ideas with school colors.
School colors are not only limited to the logo.
You can always count on LSU grads to bring the party. I would have totally worn this back in my day. (Geaux Tigers!!)
Here's an idea for wearing the exact shade of your school's color. So clever for an art major or simply if you have a signature color!
Funny graduation cap ideas.
This one's sure to get Mom and Dad's attention.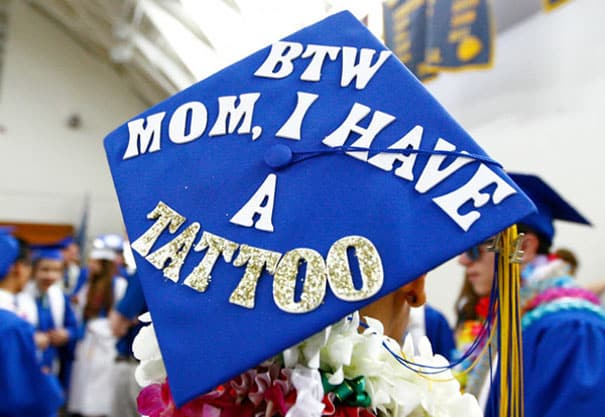 Still funny even though it's probably not that big of a deal anymore.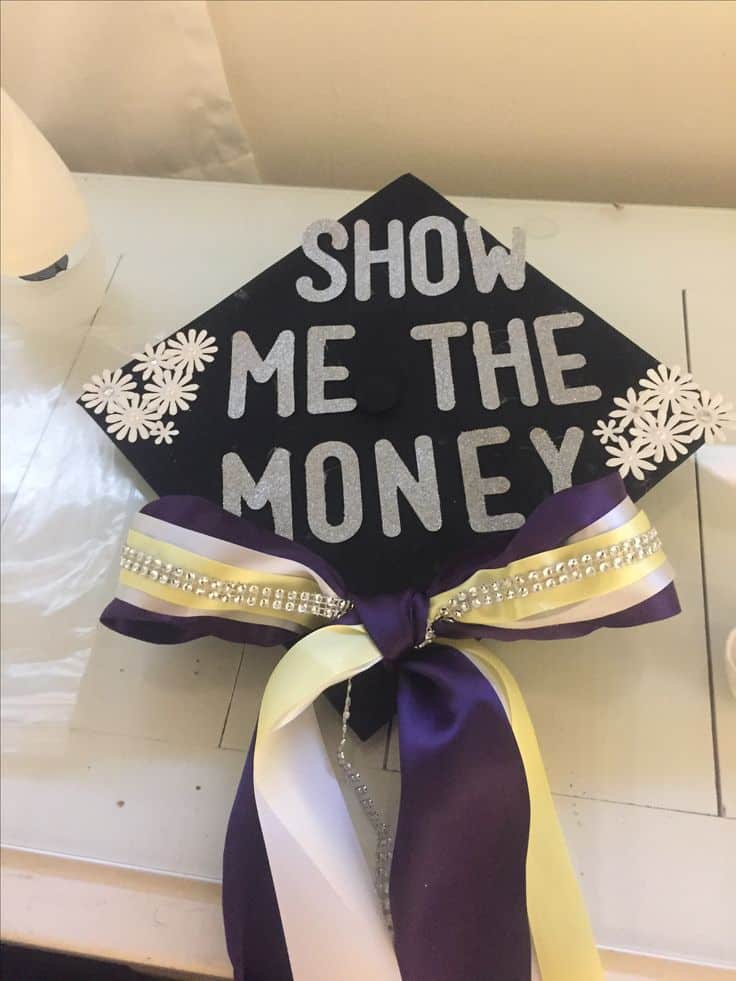 This grad is ready for the job hunt.
Not just for NASCAR – I'm sure these sponsors did help this grad make it through.
Entering the game of Life has never been more creative.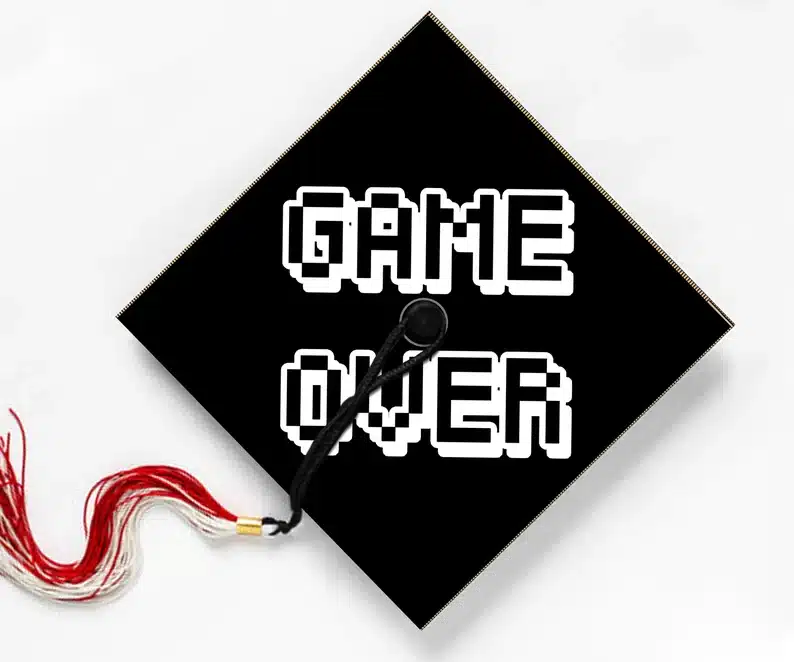 If life is a game, this level is over. Make your own or buy this Game Over grad cap topper on Etsy.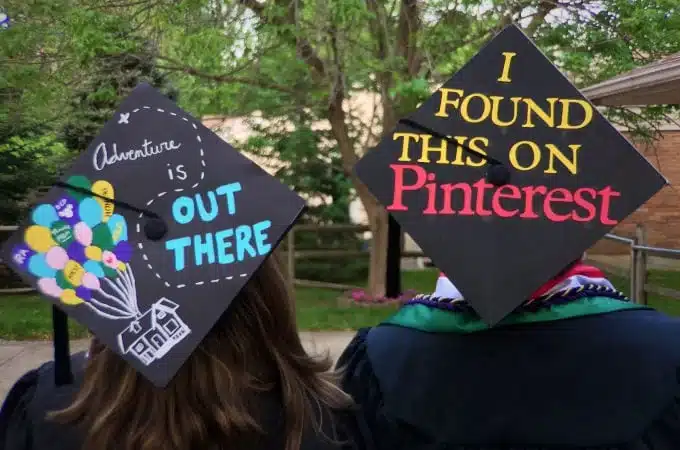 Where else would he have found a grad cap idea? Okay – maybe on Google or Instagram.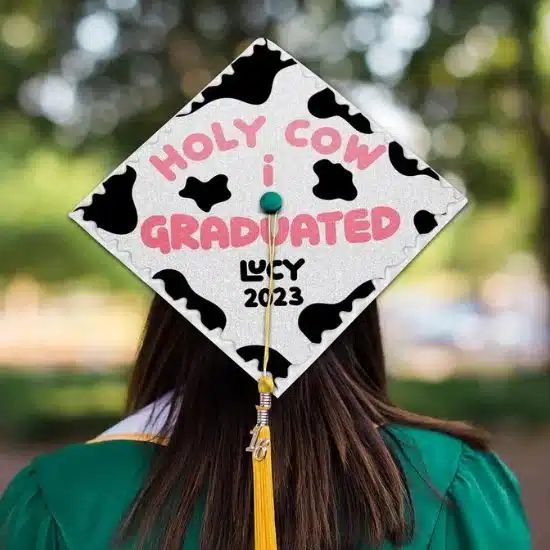 Moooo-ve over boring black square. Make your own cute cow print or this cow lovers grad cap topper is for sale on Etsy.
This Dr. Suess theme is double the fun for twins or besties.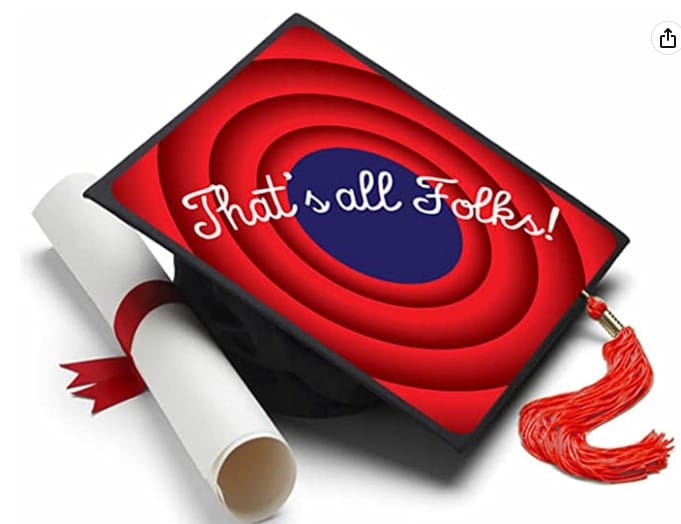 An oldie but goodie, this Looney Tunes classic line says it all. Make your own, or this "That's All Folks" cap cover is available on Amazon.
Graduation cap ideas from favorite movies, books, and TV shows.
Just one of the countless great lines from "The Office".
For the Harry Potter fanatic had to get their mischief managed to make it to the big day.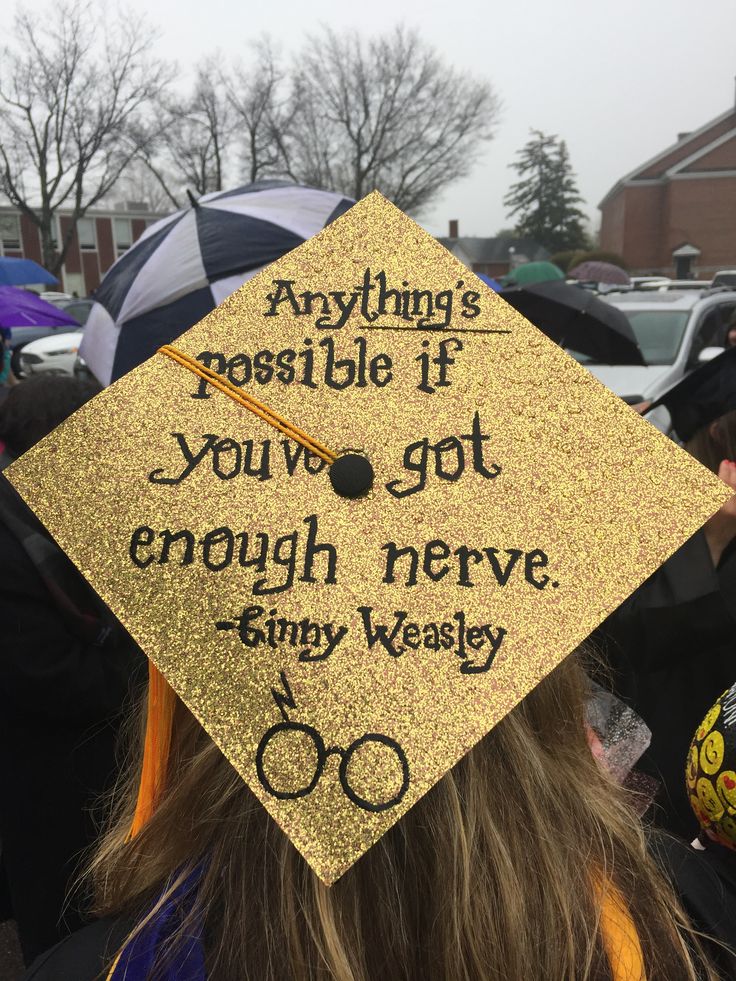 And this line from Harry Potter makes a great inspirational graduation message.
This quote from "Legally Blonde" paired with the photos and messages are sure to make friends and family choke up a little.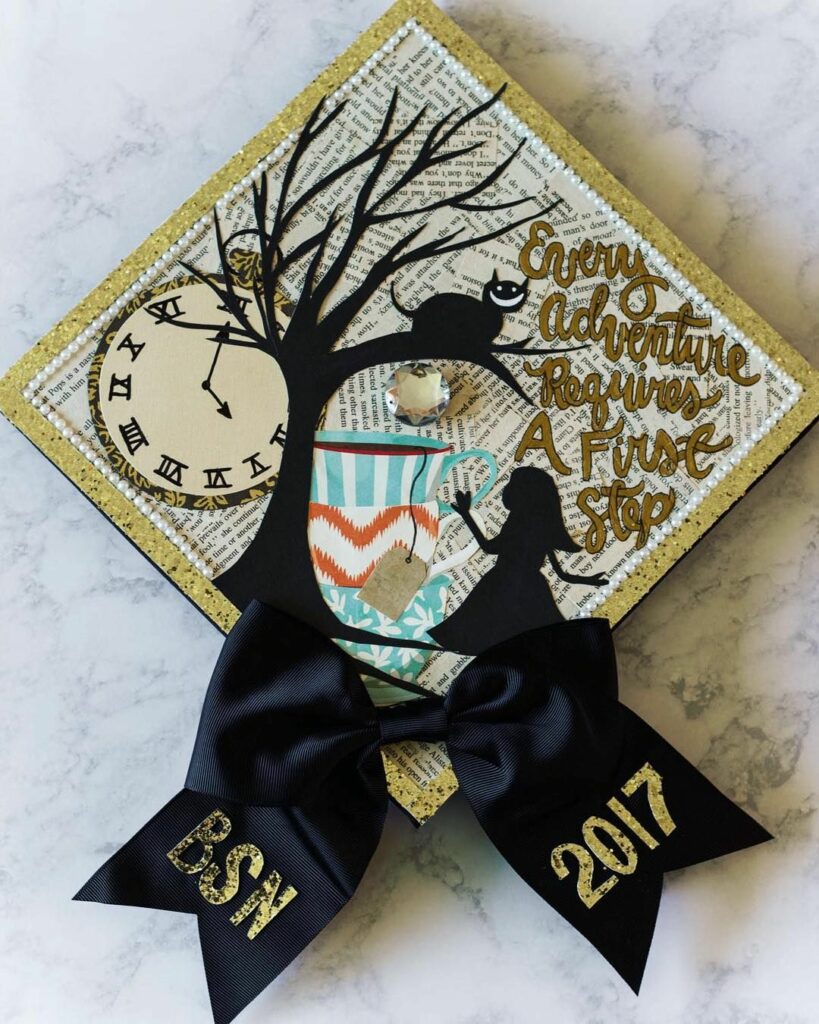 "Alice in Wonderland" fans are always madly imaginative.
This quote from "Finding Nemo" is funny and unfortunately, probably true.
Can't let this Disney Frozen grad cap go.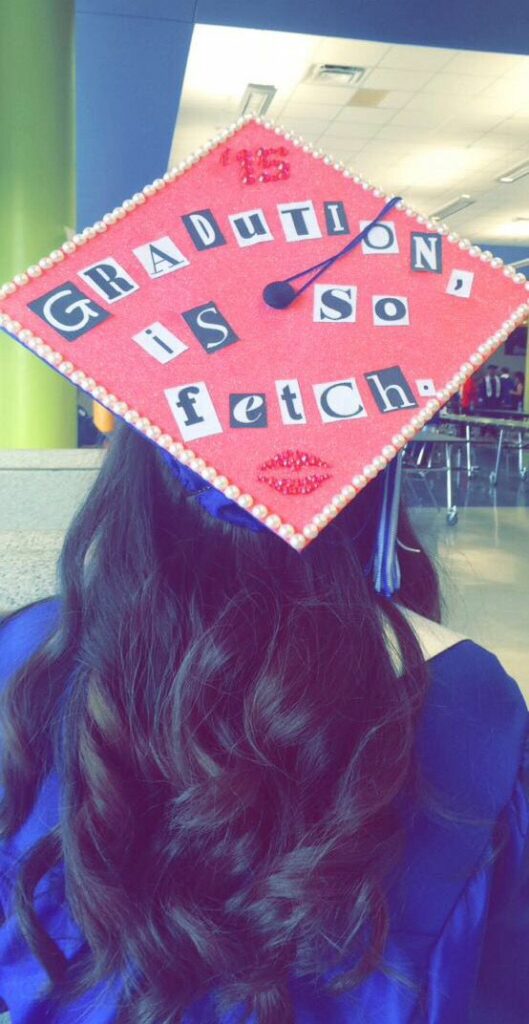 From "Mean Girls". On graduation day we wear pink (caps).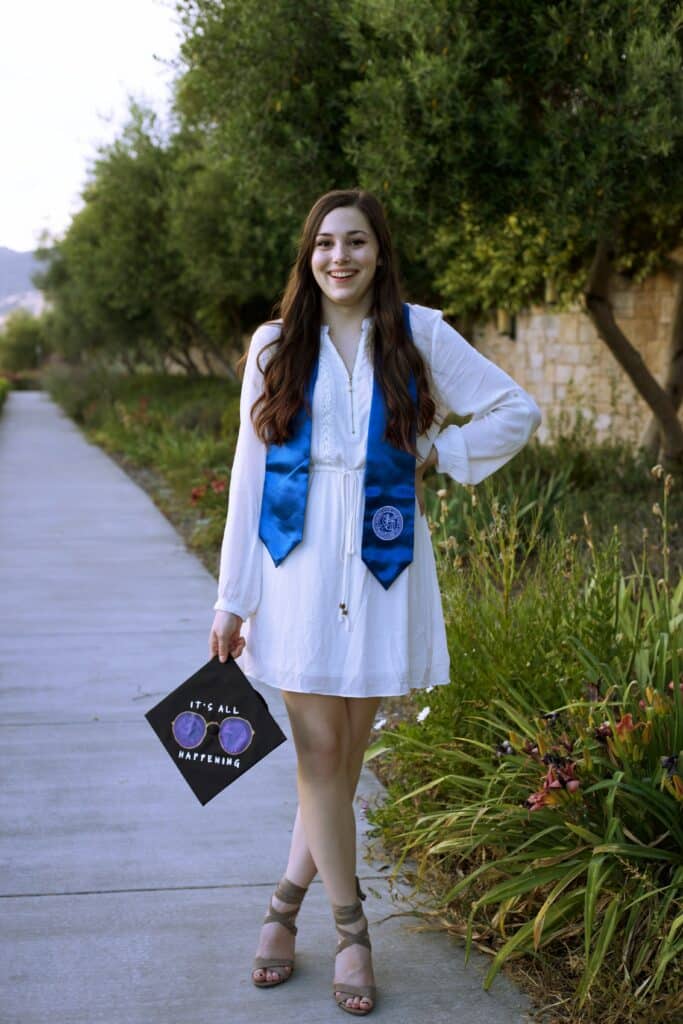 This line from "Almost Famous" is right on for this crazy time.
Favorite quote graduation cap ideas.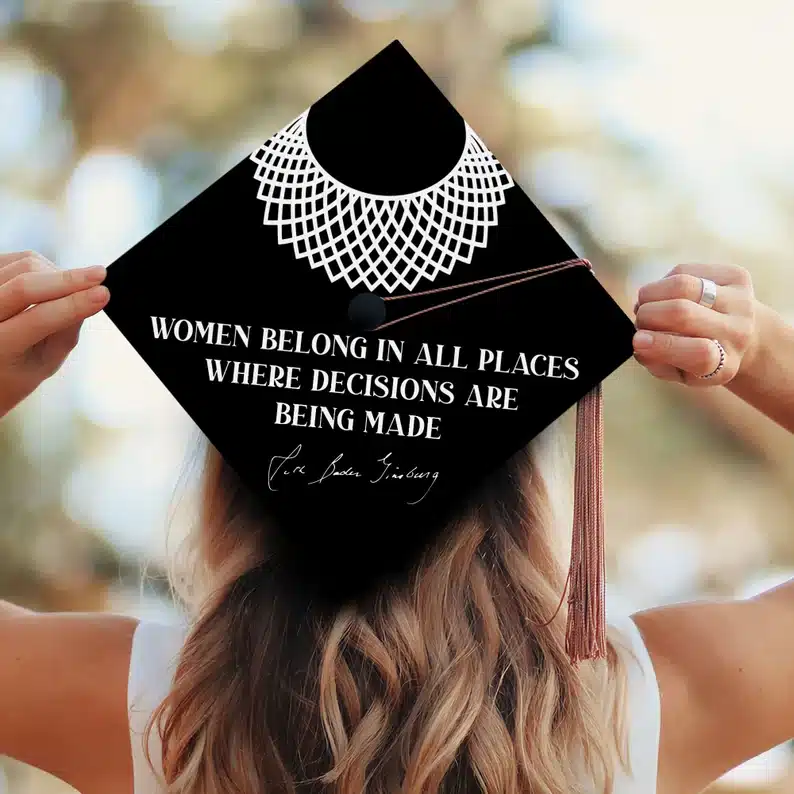 This inspirational quote by Ruth Bader Ginsburg even has her signature lace collar that peeked over her judge's robe. And would decidedly pass the bar at a law school graduation. You can buy this girl power grad cap topper on Etsy.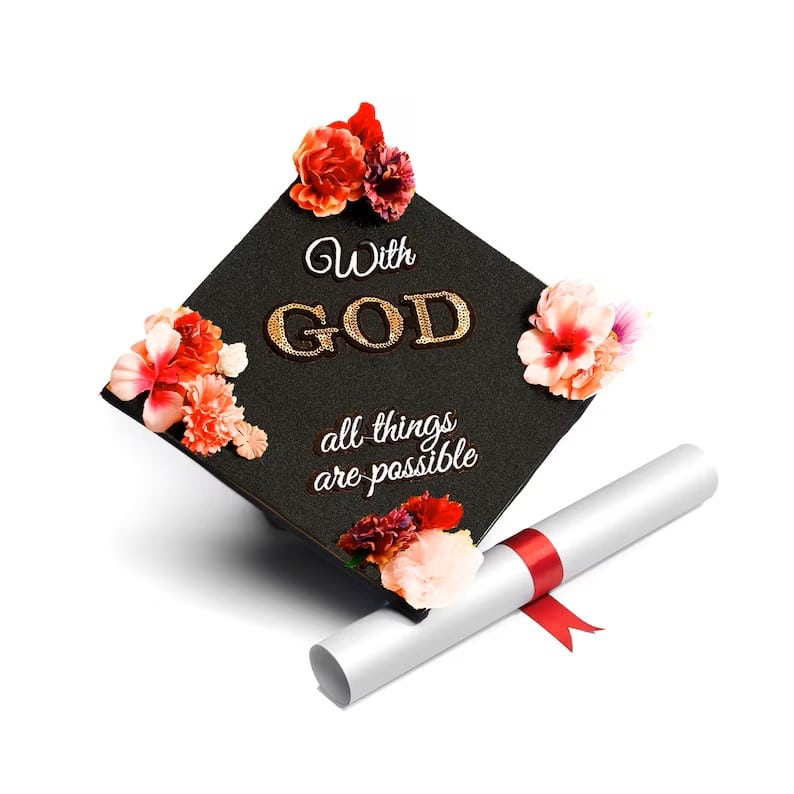 Inspirational graduation quotes abound from the Bible. Choose one that speaks to you and your future. Or you can buy this bible verse "With God all things are possible" grad cap topper on Etsy.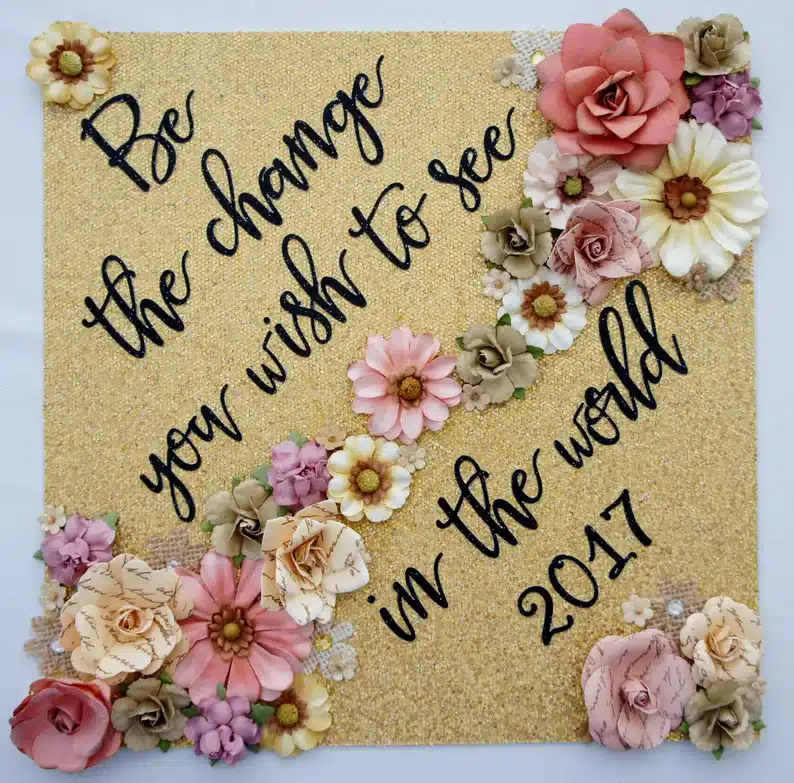 Or this quote packages the perfect words for new graduates. You can find this "Be the Change You Wish to See in the World" Graduation Topper with gorgeous flowers on Etsy.
If you need the right words to say in a message to a grad leaving home, see the post, "The Epic List of 110+ Quotes and Messages for House and Home".
Graduation cap ideas for girls.
Another line from "Legally Blonde". So easy to say when you get into Harvard Law School on a whim.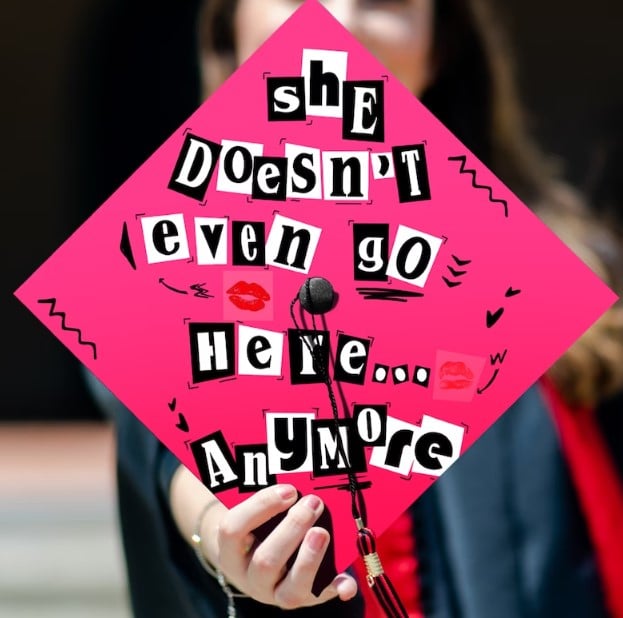 This Mean Girls grad cap on Etsy is the truth after the tassel is turned at the end of the ceremony.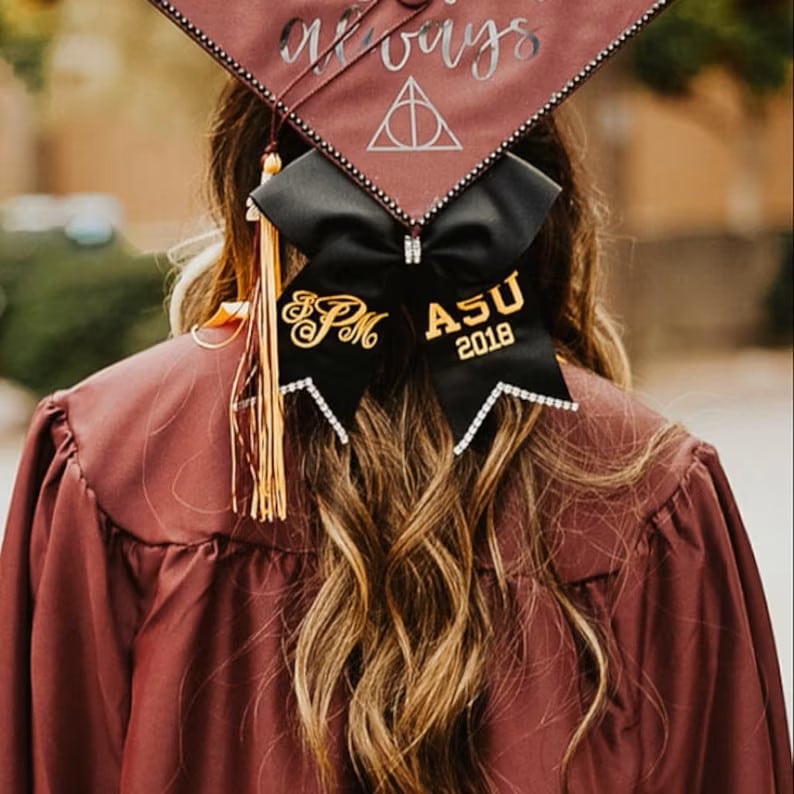 Add a bow to make any cap more girly. This custom grad cap bow is available on Etsy.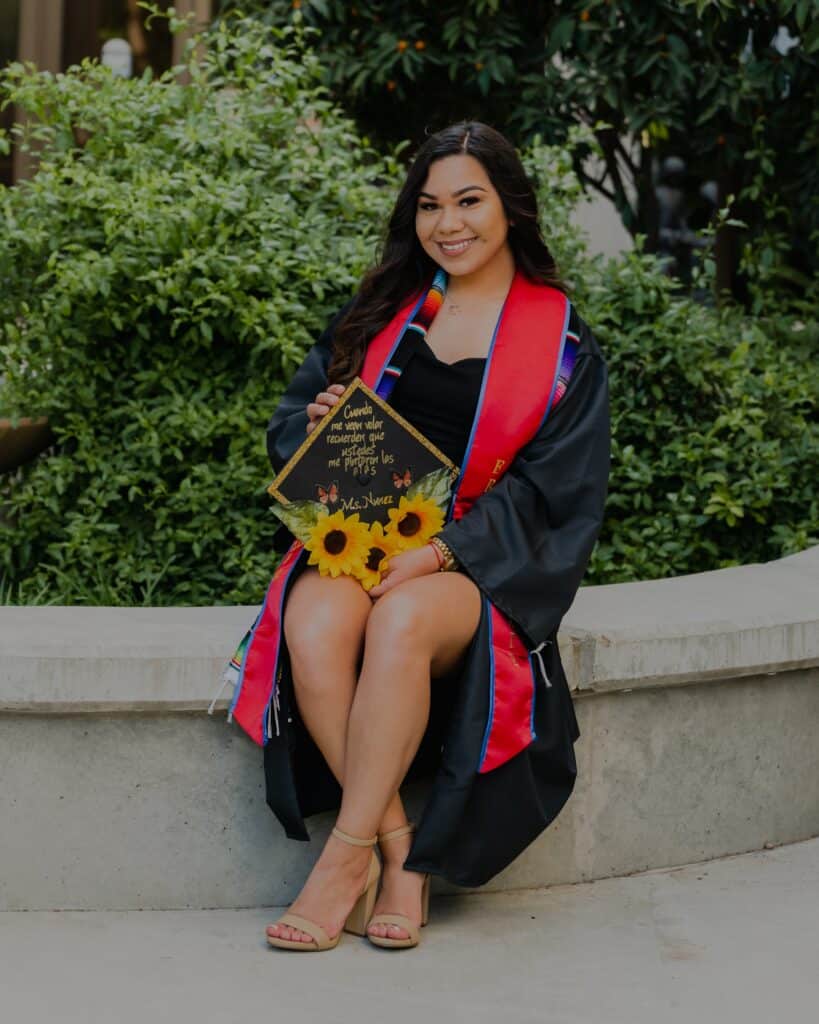 Colorful fake flowers glued on top are always an easy way to make the girl graduate's hat stand out beautifully.
Countless DIY grad caps for girls have flowers. But this grad really pulled it all together matching her cap color scheme to her stole and dress.
Graduation cap ideas for guys.
I had to search a little harder to find decorated caps that guys would be willing to wear. But not too hard – it just has to be funny, and not frilly or sappy.
This cap design is worthy of a graduation party at the Catalina Wine Mixer.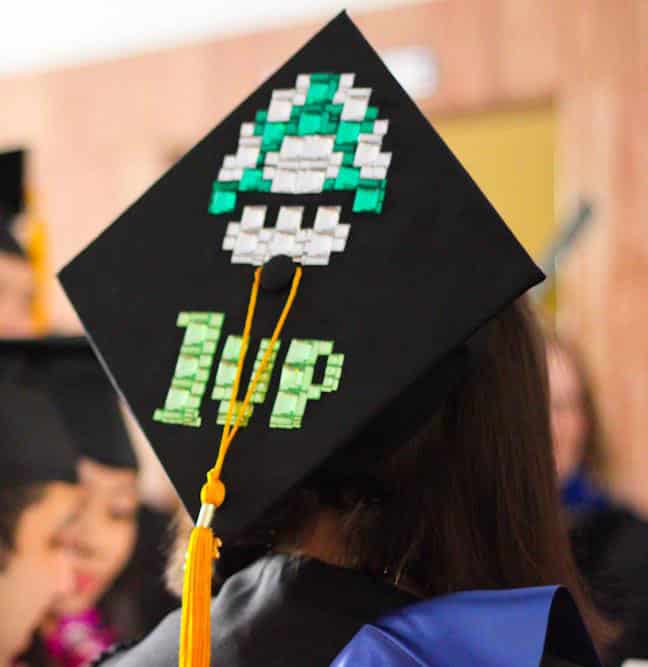 This gaming cap design was for a girl – hence the bling. But the idea is good for any gamer.
Or show off your sport. This football grad cap cover comes in several other options.
Master's degree graduation cap ideas.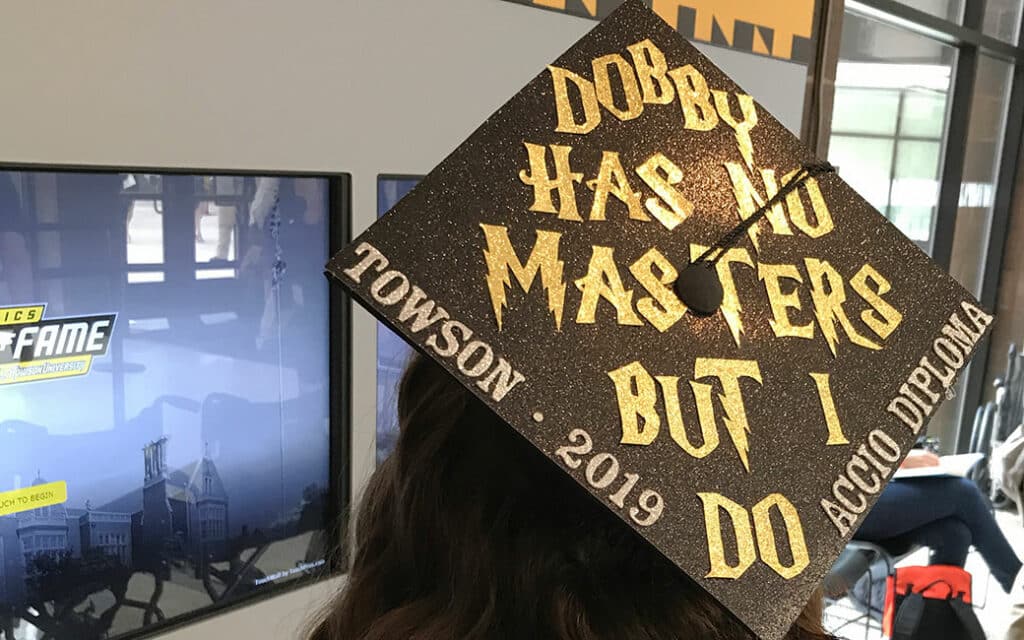 This quote from Harry Potter is magic for the Masters degree graduate.
This cute cap is a nice positive pat on the back, and this graduate should be proud.
Kindergarten graduation cap ideas.
I'm not sure how widespread decorating the kindergarten cap is yet, but everything seems to trickle down and there are some really sweet ideas on the internet like this one. It seems like just yesterday that I was reading The Very Hungry Caterpillar to my now college graduate. 😢
For a fun graduation party theme, check out all the ideas in "Throw the Ultimate Margaritaville Party"
Last Minute Simple Graduation Cap Ideas with Sayings.
Not a lot of time to plan and decorate the perfect graduation cap? Or don't have amazing crafting skills? That's fine! Sometimes a message comes off best without all the glitter and flair. It can be as simple as a "Thanks Mom and Dad!"
Buy some letters from the craft store for your custom message. Or cut them out of a magazine like this:
A few more message ideas that are a huge hit:
Proud of my B.S.
Now hotter by one degree
Hire Me
Officially a B.A.
Game of Loans
This cap cost me (cost of college)
Now What?
#DONE
---
Shopping sources for this post.
---
Awesome grad cap? Check.
You're sure to shine on your big day with one of these awesome graduation cap decoration ideas- with no regrets!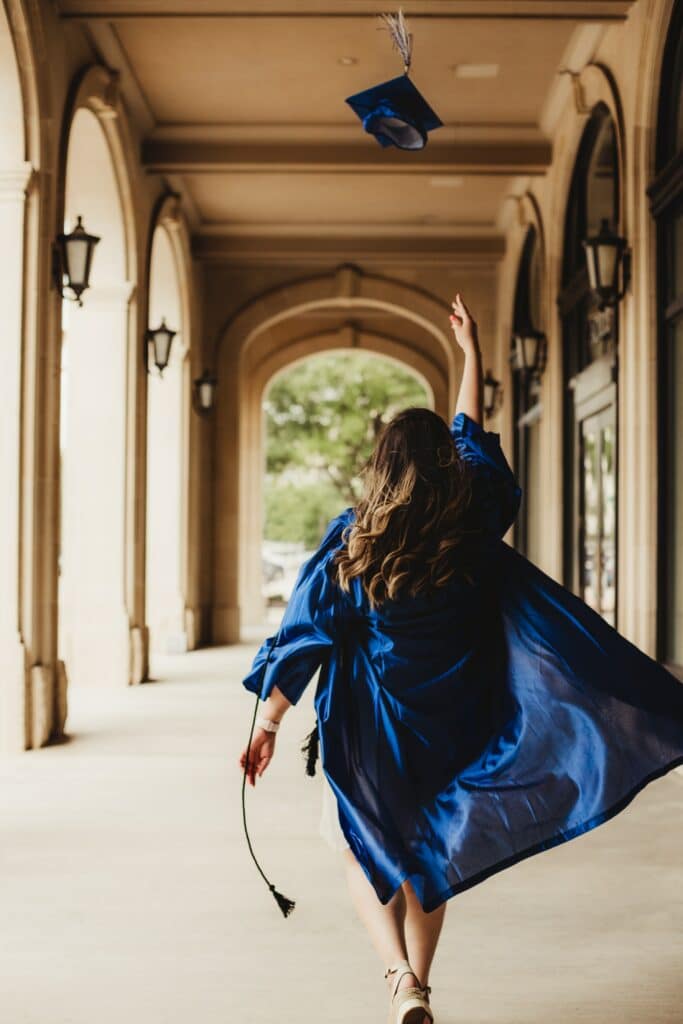 Before you go:
As always, I appreciate your visit, comments, and shares here on the blog! I'd love it if you also follow along with me on Pinterest, Instagram, and Facebook so you won't miss any of my inspiration and ideas.
Don't forget to sign up for updates to keep in touch.
If you're not already a member of the SH&H family, I'd love to have you join me! You'll not only get email updates, but you'll have exclusive access to all the bonus materials in my free subscriber-only library, like this:
---
Celebrate the May Holiday links.
I'm joining together with friends for the "Celebrate the Holiday" Blog Hop, hosted by Carol of Bluesky at Home! This month is all about May celebrations, so make sure to check out all the inspiration at the end of this post. If you've landed here from Perfecting Places, thank you for your visit and I hope you come back again!
Now for more May celebration inspiration – everything from May Day to Kentucky Derby to Cinco de Mayo!