Creative and Fun Ways to Give Gift Cards
Inside: Creative and clever ways to elevate boring gift cards into thoughtful gifts good for the holiday season or any special occasion! ➡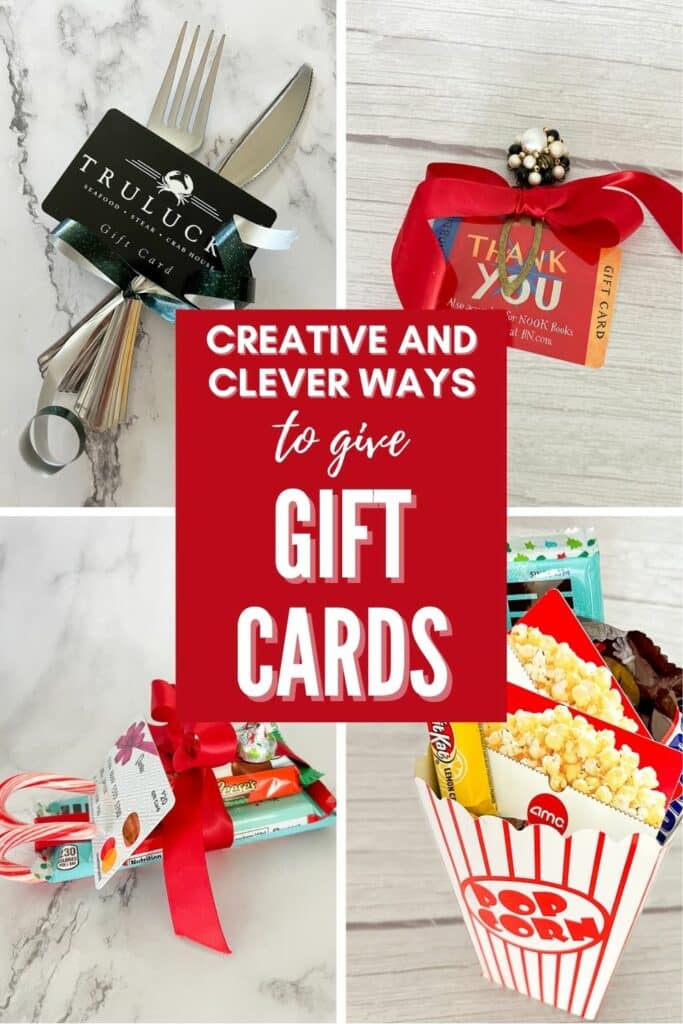 ---
When you give a gift card to someone, do you feel that pang of guilt and embarrassment because it seems impersonal, boring, and you're afraid it whispers, "I had better things to do than think about what to get you"?
I know I do. I really don't like giving gift cards at all if I can help it.
But we need to get over feeling bad about gift card giving. Because gift cards can be one of the best gifts – the recipient will always get exactly what they want. That means no unloved, unwanted gifts sitting in the closet waiting to be regifted.
And with a little creativity, gift cards can be just as thoughtful as any other gift!
We all have people on our gift list who we have a hard time buying for – and gift cards really are the best option. I've rounded up lots of ways to make that gift card seem a little more special, a little more thoughtful, and a little larger than that tiny boring gift card sleeve.
How do I give a gift card creatively?
Here's a good rule of thumb when planning a more interesting way to give the gift card. Keep the wrapping presentation appropriate for the amount on the gift card you're giving. Save the more elaborate presentation for large gift cards, or you'll likely have disappointed gift recipients, expecting more from the build-up. A little friendly advice – don't wrap a $10 gift card in an iPhone box.
This post contains Amazon and other affiliate links for your convenience. As an Amazon Associate I earn from qualifying purchases. If you purchase something through any link, I may receive a small commission, at no extra charge to you. I only recommend products that I love or would purchase for myself. See my full disclosure here.
Ways to make gift cards more personal.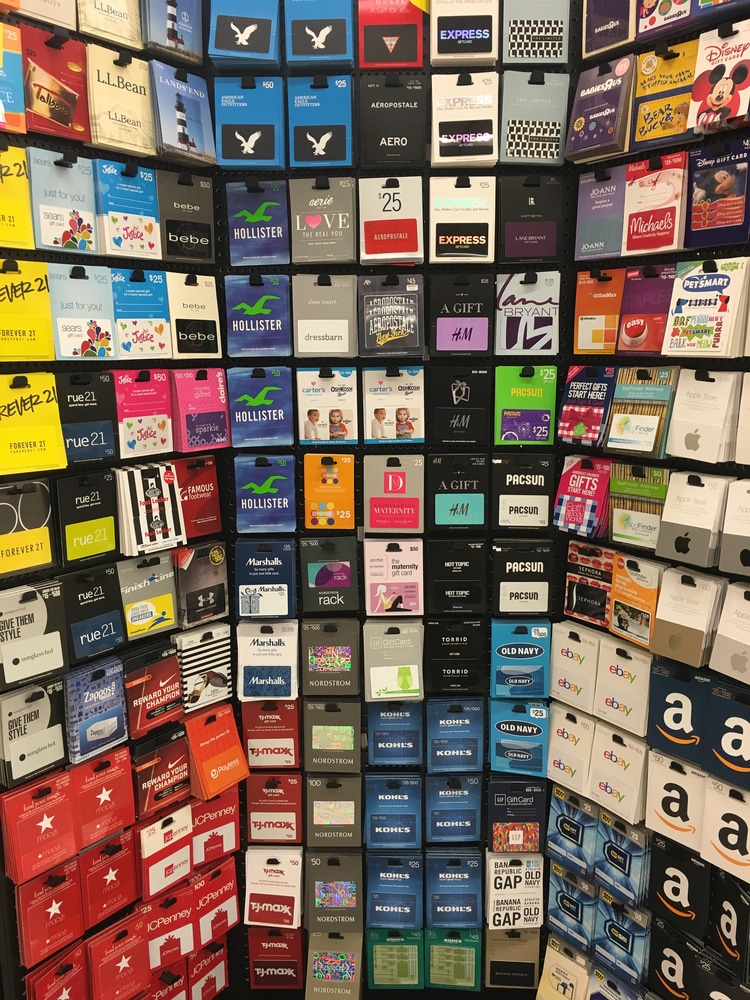 With the vast variety of options out there, you're not limited to a Visa or Amazon gift card (although those are the safest). A great way to make a gift card more personal is to tailor it to the person's interests and to what they like. Here are a few suggestions with fun gift card presentation ideas to cover many of the people on your list:
Restaurant and food gift cards.
For the foodie, simply pull some disposable metallic or colored cutlery from the drawer and tie it up with the gift card for a fun touch.
Fashion or clothing gift cards.
A gift card to a clothing store where you know the person likes to shop is always a winner, especially since getting someone's size and style right is tricky.
A cute idea is to dress up a clothing gift card in its own "card"igan. This one is also an ornament. And so stinking cute with its tiny hanger: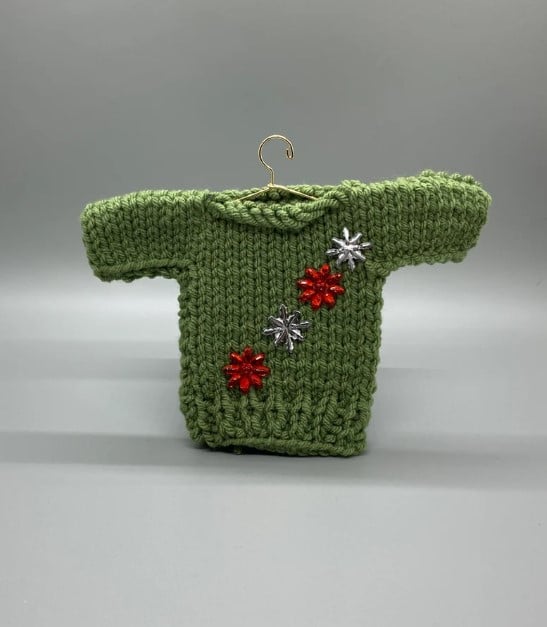 Or if the store has an iconic, high quality shopping bag, use it as the gift bag. Just seeing it is sure to get your gift recipient excited (think Lululemon's reusable bags).
Kitchen store gift cards.
Tie a gift card to Williams-Sonoma around a new rubber spatula – I know I can never have too many of these.
Movie gift cards.
For the movie lover, purchase gift cards to any of the movie theater chains or to a streaming service like Netflix or Hulu. Pop it in a popcorn container with some movie goodies or into a box of classic movie candy like Milk Duds or Twizzlers.
If there's a series they're really into on a streaming service you're giving a gift card for, another fun idea is to theme the wrapping for the show.
Travel gift cards.
Give the gift of travel with a gift card to any of the hotel chains, Hotels.com, or even a VRBO or Air BnB gift card. All the major airlines also offer gift cards.
Luggage tags make the perfect gift card holder for gift cards that have to do with travel. You can even add a personal touch with a nice personalized tag. A passport holder makes another good gift card holder.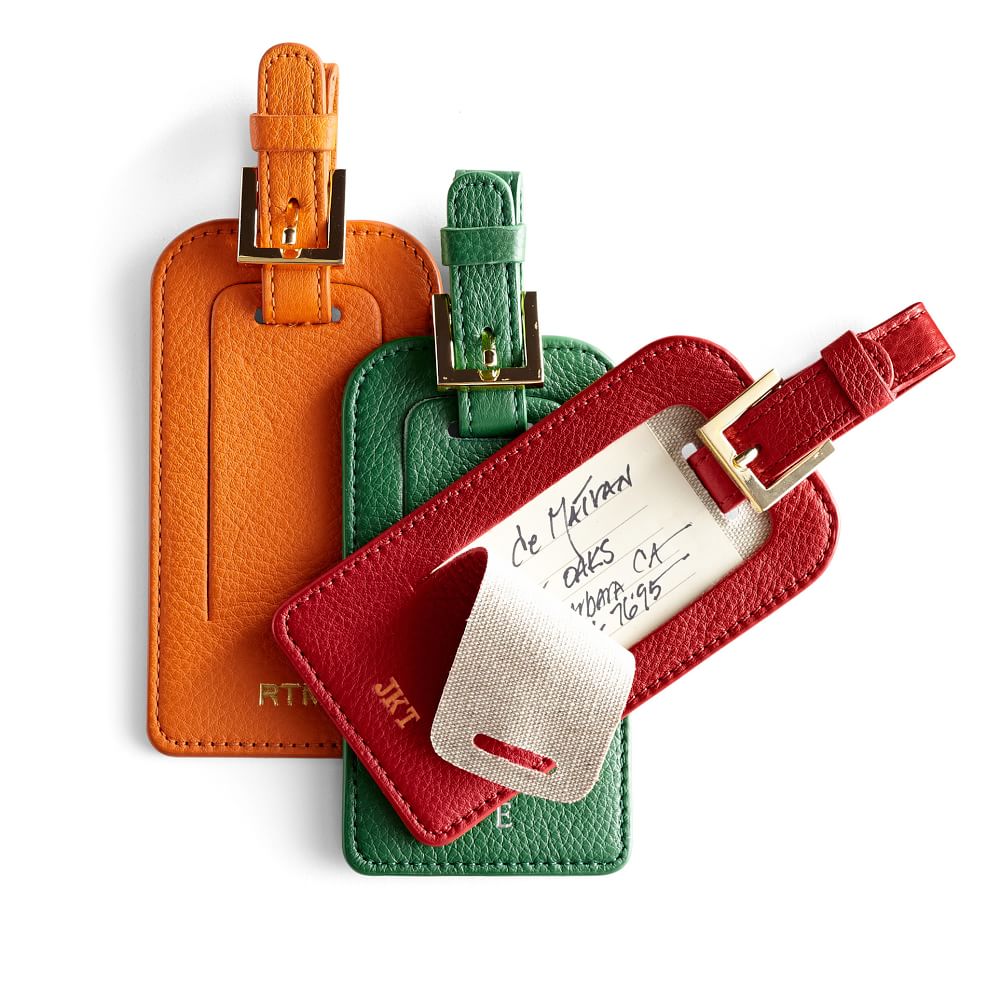 Let's throw Uber gift cards into the travel section as well. Package some free rides with mini liquor bottles or a sleeve of Fireball. It's a great gift for after Christmas to use on New Year's Eve!
Coffee gift cards.
A gift card for a warm cup of joe is almost universally appreciated since the cost of a weekly tall at Starbucks really adds up. Make a cute coffee mug "basket" like this Christmas cocoa one:
Or take the coffee sleeve and glue it together on the bottom and voila, you have a holder for a Starbucks gift card (or their favorite local coffee shop). You can also put a gift card in a Starbucks cup with a special message "order" written on the side. Or gift it in a nice reuseable thermal travel mug to keep their drink warm.
Photography gift cards.
A gift card to have portraits made is a wonderful gift that they'll always treasure. Frame the gift card (or make a gift certificate) in a frame they can use for their new photos.
Book gift cards.
Buy a gift card to Barnes and Noble and let them peruse the shelves to pick the book themselves instead of guessing what they might like, or haven't already read. Clip on a pretty bow and a nice bookmark.
Another gift card idea for the bookworm if you already know what book to give, is to make the gift card itself the bookmark in the book. Bonus points if it's a gift card for something to do with the subject or story!
Makeup or personal care gift card.
Give them a Sephora gift card for beauty, makeup, and pampering products. Or a gift that gives every month with a gift card to a subscription box like Birchbox. Tuck it in a cute makeup bag, or slip it into a compact mirror for their purse:
Gardening gift cards.
Give a gift card to the local plant nursery to the gardener on your list. Stick it into a pretty plant. Or put it in a pair of gardening gloves, with a seed packet, or tie it on a fresh new gardening hand trowel.
And if you want to be crafty, glue the gift card to the center of a colored cardstock or foam flower, then glue the flower on a wood dowel or skewer and stick it into styrofoam in a little garden pot. Or make a whole bouquet of gift card flowers. This is always popular for teacher appreciation week with the message, "thanks for helping me grow"!
Craft store gift cards.
The crafter can always use a gift card to Hobby Lobby, Michaels, or Joann. And a shiny new sharp pair of scissors. Tie the gift card to some pretty scissors that look good as well as work good:
Outdoor recreation gift cards.
Pair a gift card to Cabela's, Bass Pro, or REI with a swiss army knife multitool, a Hothands handwarmer, or a flashlight.
Sporting goods gift cards.
Tuck it into some good cushy socks, a package of baseball cards, or tie it around small items specific to their sport.
Or with some yummy cake balls with the message "have a ball"!
Liquor or wine store gift cards.
Tie the gift card to a mini prosecco, champagne, or wine bottle.
Read some creative ways to gift alcohol here.
Or fill a pretty wine glass or double old fashioned glass with some sparkly gift filler and a gift card.
Music or audiobook gift cards.
Buy a gift card for Spotify or Audible and pair it with some wireless earbuds.
Pet store gift cards.
Sometimes a gift for pet lovers makes them just as happy as something they'd use themselves. Attach a gift card to Petsmart to a bone or a small toy. Or with a special Christmas ornament that you can write the pet's name on:
Fun ways to disguise any kind of gift card.
In a phone card holder.
In a mini pinata.
In a chocolate bar, Willie Wonka-style.
In a mason jar buried in their favorite candy.
On a candy Santa sleigh: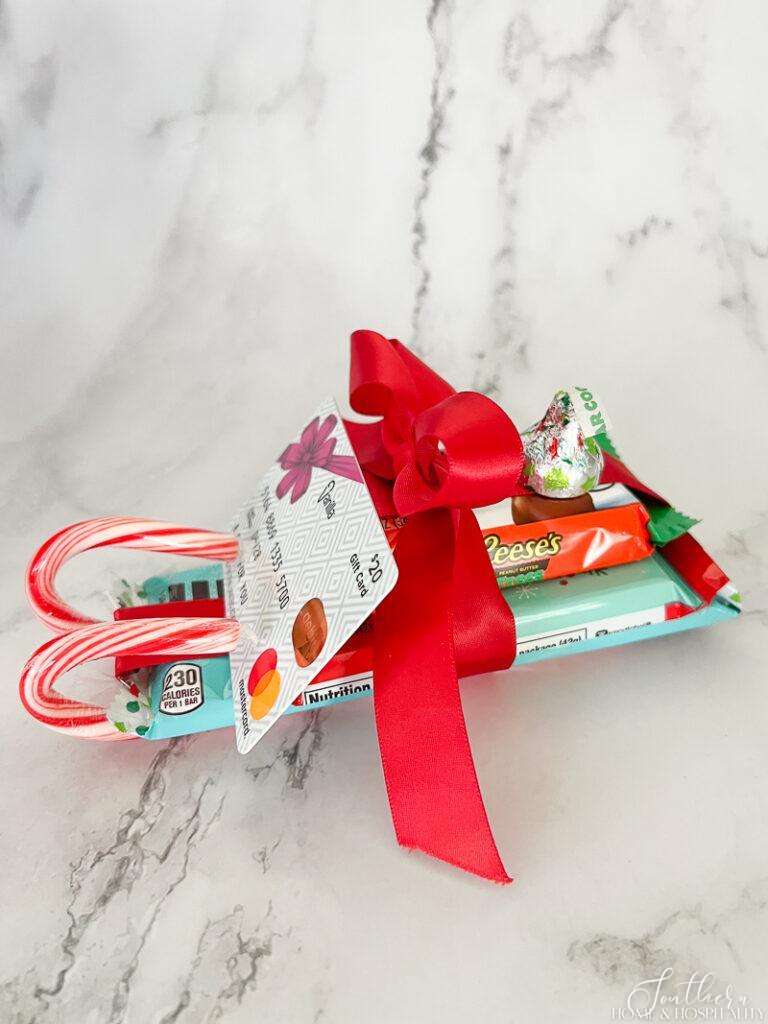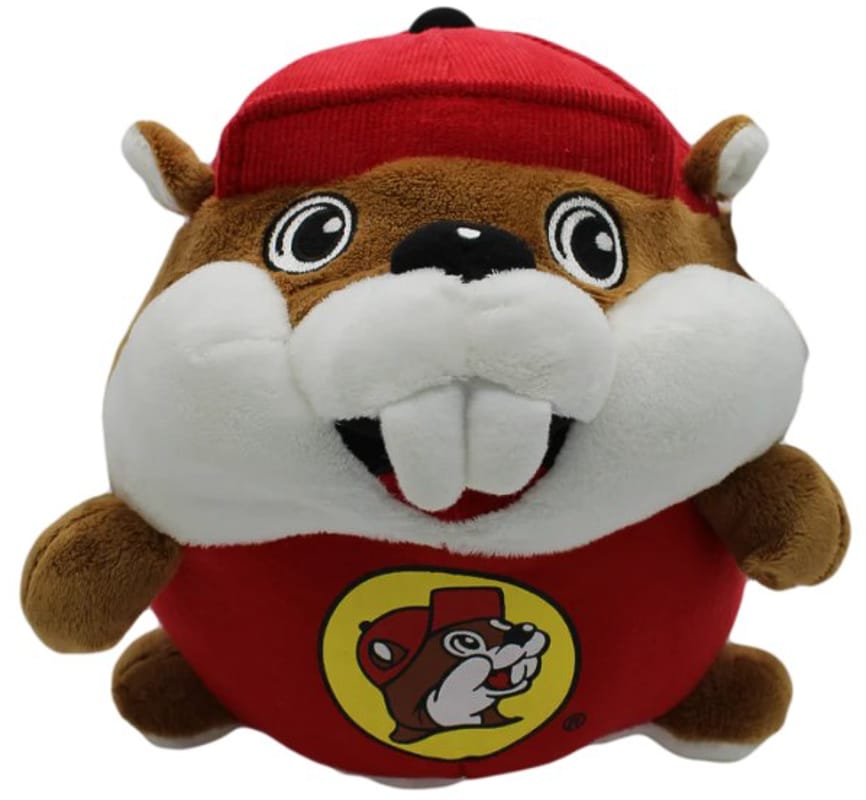 In a pair of cozy slipper socks.
In an empty playdough can with a note "a little dough for you to spend".
In a deck of cards.
In a Chinese takeout container. A good luck theme is great for graduation – fill it with a gift card, fortune cookies, and lottery tickets.
Wrap it in a box within a box within a box – it'll be so much fun to watch them wonder which box will hold the actual present.
Stick it in a cute mini Christmas stocking.
Tie an Apple gift card to a pretty packaged candied apple.
Put them in gift card snow globes that they can display photos in later.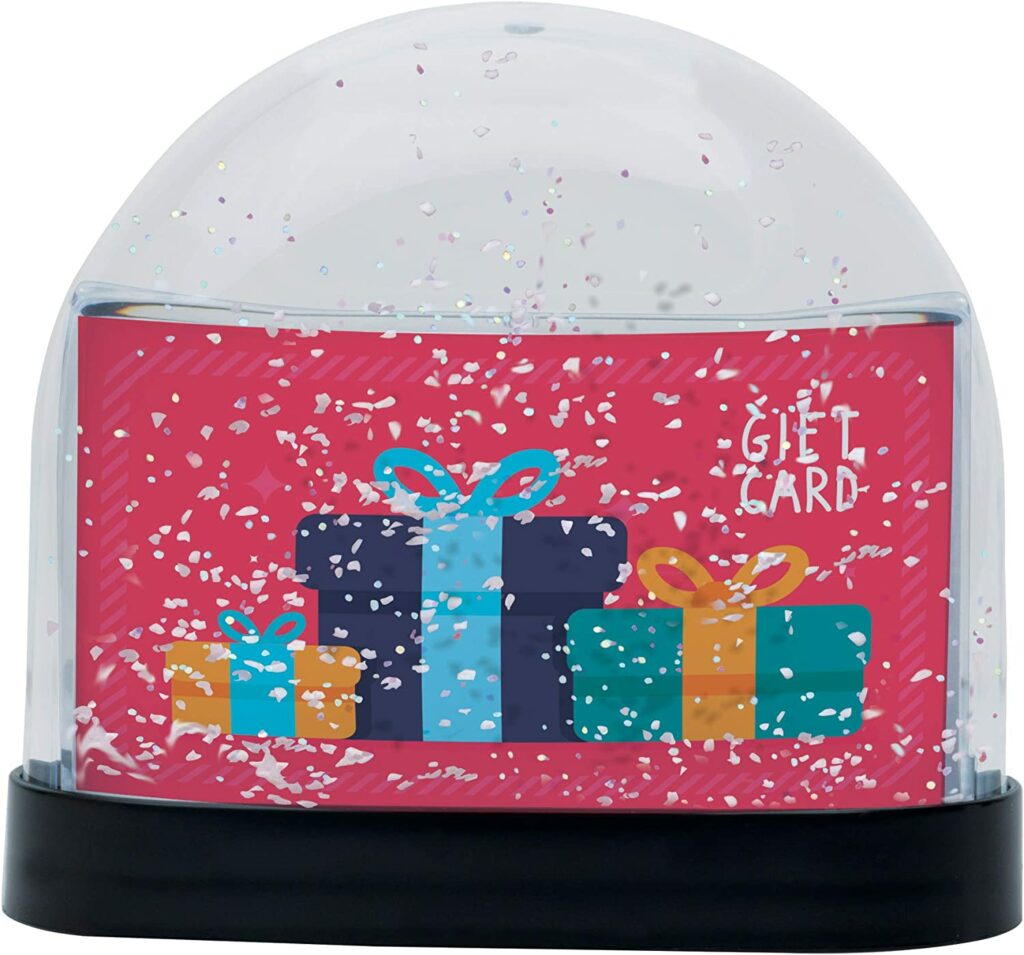 How can you give multiple gift cards?
The gift card flower bouquet from above is a gift card giving go-to for a group of cards. But here are a few other unique ideas that give your gift cards more "wow":
Put the gift cards in a bouquet of helium confetti balloons. A clever way to make every pop a party!
Tie them from the inside of an umbrella – makin' it rain gift cards.
Attach them to a wreath, garland, or tree with clothespins for a special Christmas group gift.
Creative and funny ways to wrap a cash gift.
In addition to gift cards, cash is often given to graduates because there are so many creative ideas and ways to give those green dollar bills!
Make a money tree (they'll soon learn that money doesn't grow on them).
Make a money pizza in a pizza box.
Make a chocolate box of money – those individual compartments are perfect for a money roll (but leave some of the chocolate too).
A money lei is an amazing, beautiful, and thoughtful gift.
Hide cash in a tissue box with a note "don't blow it all in one place".
---
These ideas to make gift cards more fun to give (and get) aren't just limited to cards and cash. Make your own gift certificate for whatever you're giving and package them the same way!

As always, I appreciate your visit, comments, and shares here on the blog! I'd love it if you also follow along with me on Pinterest, Instagram, and Facebook so you won't miss any of my inspiration and ideas.
Don't forget to sign up for updates to keep in touch…I have lots of fun and useful freebies you may be interested in in my subscriber-only library like this Snowflake Martini Recipe Gift Tag:
---