Inside: Simple outdoor Christmas decoration ideas with big impact to give the maximum amount of holiday cheer curb appeal for the least amount of time and money! ➡
By the time I've deck the halls on the inside of the house for Christmas, I'm running on decorating fumes. And my wallet has also had a workout. So honestly, while I want the front of our home to bring Christmas spirit to the neighborhood folks, I want to do as little as possible while still making it festive.
So I've pretty much gotten our outdoor holiday decorations down to a science over the years. Where to focus my energy and budget where it will shine the most.
I'm joining together with other bloggers for the Christmas Porches Tour hosted by Amy at Atta Girl Says. We have so many creative porch decorating ideas to inspire you so make sure to check them all out at the end of this post. If you've hopped over here from our host Amy's inviting porch brimming with festive decorations, welcome!!
We are fortunate to have a large front yard that sits on a corner. I could spend a bundle if I were to fill this entire outdoor space with decorations. And I just don't have it in me during this busy time of year to go all out here. Instead, I only focus on a few key things.
A bright, visible, cohesive color scheme.
While I like to change up colors seasonally inside the house, I stay with red and white every year for Christmas outside, because you can't miss this color scheme from the street! That alone saves a lot of dollars and time. I may adjust some bows, small accessories, and placement, but I know Christmas red is going to show up for me.
This post contains Amazon and other affiliate links for your convenience. As an Amazon Associate I earn from qualifying purchases. If you purchase something through any link, I may receive a small commission, at no extra charge to you. I only recommend products that I love or would purchase for myself. See my full disclosure here.
Door wreaths.
One of the things I envisioned for the front of this house the first time I laid eyes on it was its potential for decorating for the holidays. And how each door should sport a Christmas wreath. Now I'm up to seven with one even on the third floor balcony!
If you look closely, you might be able to tell these are DIY Christmas wreaths. I beefed them up and decorated them so that from a distance they don't look dinky. I wired two cheap Canadian pine wreaths together (that can withstand the weather) to look like one big full one. Then added some picks with red and silver balls that would pop against the green.
I do usually change the bows each year. This holiday season I've added bright red ribbon on top of last year's for higher visibility from the street.
These front door wreaths cover the width of the whole door window. They're also two wreaths doubled up but are a little higher quality than the others and have different kinds of greens. I added the same bright red an silver ornament picks and cheery red and white candy cane stripe bows.
Planters flanking the front door.
The front door is the main focal point of the home. A great way to bring attention to it is to add holiday decor to your planters.
On the front of the porch as you walk up, I have two bowls of red poinsettias:
And the front doors are flanked with topiary trees (the ferns are on vacation in the garage for the winter).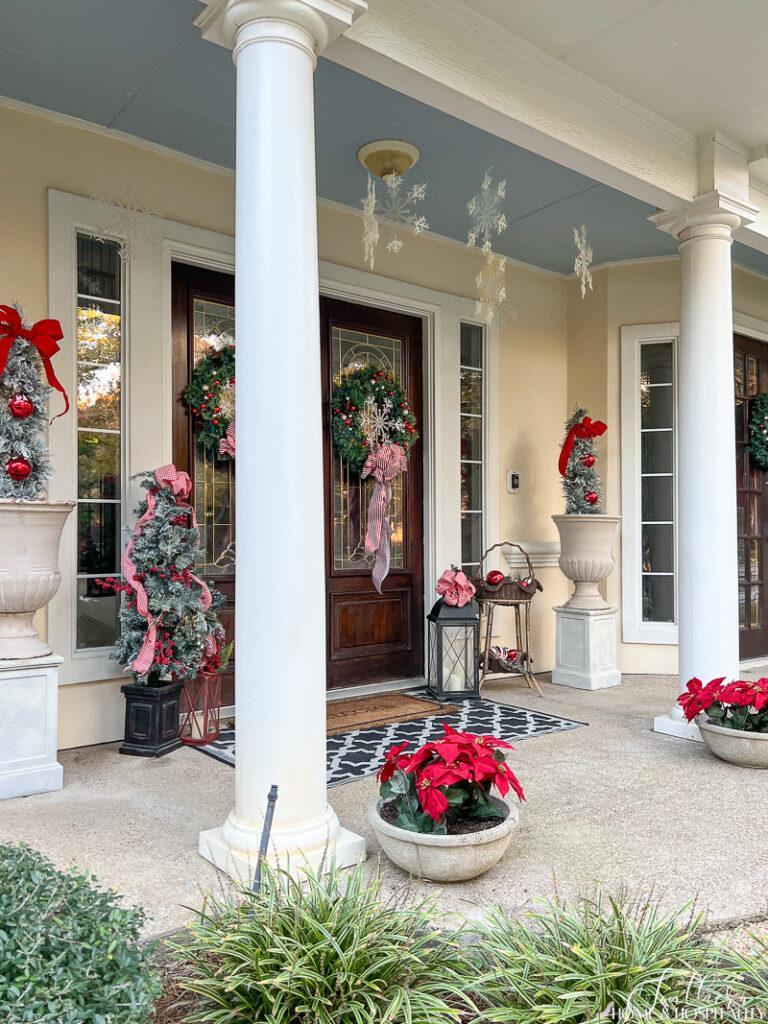 I gave these green outdoor topiaries a little winter treatment with some spray paint last year. And I added new bows in that bright red ribbon.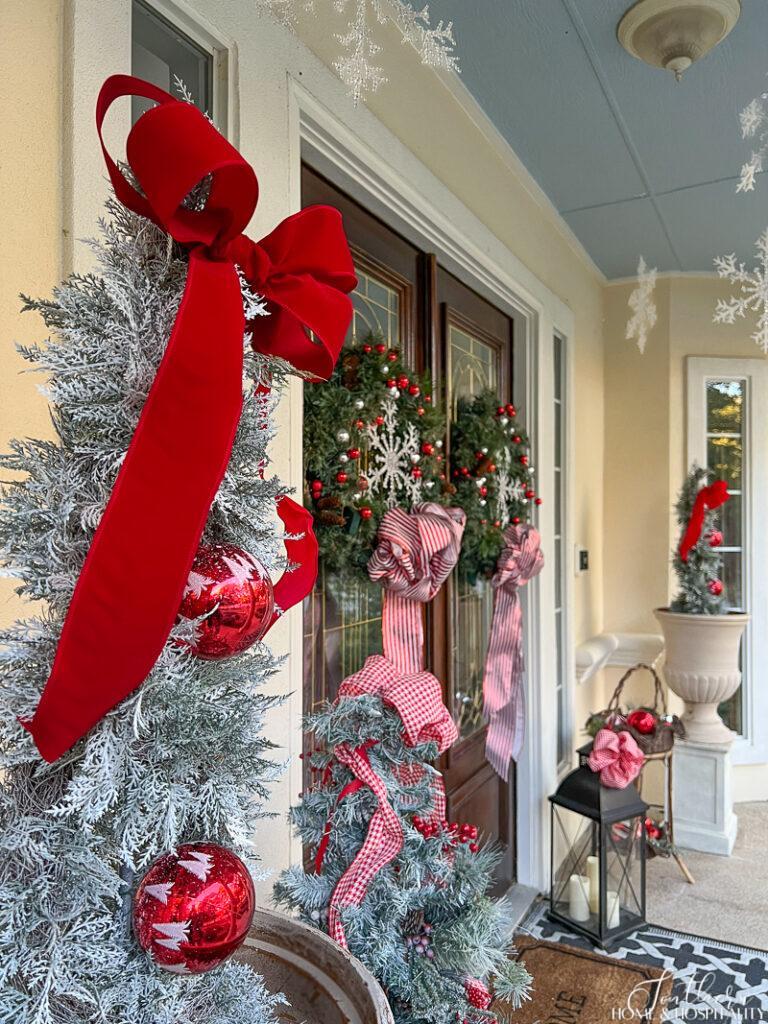 Extra holiday porch accessories.
I cozied up the entrance even more with an outdoor Christmas tree full of red berry picks and topped with a big houndstooth bow. And added a little Christmas decor to the tops of a couple of lanterns. Then I filled the porch basket with shiny red and silver shatterproof ornaments.
A holiday doormat is also an inexpensive way to decorate in one of those great places that can't be missed as you're coming and going. I need a large one for the double front doors which will cost a little bit more. It would be a nice touch, I just haven't gotten one yet (next year goals).
I tied mini wreaths onto the porch rockers for some Christmas cheer:
And added another budget-friendly porch idea: Turning a large basket upside down is a creative way to make your own instant side table for the porch. I added a little Christmas here with a sprig of greenery, pine cones, and red berries on top.
Make a cozy sitting area.
I add inexpensive pillows in a holiday print or color to the porch rockers. The porch is covered so I don't even bother buying outdoor pillows. If you have space, a bench, chair, rocker, or swing is the best way to make a front porch inviting! Then you can easily cozy it up with Christmas pillows and maybe even a throw for the holidays.
A unique, whimsical touch.
Adding a memorable touch that will be noticed doesn't have to cost a lot. I've hung some fun Dollar Tree snowflakes over the front door that you can't miss as you're walking in. But the best part – they were six dollars plus some fishing line. Talk about cheap outdoor Christmas decorations! I bought these years ago but your local dollar store may have something similar.
These plastic snowflakes have been one of the best deals – I've used them so many ways! See how I used them on my dining table last year here.
And we have one other whimsical feature – Santa's back making his annual appearance on the balcony.
While not as cheap as the dollar snowflakes, he does have the wow factor. And he's a fun way to bring the holiday spirit to passers-by on our street.
Here's a little behind the scenes, complete with duct tape and cords. As you can see we give Santa the literal spotlight at night.
Outdoor Christmas lights.
And finally, strings of Christmas lights are a cost effective, easy way to make the front of your home sparkle with the magic of the holidays.
I added strings of white lights to all the door wreaths to make them shine at night.
And I feel like icicle lights are the unsung heroes of exterior illumination. I mean, you get quadruple the number of lights in one string!
I take full advantage of all of that twinkle by stringing them on the balconies. And all the way around our fence. And the good thing is, we never have to climb on a ladder!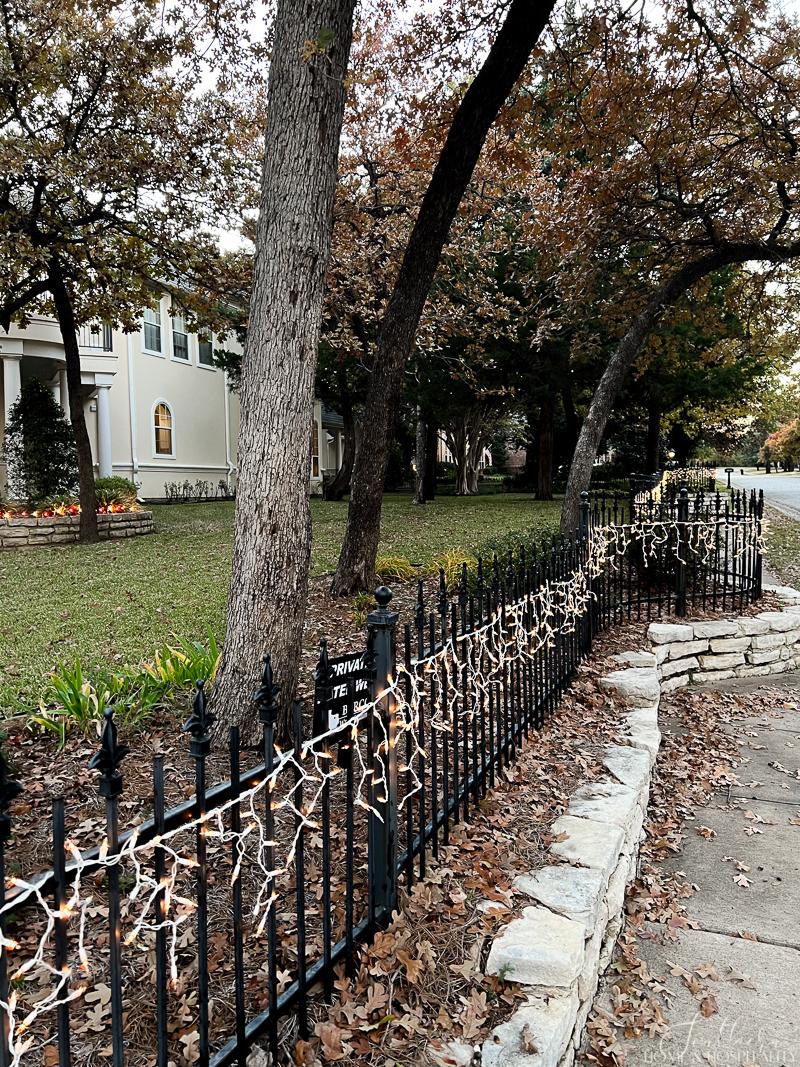 ---
If you'd like come inside and see our holiday decor, you can visit the living room here, the dining room here, and the kitchen and family room here.
---
I hope these big bang for a tight budget outdoor decorating ideas have inspired a little creativity to cozy up your curb appeal this Christmas. These simple outdoor Christmas decorations will show up for you no matter if the outside of your home is an apartment stoop or something more spacious.

As always, I appreciate your visit, comments, and shares here on the blog! I'd love it if you also follow along with me on Pinterest, Instagram, and Facebook so you won't miss any of my inspiration and ideas.
Don't forget to sign up for updates to keep in touch…I have lots of fun and useful freebies you may be interested in in my subscriber-only library like my cheat sheets for where to place lighting, bathroom fixtures, artwork, and furniture!
Now on with the tour – let's meet on 2 Bees in a Pod's cute woodland Christmas porch!