Cozy Christmas Plaid Kitchen and Family Room Decorating Ideas
Inside: Plaid decorating ideas to add Christmas charm and cheer to the kitchen and family room. Add cozy holiday details to the kitchen counter, breakfast nook, mantel, tree, coffee table, and more! ➡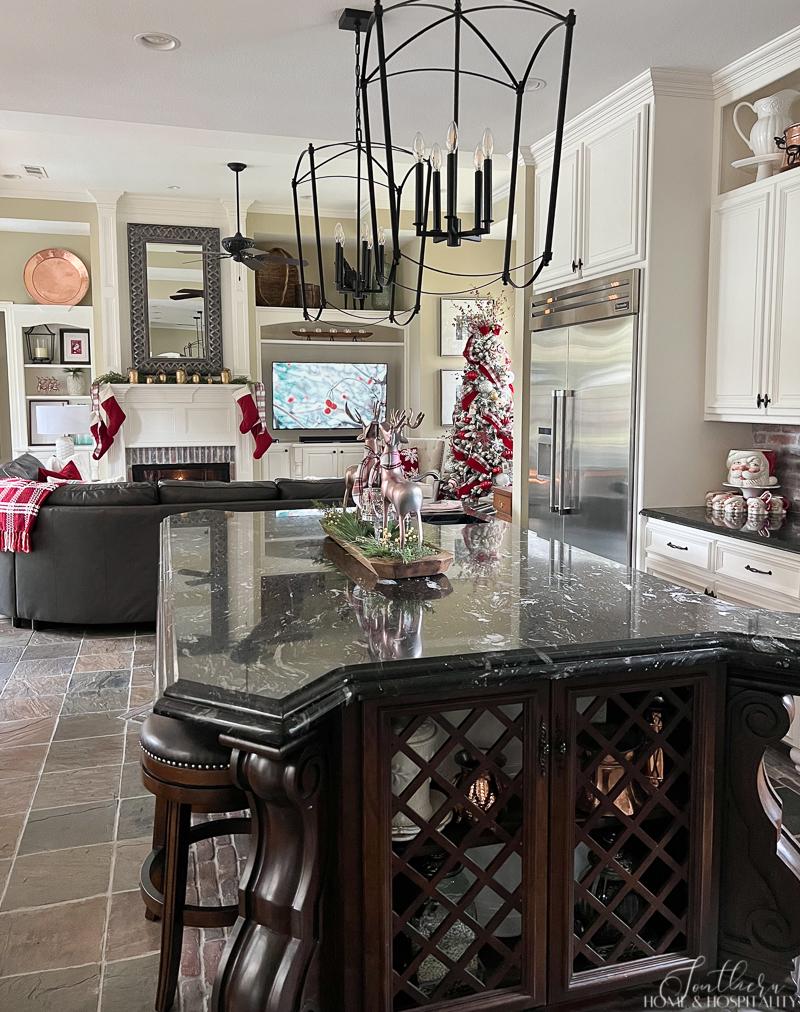 Merry Christmas y'all!
Too early? Well, I just couldn't wait to say it for the first time this Christmas season. As home decor bloggers, we decorate early to have inspiration for you when you're ready to decorate. It feels strange when I first start decking the halls in fall, but having my Christmas decorations up never fails to quickly put me in the merry mood.🎅
So I'm kicking off the Christmas inspiration today with the first part of my holiday home tour. There are too many photos of all of my Christmas decor to put into one post, so I'm spreading it out into four. Come back by to see the rest of our home dressed for Christmas!
We're starting in the kitchen and family room. This is the space where we spend most of our time together. Holiday baking. Savoring warm winter soup. Watching our favorite Christmas movies for the umpteenth time while sprawled on the sofa, noshing on yummy snacks and sipping hot chocolate.
So this area is all about cozy.
Picture a pair of the coziest Christmas jammies. There's a good chance they were plaid, right?
Snuggle in and get comfy for the tour, and you'll see that plaid is the perfect pattern to make these two rooms Christmas cozy.
Let's take a stroll around this space, starting in the kitchen.
I'm joining together with 29 other friends for the "Celebrate Christmas" tour of homes to give you lots more inspiration. Make sure to scroll to the bottom of this post for links to them all. You can start with our wonderful host, Leen at Sand Dollar Lane. If you're coming to my house for the first time from My Family Thyme, welcome! While you're here, please make sure to subscribe, so we don't lose touch.
Christmas Decorating Ideas in the Kitchen.
Christmas decor on the kitchen island.
The island takes the center stage and is most of the counter space in our modern French country kitchen.
Here I've made one large centerpiece focal point, using a long dough bowl and two copper metal deer. The bowl is simply filled with faux pine, juniper, and white berries, and a Christmas tree-scented candle.
The deer are sporting their ultimate festive look with their perfectly plaid Christmas "scarves":
This white tartan ribbon was the plaid inspiration for my cozy holiday look and I've used it to add touches of plaid throughout these two rooms. Simply tying ribbon onto accessories is a great way to bring in any color and theme.
I'm taking a minute to enjoy completely clear counters for the picture taking. Usually, there's some mail, dishes, and the oddball piece of clothing here.
I bought these copper deer specifically to use on the mantel in past years. But they work just as well as a focal point for the kitchen. And their color ties in with all of my copper pots and accessories!
Christmas decor for the kitchen counters.
The rest of the counters got a touch of plaid and holiday cheer as well.
Tying a bit of plaid ribbon to the "eat, drink, and be merry" chalkboard sign is an easy way to add a pop of plaid here too. Placing it in between the Santa head mugs and the coffee pot makes an instant happy holiday drink station. This Santa mug set continues to be one of my favorite Christmas treasures.
This post contains Amazon and other affiliate links for your convenience. As an Amazon Associate I earn from qualifying purchases. If you purchase something through any link, I may receive a small commission, at no extra charge to you. I only recommend products that I love or would purchase for myself. See my full disclosure here.
Santa is enjoying his milk and cookies on this side of the counter. And the glass cloche next to him is awaiting a delicious holiday treat. These plaid dish towels are also a perfect way to bring in more cozy to the kitchen.
Garland on the kitchen vent hood.
I hung a "garland" on the vent hood to bring a dash of winter evergreen coziness to the cooktop. It's actually several faux cedar stems wired together.
You can see how I hung it and other Christmas Decorating Tips, Tricks, and Hacks here.
Simple Christmas kitchen table centerpiece.
Want a centerpiece for the kitchen dining table that doesn't take much time? Fill a white bowl with mercury glass ornaments and a few pine cones. Doesn't get much easier than that.
Christmas decor for the breakfast nook.
And if you want to add some holiday decor to a place besides the furniture, counters, and the vent hood in the kitchen, decorating the windows really has big impact with little effort.
Over on the opposite side of my kitchen, I brought in more winter greens and some Christmas red by hanging mini wreaths in the windows with red velvet ribbon.

Christmas Decorating Ideas in the Family Room.
Wreaths in the windows.
Here's a bit of cozy-cohesiveness for the open concept kitchen and family room. On the same side of the family room as the kitchen wreaths, I hung three more in the den windows.
Wreaths on the windows are so simple and so classic. And a festive way to add a touch of holiday spirit to a blank wall of windows.
Another plus – this pop of red brings the eye all the way across the room, making it feel larger.
Christmas decor on the fireplace mantel.
Moving to the mantel, the decor is simple again. Vintage rustic bells line the mantel nested in faux winter greenery stems.
I ordered these bells from Amazon and didn't know if they'd look good enough to be family room focal point-worthy.
But since I'm the queen of returning things I don't like, I ordered them on the chance they might be decent. I'm so glad I did because they are one of my new favorite Christmas decor purchases this year!
I flanked each end of the fireplace with our Pottery Barn classic red and ivory velvet stockings. With streamers of that plaid fabric ribbon to bring touches of plaid to the mantel.
Christmas decor for the shelves.
The open shelves in the built-ins hold a reindeer dance line having too much fun. And my kid's Santa photos bordered in Christmas red photo mats replace the regular photos in these frames for the holiday season.
You can see other no-hassle Christmas decorating ideas here.
The Christmas Tree.
My other favorite new Christmas item for this year is this pretty, slim flocked tree. Our main tree with all the sentimental family ornaments is in the formal living room. But the family room is where we actually spend more of our time.
So I really like to have a tree in here (plus everything's better by tree light). But we don't have much room for a tree with all the furniture.
Problem solved with this slim tree. And it looks perfect in this corner:
It's not only beautiful, it doesn't stick out into the walkway or block the view of the tv.
This is the 8-foot slim flocked "King" tree from King of Christmas. It's so well made and easy to put up – I didn't have to plug anything together and it even has a remote with different light settings. I'm now a huge fan and wish my main tree was one of theirs.
I filled the tree with red, white, silver, and gold Christmas ornaments. The tree brings the cozy plaid theme together with lots of the plaid ribbon winding throughout the flocked branches paired with a red velvet ribbon.
You can see how to put ribbon on a Christmas tree the easy way here.
Red winter berry stems make up the tree topper:
And down at the other end, I brought in more plaid with this hunter green and red plaid wrapping paper. Also new to me this year is my first tree collar in this aged brass and I'm loving it too!
Christmas decor for the coffee table.
For the Christmas coffee table, I filled this rustic wood tray with jingle bells and a green glass candle that smells like Christmas spirit when I sit in here.
Whatever I put on our coffee table has to keep a low profile so it doesn't block the view of all those Christmas movies!
Christmas decor for the hutch.
This hutch belonged to my husband's mother and was a gift from her father. It's probably seen 60+ Christmas vignettes. In our home, it's always filled with white dishes and ironstone. They make it easy to add seasonal touches like these Santa plates, more bells, and Santa mugs.
It's just one of the reasons white dishes make the perfect decorating accessory. See the rest here.
Christmas throw pillows.
The decorations that you can literally get cozy with are the throw pillows in soft, warm textures and patterns.
I've brought back these ivory cable-knit pillows from last year, and the classic red velvet pillow covers (that match the stockings).
Plus a plaid red and white throw blanket draped over the back of the sofa ready for cuddling under.
See them in our classic red and white Christmas family room last year here.
And added a hunter green oblong pillow in another sweater knit. And of course, plaid throw pillows are required in a Christmas plaid room:

---
I hope you've enjoyed your holiday cruise around our kitchen and family room. And that you've found some ideas (and your inner love of plaid) to create a cozy atmosphere in your own rooms.
Rooms that make you want to cuddle up in those plaid pajamas.

Don't forget to sign up for updates to keep in touch…I have lots of fun and useful freebies you may be interested in in my subscriber-only library like this Snowflake Martini Recipe Gift Tag:
Now on with the tour for more holiday inspiration – there's something for every style! Next up is my friend Marianne at Songbird with more simple decorating ideas for you.

Sand Dollar Lane // 2 Bees in a Pod // At Home with Kristy // Exquisitely Unremarkable
Our Crafty Mom // Hearth and Vine

Zucchini Sisters // Postcards from the Ridge // Southern Crush at Home // Amy Sadler Designs
Pasha is Home // Simple Nature Decor

Worthing Court // The Tattered Pew // Cottage in the Mitten // DIY Beautify
Thistle Key Lane // At Lane and High // Feet Under My Table

White Arrows Home // Aratari at Home // White Lilac Farmhouse
Cottage on Bunker Hill // Bricks 'n Blooms

My Family Thyme // Southern Home and Hospitality // Songbird // Shiplap and Shells
Chalking Up Success // Pure Happy Home