Inside: How we made over an ugly, dated, poorly planned kitchen into one with French Country warmth, charm, and patina using brick, wood, copper, iron, and a classic marble-patterned soft black granite. ➡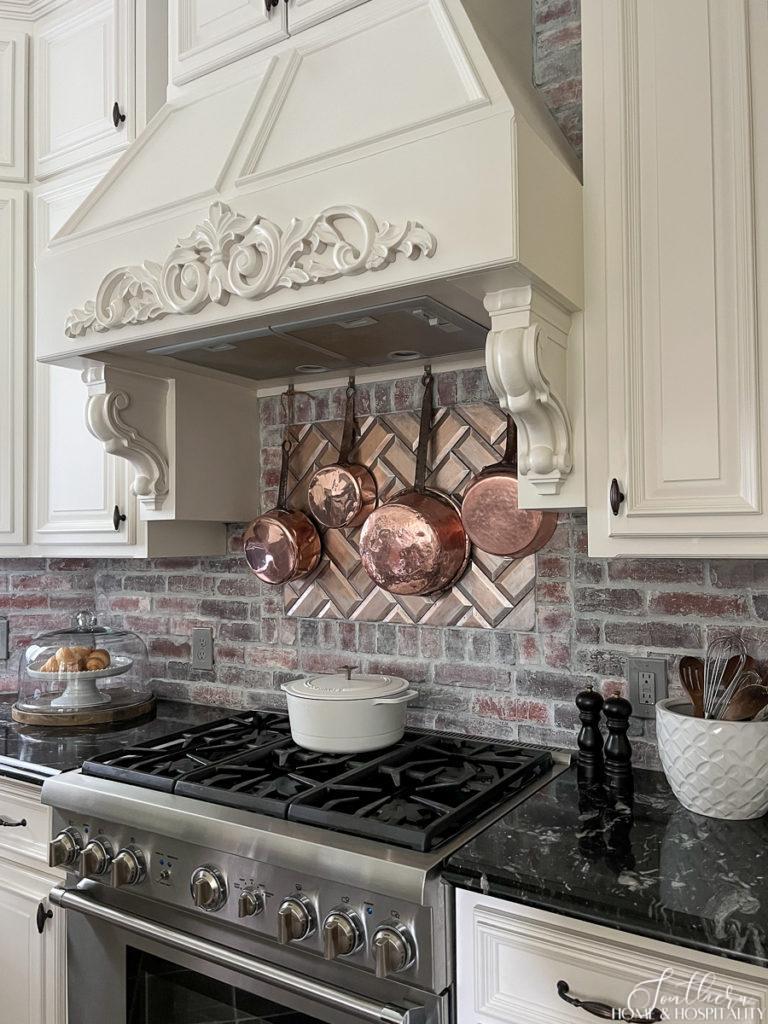 ---
When we decided to take the plunge and buy our fixer upper, figuring out how the kitchen and den were going to be liveable was a real head scratcher. It's where we spend most of our time every day as well as when people come over, so the result would determine how happy we would be here.
No pressure.
How we got to this result required a lot of planning. A lot of money spent on things you wouldn't notice we spent money on just to make them normal. And a lot of blind faith and a vision that this room could actually become one that we loved.
Let's start with a tour of what the kitchen looked like before.
WARNING: These pictures are not for the decorating faint of heart. What were they thinking???
The kitchen before.
The kitchen was circa 1990's and was still rocking its fluorescent light boxes and reddish-brown glossy cabinets. The kitchen and den were chopped off from each other by two walls with an opening in the middle. One wall held the range and the other an arched opening and shelves.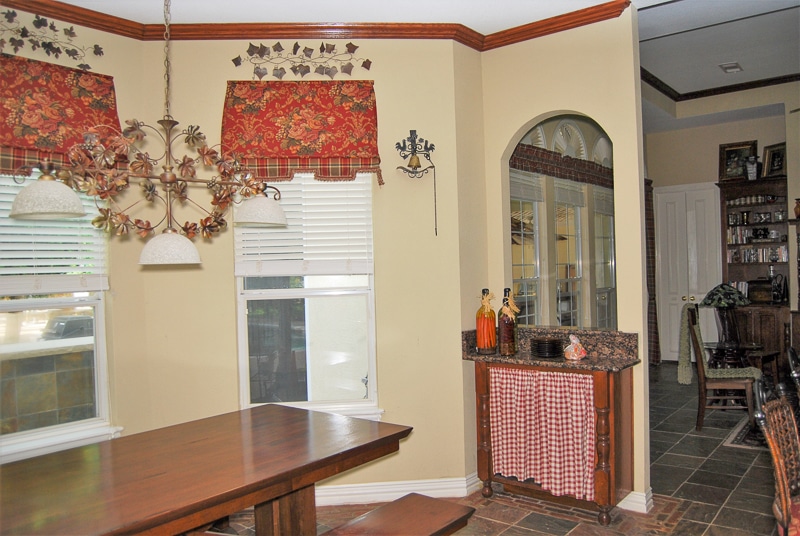 This kitchen had too many ideas being forced into too small a space. It had a crazy three level peninsula and all of the levels were too narrow to work or eat on! There were a total of three drawers in the whole kitchen, none of which were deep enough to put a utensil tray in. Oy vey.
On the other side of this narrow galley the appliance garage took up all of the counter space. And this whole food prep area was so closed off. We affectionately refer to this in our family as a "one butt kitchen".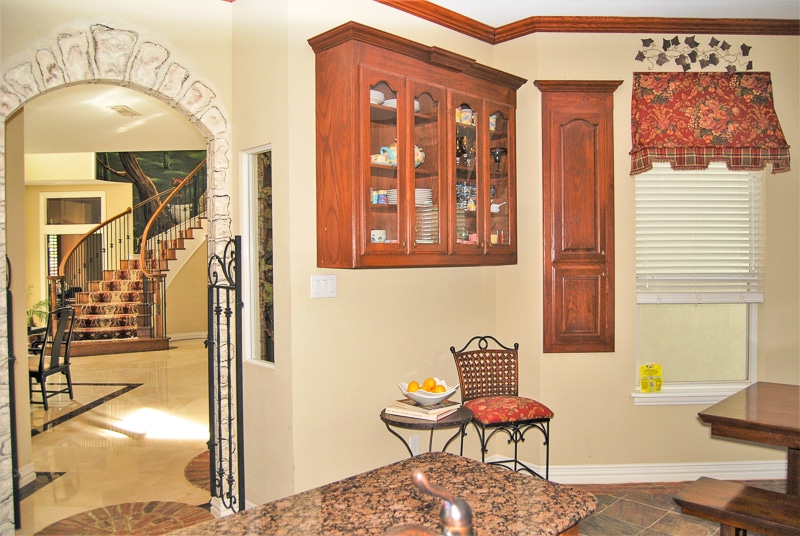 So much strangeness we don't have time for because we want to get onto the makeover right? But here's a shortlist of a bit more bizarreness:
Beside the breakfast nook, there was a floating cabinet on the wall with nothing below.
Between that and the window was a cabinet that was about six inches deep and passed through to the outside.
Around the corner was an unexplainable window into the storage closet in the dining room.
There was no pantry so all food had to be kept in the few existing cabinets.
Add on top of that a poorly executed and dated French country theme, complete with curtains over open shelving and fake ivy on the light fixtures and tacked to the walls. 😱
Oh, and check out that faux cobblestone and wrought iron gate entry!
The kitchen makeover.
Where oh where to start? Our mission was to make over this kitchen to fit seamlessly with the overall style of the house – classic, traditional, vintage-inspired, and full of warmth, charm and patina. We kept the floors… we loved the brick and we knew slate was user friendly, especially with lots of traffic and a pool.
We had to work within the confines of where the walls and windows were. But we were able to make the kitchen so much more efficient with all new cabinets in a new layout.
The big game changer was taking out the walls separating the kitchen and den. In order to do that, we had to put in a support header beam which took a big chunk of the budget but it was a must-do.
It's one of those things you would never know we spent a lot of money on, but it was the main thing that made both of these rooms work. It's one area now open to hang out, watch tv, eat, cook, and entertain.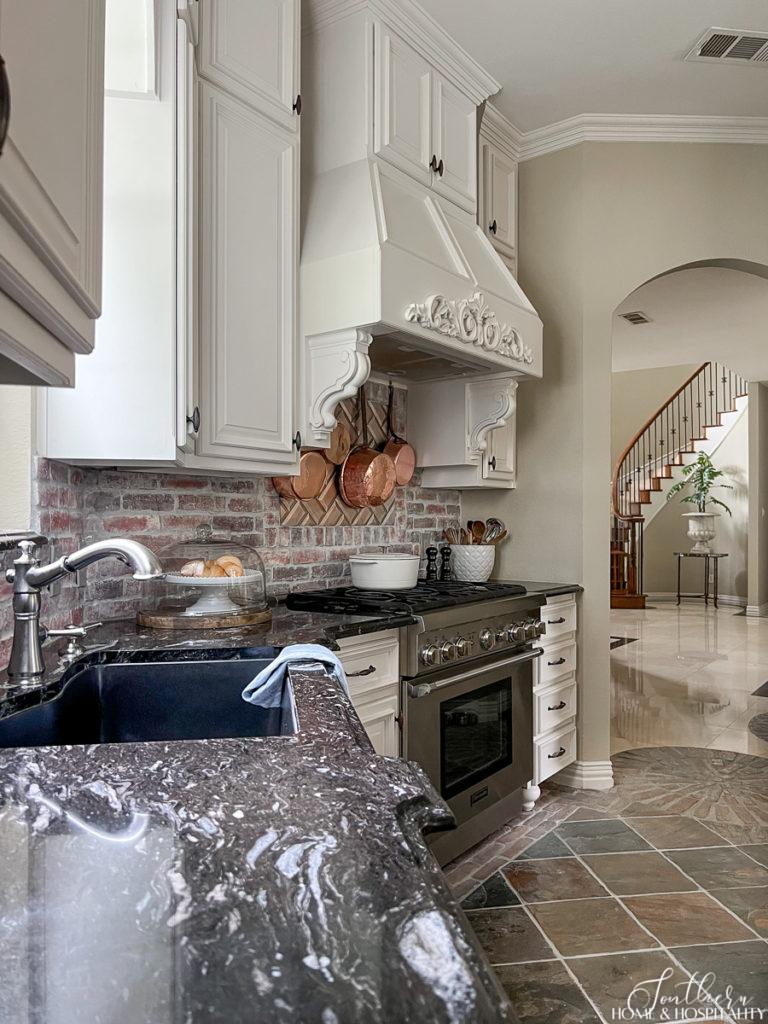 In our new cabinet layout we switched the placement of the refrigerator and the range. We went with classic cabinet doors with extra molding. Not the current shaker style favorite, but we went with what we liked and what fit better in this home and this traditional style.
The island is the star of this room. We designed it to look like a piece of furniture with its stained wood, ornate "legs", lattice doors, and even vintage-inspired furniture pulls.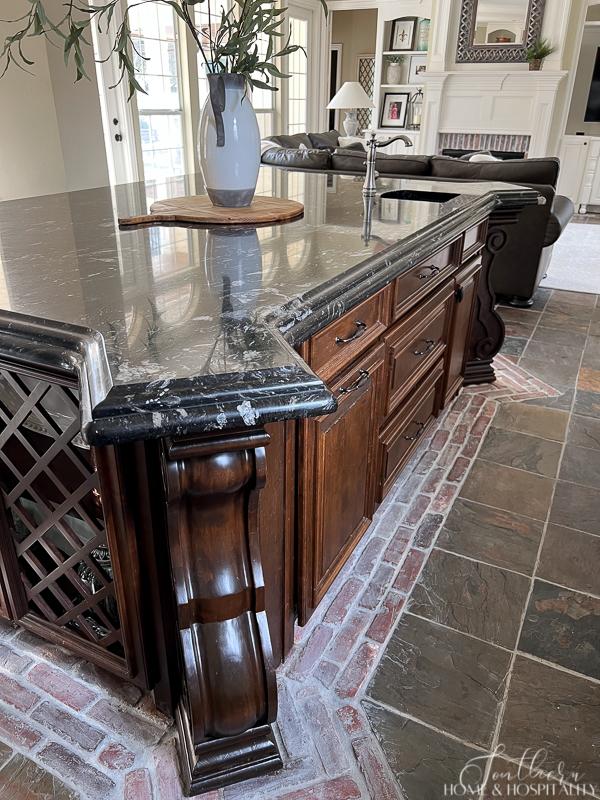 But it's not only the star for looks. It contains most of our counter space and has a ton of storage. We put shallow cabinets on the front side of the bar stool inset. No space was left behind.
The island also has the pull out trash cabinet and deep pot drawers that I've always wanted.🥰
It was also designed so that barstools could be mostly pushed up under in the inset since this is a big gathering place when we entertain and to keep the walkway clear. Each end also gives me a place to display some accessories – yipee!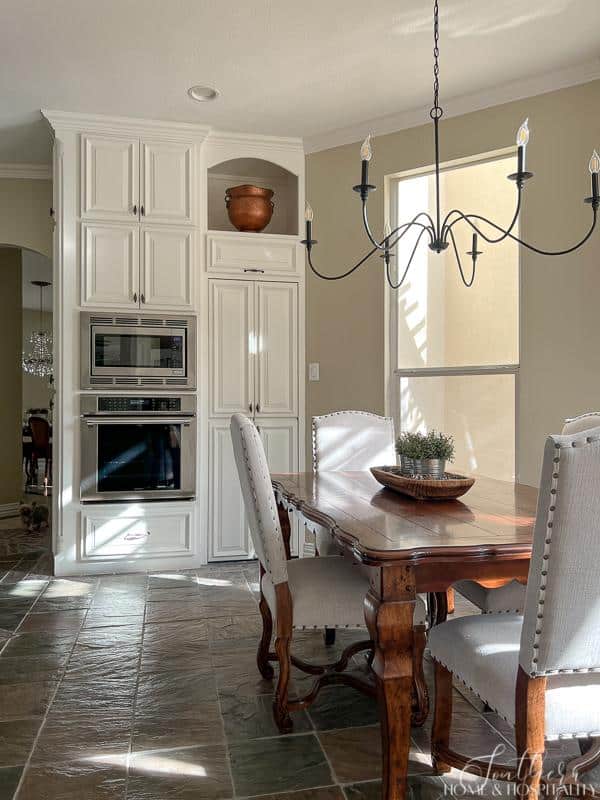 We added a pantry using the mystery storage space from the dining room. I'll share pictures of the pantry in a later post (as soon as I get it straightened up enough to be photo ready). But you can see what we did with the awkward opening in the dining room in our living room/dining room makeover.
We added a set of cabinets alongside the pantry doors and located the microwave and a second oven here.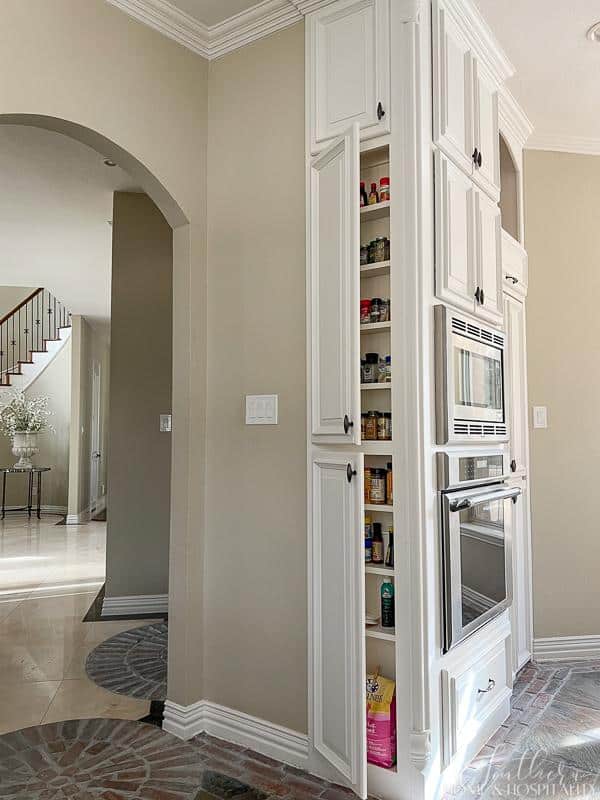 Again, no space was left behind here either. We made a shallow cabinet on the side using empty wall space beside the oven that's perfect to hold spices.
The choices for materials for the kitchen were determined by the mission I mentioned earlier – colors and materials that flowed with the rest of the house and were classic, vintage-inspired, and full of warmth, charm, and patina.
To accomplish this we brought in brick, wood, copper, iron, and a classic marble-patterned soft black granite.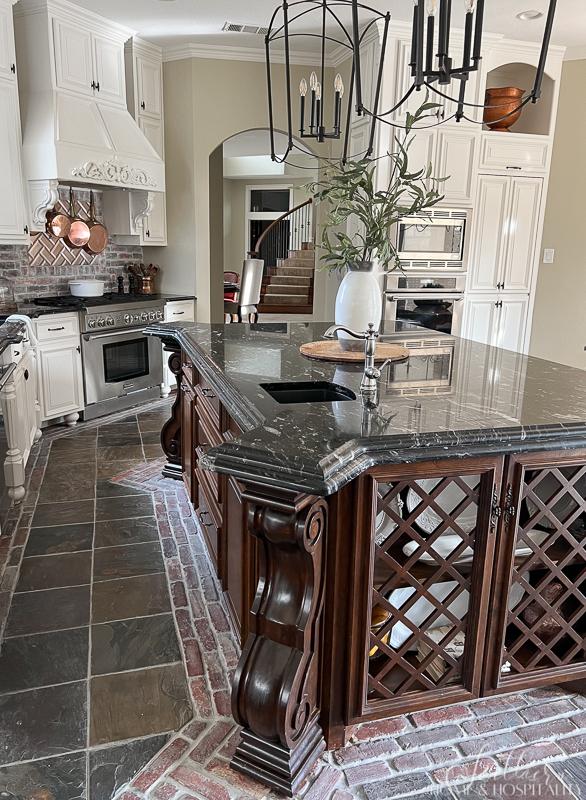 One of the things we loved and kept was this brick floor around the perimeter of the room. The rustic brick is reminiscent for me of homes in Louisiana so it holds a special place in my heart.
Unfortunately, a lot of it was coated with a yellowed varnish. We've mostly removed it with elbow grease and grout renew. We refreshed what was there and copied it around the new island. The brick also went onto the backsplash.
The granite we chose is called Titanium. It looks like a black marble with its white and tan veining. We get the durability of granite but the classic look of marble or soapstone! It was the perfect complement to the black marble in adjoining rooms but also meshes well with the rustic brown slate.
I gave up a few inches of counter to make Mr. SH&H happy with the big kahuna refrigerator. I thought it was going to be too big but of course, I probably use the space in that more than that missing counter (yes, I had to admit to him he was right).
And the fluorescent light boxes were replaced with oversized black iron pendants and more timeless recessed lighting.
Our faucets are vintage-inspired as well, and the main sink faucet has the modern convenience of the pull out sprayer.
I highly recommend a granite composite sink if you are ever debating sink material. Y'all, this sink is so user friendly! It is never scratched, chipped, spotted, or noisy. We did the 60/40 split with the low separator so I can fill the whole thing when needed or use the smaller half to air dry dishes. I passed on a farm sink as pretty as they are, because I can't stand to leave my dishes on the counter to dry (I'm a tad OCD about clutter on the counters).
And it may seem like a small thing, but one of my kitchen wish list items before we moved was a window over the sink, so it definitely stayed!
We built the cabinets up to the ceiling to enlarge the room visually and for extra storage. But because it is ME, I needed that little extra room to decorate so we worked in two niches into the cabinet plan just for that purpose.
The breakfast nook itself stayed the same except for a new black iron chandelier (no ivy creeping anywhere in the remodeled kitchen.)
---
As any of you that have done a kitchen remodel know, being kitchen-less is a dusty, stressful ordeal with problems popping up constantly. Going back through these before photos and looking at where our kitchen is now makes me appreciate it even more!
Cooking and hanging out with friends and family around this island brings me so much joy! And I think we accomplished exactly what we set out to do. I'm so glad we kept to our vision and made this kitchen unique and our own – full of character and warmth.
Make sure and check out the story of how we came to buy our home.
I hope you enjoyed seeing our Modern French Country kitchen transformation. I'll be showing before and after photos of many of the other rooms in future posts so please come back to visit again!

As always, I appreciate your visit, comments, and shares here on the blog! I'd love it if you also follow along with me on Pinterest, Instagram, and Facebook so you won't miss any of my inspiration and ideas.
Don't forget to sign up for updates to keep in touch…I have lots of fun and useful freebies you may be interested in in my subscriber-only library like my cheat sheets for where to place lighting, bathroom fixtures, artwork, and furniture!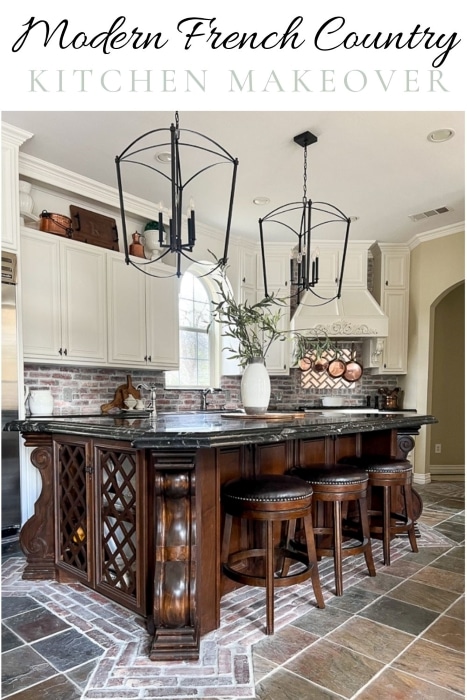 ---