Cozy and Clean January Decorating Ideas
Inside: How to decorate for January to make your own home feel like a cozy, clean winter sanctuary with just a few simple touches to add warmth in the winter months! ➡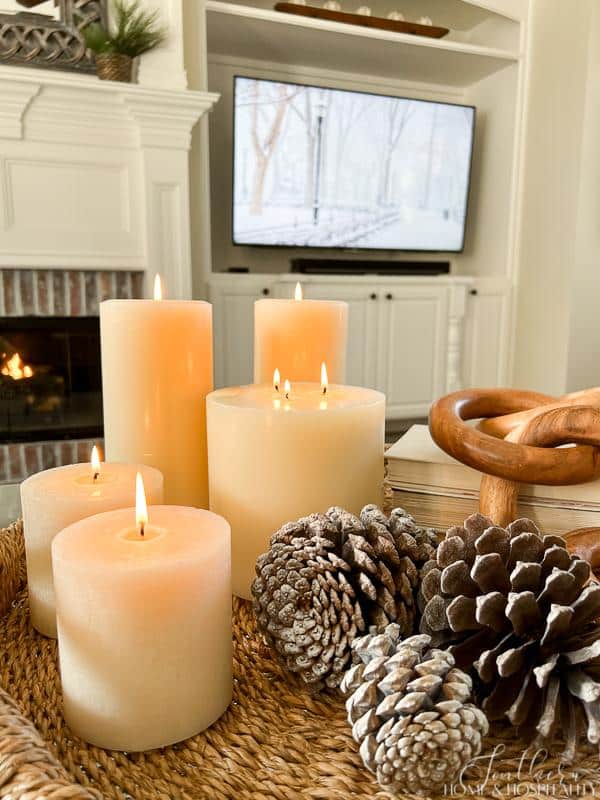 ---
"January Decorating" is not a term you hear very often.
It's like the middle child of the holiday and spring family that gets less attention than its siblings.
And after our homes are dressed up to the nines during the holidays, the rooms just kind of want to hang out in their PJs and relax this month, right?
Just in case you were going to skip over January because you are tired of decorating from the holidays, I'd like to make a case for what January decorating is really all about.
I'll show you how I used just a few winter decorating ideas to make my house a cozy, clean winter sanctuary for us to hunker down in and recharge.
This post contains Amazon and other affiliate links for your convenience. As an Amazon Associate I earn from qualifying purchases. If you purchase something through any link, I may receive a small commission, at no extra charge to you. I only recommend products that I love or would purchase for myself. See my full disclosure here.
I like to soak in what's special about each and every time of year and January is no different. It's finally cold outside, so our focus is spending more time inside staying warm, and recharging from the holiday busyness. I've finally gotten all of my holiday finery boxed up, and the house just feels more peaceful.
Instead of the abundant, colorful holiday explosion of Christmas decorations all around, January is a time for reflection and recharging. For comfort and coziness. And for calm and clean.
Simply removing all of the holiday decorations left lots of wonderfully empty and calming space. And somewhat of a blank slate.
In the kitchen, I left a lot of empty, clean counter space. I softened things up some with neutral greenery in this rustic white vase.
And added some warmth with a copper bowl full of snow dusted pinecones.
I filled the breakfast table dough bowl with a couple of faux Ikea rosemary plants and frosted small pine cones.
I made the adjoining family room cozy with a few simple changes, ready to snug in and watch tv.
One of the easiest ways to make the sofa ready for snuggling is with throw pillows in warm cuddly textures – cable-knit sweater, fur, and minky snow leopard.
And of course, a cozy throw or two to curl up under.
The flicker of candlelight and a fire in the fireplace are always a great way to set the peaceful, warm mood for winter in the family room.
I replaced the tray of sparkly Christmas baubles on the coffee table with this round wicker tray filled with warm texture.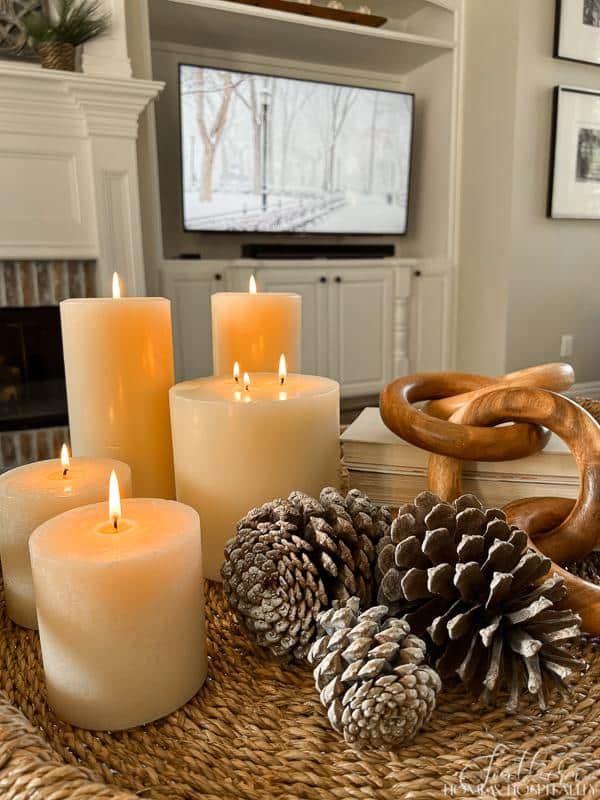 I created the cozy look for this winter coffee table vignette by gathering lots of ivory white candles from my stash – no candle holders required.
I filled the tray in with more frosty pinecones and warm wood chain link decor on top of a stack of books for even more cozy texture.
SH&H Tip: A stack of light, neutral books is a great element to include in any coffee table vignette. You can see the DIY unbound book bundles I made here that make excellent decorating tools!
I placed a simple woven basket of faux pine on the mantel, keeping it unfussy and mostly bare, with a small nod to winter.
The hutch also has a few natural elements with a little bit of winter pine and bleached pinecones, after I stripped away all of the Santas from Christmas. Adding a touch of the season over the usual white dishes is one of my favorite ways to decorate this heirloom hutch for the holidays.
In the living room, the Christmas tree as well as the garland filling the mantel are gone, immediately making our home feel cleaner and calmer.
And I added only two cozy winter decorations in here.
I miss the magic of the twinkle lights at night, so a strand of battery-operated fairy lights in a simple winter coffee table vignette was an easy way to keep it going. I love its soft glow under the faux flake snow.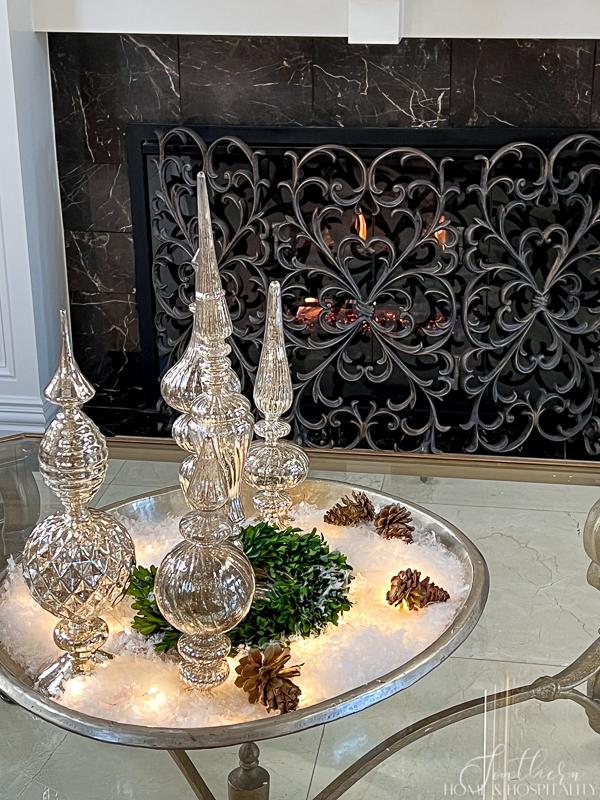 This is my favorite room to read in, and the lights and a fire in the fireplace really soothe my soul as I sit in here with a good book or a stack of decorating magazines. The only other winter decoration needed was this faux fur throw for me and my dog to cozy in under during the cold weather.
The garlands are gone from the banister, which for some reason is usually what feels the emptiest when I take them away, but I also welcome the cleaner look here! Since I add lots of warm whites for winter, I've gone ahead and put white flowers into the foyer urn that can stay through spring.
The dining room sideboard is back to its French look:
And I created a January Winter Wonderland tablescape, based on things I left in place from the red and white Christmas tablescape.
More winter pine and greens, and warm white berries replace the red roses from the holiday season.
---

I hope these winter decor ideas inspire you to make your own home cozy so that you can appreciate all of the restorative joys of this time of the year!

As always, I appreciate your visit, comments, and shares here on the blog! I'd love it if you also follow along with me on Pinterest, Instagram, and Facebook so you won't miss any of my inspiration and ideas.
Don't forget to sign up for updates to keep in touch…I have lots of fun and useful freebies you may be interested in in my subscriber-only library like my cheat sheets for where to place lighting, bathroom fixtures, artwork, and furniture!