Inside: Ten ways to decorate during that awkward time between seasons, or when you simply want a break from changing decor for every holiday on the calendar. ➡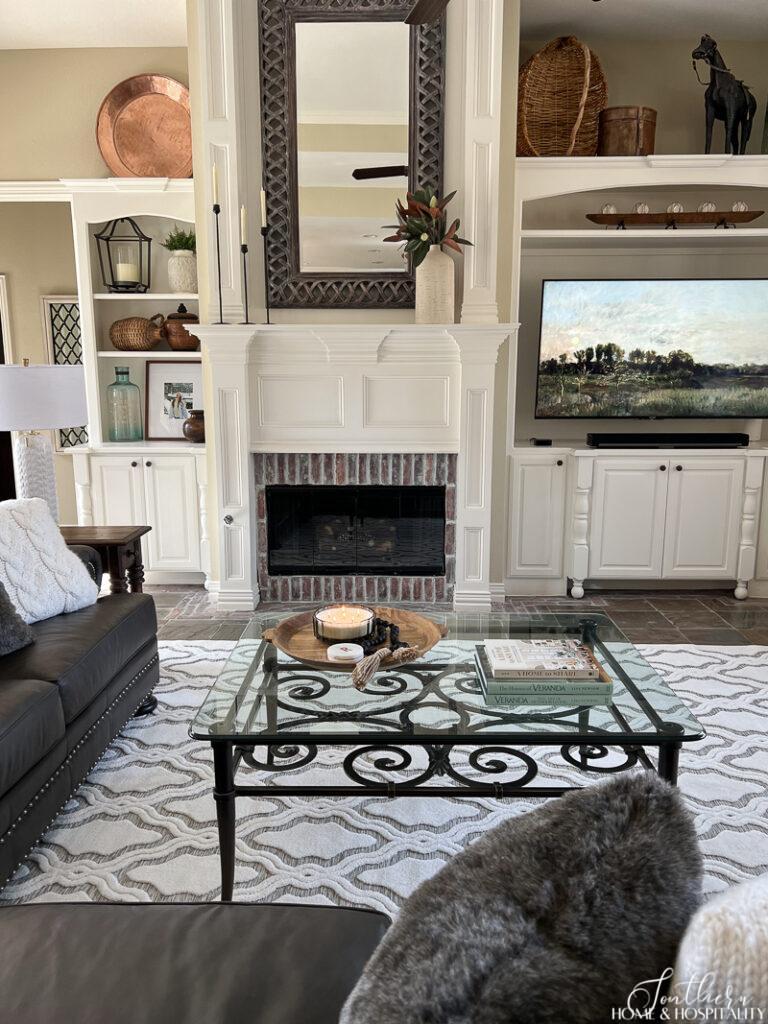 ---
The cute and clever seasonal decorating ideas are constantly coming at us. For Christmas. For Halloween. For spring. All the way down to St. Patricks Day and Cinco de Mayo. There always seems to be another holiday, another season coming on the heels of the last. But what if you don't like in-your-face-themed decor? Or it's too early to break out the bunnies? Or maybe you just want a decorating break altogether?
Obviously, I love decorating and holidays – it's a big focus of my blog. But honestly, I welcome those times in between as a fresh change. A time to recharge and get ready for the next big decorating season.
There are a couple of times each year that I always feel like it's a little too early to decorate for the next season. Pumpkins in the time between late summer and early fall feel out of place before the season changes (although as bloggers we must fall the halls early). The other is where I am right now, the time between the holiday season and early spring.
How can we celebrate the "in-between" without decorating for the next thing?
Here are ten ways to decorate after Christmas that I'm using that aren't season specific. That keep my home feeling cozy and inviting instead of bare and lifeless with the somewhat jarring removal of all seasonal elements.
This post contains Amazon and other affiliate links for your convenience. As an Amazon Associate I earn from qualifying purchases. If you purchase something through any link, I may receive a small commission, at no extra charge to you. I only recommend products that I love or would purchase for myself. See my full disclosure here.
Clear the room and let it breathe.
The first order of business is to remove all of the previous holiday or season's decor. After months of fall leaves, pumpkins, turkeys, and Christmas season regalia, my house is now decorated for the "nonseason". It's neutral and au naturel.
And I am here for it.
The red and green Christmas decorations are gone. And I've replaced them with an ever classic black and ivory color combination in the living room and dining room. Until the next tablescape, the dining table holds a couple of simple white ginger jars.
The holiday decorations are packed up and put away in the family room as well. While they bring us the joy of Christmas, my entire home just feels cleaner after it's gone. That's not the only fresh look in the family room – can you spot the other difference in here?
New year, new rug! The price for this area rug was quite reasonable, especially on Black Friday. And I'm supposed to be able to hose it off outside when it gets dirty. We shall see – I don't invest in expensive rugs because my little angel fur baby is not an angel all of the time.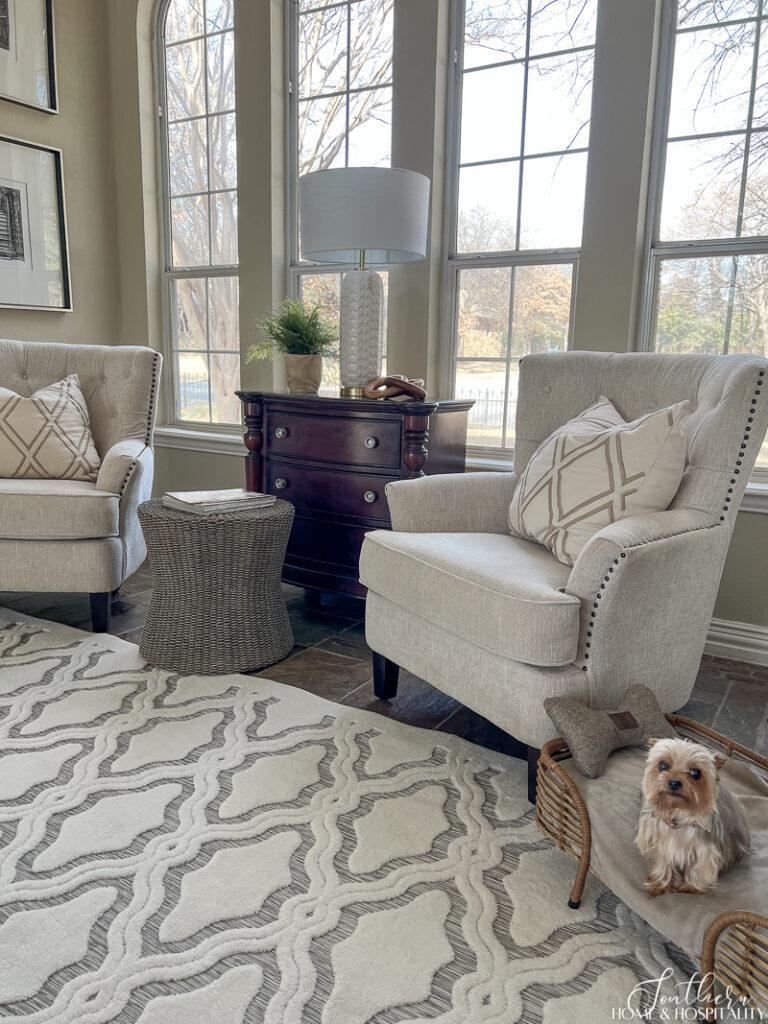 Use a neutral color scheme.
Every season and holiday has a certain color combination that makes it immediately identifiable. So neutral colors are a great way to stay seasonless! Plus a neutral color palette makes it easy to add a pop of color whenever I want as the seasons change.
Decorate with greenery.
A little greenery always brings life to a space, especially when it needs a pick me up after being filled with holiday decorations. Winter greens are still appropriate, but can seem a bit Christmassy. I'm usually ok with them in January, but feel like they have to go by February.
The same goes for that time right before fall decorating. I'll use a lot of flowers in my spring and summer decor, but by the time school starts again, they don't feel quite right anymore.
These faux branches from Amazon on the kitchen island are one of my easy go-to greenery stems that look good any time of year and just about anywhere.
And I don't have to worry about remembering to water this potted plant in the foyer – it's a faux find from Ikea.
I even tucked a tiny preserved boxwood topiary under this cloche on this marble dish on the kitchen counter.
Use versatile pillows and throw blankets.
Changing throw pillows and pillow covers may be the easiest way to makeover a room. I left the furry white throw and replaced all the Christmas pillows with black and white geometric ones from my pillow hoard (it's getting bad y'all).
I did pull out cozier texture pillows for the family room for the winter months. The ivory cable-knit pillows are still there from the holidays. And I replaced the red velvet with gray fur and the holiday plaid with a plush snow leopard animal print pillow.
This simple change instantly makes the family room much more peaceful!
Rustic pottery.
Rustic pottery bowls, vases, and urns with organic aged looks are super on trend the last few years. So I placed a simple large garden pot on the kitchen table:
White dishes.
Did you know I have a whole post on all the reasons white dishes are the perfect decorating accessory? In the family room hutch, I removed the Santa decor and added just a couple of preserved boxwood topiaries.
Decorate with fruit.
A bowl of fruit is simple and unfussy. Lemons, pears, and green apples are an all seasonal fruit and bring a nice brightness to dull, flat winter decor.
Make seasonal touches less overt.
This January I actually did include a couple of nods to winter. You might not even recognize them as seasonal items until I point them out. First, it was the pillows:
And I always like to put a new photo in the frame on the family room bookshelf. This winter it's one of my kids catching snowflakes on her tongue:💗
And the faux paperwhites I pulled out to decorate the sideboard in the dining room:
Books.
When we aren't busy with holiday shopping, cooking, and gathering, we have more time to read and reflect. Add a stack of books you want to curl up with to the coffee table. Or flip through inspirational coffee table books.
Fresh flowers.
A bouquet of fresh blossoms from the grocery store freshens any room and fills in nicely for the missing seasonal decorations.
Want more budget friendly tips for seasonless decorating? Read "Truly Timeless Decorating: 8 Smart Choices That Never Go Out of Style" and "10 Ways to Decorate for Free Using What You Already Have".
Embrace simplicity of the in-between seasons.
Every January I think I'm going to miss the holiday decorations. But over the last several years, I've really come to appreciate the quietness of the rooms after it's all gone.
Even the front door is taking a break this January – I chose not to hang a seasonal wreath for winter. Or any January or February holidays coming our way.
Other seasonless home accessories you should have in your stash.
Along with all of the ideas I've used in my post-holiday decor, here are some more items that you might pull out of your home decor bins and closets:
Trays – wood, wicker, metal, and silver
Candle holders and lanterns
Candles – Pillar, taper, real, or flameless
Bowls, vases, and planters
Season-neutral dish towels
Decorative accents like wood bead garlands or wood ring chains
Natural elements like pine cones, branches, or balls of jute, rattan, or moss
Baskets
Decorative boxes
Personal collections
---
Decorating for every single season can make what's supposed to bring happiness into your home seem more like work. There's no rule that you have to keep up with the calendar or the weather. And who's going to store seventeen pinatas in the attic just waiting for their chance to shine for one day a year? (Ok, guilty😬).

As always, I appreciate your visit, comments, and shares here on the blog! I'd love it if you also follow along with me on Pinterest, Instagram, and Facebook so you won't miss any of my inspiration and ideas.
Don't forget to sign up for updates to keep in touch…I have lots of fun and useful freebies you may be interested in in my subscriber-only library like my cheat sheets for where to place lighting, bathroom fixtures, artwork, and furniture!
---