Easy No-Bake Eclair Cake: Plate-Licking Favorite of the Summer Potluck
Inside: A scrumptious, cool summer homemade dessert with graham cracker and cold vanilla custard layers, topped with chocolate frosting. This crowd favorite is so easy with only 5 steps and you don't even have to turn on the oven! ➡
The room was filled with delicious dishes.
But when all 20 out of 20 volunteer moms at the teacher luncheon were RAVING about one particular dessert (including me), that got my attention.
Taking a bite actually stopped all conversation dead in its tracks.
All you could hear was mmmmm. And omg.
And when I found out this dessert only had five ingredients AND there's no baking involved, I was even more excited.
I HAD to have this no bake eclair cake recipe.
And every single time I've made it, it brings that same reaction.
This post contains Amazon and other affiliate links for your convenience. As an Amazon Associate I earn from qualifying purchases. If you purchase something through any link, I may receive a small commission, at no extra charge to you. I only recommend products that I love or would purchase for myself. See my full disclosure here.
What is eclair cake?
No bake eclair cake is a flavor marriage made in heaven. Boston cream pie meets icebox cake. The flavors of a classic eclair. Soft, sweet, fluffy layers of graham crackers, vanilla pudding, and whipped cream, covered with chocolate.
Jump to Recipe
The only five simple ingredients you'll need.
1 Box of Graham crackers
2 3.4 oz. boxes of Jello instant vanilla pudding
8 oz. Cool Whip, thawed
1 tub of milk chocolate frosting
3 cups of milk
The six steps to Eclair Cake heaven.
Step 1: Put the vanilla instant pudding mix in a large bowl with three cups of cold milk and whisk it until it's almost firm.
Or you can use a hand mixer (it's faster but will splatter a bit)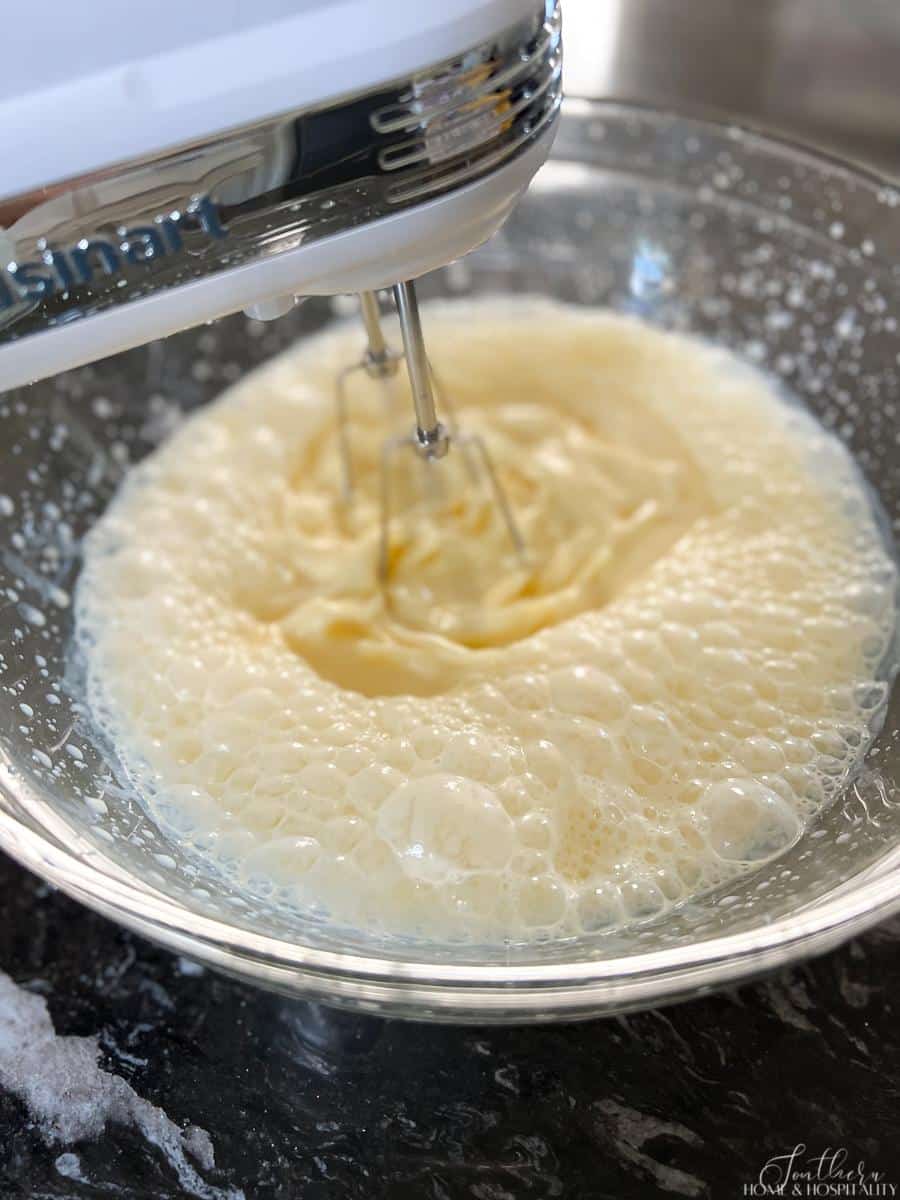 Step Two: Then stir or whisk in the whipped topping. (Make sure to set out the whipped topping beforehand to thaw so that it blends in evenly.)
Step Three: Next, line the bottom of the pan with a single layer of graham crackers. You'll probably have to break them up to completely cover the bottom.
Step Four: Spread half of the pudding mixture in an even layer over the graham crackers.
Step Five: Repeat the layers.
Place a second layer of graham crackers over the pudding layer. Spread the remaining pudding mixture over this graham cracker layer. Then top with a final layer of graham crackers.
Step Six: Remove the lid and aluminum foil top from the frosting container, microwave the frosting for 20-30 seconds, stir, and pour out over the top layer of graham crackers. Easiest chocolate ganache ever!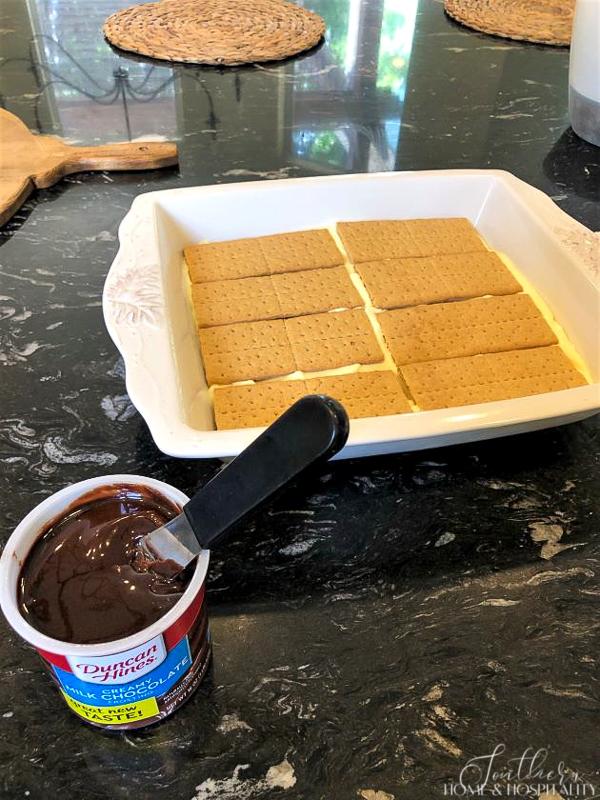 Spread the frosting evenly over the top to finish and the assembly is complete!
The waiting is the hardest part.
After your Eclair Cake is put together, cover the dish with plastic wrap leaving room over the top of the cake, and refrigerate overnight. This allows the graham crackers time to soften.
Don't cheat and cut it right away—it won't be the same!
The next day, slice it into squares and enjoy the cold, creamy deliciousness.
Eclair Cake FAQ's:
How do I store Eclair Cake?
This dessert needs to be stored in the fridge, covered with plastic wrap, foil, or other dish cover. It should keep for up to 5 days (if it lasts that long).
If you're planning on taking this dessert to a party, potluck, or the family reunion make sure you have a way to keep it cool.
Can I freeze Eclair Cake?
You can safely freeze eclair cake for up to three months sealed in an airtight container. Simply thaw it overnight in the fridge.
Can I serve this dessert right away if I really need to?
Again, that's a BIG no. You have to make eclair cake at least a day in advance. The chilling time allows the graham crackers to soften and the pudding to set.
What size pan should I use?
For best results, the pan shouldn't be too large and shallow. This is a layered dessert and you want to be able to see and taste lots of that yummy pudding mixture. A standard 9×13 casserole dish works well.
Can I use different flavors?
This recipe has so many flavor combination possibilities!
A few delicious options to kickstart your imagination:
Chocolate graham crackers with vanilla, french vanilla, or even chocolate pudding
Cheesecake pudding with strawberry frosting
Nilla wafers in place of graham crackers with banana instant pudding
Or add peanut butter for a Reese's flavor combo, like in this recipe by Kraft.
Do I have to use Cool Whip?
You can absolutely use fresh whipped cream if you prefer. I wouldn't recommend the stuff in a can, however.
Tips:
The graham crackers won't fit perfectly in the dish and that's no big deal. Simply break some to fit the best you can. It doesn't have to be pretty – you won't see the top of the graham cracker layers.
Make nice clean slices when serving by warming your knife in hot water and rinsing it in between cuts.
For a lighter, low calorie, low sugar version, substitute sugar-free pudding, skim milk, and Zero Sugar Cool Whip.
---
If you love simple, no bake recipes as much as I do, try my Almost Sugar Free Banana Pudding and Mason Jar No Bake Strawberry Cheesecake. You'll get rave reviews from your harshest family critics with these truly easy desserts!
This delicious, cool, and creamy dessert is no fuss and so easy. The hardest part is the wait.
Just be prepared to fork over the recipe wherever you take it.
Bon Appetit,

Before you go:
As always, I appreciate your visit, comments, and shares here on the blog! I'd love it if you also follow along with me on Pinterest, Instagram, and Facebook so you won't miss any of my inspiration and ideas.
Don't forget to sign up for updates to keep in touch.
If you're not already a member of the SH&H family, I'd love to have you join me! You'll not only get email updates, but you'll have exclusive access to all the bonus materials in my free subscriber-only library, like this:
---
Pin it to remember it!
If you've enjoyed this post, please pin and share this on Pinterest: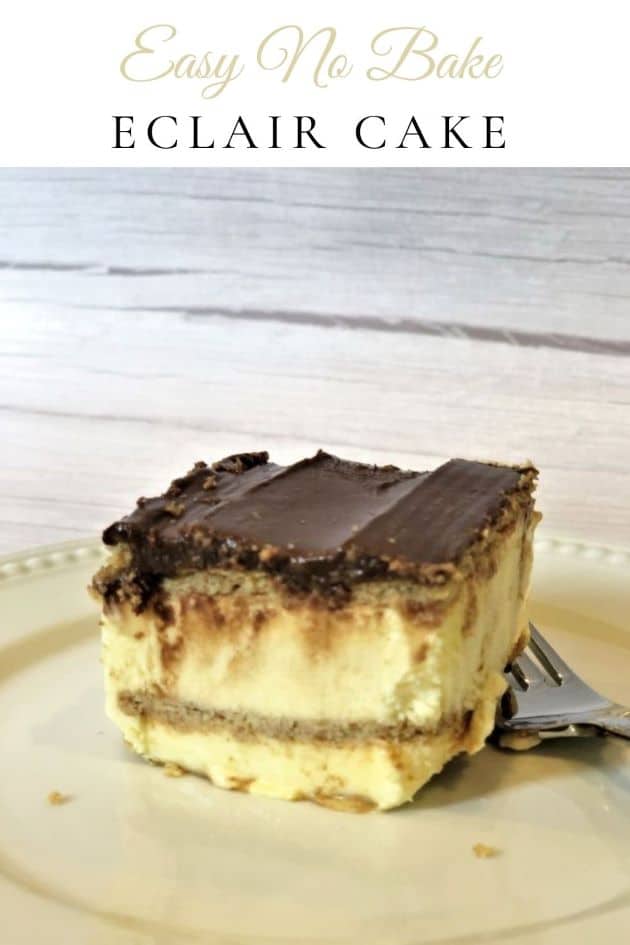 ---
Easy No Bake Eclair Cake
A scrumptious cool summer homemade dessert with graham cracker and cold vanilla custard layers, topped with chocolate frosting.. This crowd favorite is so easy with only 5 steps and you don't even have to turn on the oven!
Ingredients
1 Box Graham Crackers

2 Small Boxes (3.4 oz) Instant Vanilla Pudding

1 Tub (8 oz) Cool Whip, thawed

1 Container Milk Chocolate Cake Frosting

3 Cups Milk
Instructions
In a medium mixing bowl, whisk the vanilla pudding mix with 3 cups of cold milk until almost ready, about 1-2 minutes. It should be firm within 5 minutes.

Stir or whisk in thawed Cool Whip.

Line the bottom of a 9×13 dish with a layer of graham crackers. You will probably have to break into pieces to completely cover the bottom.

Add half of the pudding mixture over the graham crackers and spread evenly.

Lay another layer of graham crackers over the top of the pudding mixture.

Spread the remaining pudding mixture over this layer of graham crackers.

Add the final layer of graham crackers on top of the pudding mixture.

Remove the lid and aluminum foil top from the frosting container, microwave the frosting for 20-30 seconds, and stir.

Pour the frosting over the graham crackers and spread evenly.

Cover with plastic wrap and refrigerate overnight before serving. Don't be tempted to eat it the same day! The graham crackers need time to soften.

The next day, cut into squares and enjoy cold!