Best Ranch Cheese Ball Recipe: Hit of the Holiday Party
Inside: This Ranch Cheese Ball is always a real crowd pleaser for the holidays, for game day, or any occasion you need an easy make-ahead appetizer. Creamy, crunchy, full of cheddar and ranch flavor, and so fun to dress up – it'll be the talk of your next party!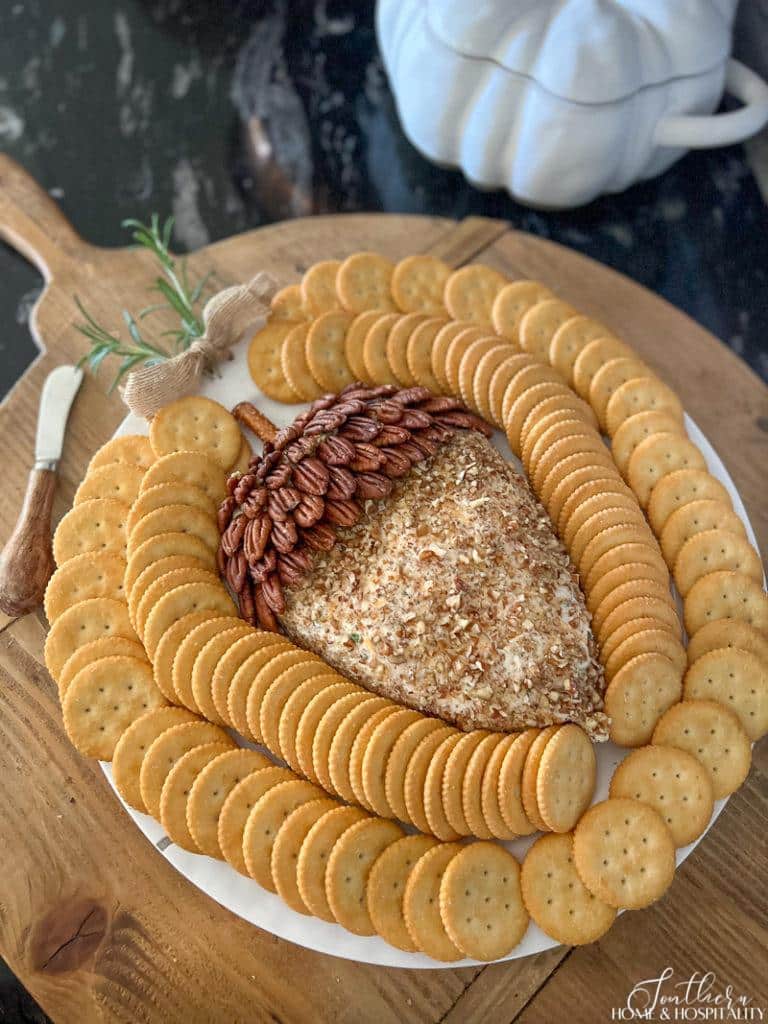 If I had to list everything I want in the ideal appetizer, it would look something like this:
Everyone would of course rave about how delicious it is.
It would look amazing. And cute. Maybe it would even tie into the theme of the event.
And I would accomplish both of these things with little effort or time on my part.
It sounds like I'm asking for the impossible, right? Well, the cheddar ranch cheese ball comes pretty darn close to the perfect appetizer.
Ranch Cheese Ball Ingredients.
Cream Cheese
Sharp Cheddar Cheese
Ranch Dressing Seasoning Mix Packet
Green Onions
Mayonnaise
Worcestershire Sauce
Pecans
See and print the recipe card for exact amounts at the bottom of this post.
Jump to Recipe
How to make a Cheddar Ranch Cheese Ball.
Before you start, bring the cream cheese to room temperature (it must be soft to be able to stir it).
Combine the cream cheese, shredded sharp cheddar, mayonnaise, Worcestershire, finely chopped green onions, and ranch dressing mix well in a large bowl.
Lay out a large piece of plastic wrap on a plate or on the counter.
Scrape all the cream cheese mixture out onto the plastic wrap with a rubber spatula.
Shape the mixture into a ball. (Or into another shape custom to the party theme.)
Then wrap the plastic wrap up over the cheese ball and refrigerate it overnight until the cheese ball mixture hardens. (Or at least 2-4 hours)
SH&H Tip: Dampen your hands with water first to prevent the mixture from sticking to them.
The next day or after the cream cheese mixture has firmed up, spread chopped pecans on a dish. Unwrap the cheese ball and roll in the pecans until the entire thing is evenly coated. You can press them in a bit to help them stay.
If you're making a shape other than a ball, sprinkle and press the pecans in over the top rather than rolling.
Place it on a serving dish and surround it with your favorite crackers. And boom – the perfect party appetizer!
How to make an acorn cheese ball.
Instead of forming a ball shape, shape the mixture into an acorn for a special fall twist.
After chilling the cheese mixture acorn shape to firm it up, coat it with the chopped pecans.
Cut a pretzel rod and stick it into the top to make an acorn stem. Mine kind of looked like a leaf at this point. But the acorn cap brings it all together.
Starting at the bottom of the cap, insert a line of whole pecan pieces pushing the top end into the cheese ball, and angling the pecan up.
Overlap the next row a bit and repeat until the top is covered.
And they're not just for looks. I even toasted the whole pecan pieces at 350 degrees for 8 minutes to make them even more delicious to eat.
What to serve with a cheese ball.
Crackers of any kind. Ritz crackers, saltines, herb crackers, seeded crackers, Wheat Thins, pretzel chips, and sea salt crackers to name a few.
Pretzel sticks, rods, or twists.
Breads. Spread the cheese ball on any good appetizer bread – crostini, baguette slices, toast rounds, or French bread.
Chips that are heavy duty enough to scoop the cheese ball with, like thick tortilla chips, Fritos, or pita chips.
Veggies. Go the healthy route by serving with carrots or celery sticks.
Cheese ball options.
The cheeseball is easy to adjust depending on the size crowd. This recipe calls for two blocks of cream cheese but to make a smaller ball reduce it to one block and lessen the other ingredients to taste.
I went for the quickest cheese ball, so this recipe is for a cheese ball without bacon. But to make a bacon ranch cheeseball, simply stir some chopped bacon into the cream cheese mixture before you chill and form the ball.
Add a little extra sprinkle of shredded cheese, chopped crispy bacon, and finely chopped green onion to the top before serving to add color to the presentation.
Make mini cheese balls for individual finger food servings. Serve them on a cracker or use a pretzel stick as the cocktail toothpick.
Cheese Ball Party Ideas.
This one will not only be a staple in your go-to appetizer recipes, it's so versatile and easy to give it a creative, fun look!
Form it into the shape of a football for game day or tailgating. Pipe on white laces with some sour cream.
Make it into the acorn for fall like I've done. Or a fall leaf with a pretzel stick stem. Or a round pumpkin with a bell pepper stem.
Make a Thanksgiving turkey cheeseball with a plume of pretzel sticks and a pretzel rod neck, candy corn beak, and candy eyes.
Make a pinecone cheese ball for a holiday party, covering the whole pine cone shape in pecans, almonds, or almond slices. Or create a round cheeseball ornament with a pretzel curl hanger.
Make a cute hedgehog cheeseball for a woodland theme baby shower or birthday party. Cover the body with almond slices, pecans, or pretzel sticks and add raisins or black olives for the eyes and mouth.
Can you make a cheese ball ahead of time?
This is a great make-ahead appetizer and can be prepped and chilled for up to 3 days in the refrigerator. Wait to apply the nuts until the day of, so they don't get soggy.
How long can you save homemade cheese balls?
Cheeseballs should be able to sit out for 2-3 hours during the event, and will keep in the fridge in plastic wrap or an airtight container for another week. This is dependent on how warm your gathering is. I would toss it after if it's been sitting out for a few hours at a hot tailgate party.
Is a ranch cheeseball gluten free?
Why, yes it is! My friend who is extremely allergic to gluten ate this with no problem with some gluten-free crackers, careful to take from the middle where the regular crackers hadn't touched.
Don't stress over hosting anymore! Leave the guesswork behind and welcome guests like a seasoned hostess with this ultimate guide of entertaining basics and essentials.
---
With few ingredients and no cooking, this savory cheese ball is super simple and always a huge hit. And can even be super cute if you think beyond the ball!

Before you go:
As always, I appreciate your visit, comments, and shares here on the blog! I'd love it if you also follow along with me on Pinterest, Instagram, Facebook, TikTok, and YouTube so you won't miss any of my inspiration and ideas.
Don't forget to sign up for updates to keep in touch.
If you're not already a member of the SH&H family, I'd love to have you join me! You'll not only get email updates, but you'll have exclusive access to all the bonus materials in my free subscriber-only library, like this:
---
Pin it to remember it!
If you've enjoyed this post, please pin and share this on Pinterest:
Ranch Cheese Ball
This Ranch Cheese Ball is always a real crowd pleaser for the holidays, for game day, or any occasion you need an easy make-ahead appetizer. Creamy, crunchy, full of cheddar flavor, and so fun to dress up – it'll be the talk of your next party!
Ingredients
16

oz

cream cheese (two 8 oz. blocks), room temperature

1 1/2

cups

shredded sharp cheddar cheese

6

tbsp

mayonnaise

1

tsp

Worcestershire sauce

1/4

cup

finely chopped green onions

1

packet

ranch dressing mix/seasoning

1/2

cup

chopped pecans
Instructions
In a large mixing bowl, combine softened cream cheese, shredded sharp cheddar cheese, chopped green onions, mayonnaise, Worcestershire sauce, and the contents of the ranch seasoning packet.

After mixing well, turn out the cream cheese mixture onto a large piece of plastic wrap with a rubber spatula.

Dampen hands with water and form the mixture into a ball or desired shape.

Fold the plastic up around the shape, wrapping it up.

Place it in the refrigerator and chill for at least 2-4 hours or overnight to firm up the cheese.

Spread chopped pecans on a plate plus optional topping like extra shredded cheese, chopped bacon, and chopped green onions.

Unwrap the chilled mixture and coat it in the chopped pecans, by rolling it or gently pressing the nuts on.

Serve on a platter with crackers and enjoy!
Recipe Notes
Cut back the amount of ranch mix if you like it less salty to 1 or 1 1/2 packets.