No More Dessert Guilt: (Almost) Sugar Free Southern Banana Pudding
Inside: The cool, creamy southern comfort of homemade banana pudding + dietary restrictions + little time = this low-sugar banana pudding recipe that is perfect for any summer potluck! ➡
Making your nephew's favorite dessert for his birthday is intimidating, especially when your status as favorite aunt is at stake.
And even more challenging when he's just been diagnosed as prediabetic. So I needed to figure out how to make each ingredient in his beloved "nanner puddin" as low in sugar as I could.
The result?
I created a big birthday hug in a bowl that he loved just as much as the full-on sugar version!
And even better, this Skinny Southern Banana Pudding is fast and no-bake. Make the instant pudding, mix in the sour cream and whipped topping, layer the bananas and vanilla wafers, set it in the fridge overnight and voila, you have a dish of dessert love!
Can I tell you how shocked I am that every single person in the family loved it? These people don't like their favorite foods tampered with in any way. And they don't hold back on their opinions of said foods. Doesn't matter how long you've slaved away on it. You're gonna know what they really think.
This one feels like SUCH a win.
This post contains Amazon and other affiliate links for your convenience. As an Amazon Associate I earn from qualifying purchases. If you purchase something through any link, I may receive a small commission, at no extra charge to you. I only recommend products that I love or would purchase for myself. See my full disclosure here.
Jump to Recipe
Ingredients for Low Sugar Banana Pudding
You'll need:
3-5 Bananas, sliced
Small box of Sugar Free Instant Banana Cream Pudding Mix
Small box of Sugar Free Instant Cheesecake Pudding Mix
4 cups Milk
2 Boxes of Sugar Free Vanilla Wafers (I used Voortman Bakery brand)
16 oz. container Sour Cream
Tub of Zero Sugar Cool Whip (thaw first if frozen)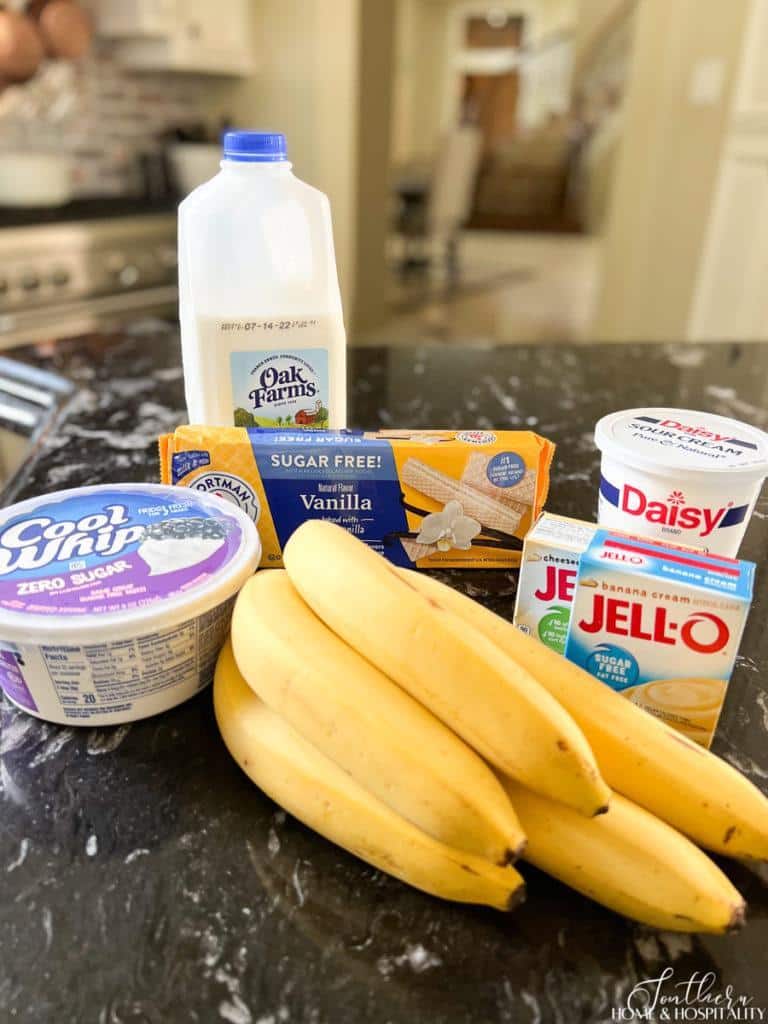 How to make low sugar banana pudding.
Step one.
Add both pudding mixes to a large mixing bowl and the amount of milk in the instructions for both packages. (It was four cups for my two small boxes). Mix according to the directions until smooth and thickened.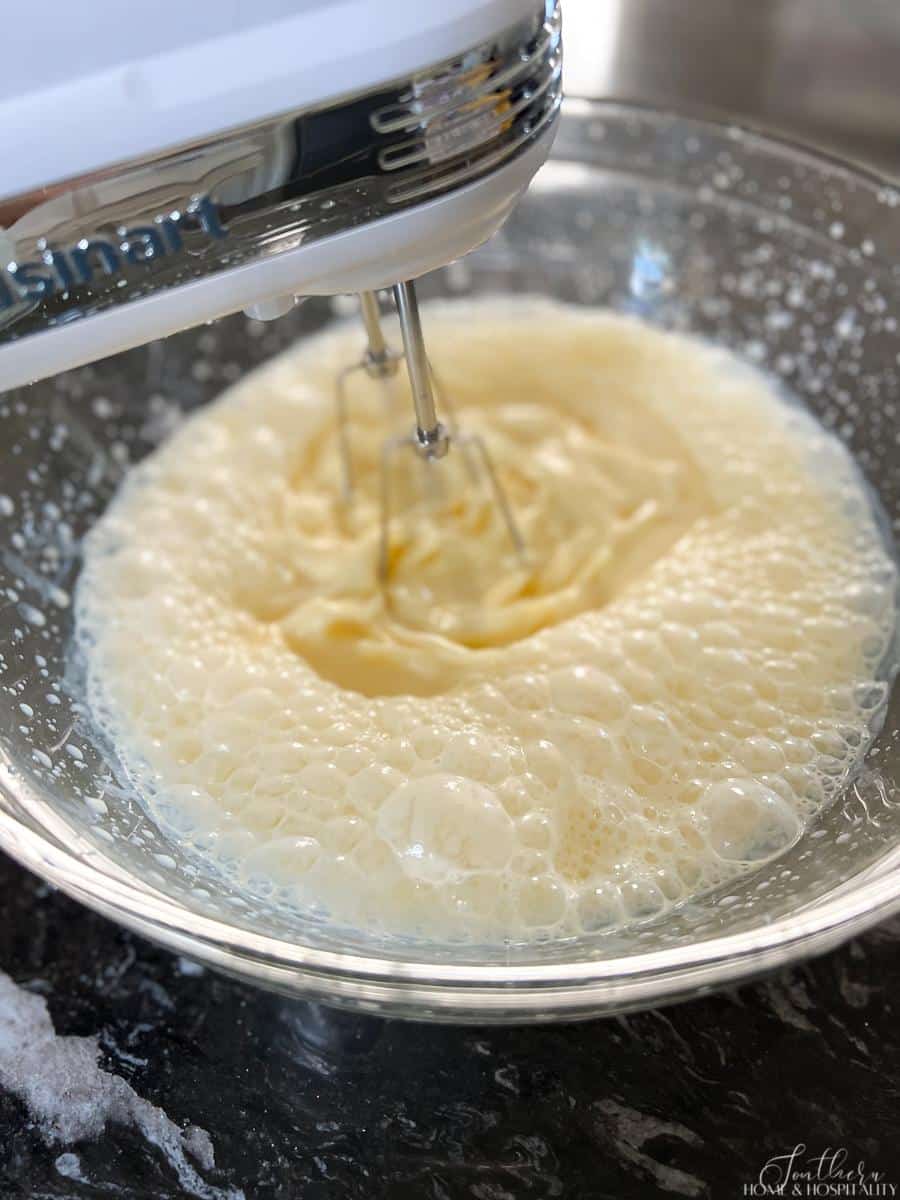 I like to use a hand mixer…it splatters a bit but so much faster!
Step two.
Fold in the sour cream and whipped topping.
(I chose sour cream for this recipe for a slight tangy layer of flavor and it's lower in sugar than using Greek yogurt)
Step three.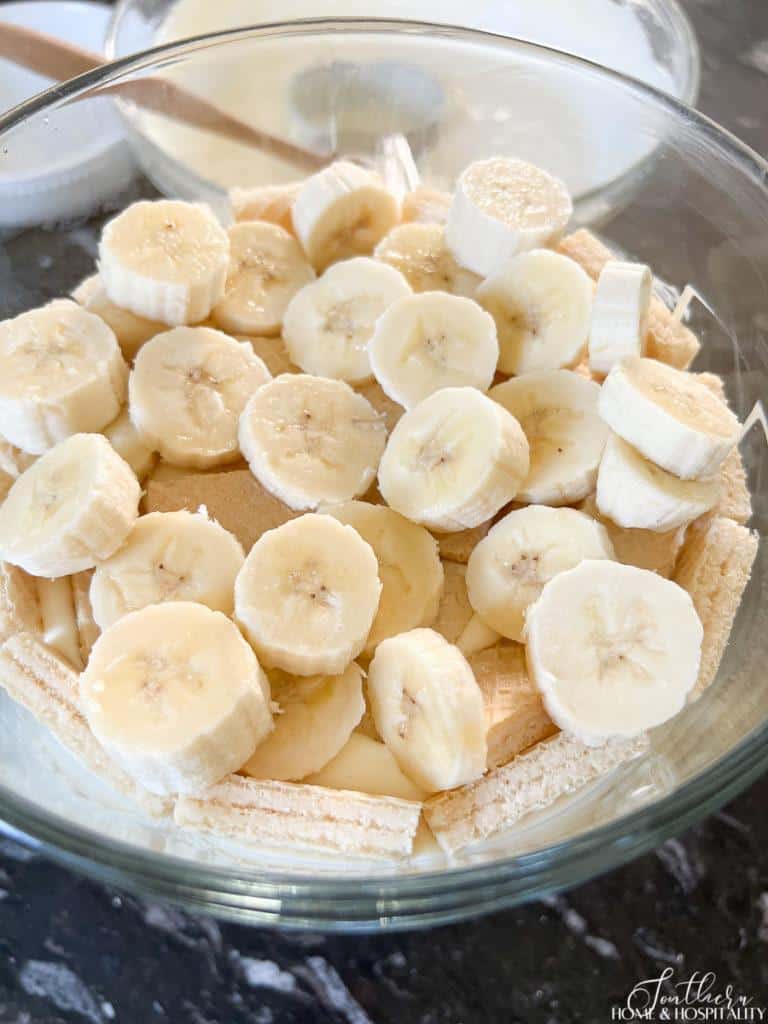 Line the bottom of a dish with wafers. You can use a large glass casserole pan, a pretty ceramic casserole dish, or a trifle dish to show off the layers. You can even layer it in individual serving bowls. Adjust the amounts to fit your dish…there's no magic ratio to the layers. It will taste yummy any way you layer it! Be generous because we are only doing two layers in this recipe.
I cut the long sugar free wafers that I used in half to make them easier to layer. Bonus points for the classic banana pudding look if you can find round sugar free vanilla wafers. I thought this change might totally turn off the family, but they liked this kind of cookie. It reminds me of the little wafer cookies we ate back in the 70s!
Then lay sliced banana pieces on top of the vanilla wafers.
Step four.
Spread half of the pudding mixture over the top of the wafers and bananas.
Step five.
Repeat a layer of cookies and bananas.
Finish the top with the remainder of the pudding mixture.
Step six.
Then it goes off to the fridge for at least three hours to firm up the pudding and make the cookies soft.
Presentation tips.
After the pudding has chilled and set in the refrigerator, garnish it with cookie pieces, crushed cookies, and sliced bananas.
If you'd like "pretty" layers in a glass dish, chill the pudding to let it set before layering. I care more about speed…you can see the loose pudding ran down between the cookies while it was soft, partially covering the layers…
Options for low sugar banana pudding.
Even less sugar.
My goal was to make this banana pudding as close to sugar-free as I could. But bananas have some sugar…no getting around that. But the "greener" the banana, the less sugar content. I also used regular milk which also contains sugar (there's a reason it's sometimes called "sweet milk".) With all of the milk options out there now, you may find one that has less or even no sugar that you like.
Keto and low-fat banana pudding options.
Watching carbs too? To lower the net carbs a bit, substitute plain Greek yogurt for the sour cream.
And to lower the fat, use skim milk, and low fat sour cream (or Greek yogurt).
Since you're watching your sugar, you might want to try my low sugar summer cocktail, Summer in a Cup here.
---
The recipe I thought would only say, "it's the effort that counts", I've now had to put in writing to go into the family favorites. And no matter how delicious this dessert is, it doesn't beat the feeling of making my nephew happy. Because when he's happy, his auntie is happy.

Before you go:
As always, I appreciate your visit, comments, and shares here on the blog! I'd love it if you also follow along with me on Pinterest, Instagram, and Facebook so you won't miss any of my inspiration and ideas.
Don't forget to sign up for updates to keep in touch.
If you're not already a member of the SH&H family, I'd love to have you join me! You'll not only get email updates, but you'll have exclusive access to all the bonus materials in my free subscriber-only library, like this:
---
Pin it to remember it!
If you've enjoyed this post, please pin and share this on Pinterest:
Skinny Low Sugar Southern Banana Pudding
The cool creamy southern comfort of homemade banana pudding + dietary restrictions + little time = this low-sugar banana pudding recipe that is perfect for any summer potluck!
Ingredients
1

small box of INSTANT SUGAR FREE banana cream pudding mix

1

small box of INSTANT SUGAR FREE cheesecake pudding mix

4

cups

cold milk

16

oz.

sour cream

3-5

bananas, sliced

1 8

oz.

tub of ZERO SUGAR Cool Whip,

thaw if frozen

2

boxes of SUGAR FREE vanilla wafer cookies,

if using wafer bars, cut in half
Instructions
Add both pudding mixes to a large mixing bowl with milk. Whisk by hand or mix on low with hand mixer until smooth and thickened. (about 5 minutes by hand, 2 1/2 hand mixer)

Fold sour cream and thawed whipped topping into pudding.

Line a large casserole dish or trifle dish with a generous amount of wafers.

Top the wafers with a generous amount of banana slices.

Spread half of the pudding mixture on top of the bananas.

Repeat a layer of wafers and bananas.

Top with the remaining pudding.

Chill in the refrigerator until the pudding is set, at least 3 hours.

Remove and garnish with cookies, crushed cookies, and fresh banana slices.