Short Cut Chicken and Sausage Gumbo: Quick Cajun Comfort Food
Inside: Want to warm up cold winter busy weeknights with a bowl of good Louisiana comfort food, but don't have the time to make gumbo from scratch? Enjoy Chicken and Sausage Gumbo faster with a few easy shortcuts! ➡
---
It's that time of year. It's cold and I'm in the mood to cook and hunker down inside. When the forecast predicts a cold snap in Texas, this Louisiana girl's first thought is gumbo before chili. And while I do love me some chili when it's cold, gumbo is a tradition and a favorite in our family.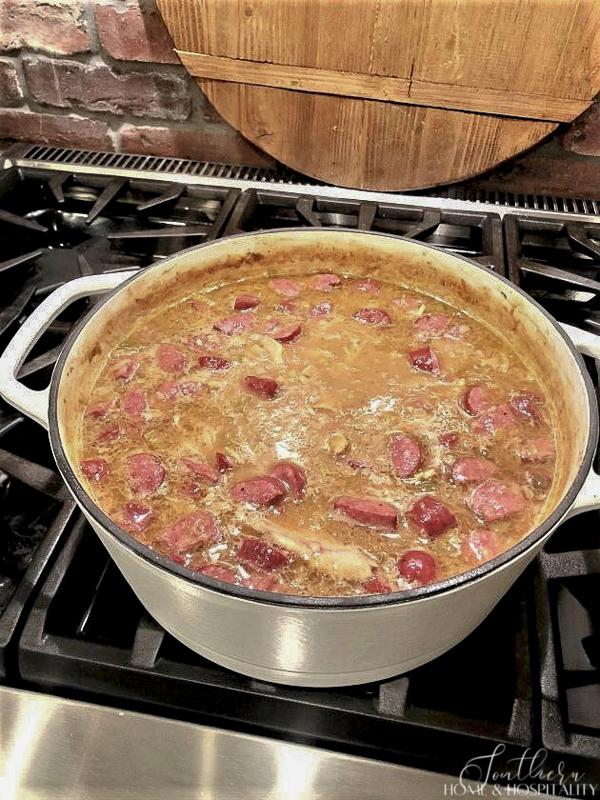 Realistically, I can't (ok don't want to) always spend all afternoon cooking. But I still crave home-cooked gumbo in the winter. So over the years, I've cut all the time corners that I possibly can, short of takeout. And happily I've found these shortcuts just as delicious as the traditional version that takes so much hands-on time!
Jump to Recipe
This post contains Amazon and other affiliate links for your convenience. As an Amazon Associate I earn from qualifying purchases. If you purchase something through any link, I may receive a small commission, at no extra charge to you. I only recommend products that I love or would purchase for myself. See my full disclosure here.
I have two main secrets to this quick and easy chicken sausage gumbo recipe:
1. Use premade roux.
Making a good roux from scratch is a labor of love. Stirring and babysitting it for 45 minutes to achieve a dark brown roux that's just the right color takes a lot of time and attention. A rich roux should be on the dark side of the color of chocolate, and if you take your eye off of it for a minute, it'll burn on you and you'll have to start all over.
Since roux is just flour browned in oil, I don't feel like this premade roux shortcut cheats the flavor at all! I'll take some grief from roux purists, but for me the ease is totally worth it. And as an added bonus, my house doesn't smell like roux, but just of delicious gumbo. Believe me, cooking a roux can really stink up the whole house for a while!
There are two kinds of premade roux – powdered roux and roux in a jar.
I prefer the jarred roux and I love this brand that's usually available in the grocery store where I live: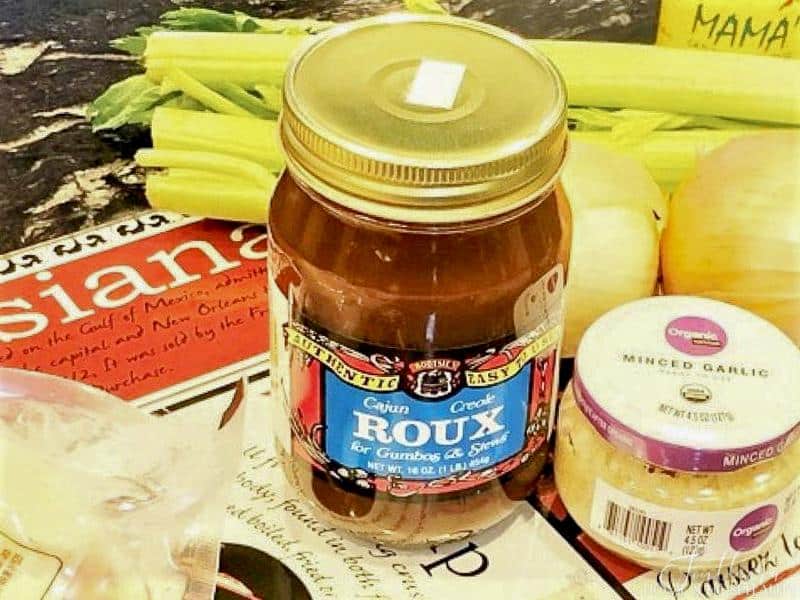 A whole jar makes a lot of gumbo – really two pots. I do have a couple of tips for working with roux in a jar (learned the hard way). It can be a bit of a challenge to get only part of it out because the oil separates from the flour.
It took me several frustrating attempts before I figured out I was wasting my time trying to mix it back together. You can simply pour off the oil and take out the amount of cooked flour you want with a fork. Break it up with the fork in a bowl before you add it then whisk it into hot liquid very slowly to make sure it dissolves.
You can also find powdered roux in your local store. I don't have a lot of experience with it, so let us know in the comments if there's a brand you love.
2. Use precooked rotisserie chicken.
The other huge timesaver in this easy gumbo recipe is to use precooked rotisserie chicken. You can also throw any leftover chicken you have in, but this gumbo recipe calls for quite a lot of meat so leftovers are usually not enough. My favorite source to use in this gumbo are these packages sold at Costco:
When I don't have the rotisserie chicken to use, I cook some chicken thighs or boneless skinless chicken breast in the crockpot the day before. Obviously, this takes longer but at least the crockpot does the work.
More shortcut options.
Here are a couple of other time-saving tips if you are trying to speed things along even further:
Use precut vegetables for your holy trinity of vegetables (onions, bell peppers, and celery). Grocery stores usually sell them in both their freezer section and the produce section. I personally prefer to chop my own if I have time so I can get the ratio I want and I have the option to use organic vegetables.
2. Since it's best to add hot liquid to the roux and cooked veggies to aid in dissolving the flour mixture, I boil a pot of the water in my electric tea kettle to add until the roux is dissolved and then I use room temperature water for the remainder. So much faster!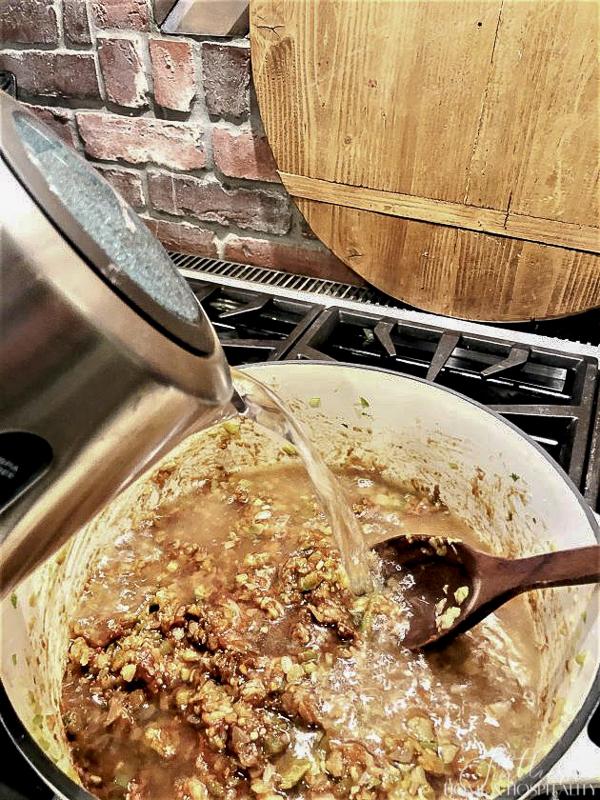 More gumbo cooking tips.
I've included the basic steps that I use to put together gumbo in the recipe card below with approximate measurements for ratios. I say approximate because I rarely measure everything exactly for this recipe and there is some leeway in the amount of spices and vegetables depending on the way you like it!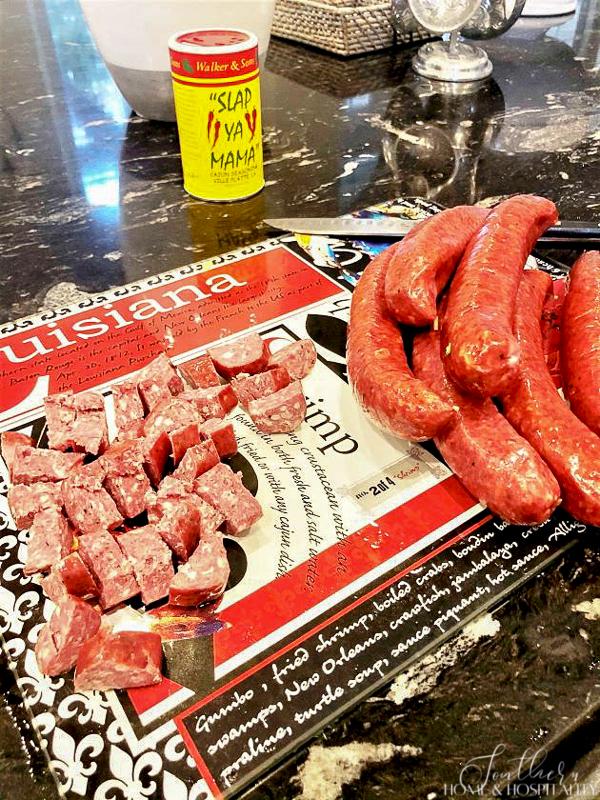 I find that using andouille sausage makes all the difference in good gumbo flavor and great gumbo flavor. With the shortcuts, most of the hands-on prep time goes into cutting up the sausage. I slice it lengthwise into either halves or quarters first and then cut those into pieces about 1/2″ thick.
I'm mindful of the salt because I add so much Cajun seasoning to get the flavor and spice level that I like, but this also keeps adding salt as well. I like to use "Slap Ya Mama" for my creole seasoning because I think it has a little less salt. But once I think it's salty enough but not spicy enough, I'll add only cayenne pepper after that.
We are in the "no okra" camp for our gumbo. People seem to fall into one or the other. I'm not opposed to filé powder (ground sassafras leaves) but I usually don't have any on hand so I don't typically use it in my gumbo.
Storage and reheating.
Store leftover gumbo in the refrigerator in an airtight container for 5-7 days. Or freeze the leftovers for up to six months.
If needed, add a little chicken broth or more water when reheating on the stovetop or in the microwave.
FAQ's about Chicken and Sausage Gumbo.
What is Gumbo?
Gumbo is a delicious soup/stew and is a staple of Cajun/Creole cuisine in Louisiana. Chicken and sausage gumbo is like a hearty, dark rich chicken soup.
What's the difference between chicken and sausage gumbo and seafood gumbo?
Chicken and Sausage gumbo is sometimes referred to as Cajun gumbo and is a brown roux based soup with chicken and sausage served over rice. Seafood or Creole gumbo includes tomatoes, seafood, and okra, and the rice is usually mixed into the soup.
What is the Holy Trinity in Louisiana cooking?
Louisiana's version of mirepoix is simply one part onion, one part green bell pepper, and one part celery.
What is a roux?
If you're new to Cajun cuisine or cooking, a roux is equal parts of flour and fat, used to thicken sauces and soups. Cooking the flour and fat together removes the raw flour taste, and helps avoid clumping when added to liquid.
Light and white roux is usually made with butter and has more thickening power for sauces (i.e. bechamel sauce). Dark roux uses oils that won't scorch as easily. It has less thickening power and is usually used in soups like gumbo.
You might also like this easy Boudin Dip and these shortcut Air Fryer Beignets.
---
I'd love to learn your time-saving hacks for gumbo – tell us in the comments if you have any different ones!
Bon Appetit Y'all,

As always, I appreciate your visit, comments, and shares here on the blog! I'd love it if you also follow along with me on Pinterest, Instagram, and Facebook so you won't miss any of my inspiration and ideas.
Don't forget to sign up for updates to keep in touch…I have lots of fun and useful freebies you may be interested in in my subscriber-only library like my cheat sheet for emergency spice and seasoning substitutions!
Short Cut Chicken and Sausage Gumbo
A delicious Chicken and Sausage Gumbo made easy with a few shortcuts. Warm up a cold winter night with this good Louisiana comfort food!
Ingredients
1

lb.

Beef Smoked Sausage or Andouille Sausage,

Cut into 1/2" halves or quarters

1/4

cup

Vegetable Oil

1 ½

cups

chopped Onion

½

cup

chopped Green Bell Pepper

½

cup

chopped Celery

3

cloves

minced Garlic

1/2

jar

Roux,

½ jar = 1 cup

2 ½-3

quarts

Boiling Water

see notes in post or below, add to desired thickness

2- 2½

lbs.

Rotisserie Chicken Pieces (from Costco if available),

cut or tear to desired size

3-4+

tbsp.

Cajun Seasoning,

Slap Ya Mama, Tony Cachere's, or your preferred cajun seasoning to taste

2

Bay Leaves

1

tbsp.

Worcestershire Sauce

½

tsp.

Dried Thyme

4

sliced Green Onions

Hot Cooked Rice
Instructions
Brown the sausage in a Dutch oven over medium heat. Remove and set aside on paper towels to drain.

Boil water in either an electric tea kettle or a separate pot on the stovetop. (see tip in the post above or notes below)

Add oil to a large pot and heat to medium. Add the onion, bell pepper, celery, and garlic. Saute until just tender, about 5 minutes.

Add half a jar of roux to the vegetables and stir together.

Gradually stir in boiling water to desired thickness. (see tip in the post above or notes below)

Add chicken, cajun seasoning, bay leaves, Worcestershire, and thyme according to the recipe and to your taste.

After the mixture heats on medium, turn it down to simmer uncovered for 45 minutes.

Add the sausage and green onions and cook for 15 more minutes.

Remove the bay leaves and serve over hot fluffy white rice.
Recipe Notes
If the sausage produces too much grease in the gumbo, let it sit for a few minutes, then skim a little off the top and discard.
You can also use chicken broth in place of some of the water. Just don't put it in an electric tea kettle.
The full 2 1/2-3 quarts of water does not have to be boiling, just enough to dissolve the roux. I usually boil one pot of water in my electric tea kettle to dissolve the roux and use room temperature water for the remainder.
Add more chicken flavor by substituting some of the water with chicken broth or chicken stock.