Green: The Perfect Popular Color to Refresh Red and White Christmas Decor
Inside: Red and green are classic Christmas, but with green being a hot trend this year, adding it to red and white is an easy way to refresh and invigorate holiday decor. Elegant red, green, and white Christmas ideas for the living room, dining room, and foyer!➡
Gorgeous green. It's always been one of my favorite colors. And it's so in this year I've been decorating with green accents every chance I get.
So when I was pondering what to change up this Christmas season, adding green was the easiest way to spruce up the tree (pun intended) and same old holiday decor.
Even though red and green are the traditional Christmas colors, green still feels fresh. And it was so easy to add this "haute" shade to my existing classic red and white.
I'm joining together with friends for the Bloggers Best Holiday Home Tour, hosted by Kelly at The Tattered Pew! Peek in 35 homes decked out for the holidays and full of creative ideas to inspire you (you can find all the links at the end of this post). If you've come from Libbie's cozy home from A Life Unfolding, welcome!
I'm so excited that the calendar has finally caught up with my house, which has been decorated for Christmas for about a month now. Let's take a little holiday house walk around the living room, dining room, and foyer, and I'll show you around!
This post contains Amazon and other affiliate links for your convenience. As an Amazon Associate I earn from qualifying purchases. If you purchase something through any link, I may receive a small commission, at no extra charge to you. I only recommend products that I love or would purchase for myself. See my full disclosure here.
Red, green, and white for the foyer and staircase.
The red and green color scheme starts right inside the front door. Our staircase is decked in boughs of garland:
I ran the garland on top of the banister rail for a different look this year instead of swagging it.
And paired the crimson red satin ribbon with olive velvet (you'll see lots more of this pretty green ribbon around the whole area).
I tucked some faux pine picks like the ones in the garland and sprigs of white berries around the cherub on the foyer table.
You can see how I made this skinny staircase garland full and lush here.
Red, green, and white in the holiday dining room.
Walking across to the dining room, you'll see more red, green, magnolia, and pine. (And a furry photo bomber peeking out of the kitchen. If you missed the comfy plaid Christmas tour of the kitchen and family room, you can see that here.)
This garland usually decorates one of the fireplace mantels but was repurposed as a centerpiece on the dining table. It's really two garlands, a long needle pine and a magnolia, wired together. I added a few magnolia picks that match the staircase garland and wound red velvet ribbon and white berries through it for a pop of red and white.
My favorite go-to brass candlesticks add drama, height, and candlelight to the dining table centerpiece.
And I'm a little obsessed with flameless candles. I can even set these tapers with moving flames to come on every evening (like the candle-lighting fairy comes without me lifting a finger).
The sideboard in the dining room is decorated with some gold mercury glass Christmas baubles, magnolia leaves, pine cones, and more green ribbon tied around a white and gold gift box.
I brought out green and white throw pillows for the extra chairs. And tied a bow of green chiffon and velvet ribbon onto the red berry wreath.
You can see the complete Christmas tablescape for this dining room on the blog Monday so come back and see me then!
Now let's stroll over to the living room:
Red, green, and white Christmas decorating ideas for the living room.
It's so simple to change the colors by season in this room with its neutral palette.
I brought back out the green velvet pillow covers (also used last summer in the blue and green living room).
Green velvet and red satin ribbon tied around a couple of mercury glass ornaments bring some holiday cheer to my grandmother's end table:
And a minky white blanket adds a cozy feel and texture to the back of the sofa.
Christmas coffee table decor.
My angel orchestra sits on the coffee table along with gold and white twig trees.
And traditional red velvet ribbon instantly transforms any decor like this boxwood topiary into a holiday decoration.
Christmas garland on the fireplace mantel.
Over on the fireplace mantel, I've layered three different faux garlands together and brought in more red, green, and white color with white berries.
And more red and green velvet ribbon tied at each end.
I love the simple elegance of velvet ribbon. And it was the easiest way to add green and red color throughout these rooms by tying a little here and there.
The angel on the shelves is also wearing a green velvet ribbon "stole":
And one of my favorite Santa photos stays on these shelves because it just brings me joy all year long:
Red, green, and white Christmas tree decor.
The best way to change the color scheme of the entire Christmas tree? With ribbon.
Instead of the crimson red from last year, I added this luxe green satin.
It's a beautiful, thick, good quality ribbon but sadly it's not wired. But I made it work for tree decorating by layering it on top of a wide champagne glitter ribbon to make my own custom Christmas ribbon!
I used just a tad of hot glue to keep it together. But I can pull it off to use the champagne ribbon again next year.
If I wanted to change this to a green and white tree, I'd really only have to remove the red ornaments.
To bring more of the Christmas color palette in, I loaded the tree with red, silver, and white ball ornaments and wrapped the bottom in a red and white tree skirt.
I didn't look for any green christmas tree decorations to add, because I felt like they would disappear against my green artificial tree. If I had a flocked Christmas tree in here however, it would be game on green!
I've always had Christmas tree toppers, so this "naked" look is a big departure for me. It's nice for a change, but you'll probably see one again here next holiday season:
Wrapping paper is another perfect way to bring in a color theme too. I found these beautiful, thick papers at Target. And these olive green and white stripes ended up coordinating with my green ribbons flawlessly – score!
The rest of the living room tree is filled in with sentimental Christmas ornaments that my family has collected over the years. And I point them out and tell the same stories that begin with, "remember this?" Every. Single. Year.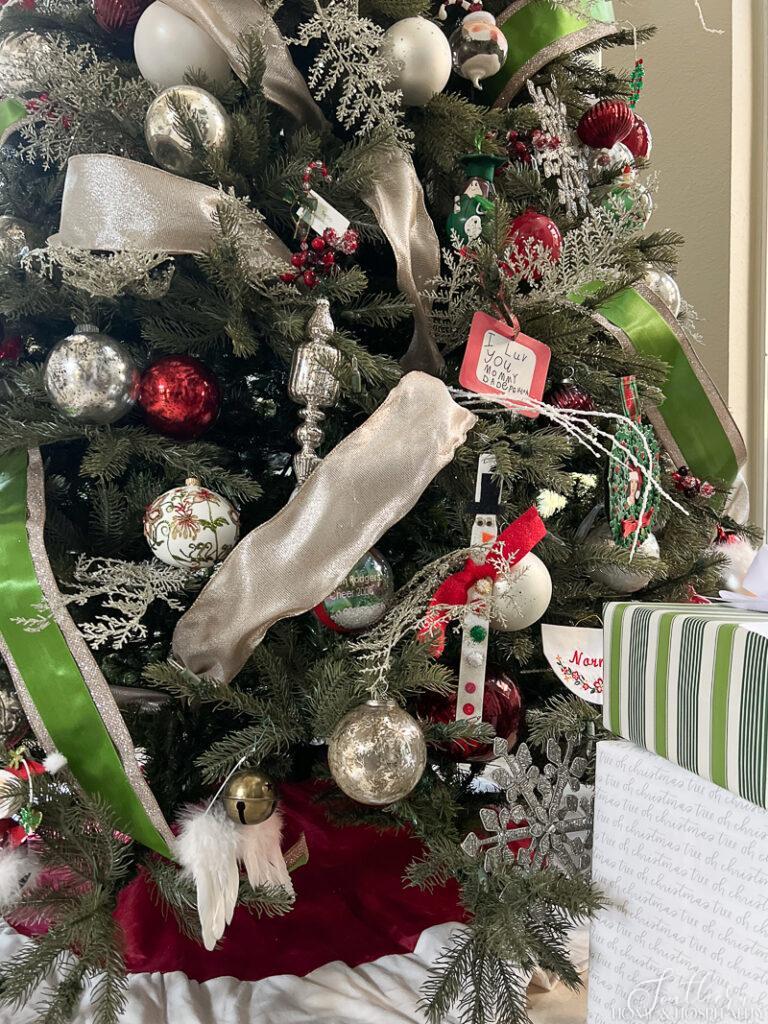 It's so peaceful to sit here by the tree at night after everything is done for the day with the Christmas lights and a little holiday music on.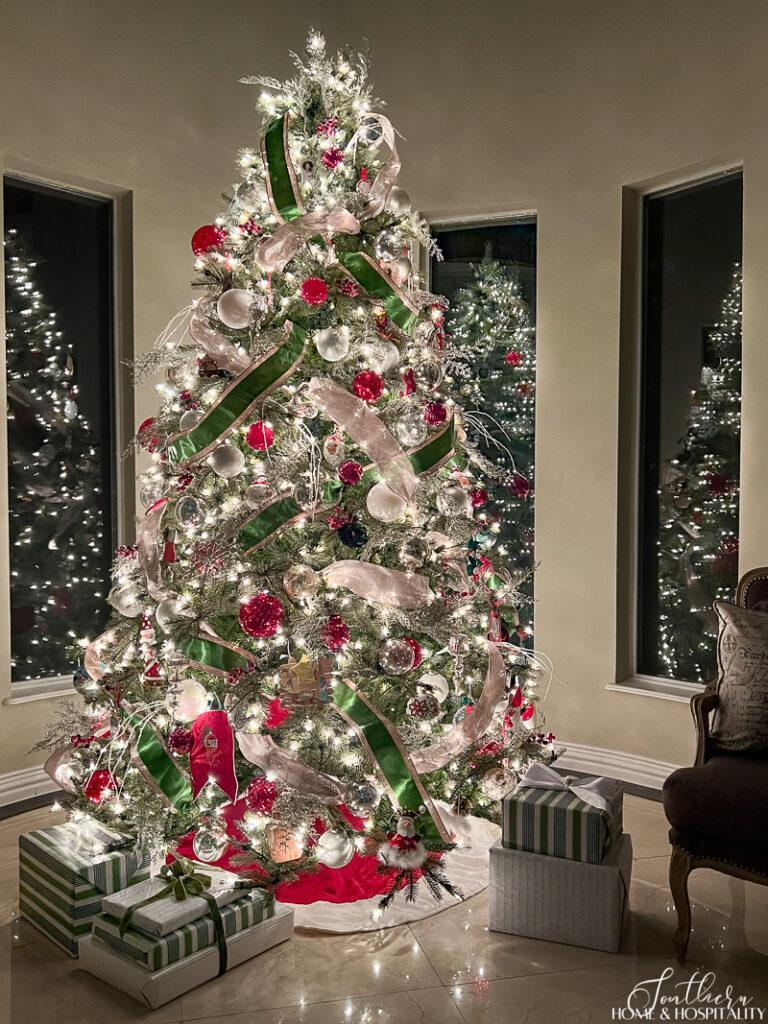 ---

Thanks for spending a few minutes with me to take my "green" Christmas tour. I've enjoyed our virtual visit and our fleeting moment to relax by the tree. But there are so many other homes to visit (and so much decorating, shopping, and cooking awaiting).
It's easier said than done, but let's both make sure not to just decorate and shop til we drop, but to take some time to savor a few minutes here and there by the tree – agreed?
Happy Holidays,

As always, I appreciate your visit, comments, and shares here on the blog! I'd love it if you also follow along with me on Pinterest, Instagram, and Facebook so you won't miss any of my inspiration and ideas.
Don't forget to sign up for updates to keep in touch…I have lots of fun and useful freebies you may be interested in in my subscriber-only library like my cheat sheets for where to place lighting, bathroom fixtures, artwork, and furniture!
Now let's go visit Wendy at WM Design House and see how she used blue with her red and white decorations!