Inside: My favorite cleaning tools, supplies, products, gadgets, and hacks that save time and make cleaning easier and more enjoyable – even if you hate cleaning!➡
---
I nerd out when it comes to cleaning products – I get a weird satisfaction from removing dirt and making things shine. Watching an episode of Hoarders will always get my rear in gear to scrub something. ("How Clean is Your House" was one of my favorites with the most disgusting dirt ever – anyone else remember those hilarious British ladies?) And when I'm super anxious about something, I can always count on the therapeutic and mindless act of cleaning to make me feel a bit better.
I know, most people don't feel this way. But we all love the end result of a clean house where the faucets gleam, the air smells clean, and the carpet has fresh vacuum cleaner stripes, don't we? Even I don't want to spend my life keeping the house spotless. Thankfully we live in a time where we have endless products to make our life easier and save us time.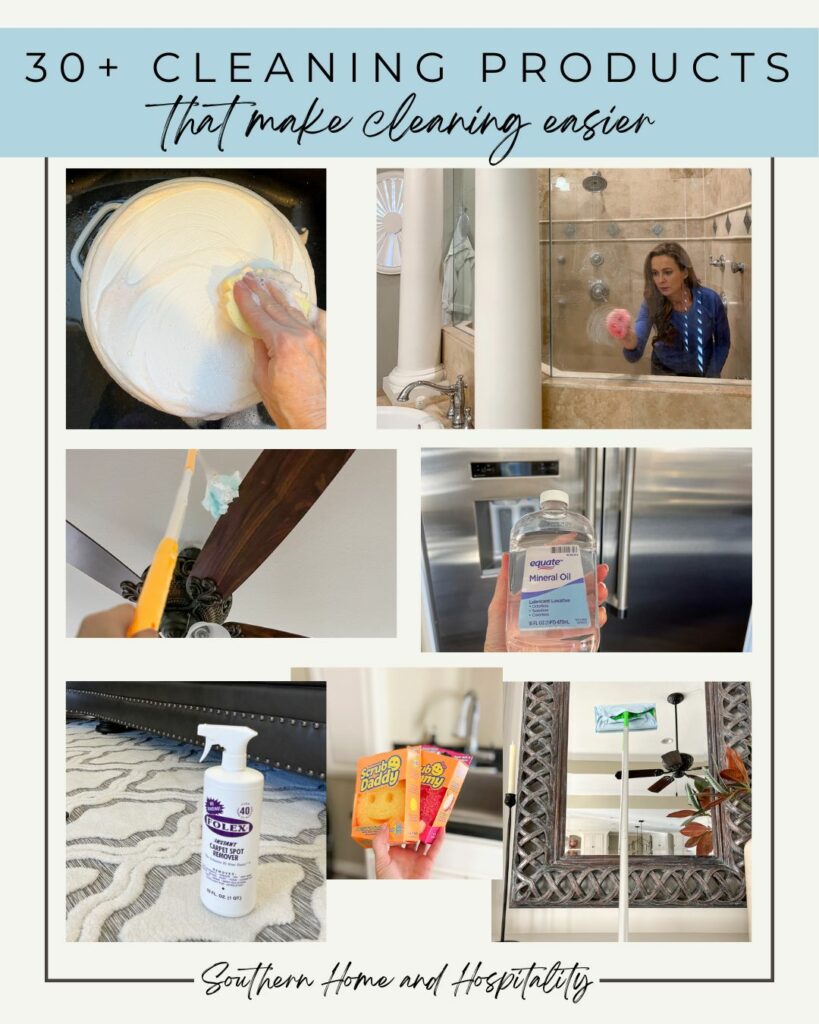 ---
I've compiled a list of the best cleaning tools to save you some of that precious time – ones that are my favorites right now. So we can move on to more important things like spending time with family. Or bingeing the latest Netflix series (no judgment here).
And even better? You can order most of these on Amazon so they're priced right and you can get them quick (another timesaver😊).
This post contains Amazon and other affiliate links for your convenience. As an Amazon Associate I earn from qualifying purchases. If you purchase something through any link, I may receive a small commission, at no extra charge to you. I only recommend products that I love or would purchase for myself. See my full disclosure here.
Best products for wiping and scrubbing.
The right tools will help cut your cleaning time, do some of the heavy lifting for you, and save wear and tear on your body!
Microfiber cleaning cloths. They attract dirt and dust, are washable and reusable, and leave less streaks behind.
Scrub Daddy and Scrub Mama Scrubber Sponges. Great for scouring dishes or on soap scum in the shower. Firm in cold water, soft in warm water, resist odors, has easy grip eye holes, and the smile not only adds some cheer to cleaning, the hole makes the perfect utensil wiper.
Mr. Clean Magic Eraser. Magic erasers are a classic and still one of my favorites for wiping marks off of almost anything like walls, doors, and shoes.
Microfiber Glass Cleaning Cloth. While regular microfiber cloths are good for leaving surfaces fairly streak-free, I love this cleaning cloth for cleaning windows, mirrors, and glass accessories. They're washable and reusable with none of the lint you get with paper towels. Also perfect to shine up your phone, iPad, and computer monitor.
Power Scrubber. This little scrub brush cleaning device sometimes just makes scrubbing the gunk out of nooks, crannies, and crevices more fun. And saves a little wear and tear on my shoulder. Scrubbing grout (the most dreaded of my cleaning tasks) with the special attachment is actually what I bought it for. It saves a little of the hard work, but for the tough jobs, you'll still need a serious brush and some elbow grease.
Lil Chizler Scraper. A handy thing to have in the kitchen drawer for scraping stuck-on food off of pans and removing stickers.
Best products for dusting, vacuuming, lint, and hair clogs.
Swiffer duster. The fibers on these disposable refills grab dust instead of just moving it around like a feather duster. This is one of my favorite tools because I'm able to dust everything without moving it or knocking it over, making dusting much faster. I have the version with the extendable handle which also allows me to easily and quickly dust the ceiling fans!
Swiffer sweeper mop. While I'm singing the praises of the Swiffer, the disposable cloths for the Swiffer mop are also fantastic for grabbing dirt and dust off of any smooth, hard floors. I love it for my marble and hardwood floors, but it's not great for my rough slate and brick. And if I have a lot of debris, I have to sweep it into a pile and vacuum the rest up, but it definitely get the small dirt. It also comes with an option for wet mopping pads.
Sink drain clog remover tool. The plastic bends into the P trap and the little barbs grab the hair, slime, and grossness and brings it out of the drain. We have to use this on our shower and my sink once a year and trust me, it's not pretty.
Dryer Lint Brush. Our dryer vent to the outside gets clogged a lot so wiping the vent trap out with one of these helps keep ahead of it.
Dryer Vent Cleaner Kit with Drill Attachment. When we need to clean out the duct all the way from the dryer to the outside, we use this kit with flexible tubing and a scouring brush that hooks onto a drill to scour out the lint. You don't want to mess around with a potential dryer fire.
Compressed Air Duster & Vacuum. My husband is serious about his computers and bought this cordless compressed air blower that also vacuums. It's not only good for computer keyboards, CPUs, and fans, but it works great on things like our faux plants, car dashboards, and any crevice to remove dust.
Best products for removing funky smells.
Affresh Washing Machine Cleaner. I don't have a huge problem with the dreaded stink in my front load washing machine because I always leave the door open after I wash to let it dry out. But it never fails that someone else will come and close it, causing the front load washer funk. Running one of these through not only removes the smell, but cleans any residue, grime, and build-up.
Affresh Dishwasher Cleaner. My dishwasher seals too well for drying out, so I also leave it slightly cracked to dry out in between washes. But when it smells sour or has too much mineral build up from our hard water, one of these little packets makes it all fresh and shiny again.
Pet Urine Detector Blacklight Flashlight. When you have a tiny dog that makes tiny tinkles, they're hard to find on the rug. So I'll try anything. Though not perfect, I will say this helps me find a few spots that I had no idea were there so I can spray them with an enzymatic cleaner.
Have smelly furniture? Read my post on effective ways to remove musty, stale, and foul odors from wood, fabric, and upholstered furniture.
Best cleaners.
Folex Instant Carpet Stain Remover. While we're on carpet, this stain remover truly lives up to the hype and for good reason – it's the best I've used.
Bissell ProHeat Max Clean Pet Pro Full-Size Carpet Cleaner. I've had mine for years (you might be able to tell in the picture). I use it every few months to clean the gray traffic paths off of our carpets. And that brown water that it pulls out – just eewwwww.
White vinegar. We have really hard water where we live. So it's a constant battle against hard water stains, limescale, and mineral buildup on everything from the shower head to the fridge water dispenser plate. I know I can always depend on a white vinegar soak to take it all away.
Bar Keepers Friend. Another time-tested favorite for scouring the kitchen sink, shower floor, and pots and pans.
The Pink Stuff Cleaning Paste. This pink stuff seems to be all the rage across the internet so I had to give it a try. I'm finding it to be great for soap scum and water stains on my shower glass and to clean nonfabric shoes.
And it was pretty magical on the bottom of my enamel cast iron pot:
But on the inside of this enamel pot and some other surfaces I've tried, I definitely wouldn't call it miraculous. So I guess it may depend on the material you use it on.
Dawn Powerwash Dish Spray. This is one of my MVP's of cleaning products. It makes cleaning dishes so fast and it's even a good shower cleaner without all those harmful fumes.
Bathtub Jet Cleaner. I'm a big bath taker and who wants to jacuzzi in filth? Especially if you're in a home that someone else has owned. Watching what floated out the first time I cleaned the jets has me convinced those unseen pipes need to be cleaned.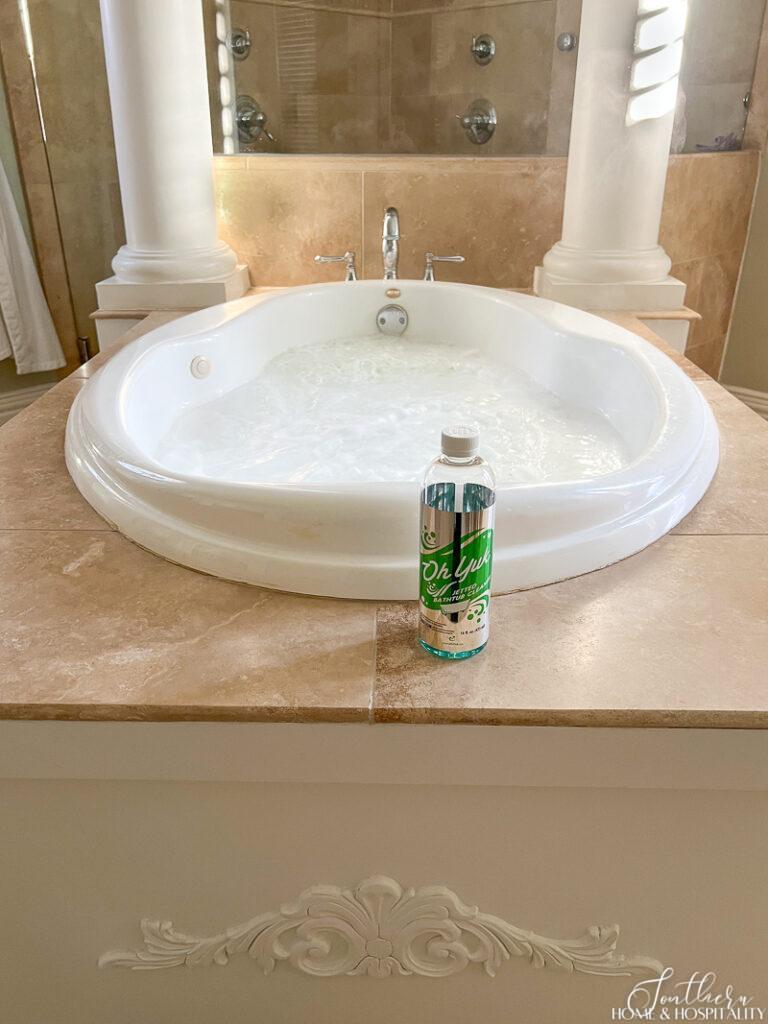 Garbage Disposal Cleaner. I don't know about you, but the drain of my garbage disposal is constantly wet, making it a perfect place to grow slime. Once a month I like to clean it with one of these and remove the rubber cover and scrub it with some bleach cleaner and a toothbrush.
Mineral Oil. Not really a cleaner, but this is one of my favorite things to polish my stainless steel appliances with and it works so much better than special stainless steel cleaners in my opinion. I also use it to shine my soapstone counters, and granite composite and stainless steel sinks.
Copper Cleaner. As a copper lover, it's constant maintenance to keep it in its bright state. This cleaner makes it quick to shine it up like a new penny.
Best outdoor cleaners.
I have three products that deserve a mention in the outdoor category that I swear by.
Wet and Forget Moss, Mold, and Algae Stain Remover. This kills all the mildew on our landscape stones, retaining wall, and outdoor kitchen. I wet it with this product with a garden sprayer and it does all the work for me.
Power Washer. Using this cleaning device is so gratifying it's hard to stop once you get going on concrete driveways, decks, porches, and wood fences. It's also great for cleaning area rugs with a gentle pressure nozzle.
Pool Cleaner Vacuum. Not everyone has a pool, but if you do, you know how expensive pool vacuums are. We are amazed at how much cleaner this more affordable option keeps our pool. We have this suction side vacuum attached to our skimmer and it even cleans the walls!
Helpful cleaning hacks.
We all have our little cleaning tricks and shortcuts, and I'm all too happy to share a few things that save me time that you might want to add to your cleaning routine:
To clean windows and glass I attach my glass cleaning cloth spritzed with glass cleaner to my Swiffer mop!
Kitchen sponges and rags harbor bacteria and smell. Instead, to wash dishes I alternate two dish-cleaning brushes. Every time I unload the dishwasher I put the dirty one in to sanitize for the next time I run a load, and the clean one goes back in the sink.
To clean the baseboards during spring cleaning, I run the mop along them while mopping the floor. It's a multitasking timesaver.
To help prevent water spots, use Rain X on your clean shower doors and glass. The water will bead up and run off.
Rinse cleaners away with cold water. Hot water makes the cleaners sudse up more, taking longer to wash off.
Dawn dishwashing liquid is great for oil and grease spots on fabric. Put a dab on oily food spots on clothes, scrub with a toothbrush, then wash as usual.
Other highly rated popular cleaning tools.
So far I've only covered what I actually own and use. But some cleaning supplies pop up again and again on the internet and people swear by them. So I've done a little of the research for you. Here are some other highly-rated cleaning supplies you might want to add to your cleaning caddy:
iRobot Roomba or Robot Vacuum. I love the idea of these but sadly my rooms are not situated so that this would work well. But if they were, I know this would be crawling about my house.
Steam Mop Sanitizer Floor Steamer. This is a really highly-rated model. The room that I'd most be interested in steaming and sanitizing the floors in would be the kitchen but my rough, uneven slate keeps me from trying this.
Multipurpose Heavy Duty Steam Cleaner. One of my girlfriends loves this for her showers and grout and highly recommended this to me. And after that, I've seen other rave reviews too. This one's good for floors and tile and grout for chemical-free cleaning that disinfects.
O Cedar Easy Wring Spin Mop and Bucket System. Every time I see this at my sister-in-law's house, I think what a great idea – you don't have to walk back to the sink to rinse and rewet the mop.
Pet Hair Removal Broom. Along with the joy of pets comes hair, and lots of it. You can get a low-shed dog breed like mine or you might just try this rubber broom that attracts the hair making it easier to clean.
Angry Mama Microwave Cleaner. Fill her with vinegar and water and naturally clean and disinfect the microwave with this funny little lady that makes you smile too.
Dyson Cordless Vacuum. This seems to be THE vacuum to own to keep up with the Joneses. (I always buy a cheap vacuum and replace them more often). With its popularity and price tag, they must be good. And more brands have come out with their own versions like this Shark Cordless which also gets good reviews.
---
---
Have you used any of the products in this post, and do you agree with my take on them?
I hope you're inspired now to do a little cleaning and get your home into shiny, tip-top shape. (Hopefully it's not been like watching an exercise video but not actually exercising.😂)
What are your favorite cleaning supplies that save you time? Share them in the comments!

As always, I appreciate your visit, comments, and shares here on the blog! I'd love it if you also follow along with me on Pinterest, Instagram, and Facebook so you won't miss any of my inspiration and ideas.
Don't forget to sign up for updates to keep in touch…I have lots of fun and useful freebies you may be interested in in my subscriber-only library like my cheat sheets for where to place lighting, bathroom fixtures, artwork, and furniture!
---
---