Short Cut Cinnamon Roll Monkey Bread
Inside: A quick version of scrumptious warm, cinnamon-y good monkey bread that is guaranteed to please your crowd and doesn't require rising overnight! ➡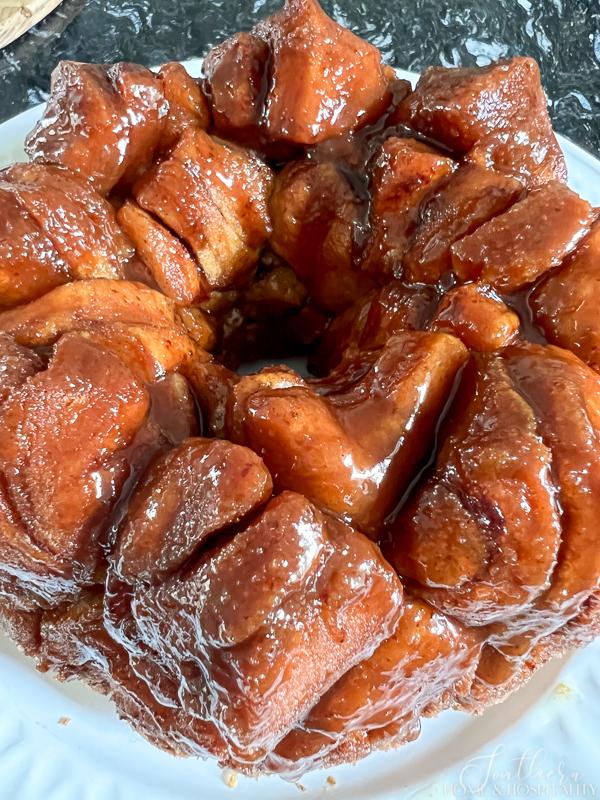 If you need an easy recipe for Christmas morning breakfast, overnight guests, or any special occasion brunch, I have the perfect breakfast treat! This cinnamon roll monkey bread is perfect because it's not only delectable but also because it's so fast and easy.
And who doesn't like to arrive in the kitchen and be greeted by the smell of warm cinnamon bread and its gooey butter goodness?
This post contains Amazon and other affiliate links for your convenience. As an Amazon Associate I earn from qualifying purchases. If you purchase something through any link, I may receive a small commission, at no extra charge to you. I only recommend products that I love or would purchase for myself. See my full disclosure here.
Jump to Recipe
What Is Monkey Bread?
Let me backtrack a little just in case you've missed out on this treat your whole life. Monkey bread is a breakfast pastry made up of bread, cinnamon, and butter that turns into a caramel-colored sauce and it pulls apart in pieces. So it's also known as pull-apart bread. And sticky bread. And bubble bread. Aaaaand pick apart bread.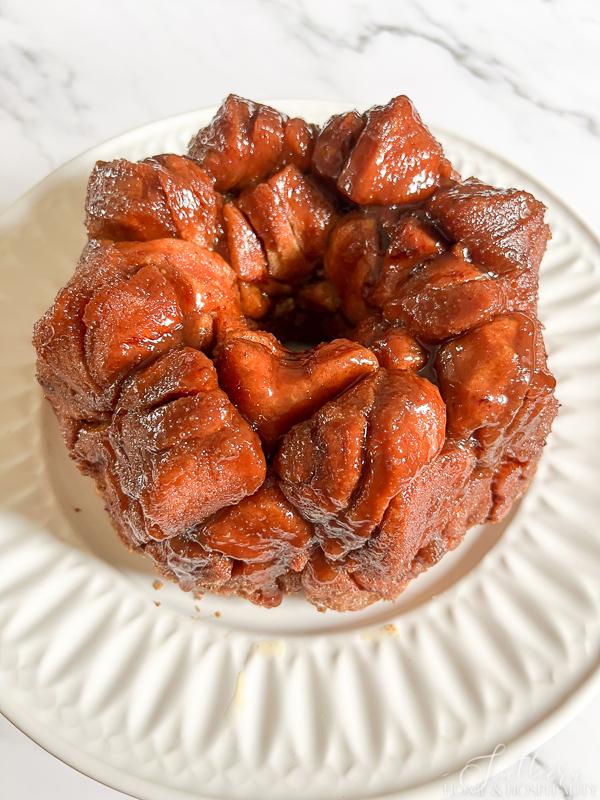 In the traditional homemade monkey bread, the dough is made from scratch and assembled the night before so that the individual dough balls have time to rise. So there's a bit of planning ahead involved.
The monkey bread shortcut.
But for the holidays, I don't need that extra food prep at night while I'm spending time with family. So I use a shortcut that allows me to throw it all in a pan right before and put it directly into the oven: canned cinnamon rolls. They make it so quick and easy – I'm not sure I can even tell the difference between this easy monkey bread and the version that has to be started the night before!
Why is it called monkey bread?
Not because monkeys made it (although it would be nice to have some kitchen help). Because you pull the pieces off with your fingers like a monkey would eat – picking tasty bits with its fingers and popping them into its mouth. And someone once observed that all those little dough pieces are nestled together in the pan like a barrel of monkeys.
Ingredients for monkey bread.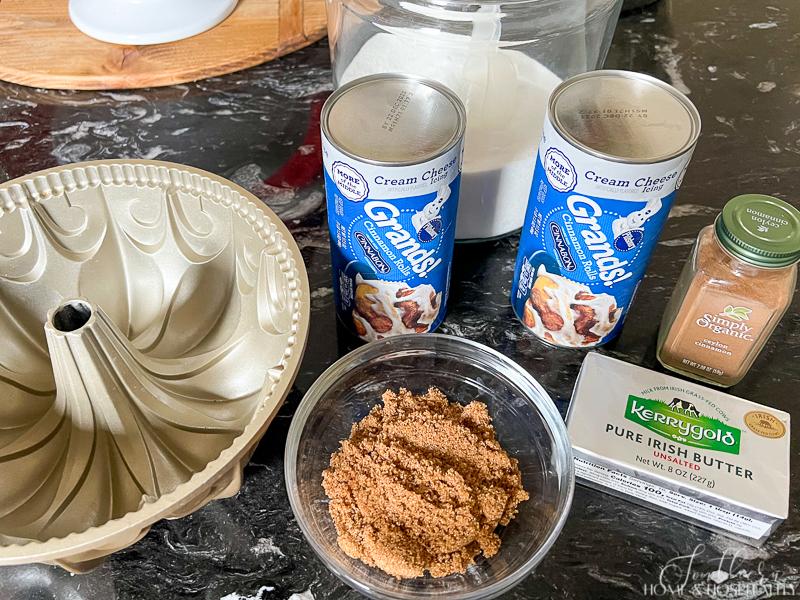 You'll only need a bundt cake pan or a loaf pan and five ingredients:
Two cans of Pillsbury Grands cinnamon rolls
1/2 cup (1 stick) butter
1 tbs. cinnamon
1 cup granulated sugar
1/4 cup brown sugar
How to make easy cinnamon roll monkey bread.
Preheat the oven to 400 degrees. Cut each cinnamon roll into quarters.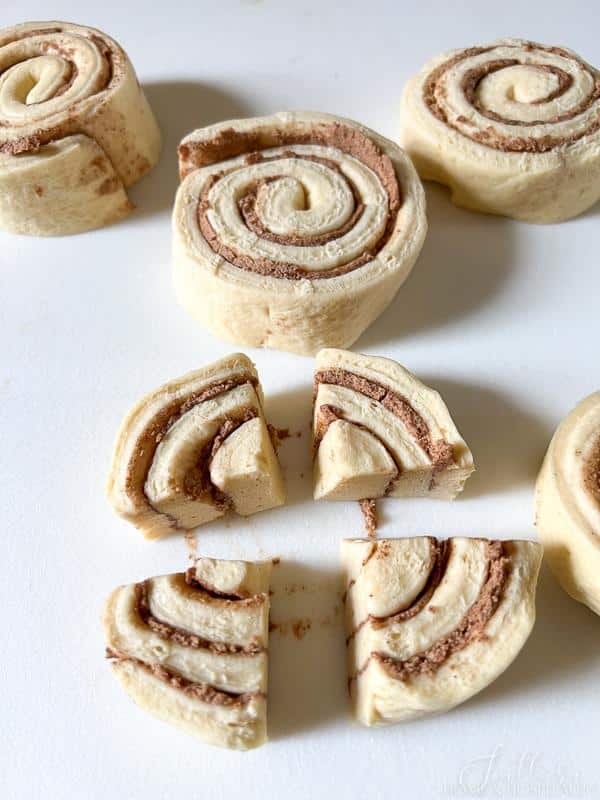 Sugar the dough:
Mix together the cinnamon and granulated sugar in a bowl.
Toss the dough pieces in the cinnamon-sugar mixture until evenly coated. (You can quickly roll them into rounder shape with your hands first, but it's not necessary.)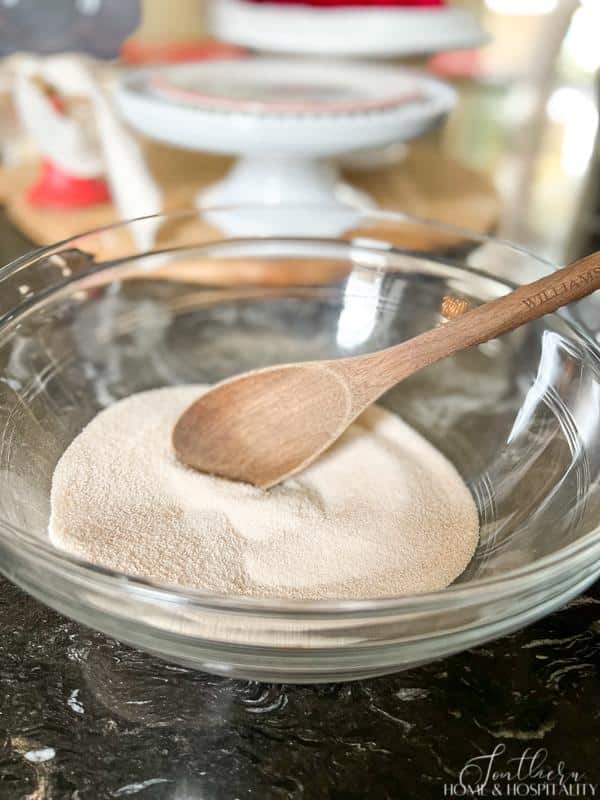 Make the sauce:
Melt the brown sugar and butter together on the stovetop in a small pan and let it bubble for one minute, being careful not to burn.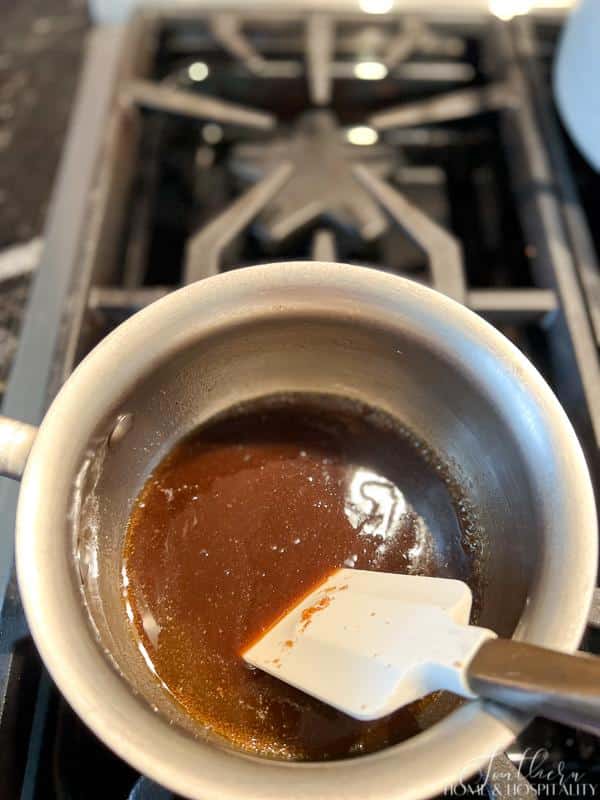 Assemble the monkey bread:
Lay half of the cinnamon roll dough pieces in a prepared bundt pan slathered in more butter.
Drizzle half of the brown sugar melted butter mixture over the rolls.
Add the other half of the cinnamon roll quarters on top and pour over the remaining sauce.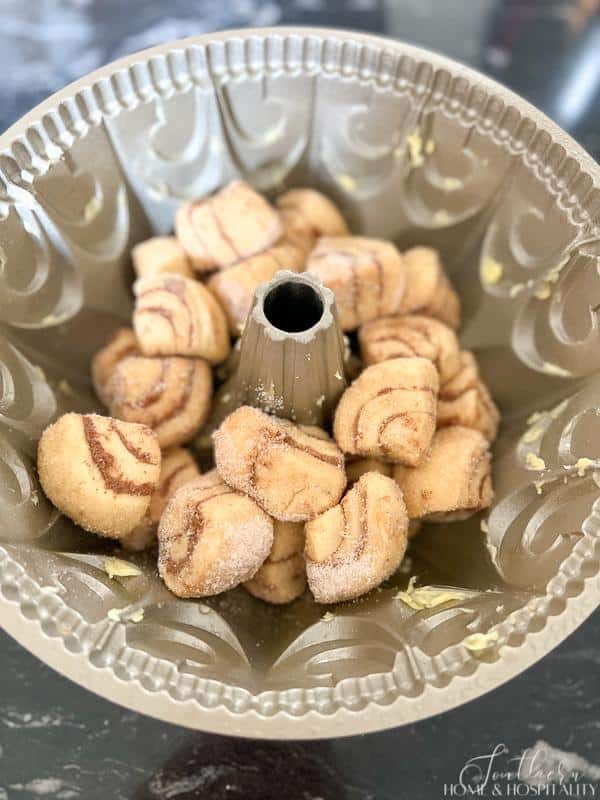 Bake:
Place in the preheated oven and bake for about 20 minutes. This can vary a bit depending on your oven and the pan so just keep an eye on it. The pan won't look full when it goes in but look how those small pieces of dough rise while cooking! And oh man, the smell is heavenly!!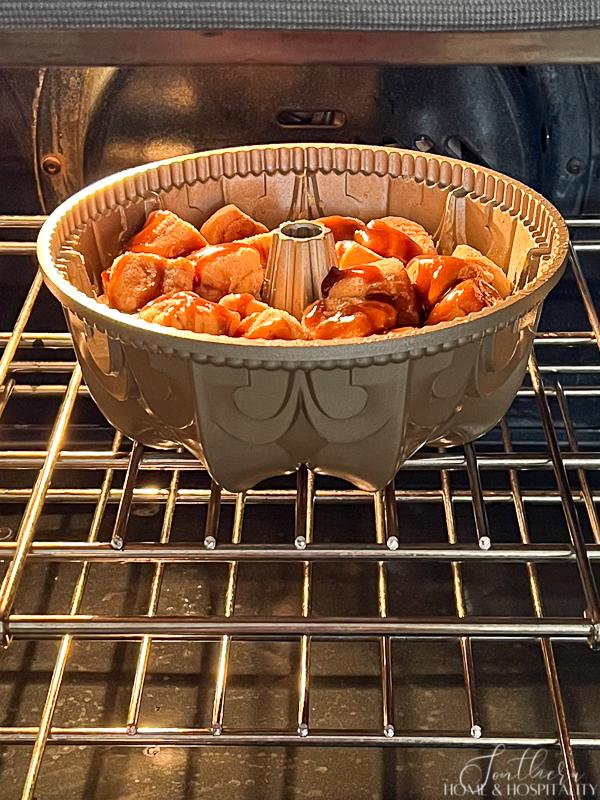 Serving the monkey bread:
Let it cool for ten minutes and then turn it over onto a serving plate while it's still warm.
Place the dish on top of the pan and then flip it over:
Sweetness level options.
This recipe can be easily tailored to the amount of sweetness you like. I only used about 3/4 of the brown sugar butter glaze because while my family loves sweet treats, they like this with a little less sauce.
If you're going for full-on sweetness and presentation, use all of the brown sugar and butter and it will run out beautifully onto the plate when you turn it out! You can also add the cream cheese icing glaze that comes with the cans of cinnamon rolls. Heat it for a few seconds in the microwave and drizzle over the top of the monkey bread after you turn it out. (take the metal lid off first.)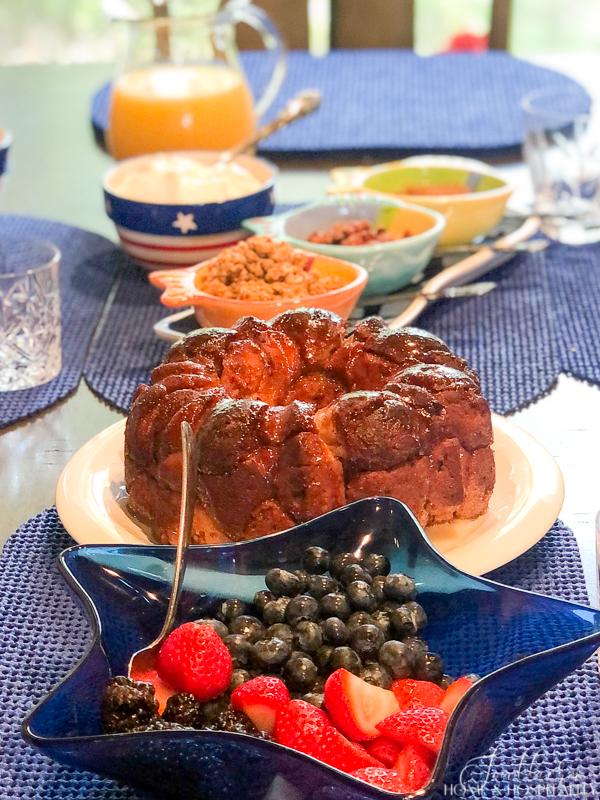 Honestly, I really don't care for things that are overly sweet so my favorite way to make this omits the brown sugar butter sauce completely. What makes this version so delicious is the butter! I butter the bundt pan really well and add a few butter pats to the bottom. It comes out slightly less sweet but simply scrumptious.
Another shortcut for monkey bread.
A second shortcut instead of making dough from scratch is to use frozen Rhodes rolls. I'll admit it is fun to watch them rise if I have the time to start the night before.
Want another short-cut recipe to warm you up in cold weather? See how to make chicken and sausage gumbo faster here.
Variations for this cinnamon roll monkey bread recipe.
One of the fun things about cooking is putting your own creative twists on basic recipes! Change it up by adding:
Chopped pecans
Chocolate chips
Pumpkin pie spice
Apples or apple pie filling
Top it with the cream cheese glaze, a caramel sauce, or chocolate ganache
Storage and reheating.
If you have any leftover monkey bread, store it in an airtight container or covered in plastic wrap at room temperature for up to five days.
To eat the leftovers warm, either zap individual servings in the microwave for 15 seconds, or cover the whole pan well with foil and heat at 200 degrees for 20 minutes.
---
Your holiday guests are sure to feel special when they have a piece of this paired with a warm beverage on a cold morning (in your kitchen that smells as good as a Cinnabon). ☕
If you'd like more ways to make overnight guests feel welcome, see the complete list here.
Make sure and pin or print the recipe card and keep it with your easy recipes:
Bon appetit,

As always, I appreciate your visit, comments, and shares here on the blog! I'd love it if you also follow along with me on Pinterest, Instagram, and Facebook so you won't miss any of my inspiration and ideas.
Don't forget to sign up for updates to keep in touch…I have lots of fun and useful freebies you may be interested in in my subscriber-only library like my cheat sheet for emergency baking ingredient substitutions!
Short Cut Cinnamon Roll Monkey Bread
This pull apart cinnamon roll Monkey Bread is a scrumptious, warm cinnamony crowd pleaser and is so quick to make!
Ingredients
2

cans

Grands Cinnamon Rolls

1

cup

granulated sugar

1

tbsp

cinnamon

1/2

cup

butter

1/4

cup

brown sugar
Instructions
Preheat the oven to 400 degrees.

Remove cinnamon rolls from cans taking care not to unroll them. Cut each roll into quarters.

Mix granulated sugar and cinnamon in a small bowl.

Toss the roll pieces in the sugar cinnamon mixture until coated.

Melt butter and brown sugar together in a small pan on the stovetop. Let it bubble for one minute, taking care not to let it burn.

Place half of the roll pieces into the bundt pan.

Drizzle half of the butter and brown sugar sauce over the rolls.

Add the other half of the roll pieces and top with the remaining sauce.

Place the pan in the preheated oven and bake for about 20 minutes or until done.

Let the pan cool for ten minutes. Then turn out onto the dish you want to serve it on by placing it on top of the bundt pan and flipping it over. Enjoy!