A quick version of scrumptious warm, cinnamony good monkey bread that is guaranteed to please your crowd and doesn't require rising overnight! ⟹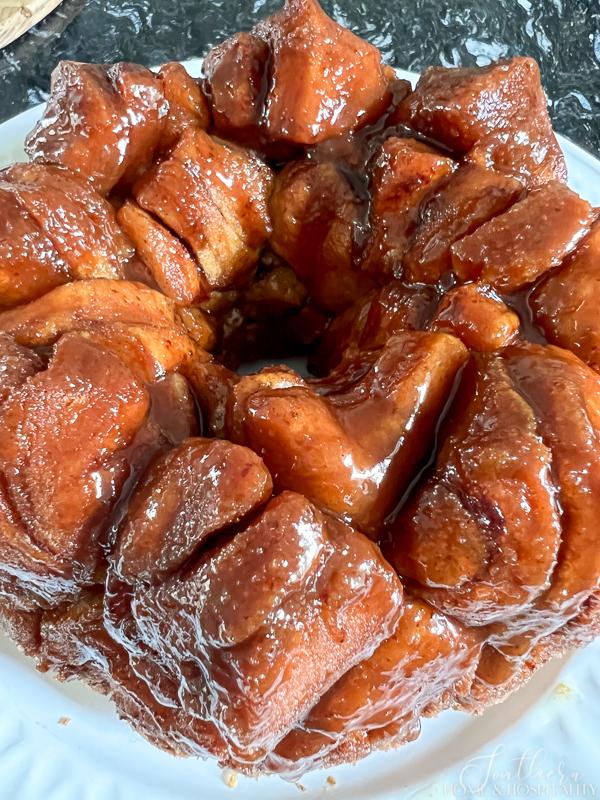 If you are in the middle of holiday menu planning for family or overnight guests next week, I have to share this breakfast treat recipe with you! Not only because it is such a favorite, but it is so fast.
And who doesn't like to arrive in the kitchen and be greeted by the smell of warm cinnamon bread and its gooey caramel goodness?
Jump to Recipe
What Is Monkey Bread?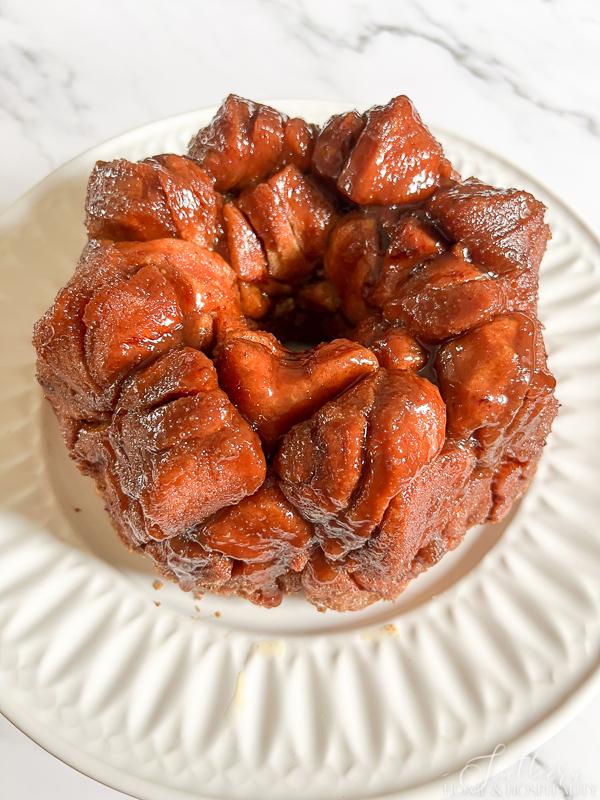 Let me backtrack a little just in case you've missed out on this treat your whole life. Monkey bread is a breakfast pastry made up of bread, cinnamon, and caramel colored sauce and it pulls apart in pieces… so it's also known as pull apart bread. The traditional monkey bread recipe is assembled the night before so that the individual dough balls have time to rise. Dough can be made from scratch or another popular shortcut for the overnight version is to use frozen Rhodes rolls. I'll admit it's kind of neat to see it rise if I have the time!
The Monkey Bread shortcut.
But for the holidays, I don't need that extra food prep at night while I'm spending time with family. So I use a shortcut that allows me to throw it all in a pan right before and put it directly into the oven…canned cinnamon rolls. It makes it so quick and easy and really I'm not sure I can even tell the difference from the version that has to be started the night before!
Ingredients for Monkey Bread.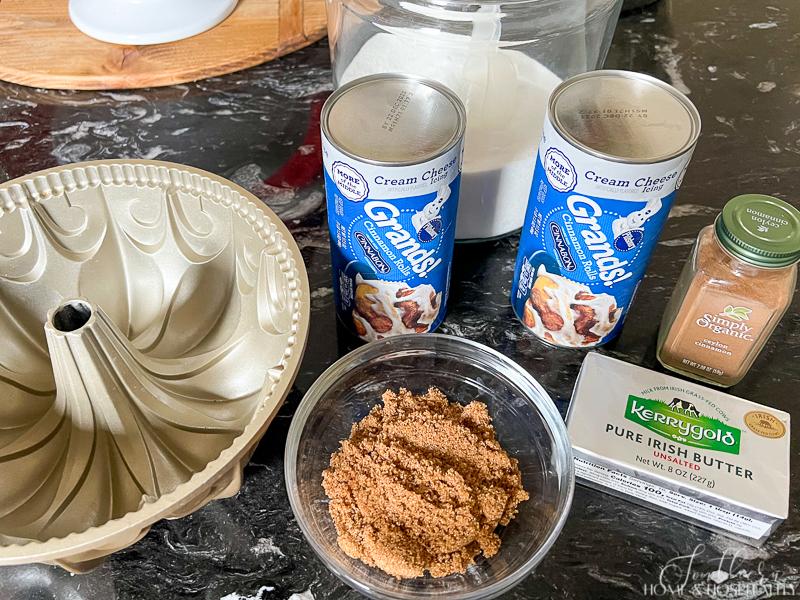 You'll only need five ingredients and a bundt pan:
Two cans of Grands cinnamon rolls
1/2 cup (1 stick) butter
1 tbs. cinnamon
1 cup granulated sugar
1/4 cup brown sugar
How to make Monkey Bread.
Preheat an oven to 400 degrees. Cut each cinnamon roll into quarters.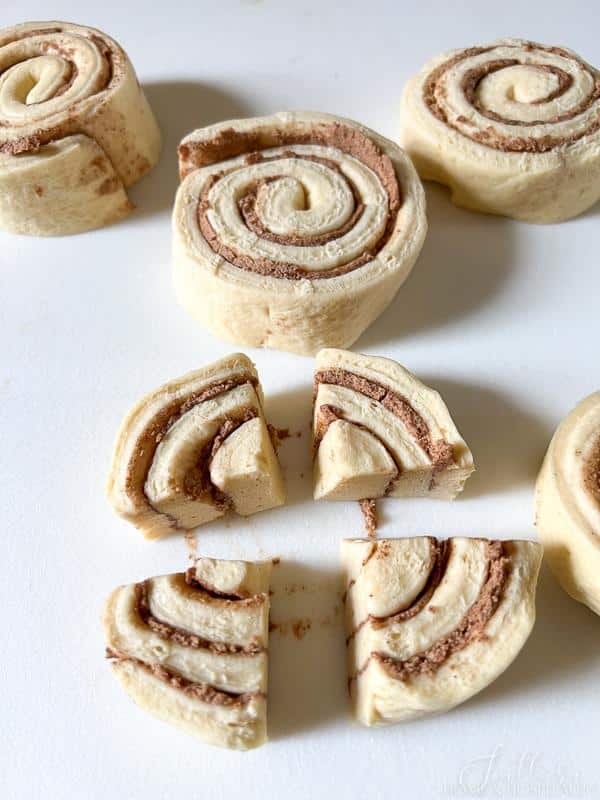 Mix together the cinnamon and granulated sugar in a bowl. Toss the roll pieces in the cinnamon sugar mixture until evenly coated.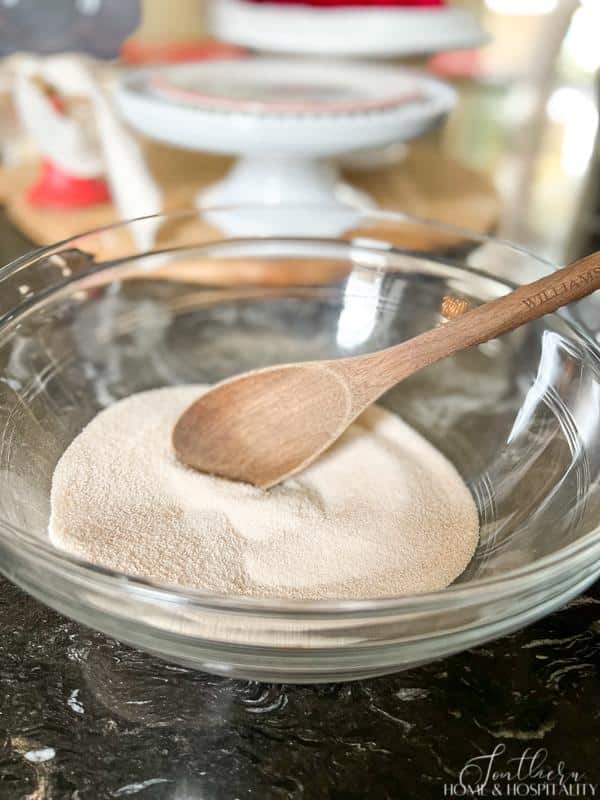 Melt the brown sugar and butter together on the stovetop in a small pan and let it bubble for one minute, being careful not to burn.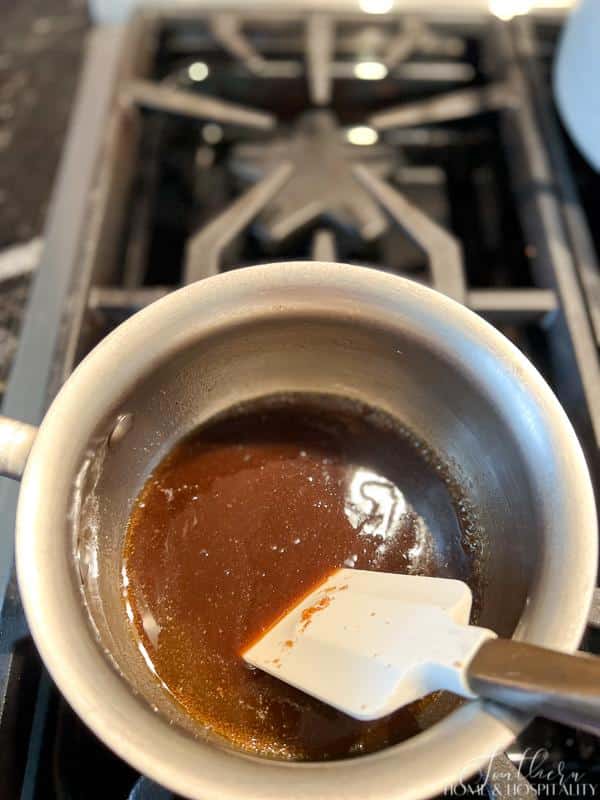 Place half of the rolls in a bundt pan. Drizzle half of the brown sugar butter mixture over the rolls. Add the other half of the cinnamon roll quarter on top and pour over the remaining sauce.
Place in the preheated oven and bake for about 20 minutes. This can vary a bit depending on your oven and the pan so just keep an eye on it. The pan will not look full when it goes in but look how it rises while cooking! And oh man, the smell is heavenly!!
Let it cool for ten minutes and then turn it over onto the dish you plan to serve it on while it is still warm by placing the dish on top of the pan and flipping it over.
Sweetness level options.
This recipe can be easily tailored to the amount of sweetness you like. When I made this monkey bread shown in the pictures above, I only used about 3/4 of the brown sugar butter glaze because while my family loves sweet treats, they like this with a little less sauce. If you are going for full on sweetness and presentation, use all of the brown sugar and butter. It will run out beautifully onto the plate when you turn it out! You can also add the white glaze that comes in the biscuit cans. Heat it for a few seconds in the microwave and drizzle over the top (take the metal lid off first.)
Honestly, I really don't care for things that are overly sweet so my favorite way to make this omits the brown sugar butter sauce completely. What makes this version so delicious is the butter! I butter the bundt pan really well and add a few butter pieces in the bottom. It still comes out simply scrumptious but slightly less sweet.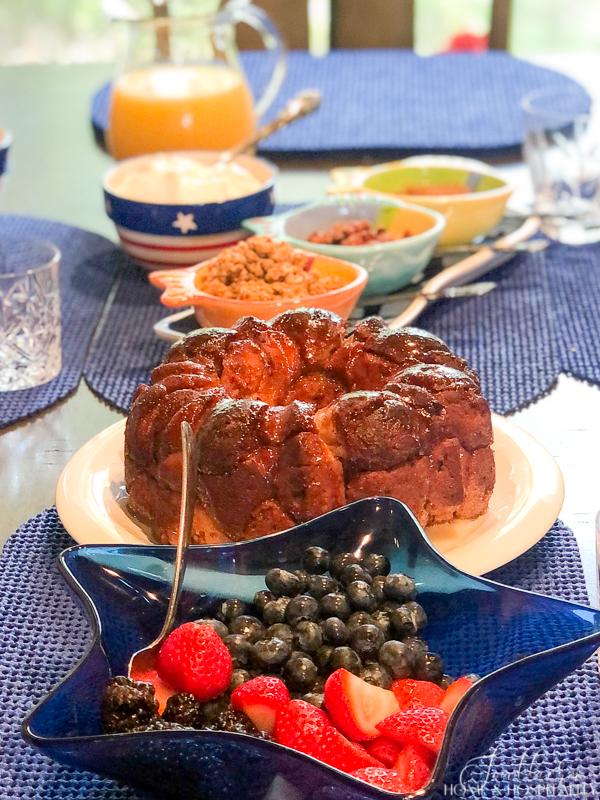 Your holiday guests are sure to feel special if they wake up to this. I'd love to know if you try it out and also to hear your versions of monkey bread! And if you'd like to see other ways to treat your guests, I see my complete list of how to make them feel welcome in your home.
Bon appetit,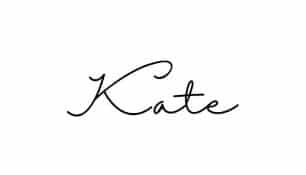 As always, I appreciate your visit, comments, and shares here on the blog! I'd love it if you also follow along with me on Pinterest, Instagram, and Facebook so you won't miss any of my inspiration and ideas.
Don't forget to sign up for updates to keep in touch…I have lots of fun and useful freebies you may be interested in in my subscriber-only library like my cheat sheet for emergency baking ingredient substitutions!
Pin this for reference later:
Short Cut Monkey Bread
This pull apart cinnamon roll Monkey Bread is a scrumptious, warm cinnamony crowd pleaser and is so quick to make!
Ingredients
2

cans

Grands Cinnamon Rolls

1

cup

granulated sugar

1

tbsp

cinnamon

1/2

cup

butter

1/4

cup

brown sugar
Instructions
Preheat the oven to 400 degrees.

Remove cinnamon rolls from cans taking care not to unroll them. Cut each roll into quarters.

Mix granulated sugar and cinnamon in a small bowl.

Toss the roll pieces in the sugar cinnamon mixture until coated.

Melt butter and brown sugar together in a small pan on the stovetop. Let it bubble for one minute, taking care not to let it burn.

Place half of the roll pieces into the bundt pan.

Drizzle half of the butter and brown sugar sauce over the rolls.

Add the other half of the roll pieces and top with the remaining sauce.

Place the pan in the preheated oven and bake for about 20 minutes or until done.

Let the pan cool for ten minutes. Then turn out onto the dish you want to serve it on by placing it on top of the bundt pan and flipping it over. Enjoy!