Easy DIY Charcuterie Letter and Number Boxes for Any Occasion
Inside: These fun and easy DIY fillable boxes are perfect for your next party, birthday, or holiday celebration. Charcuterie appetizers, desserts, and beautiful cupcakes have never looked more special! ➡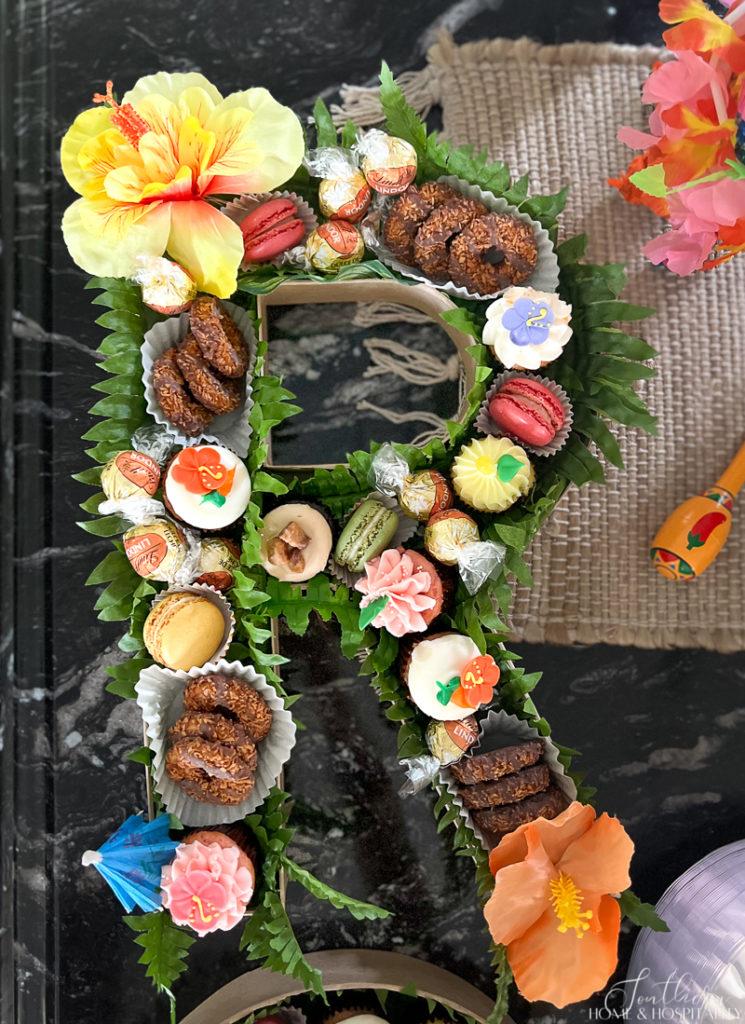 ---
I have an obsession I sometimes have to reign in. Monograms.
As a southern woman, anything embroidered, engraved, or printed with initials calls my (monogrammed) name.
So when I saw letter boxes filled with spectacularly decorated cupcake masterpieces on the internet, I was enamored.
The cupcake letters were a show stopper, but sadly I knew I would never make them for any of my gatherings.
Because not many adults will eat full sized cupcakes piled with three inches of frosting at a party.
But I couldn't let the idea go, and that got the wheels in my head turning.
My friends and family like to nosh. And it doesn't count as a full dessert or meal if you just take a little at a time, right?
It was obvious. I could fill the cupcake letters with anything.
I seized the opportunity to try this project for a Margaritaville theme party. This event would have loads of potential for decorating and filling the letters.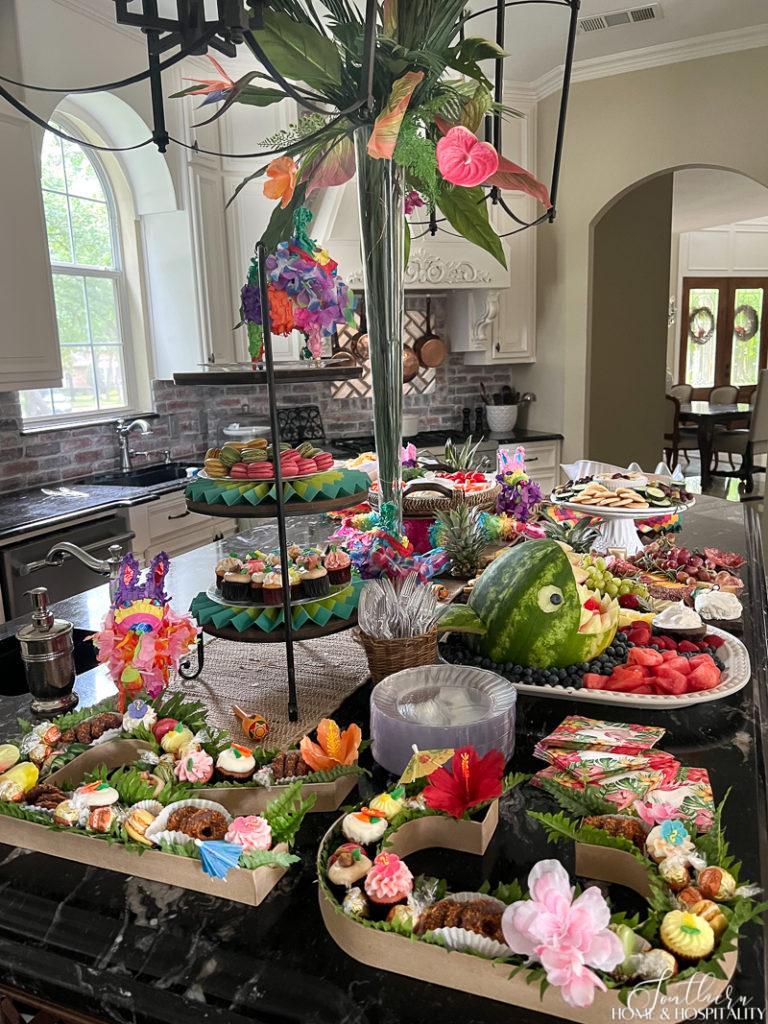 And so my research for this creation began.
As it turns out, ready-made fillable boxes are kind of expensive.
How do I always solve that obstacle?
I make my own.
And it was not only cheaper, but easy too!
This post contains Amazon and other affiliate links for your convenience. As an Amazon Associate I earn from qualifying purchases. If you purchase something through any link, I may receive a small commission, at no extra charge to you. I only recommend products that I love or would purchase for myself. See my full disclosure here.
What you'll need to make fillable letter and number boxes.
Paper Mache Letters or Numbers
An Exacto Knife or Box Cutter
You can find paper mache cardboard letters at local craft stores or on the internet. Just make sure they're large enough and deep enough to hold what you're serving. Many paper mache letters come in 1 – 1 1/2″ depths – those would make more of a tray than a box.
I bought the 16 inch letters from Hobby Lobby for $7.99. JoAnn also sells some 12 inch letters and numbers for $5.99.
How to make fillable charcuterie box letters and numbers in three easy steps.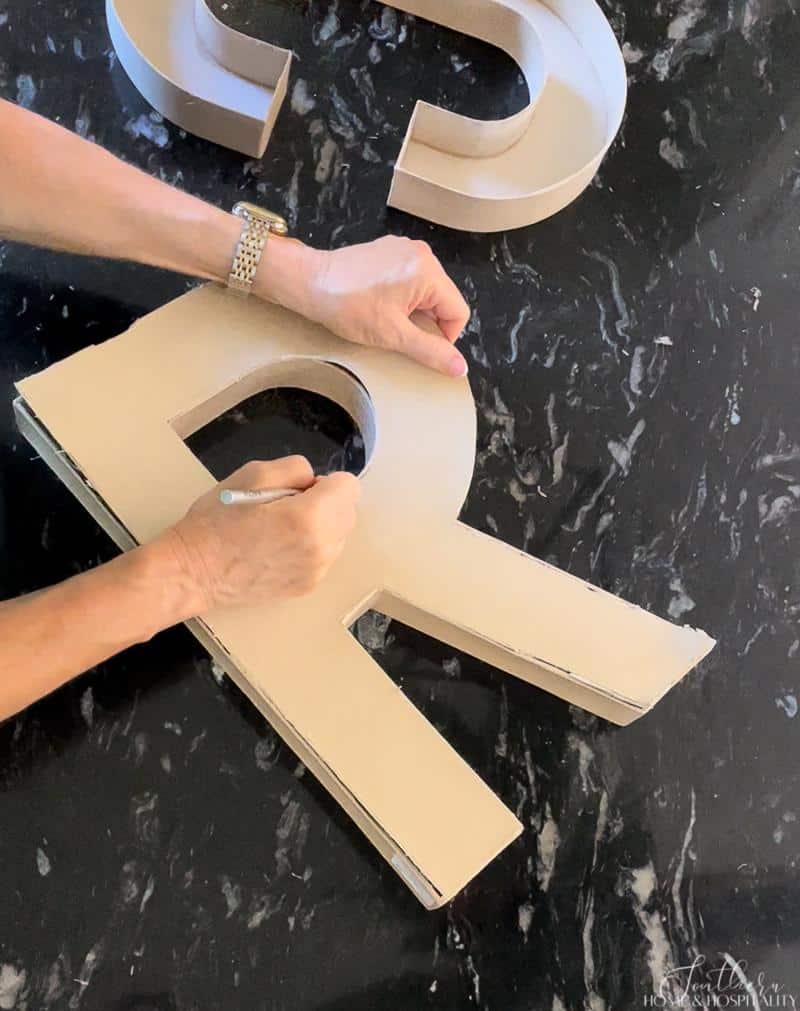 Step 1. Cut along the edge of the top of the letter or number with an Exacto knife or box cutter.
Step 2. Pull off the top cut side.
Step 3. Remove the zig zag shaped cardboard filler, leaving the empty fillable box.
You can clean up the edges by tearing off the little stray pieces with your fingers. The overflow of food and decorations should mostly cover it anyway.
Option: Paint the box a color instead of leaving it natural.
How to decorate the fillable charcuterie letter boxes for any theme.
This is the fun part and the chance to let your creative side run free!
First, choose a liner or filler for the inside. Some good options are:
Tissue paper in your party colors
Large leaves or fronds (faux or real)
Then, gather some embellishments to decorate your charcuterie box that go with your theme to fill in around the treats and food.
For my tropical party, I lined my letters with fronds from a fake fern bush (washing them and letting them dry first).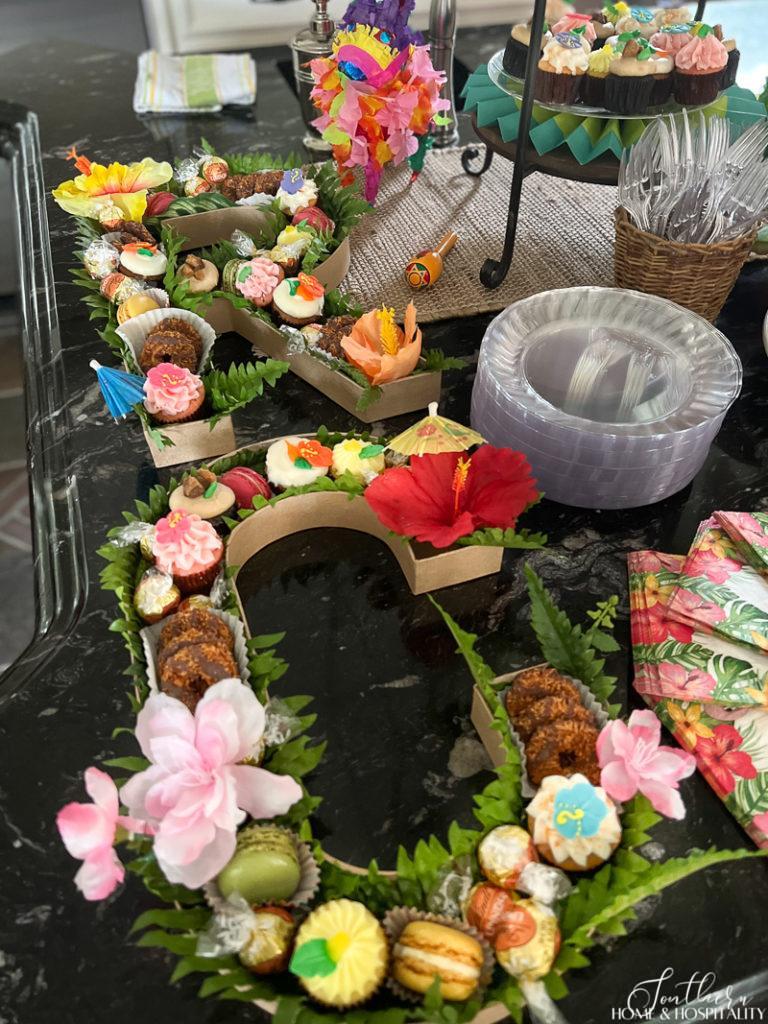 For fill in decorations, I used tropical flowers and a couple of drink umbrellas. The ferns added so much color and texture, I didn't need a lot more.
Food to fill letter and number charcuterie boxes with.
Any handheld dessert or charcuterie board fare is game for this fun twist on a serving tray as long as it fits!
I used the fillable letters for a dessert charcuterie. Cupcakes do fit very nicely into the width of the boxes. But as I mentioned, although it would look spectacular, I'd very likely still have most of the cupcakes around afterward.
So I opted to use mini cupcakes from a local cupcake bakery. I even topped them with tiny edible tropical leaves and hibiscus flowers to customize them for the party theme.
I added macarons in bright colors and tropical flavors. (thank you Costco!)
Next were coconut and chocolate cookies.
And finally I tucked in some hazelnut chocolates.
I used cupcake liners to hold the unwrapped treats. Even though I washed my fern liner, it doesn't seem all that appetizing to eat off of.
To use cardboard letters for charcuterie appetizers like meats and cheeses, you may want to use cupcake liners or individual cardboard containers on top of your decorative liner.
You can see all the party decor and food for this Margaritaville party in the post, "Throw the Ultimate Margaritaville Party!".
Additional ideas for paper mache letter and number boxes.
So many special occasions, so little time. Keep these ideas in the back of your mind to make any charcuterie board extra special:
Make someone's monogram with the letters
Make the initials of a bride and groom for a bridal shower
Use numbers for a birthday
Use numbers for the street number for a housewarming party
Use numbers for a decades party
Spell Mom or Dad for Mother's Day or Father's Day
Write out a whole word or name (you may want to go smaller on the letters)
Spell a short holiday word (Noel, Joy, Boo, etc.)
---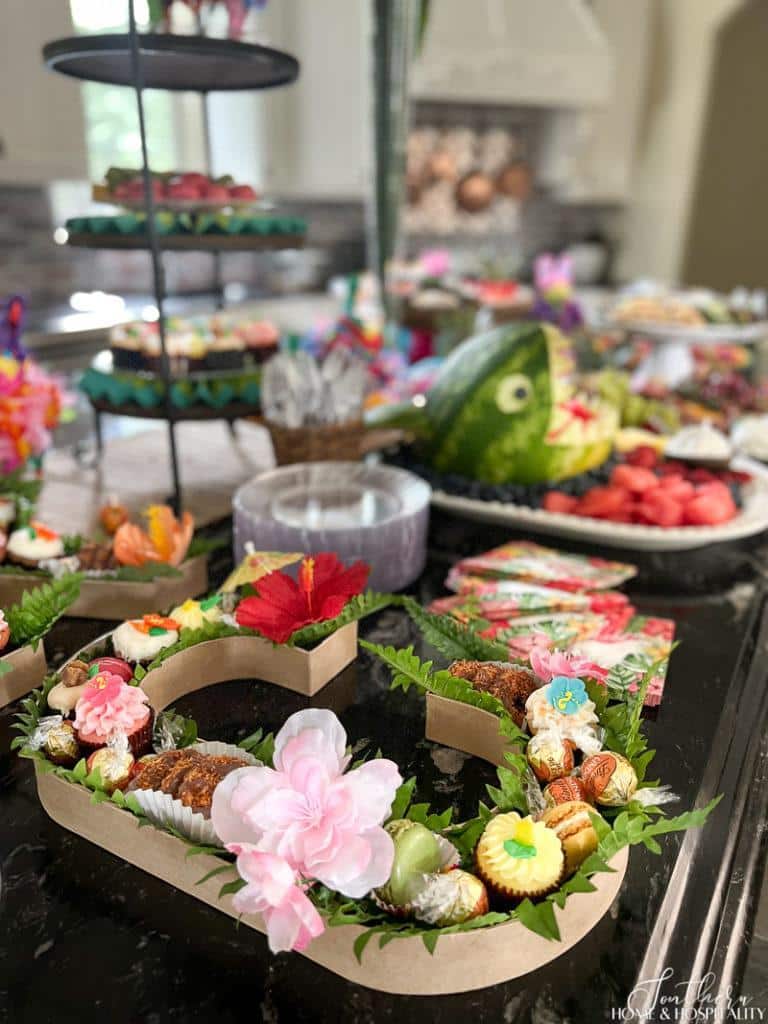 Next event? The appetizer charcuterie letter box!
Party on,

Before you go:
As always, I appreciate your visit, comments, and shares here on the blog! I'd love it if you also follow along with me on Pinterest, Instagram, and Facebook so you won't miss any of my inspiration and ideas.
Don't forget to sign up for updates to keep in touch.
---
Pin it to remember it!