Easy Spring Decor Idea: Bunnies in a Bowl
Inside: Simple spring and Easter decorating centerpieces and vignettes using bunnies, flowers, and eggs!
Bunnies, and Eggs, and Flowers, oh my!
When it comes to spring decorating around my home this year, it seems to all include these three things—but I put them together in a bowl. And they are all so CUTE!
This post contains Amazon and other affiliate links for your convenience. As an Amazon Associate I earn from qualifying purchases. If you purchase something through any link, I may receive a small commission, at no extra charge to you. I only recommend products that I love or would purchase for myself. See my full disclosure here.
Bunnies in a Bowl Centerpieces and Vignette Ideas.
I call this one my grumpy bunny. I don't know why but his expression makes me smile every year as he sits around looking so crochety, like he's guarding his yard.😂
I knew I had to have him when I spotted him at Hobby Lobby many years ago. This year he sits on the family room coffee table in a meadow made up of green moss and blooms that match his bouquet.
The "bunny in a bowl" in the kitchen is made up of new finds this year from Michael's. Again, I saw this plump guy and had to bring him home.
I placed the egg wreath (also from Michael's) on top of a white pedestal bowl and then added green moss in the crevices to make it look more like an arrangement rather than a wreath.
The pedestal bowl that sits on my dining table also got a bunny! This one looks a bit more like a rustic garden statue so it naturally goes with spring flowers. I filled the front with pastel eggs of different sizes and added more flowers like the coffee table bowl. And a boxwood wreath for another garden touch.
My mother-in-law's beloved Old Country Rose china always comes out at Easter because of its garden theme. See the spring table setting I based off of it in the post, "Elegant English Garden Easter Tablescape".
More bunnies, eggs, and flowers.
Not all of my bunnies, eggs, and flowers are displayed in a bowl. Here is a peek at a few others that decorate our house this spring…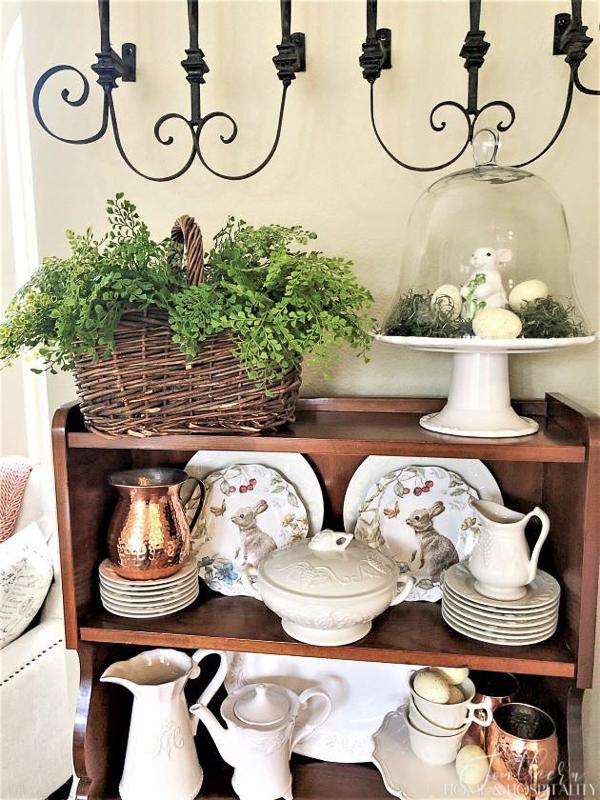 The bunny under the cloche is sentimental. It sat on one of my adult children's birthday cakes when they turned one.
And I still love these bunny salad plates from Pier One. I sure do miss shopping there for holiday decor.
Maybe these guys had a little too much bubbly on the wine bar?
Decoupage eggs sit in another Pier One Easter favorite. I made these from wooden eggs, paint, spring napkins, and a little Modge Podge!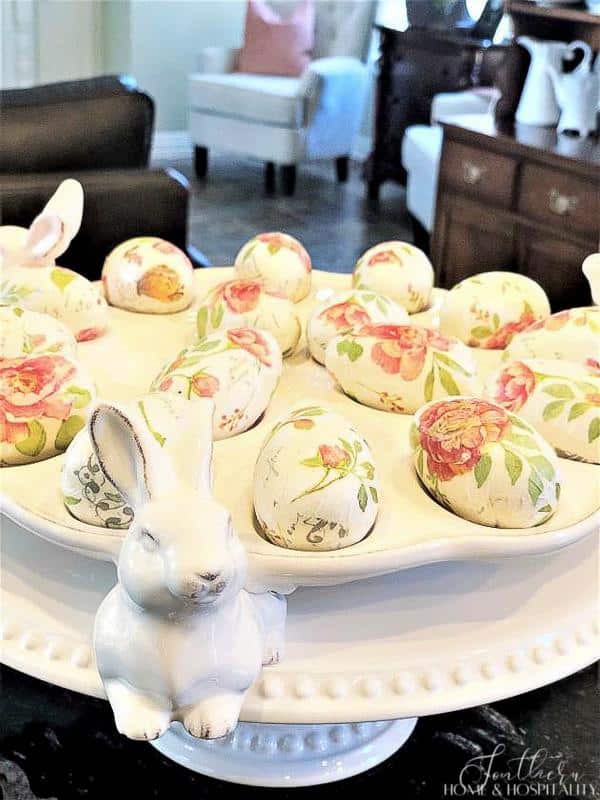 And a few florals bring springtime color to the living room and foyer…
How do you like to bring the feel of spring into your home? I'd love to hear in the comments below!
Happy Spring Season,

Before you go:
As always, I appreciate your visit, comments, and shares here on the blog! I'd love it if you also follow along with me on Pinterest, Instagram, Facebook, TikTok, and YouTube so you won't miss any of my inspiration and ideas.
Don't forget to sign up for updates to keep in touch.
If you're not already a member of the SH&H family, I'd love to have you join me! You'll not only get email updates, but you'll have exclusive access to all the bonus materials in my free subscriber-only library, like this:
---
Pin it to remember it!
If you've enjoyed this post, please pin and share this on Pinterest: