Easy Easter Tablescape: Splendid Spring in Pink and Green
Inside: Are you hosting Easter dinner this year? Check out these spring table ideas with lively pink and green that sing "Easter celebration" – plus tips for table setting pieces everyone should have in their stash! ➡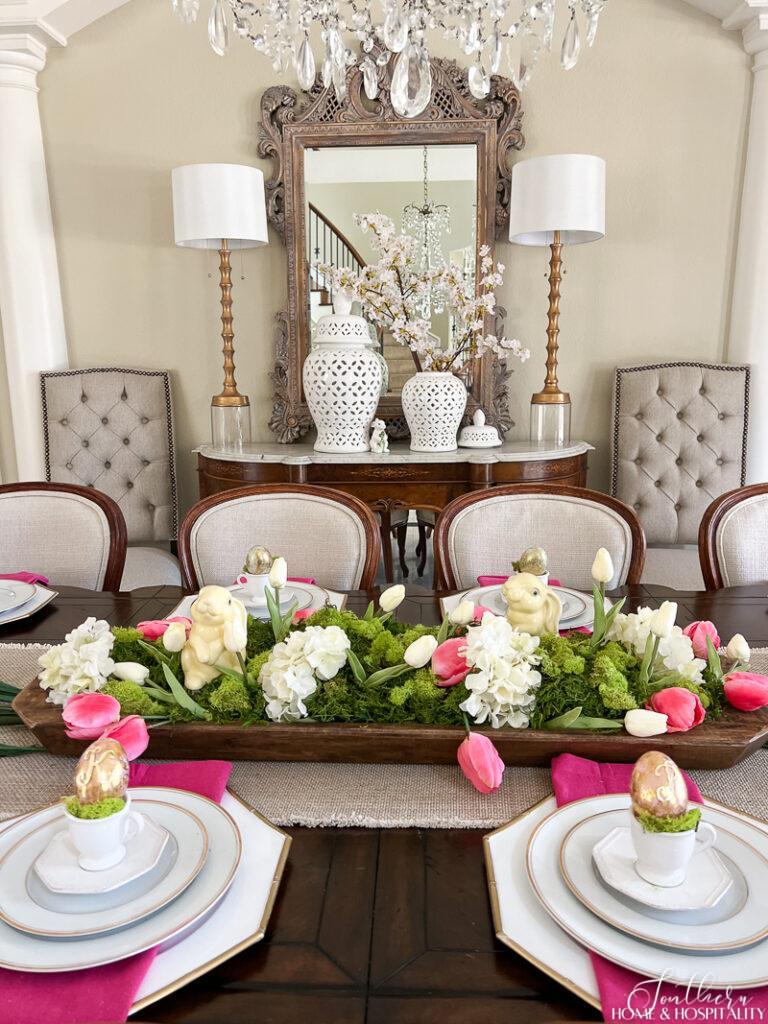 ---
Easter is all about celebration. And life.
And what better way to reflect that on the Easter table than with a burst of lively color?
Hot pink and neon green weren't just a preppy eighties color flash in the pan – this combo is the perfect way to celebrate spring!
This post contains Amazon and other affiliate links for your convenience. As an Amazon Associate I earn from qualifying purchases. If you purchase something through any link, I may receive a small commission, at no extra charge to you. I only recommend products that I love or would purchase for myself. See my full disclosure here.
Why are pink and green perfect for an Easter tablescape?
This bright pink and green color scheme is simpatico for the season, because just like spring, it's an explosion of color.
It's hard not to be happy when you see hot pink and bright green paired together!
It's like the vibrant pink cherry blossoms in a garden of fresh light green foliage. Or the hot pink azaleas on the perfectly manicured greens at Augusta in April. Sigh.
And it may just be one of the most photogenic of the color combos for spring – the proof is in the pretty pictures on Instagram and Pinterest this time of year.
The easiest way to set a beautiful Easter tablescape.
With so many other family activities for the Easter weekend, we can't typically spend much time focusing on the table decor.
The answer? Pull from things you already own to create a beautiful tablescape for this special meal!
Other than the happy color, the best part of this tablescape was that I was able to set it without buying one new thing.
When you know which items to invest in – ones that you'll use again and again, you'll be amazed at how many different table stylings you can use them for.
Let's explore this Easter tablescape and I'll show you how I did it with what I already had:
Pink and green spring dough bowl centerpiece.
If you don't have a wood dough bowl in your decorating supplies, you should seriously think about getting one.
It's so quick to pop some greenery, beautiful flowers, and seasonal items into one to make a simple and stunning centerpiece! Plus, they're the perfect orientation for most dining tables, coffee tables, and counters.
For this pink and green spring centerpiece, I started by placing two teacups upside down to raise up the rabbits I planned to use. I didn't want them to be buried up to their twitchy little noses in moss, but to look more like they were frolicking amongst the flowers.🐰
Next, I filled the dough bowl with green preserved moss, which also camouflaged the teacup risers.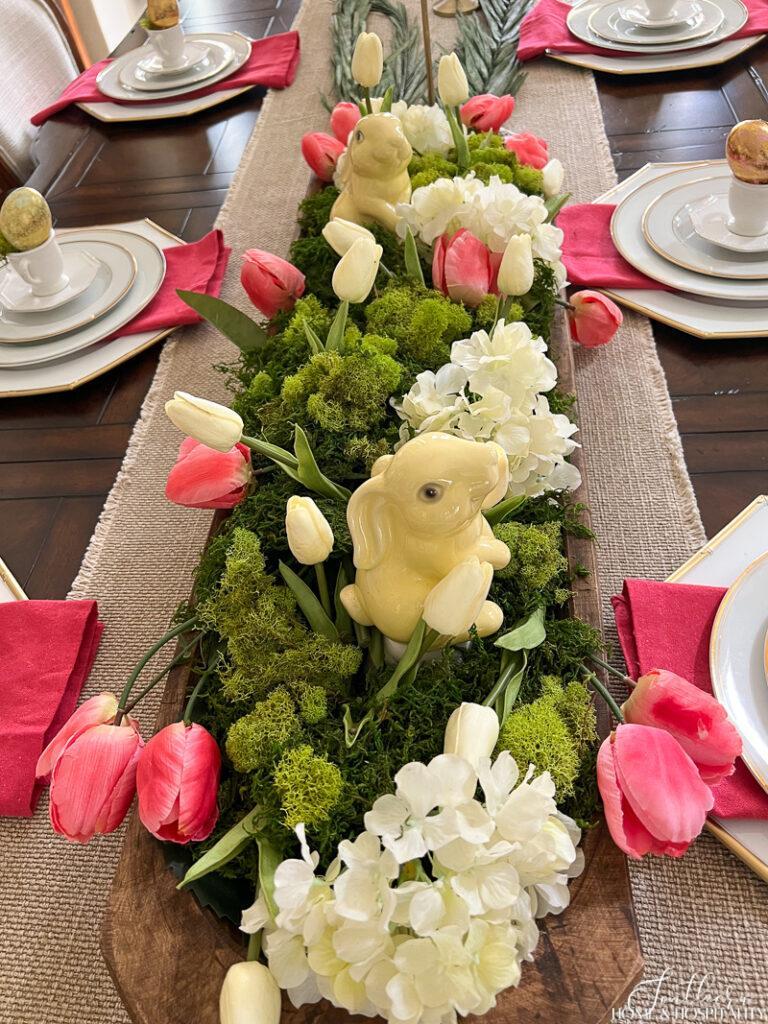 Then came the spring flowers from my storage bins. I inserted white real touch hydrangea blooms and pink tulips from Hobby Lobby throughout the moss. Then I interspersed my favorite real touch white tulips – these are truly some of the best faux florals I've ever bought!
I added a little lime green reindeer moss on top of the other green moss for an extra zing of spring green freshness.
And the finishing touches were two vintage bunnies passed down from my mother-in-law's decor treasures.
They look so adorable sitting in their spring garden of pink and green!
More pink and green spring table decorations.
To complete the center of the table, I used this extra-long natural table runner underneath the centerpiece that's a go-to for so many of my tablescapes. And Easter was the perfect time to reuse the palm leaves from my Margaritaville party stash. They filled in the empty table runner space with more great green texture.
And I use these gold candlesticks over and over for tables – they seem to go with every theme.
Pink and green Easter table settings.
The base place settings are actually colorless using all-purpose white.
If you have one basic set of white dinnerware, there's no need for special new dishes to put together a spectacular tablescape! White dinner plates make a great backdrop for your delicious food and let the tablescape's theme colors shine.
The boldest and brightest splash of color on this whole table are the fuchsia pink napkins set against the white chargers and white china. I'm able to reuse these napkins for Valentine's Day, spring, summer, or any time I want bold color for the table.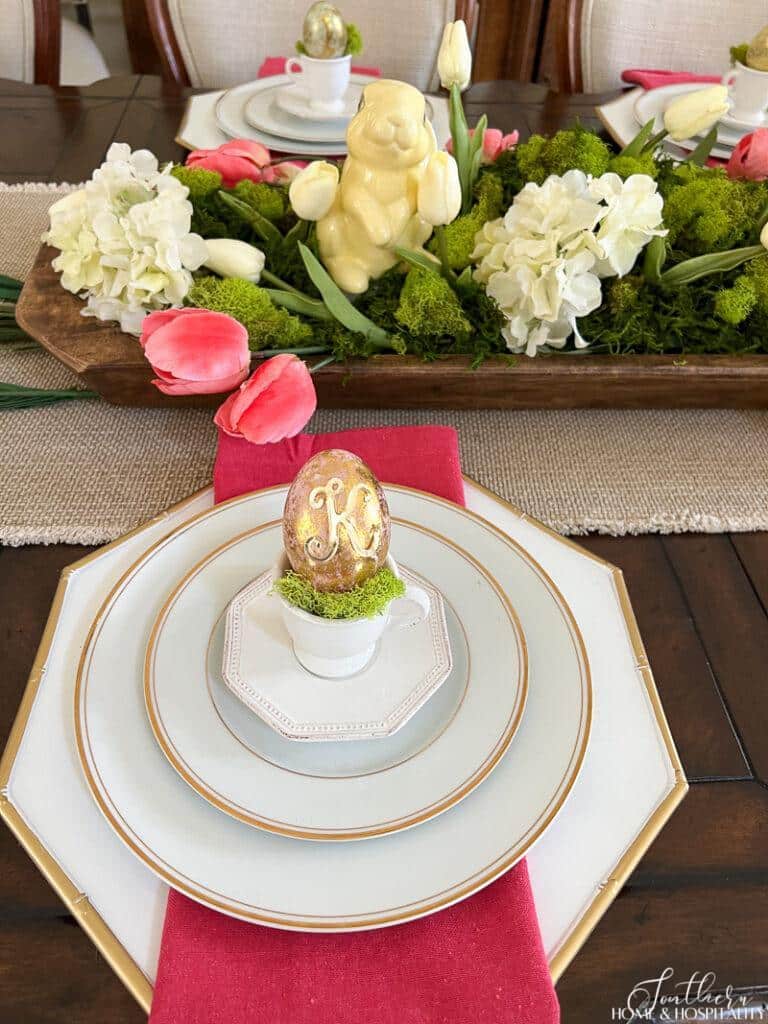 And for a special table touch? I used gold Easter eggs as a place card at each setting by gluing letter monogram scrapbook stickers onto each egg.
Then I nested them in a bed of neon green reindeer moss for a pop of bright green. And the cute demitasse cups made the perfect egg cups.
Easter decor for the sideboard.
I spread a little more Easter joy in the dining room from the table to the sideboard. Faux cherry blossom branches in a white ginger jar and another sentimental ceramic Easter bunny bring the spring here.
Other special occasions to set a table using pink and green.
This gorgeous table color combination is not just for Easter brunch, but would also make a perfect tablescape (sans the bunnies and eggs) for a:
Baby shower
Bridal shower
Garden party
Tea party
Galentine's Day
Spring ladies luncheon
So happy. So fresh. So easy.
And so free with the past investment in faux florals, white dishes, and a few pieces of multi-use table decor!
That infectious hot pink happiness even spread to the living room's Easter decorations:
For more Easter tablescape ideas, make sure to see this elegant Easter tablescape inpired by an English garden, this casual rustic spring garden tablescape, and this easy fun napkin fold for bunny ears.

Before you go:
As always, I appreciate your visit, comments, and shares here on the blog! I'd love it if you also follow along with me on Pinterest, Instagram, and Facebook so you won't miss any of my inspiration and ideas.
Don't forget to sign up for updates to keep in touch.
If you're not already a member of the SH&H family, I'd love to have you join me! You'll not only get email updates, but you'll have exclusive access to all the bonus materials in my free subscriber-only library, like this:
---
Pin it to remember it!
If you've enjoyed this post, please pin and share this on Pinterest:
Sources for this post or similar.

---