Inside: Create this spooky chic Southern Gothic themed dining table and sideboard by combining vintage items you already have with cheap Halloween decorations! ➡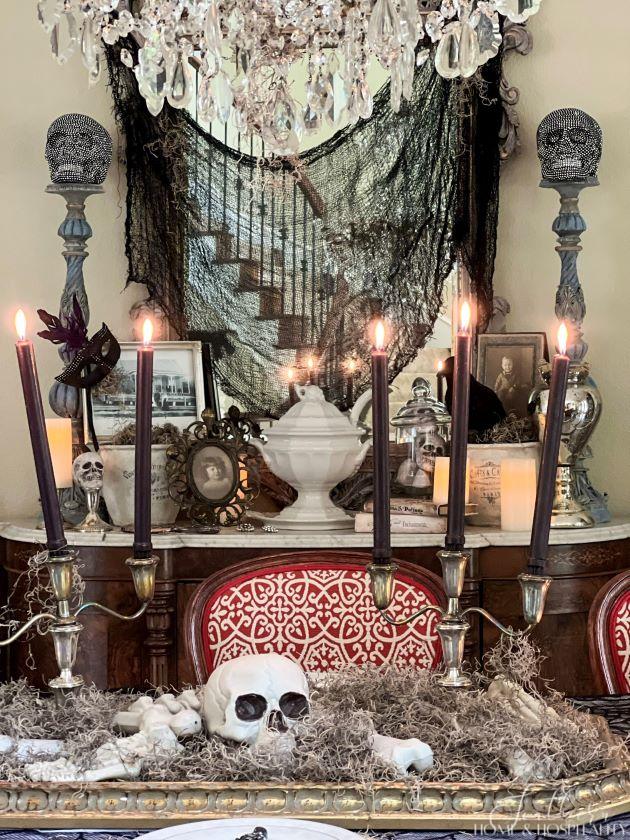 Louisiana voodoo and black magic. Spanish moss dripping from the black silhouettes of cypresses in swamps that hide the unknown below their dark surface.
And from centuries-old oaks surrounding dilapidated mansions.
Inside, photos and belongings of those who have passed on but may still be among us.
Did you feel a tiny shiver forming in your shoulders?
Then you're ready to take in this Halloween Southern Gothic theme dining room, inspired by everything that's spooky about the south.
This Halloween dining room is true to my Louisiana roots and feels extra creepy in my southern traditional style home.
Elegant yet…. are the eyes in those old photographs watching me?😱
The spirits in this haunted tablescape have a vintage Victorian vibe. I was after a gothic and elegant look, but with a dash of fun. No blood, guts, or "It" clowns. I have to sleep in this house at night.
Come into my dining room if you dare, and let's take a closer look at how I created this spooky chic table and sideboard with regular vintage accessories and keepsakes combined with cheap dollar store Halloween decorations!
This post contains Amazon and other affiliate links for your convenience. As an Amazon Associate I earn from qualifying purchases. If you purchase something through any link, I may receive a small commission, at no extra charge to you. I only recommend products that I love or would purchase for myself. See my full disclosure here.
The black and white color scheme.
The "chic" tone of spooky chic starts with the colors. No bright colors and lots of black and white keep things elegant for our little haunted Halloween dinner party.
The best part of all of these Halloween table decorations is I used what I already had. So I pulled this Halloween table setting of silver chargers and white china from my dish storage.
But you could really go to town with any black table decor and it would look right at home in an elegant spooky chic tablescape. Black napkins, black plates, a black tablecloth, or black flatware. Or with a little paint, any old gold candlesticks can become creepy black candelabras.
An ornate mirror as a tray.
The idea for this theme actually came to me as I was moving this mirror in the center of the table around in the attic for the umpteenth time.
The aged silver metallic ornate frame and its black velvet inlay make an elegant tray and a great way to pull together the skull, bones, and moss centerpiece.
Don't have a mirror that looks old? Any ornate frame makes a good tray for a Halloween vignette with a metallic paint and antique wax makeover.
Spanish moss.
Spanish moss fills the mirror and small bits drape from the chandelier and creepy cloth hanging on the sideboard mirror. Like the moss hanging from those ancient oaks.
Silver.
My heirloom vintage silver candelabra in its tarnished state bring height to the centerpiece.
The black taper candles intentionally lean to add to the neglected, haunted feel.
Don't have silver candelabra laying around? Look at the thrift store. Or even paint some with metallic paint or Rub 'N Buff. Age them with a little antique wax.
More silver candlesticks sit on the sideboard next to a silver vanity hand mirror.
And a bottle of red chills in a silver wine bucket.
Skeletons, skulls, and bones.
Using skulls, skeletons, and bones for neutral, elegant (and cheap) Halloween decor is always a great idea. Most of these are from Dollar Tree or Walmart and are the typical cheap decor you see everywhere.
But in this dining room, they are bringing their Halloween elegant best.
This dismantled skeleton rests in pieces in the Halloween centerpiece.
Blingy skulls sit on candlesticks.
This looks like a jar full of tiny Dollar Tree skeletons (the vase is really stuffed with paper).
And more Dollar Tree skulls and tiny skeletons on the plates await dinner guests.
Creepy cloth.
Dollar Tree creepy cloth drapes the mirror over the credenza like old heavy spider webs.
The best part is, the more you use it the creepier it looks! This one is several years old with lots of tears and wrinkles.
The spider web tablecloth overlay has a similar look. To make it pop, I laid it over a white tablecloth. Then I added more creepy cloth to cover the ends of the long dining table.
Mercury glass.
Mercury glass is a favorite element of mine all the time because of its vintage look.
The apothecary jar and these mercury glass votive holders add sparkle and vintage elegance to this gloomy dinner setting.
Vintage photos and belongings.
The dining room sideboard is a buffet of creepy curiosities. The photos and vintage belongings really bring this spooky decor up another eerie level.
This was the perfect excuse to bring some cool, vintage family photos in rich black and white and sepia tone out of the storage boxes for a couple of weeks to enjoy.
Ancestors in the 1800's standing on their porch in Louisiana. And two others with gorgeous vintage frames and mats and beautiful sepia coloring.
And more belongings of the vintage variety with brooches and that tarnished silver hand mirror (I'm hearing the music from Titanic as I put it in place).
And a masquerade mask for a dash of Louisiana gothic fun!
While you're getting creative with vintage items, some steampunk accessories could give this theme cool edge.
Apothecary jars and old bottles.
More skulls fill this apothecary jar. Old brown bottles also look amazing with this theme if you have them.
Ravens.
Black ravens perch on the display, adding a sense of foreboding, Edgar Allan Poe style.
This black crow is definitely watching and listening:
Old books.
And old vintage books with their sepia tone pages make fabulous fillers and lifts.
I covered some spare books I had with printables I found on Pinterest. I wrinkled and tore them for a little extra "age".
Candles.
To complete the ambiance of this spooky but elegant Halloween dining room is the glow of lots and lots of candles.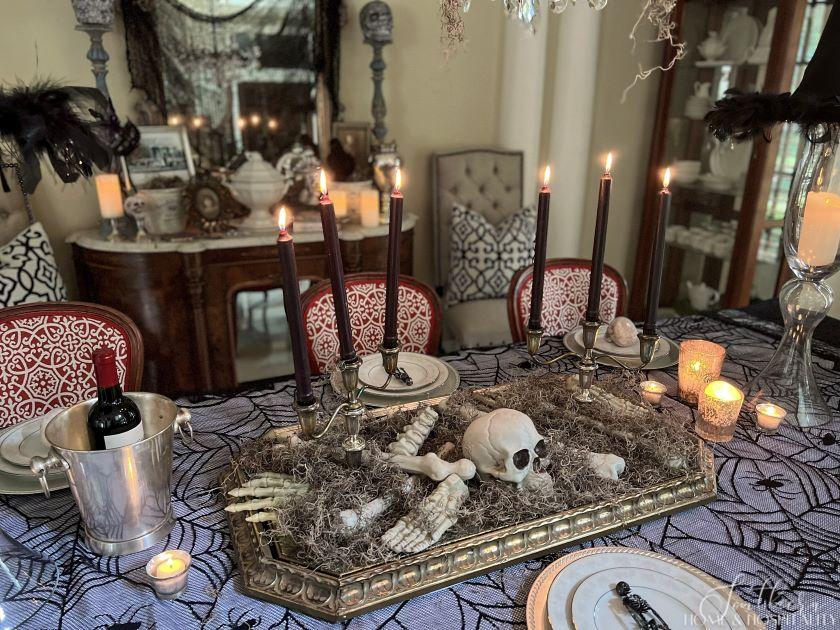 Votive candles with real flames. And my favorite flameless pillar candles.
Two large glass candle hurricanes floating witch hats make whimsical and fun statement pieces.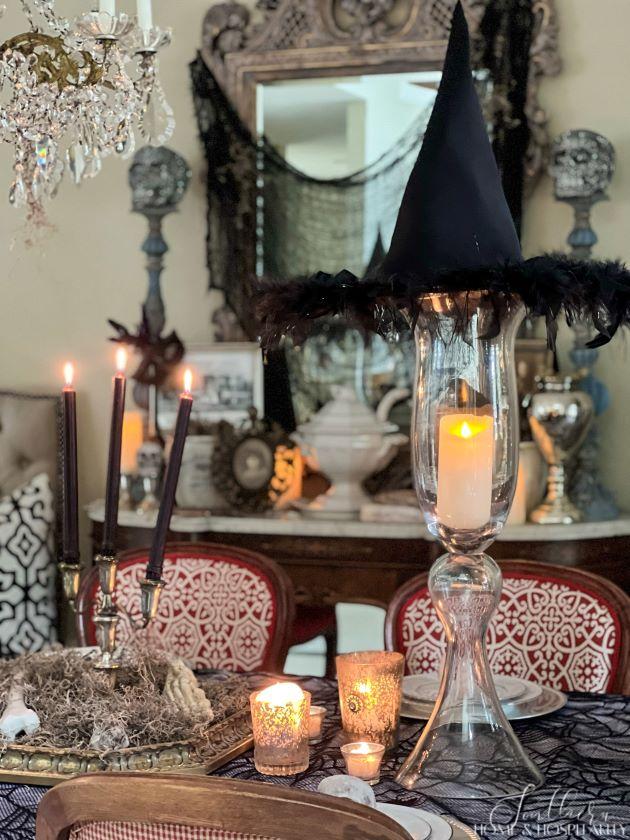 Where can I find vintage vibe Halloween decor if I don't have any?
If you don't have your own, here are some elegant yet spooky items I've found for you:

---
This dramatic dining room dripping in creepy decorations may make it appear I go all out in every room. Had you fooled! The dining table and buffet are the only Halloween decorations in our living room, dining room, and entry area. But it's the best place to focus on because it's what you see from the front door.
It's one of the tips I use to decorate tastefully for Halloween in a grown up way. See the rest here.
Do you feel the Halloween spirit now? Let it inspire you to rummage through some keepsake boxes and Halloween decor bins to create your own creepy chic dinner table!
Thanks for taking the dining room tour – I hope none of our dinner guests follow you home… 👻
If you missed the haunting of the front of our house, you can see it here.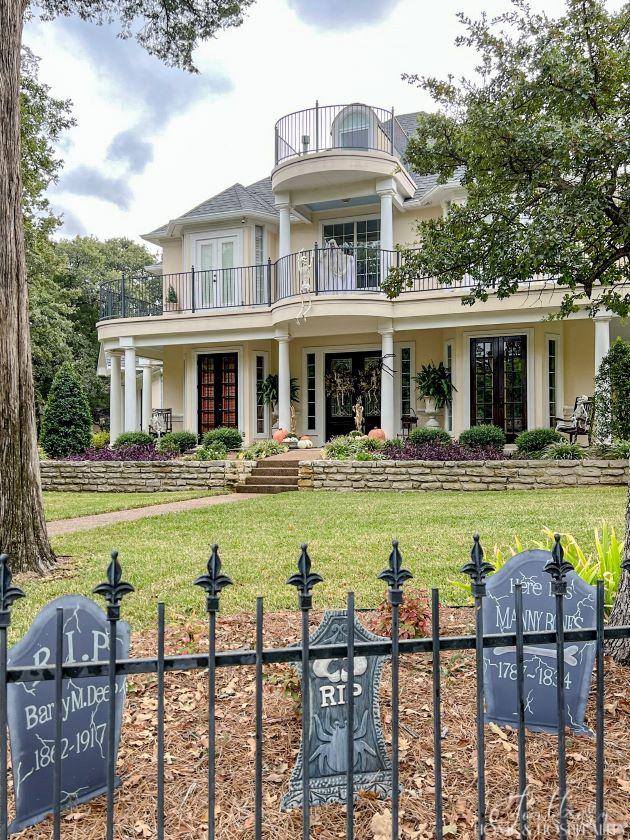 Don't forget to sign up for updates to keep in touch…I have lots of fun and useful freebies you may be interested in in my subscriber-only library like my cheat sheets for where to place lighting, bathroom fixtures, artwork, and furniture!