Inside: Spooky fun Halloween ideas from our porch and yard that anyone can do to haunt the front of the house with a few cheap Halloween decorations! ➡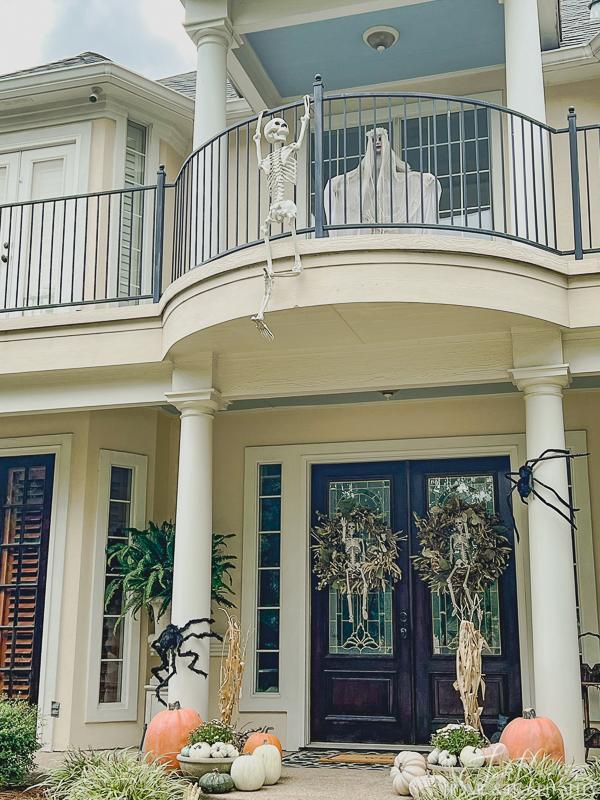 My family loves Halloween and has always been big into dressing up and decking the house in fun decorations. And just because the kids are no longer kids doesn't mean we've lost our Halloween spirit!
Decorating the outside of the house for Halloween really isn't difficult. Because this holiday is all about creativity and fun.
I'll show you how a few items took our mild-mannered fall porch, full of faux pumpkins, mums, and corn stalks, to haunted in no time!
One of my friends called our home the haunted mansion when we bought it, mostly because of its state of disrepair. But I think about it every year around this time and it makes me laugh because she was "dead" on!
If you'd like to read our story of how we came to buy this house and some before pictures, you can see it here.
This post contains Amazon and other affiliate links for your convenience. As an Amazon Associate I earn from qualifying purchases. If you purchase something through any link, I may receive a small commission, at no extra charge to you. I only recommend products that I love or would purchase for myself. See my full disclosure here.
Halloween porch decor ideas.
Halloween skeletons have taken up residence in my fall wreaths to greet victims, ahem… visitors. Maybe Walmart greeters in their former life?
The door is one of the first things trick-or-treaters and guests will see. And plastic skeletons are a great way to make any wreath into a Halloween wreath! I use a zip tie to help keep them in their seat.
What's Halloween without black cats? Our motion-activated feline (similar) standing guard may be the best thing I've ever bought for Halloween. Watching guests and delivery people on the Ring doorbell video is so much fun when his eyes light up, his head turns 360 degrees, and he howls. Loudly.
Several other ghastly party guests also make themselves at home on the porch.
Skeletons are my go-to for Halloween decorating, inside and out. They're not expensive and not too scary. And who doesn't like someone that's always smiling?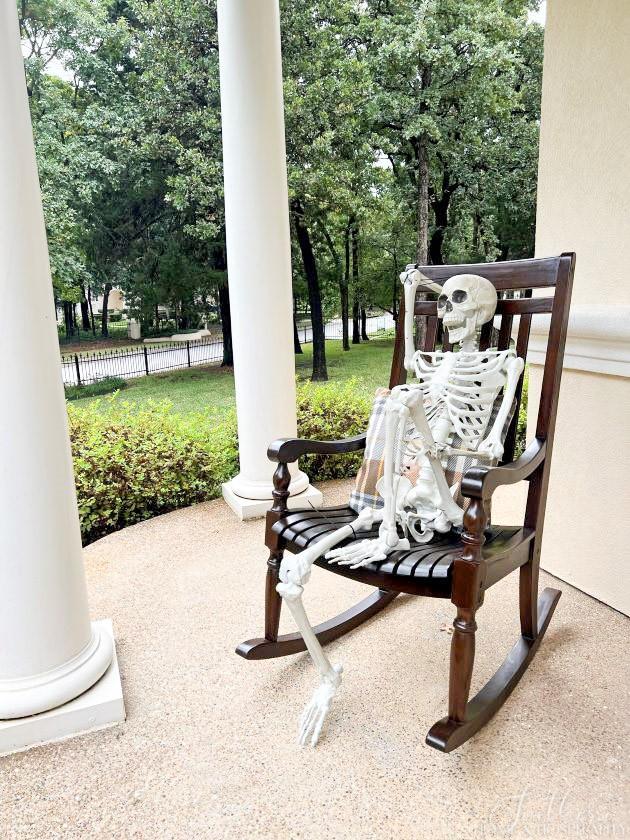 This guy is having a good time just chilling in our porch rocker. Zip ties are also a perfect way to pose skeletons.
See how easy it is to pose skeletons in the yard and on the house here!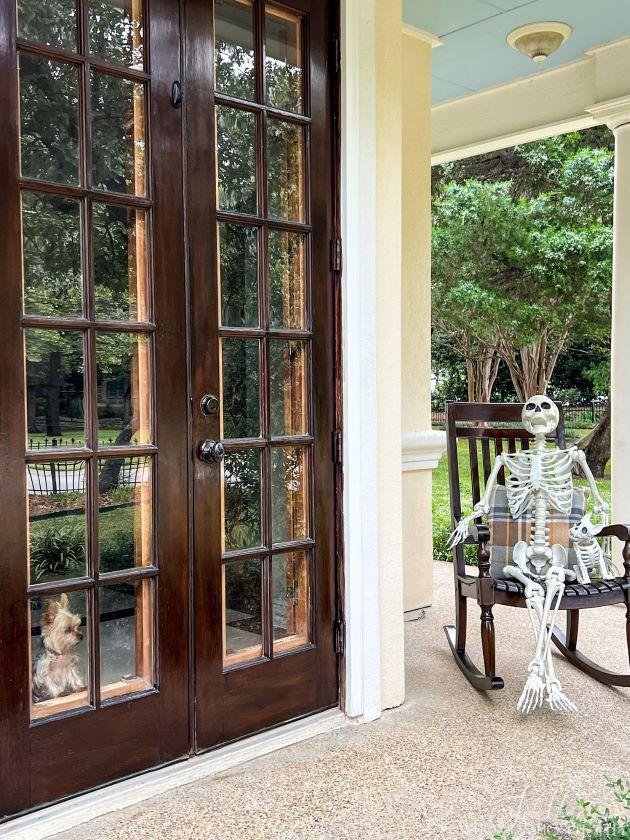 Posing the skeletons in different ways never ceases to entertain me.
Bijoux is not too sure about these new tenants. Especially that skinny dog!
Halloween balcony decorating ideas.
And our spooky Halloween ghost, Victoria (the Victorian bride) makes her annual appearance on the balcony. She's always a hit with the neighborhood kids (they ain't afraid of no ghost)! She's meant for indoors, but has made it under our covered porch for years.
Maybe she lived here long ago… 😱
She's brought her giant furry spider minions with her. In my opinion, they're the scariest thing on the porch.
And we haven't decided if the skeleton is climbing over the balcony to run away or climbing up to be her henchman!
Halloween outdoor decorations for the yard.
Further out in the front yard, a graveyard has popped up.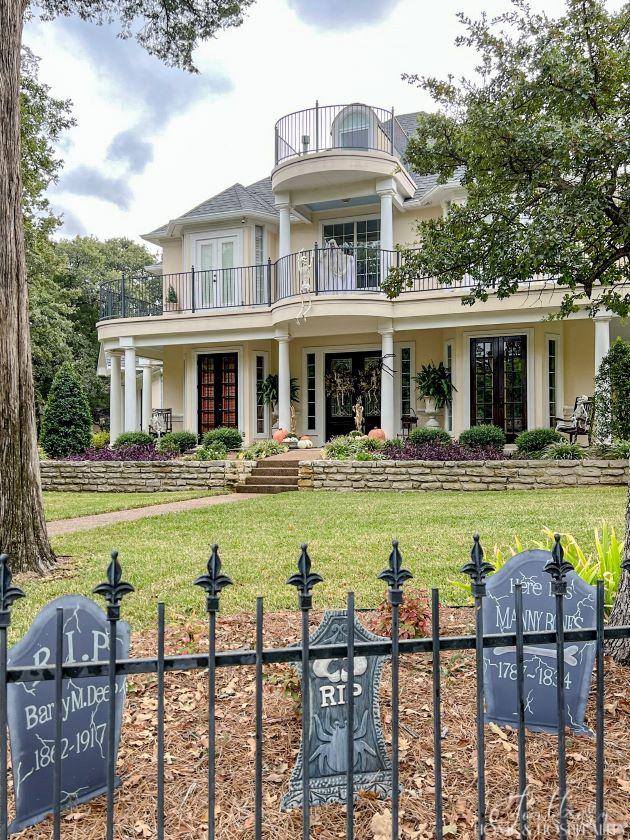 Metal tombstones are a great idea and I need to add more. The styrofoam ones always blow over in a good October gusty wind.
This yard skeleton is the cemetery class clown, striking a pose for the camera.
The skeletons and tombstones make great outdoor Halloween decorations in the yard because the weather won't bother them.
Things get kind of creepy at night. We set up a spotlight on Victoria. And on Halloween night, we further up the fear factor with a fog machine.
Maybe Victoria lives in the very top room above the balcony…
Other scary simple Halloween ideas for the front porch and yard.
So many front porch ideas, so little space!
Hang floating witch hats from the porch ceiling with invisible fishing line
Spread spider webs from the dollar store around trees, porch posts, and over bushes
Make over some pumpkins Halloween style with a little black paint
Change door mats to a fun saying. (Love "Hey Boo!"🧡)
Go big with the 12 foot mega skeleton from Home Depot
Stick a swarm of cheap plastic spiders onto a porch column with Command tape
Tape paper bats around a covered front door
Perch black crows over the doorway
Use black spray paint on some gnarly branches and stick them in porch planters to look like ominous black trees
Spread lots of glowing flameless candles throughout the porch and up the front steps
Rake up the falling leaves and put them in these lawn bags for an instant large pumpkin

---
Thanks for visiting our "haunted mansion"! I hope you found some creative ideas and enjoyed hanging out on the porch and meeting our Halloween visitors. And that they don't make too much of a lasting impression.💀
There's so much more Halloween fun inside. Come join me – if you dare! Mwahahahaha!!!

As always, I appreciate your visit, comments, and shares here on the blog! I'd love it if you also follow along with me on Pinterest, Instagram, and Facebook so you won't miss any of my inspiration and ideas.
Don't forget to sign up for updates to keep in touch…I have lots of fun and useful freebies you may be interested in in my subscriber-only library like my cheat sheets for where to place lighting, bathroom fixtures, artwork, and furniture!