Inside: Easy ways to decorate with skeletons in the yard: How to make them stand, climb the house or trees, and keep arms and legs in place, plus funny display ideas! ➡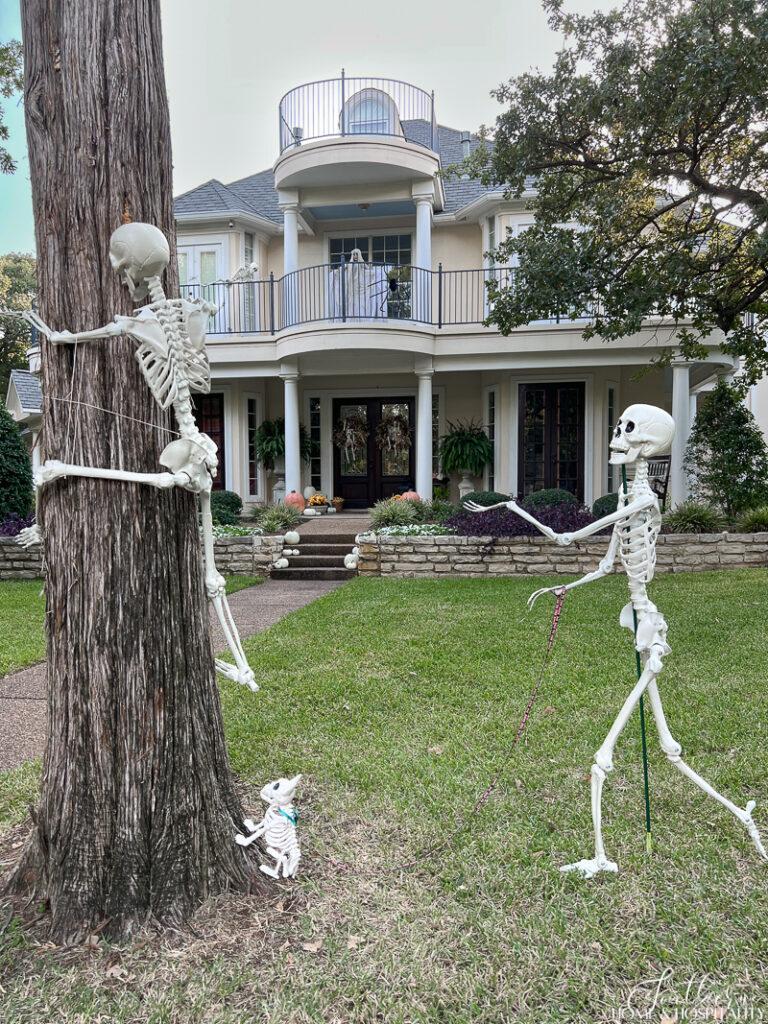 Do you want to be the best house on the block this Halloween without the chainsaws, bloody guts, and creepy clowns? And to not spend a frightening fortune decorating the yard?
Recruit a few cheap skeletons to strike a pose.
Inspired by all the skeleton shenanigans on the internet, I wanted our cheap $29 Walmart skeletons to bring the party too. Not just be boring, lifeless stiffs.
But they were kind of stiff – just not enough to stand and stay on their own.
The heads of my life size skeletons don't turn. And the arms and legs only go back and forth, not out to the side. Could I really pose a not-so-posable skeleton?
And then there was how to make them stand up in the middle of the yard? And stay in the pose I wanted?
But it was actually very simple. So if you've got yard skeleton questions, I've now got the skeleton key.💀
This post contains Amazon and other affiliate links for your convenience. As an Amazon Associate I earn from qualifying purchases. If you purchase something through any link, I may receive a small commission, at no extra charge to you. I only recommend products that I love or would purchase for myself. See my full disclosure here.
How do I make a skeleton stand up on its own?
Getting the skeleton to stand up on its own requires only a couple of inexpensive things!
How to make a skeleton stand up on its own in the yard.
A simple garden stake for plants that only costs a couple bucks comes to the rescue.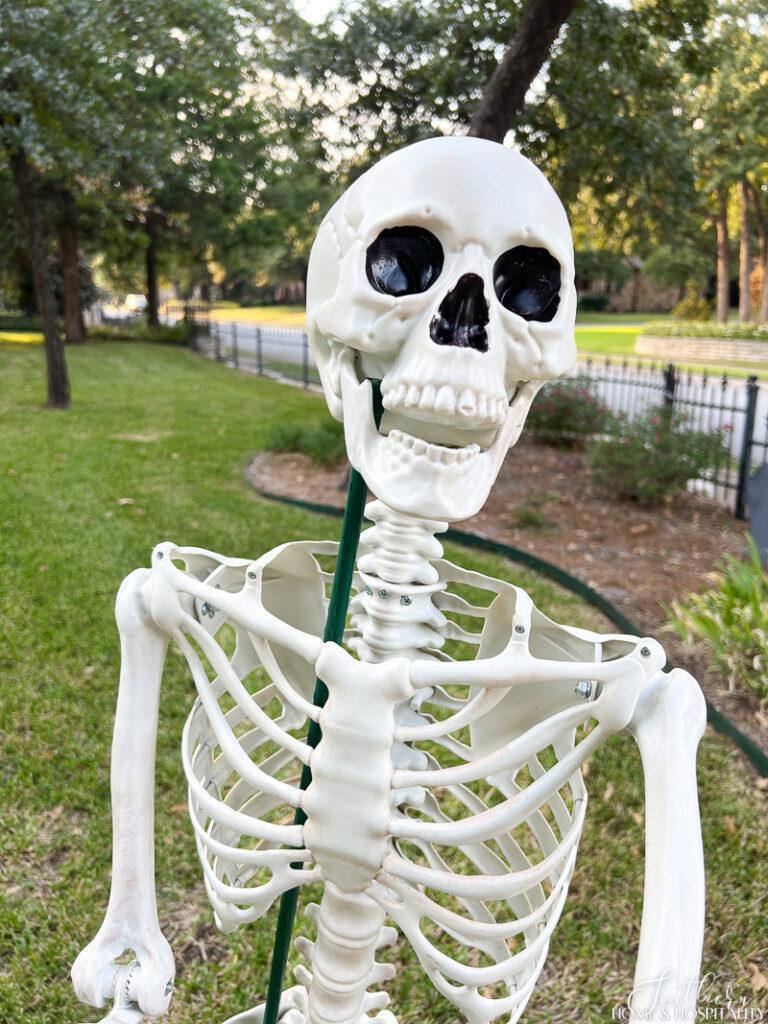 My skeletons are 5 ft. tall, so this 4 ft. garden rod was perfect. I stuck it securely in the ground and lowered the rib cage over it and wedged the end in the skeleton's mouth.
Other garden items I've seen used to prop skeletons up in the yard are shepherd hooks, but they're a little more expensive.
If you expect a wind that could take down your standing skeleton, you can:
Use a sturdier metal post like rebar or a fence u-post.
Zip tie or tie the spine or rib cages to the post.
How to make a skeleton stand up on its own on the porch or in the house.
When you don't have a soft surface to stake into, you have to support the skeleton in one of two ways:
Buy or build a skeleton stand. You can always find a DIY video on YouTube to build your own with some wood.
Or strategically stand it up next to something you can tie it to, like a post or column. You may have to anchor the ties or zip ties in place with duct tape or adhesive hooks.
My fall wreaths turn Halloween in an instant with these skeletons. I keep them in place by looping a zip tie through the grapevine.
How to make a skeleton climb a tree.
This one's also easy but requires two people and some string, twine, or wire.
1. Position the skeleton's arms where you want them on the tree. Have one person hold them there, while the other ties the forearms together around the opposite side of the tree.
(I took this pic before adding the perfect accessory to the skeleton's leash hand – our skeleton is a good neighbor and now carries a bag to scoop the poop.)
We had white string on hand in the garage so that's what we used. Brown twine would be less noticeable but the white twine does work well to show you how I've attached him to the tree.
2. Then bring up one of the legs to hug the tree and tie another piece of string to the ankle. Bring the string around the tree and tie it to the spine. You can repeat with the other leg. We chose to leave the other leg straight in more of a climbing "action" stance.
3. Add more support with a third string, tied around the spine and tree.
Our neighbors seem to be enjoying our little skeleton scene (or maybe they're laughing at the white string, but I doubt it). The string and rod aren't too noticeable from further away.
And it was so simple to come up with this display idea. The best part is we used what we already had: three human skeletons + one tiny dog skeleton = a ferocious pooch alert!
How to pose a skeleton on a balcony.
Here it's all about zip ties. This year we've got one making his escape over the balcony:
You almost can't tell that his head and joints don't rotate!
I would recommend clear zip ties to help make them disappear. Or fishing line. (But just like the white string, do as I say, not as I do.)
I had black zip ties, but they help to demonstrate the process kind of like the white string. I even took photos before I trimmed the excess to help show you where I put them.
Last year we had one hanging on for dear life with the help of zip ties around the wrists: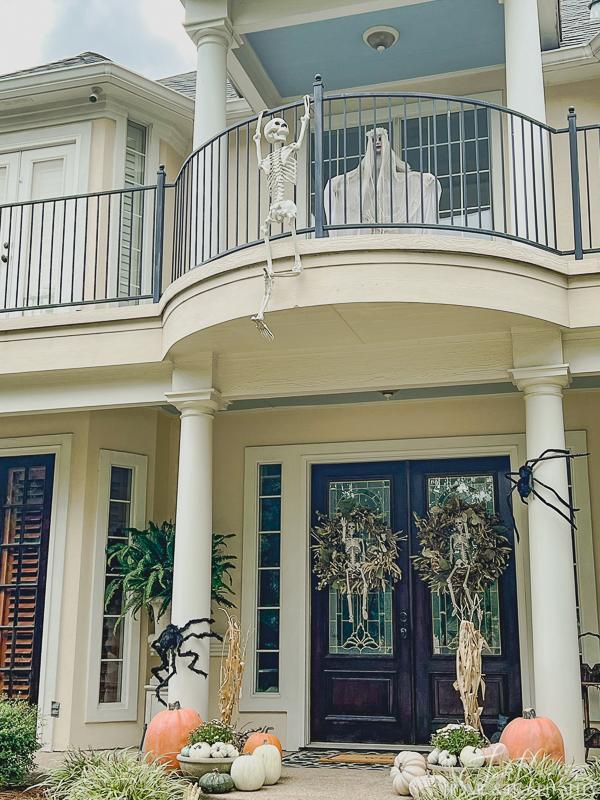 How can I pose a skeleton with non rotating joints?
When you can only move the arms and legs forward and backward and they won't lift out to the sides like a real human, you have to be creative with bending the knees and elbows.
This one's looking pretty chill with the foot up in the porch rocker. And I zip-tied his arm to the loop on his skull to make it look like he is casually resting his hand behind his head.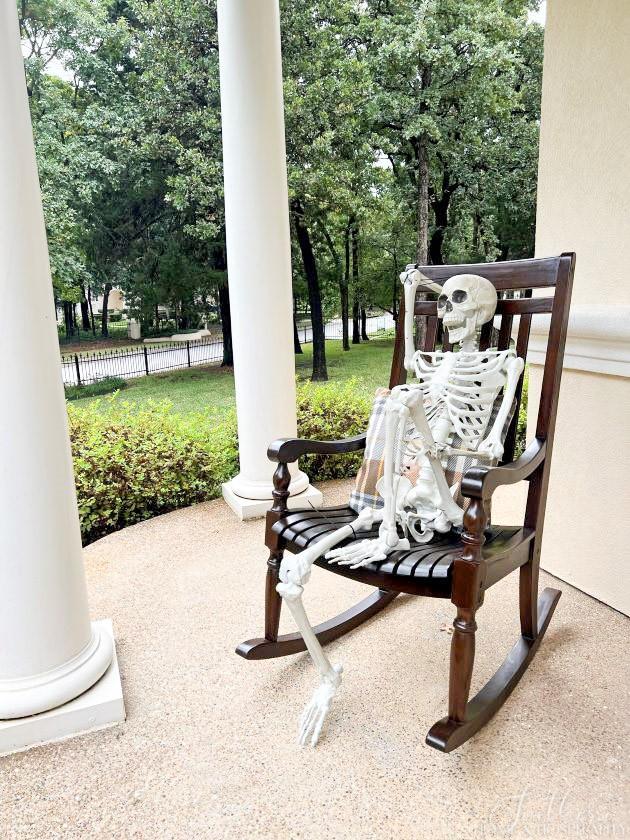 How do I hold the arms and legs where I want them?
Sometimes the arms and legs on cheap skeletons are kind of flopsy, especially the longer you've had them.
One easy way to shape them is with wire.
You can see I wrapped a piece of wire on this skeleton arm above to keep it up.
For the larger skeletons, you can cut a metal coathanger and zip tie it to the arm, spanning the upper arm and lower arm over the elbow. Then bend the arm and the wire to the position you want to hold.
Or to make an arm stay straight up, attach the wire to the top of the rib cage and run it past the shoulder joint. (You can follow the same methods for the legs if you need some help with hold there.)
Another option to keep an arm in place below the neck is to tie the arm with invisible fishing line and tie it around the neck.
How to make a skeleton climb up house walls.
Another haute Halloween look is having skeletons crawl up the house. The best ways to attach skeletons to the house are:
If you absolutely need to hang a skeleton on the face of the house wall without nails or screws, and without the help of any of the house features, here are some specific ideas for each house type:
On wood or siding.
Being the smoothest surface, this will be the easiest. You may even find a place to loop wire or twine underneath the planks. Or use those adhesive zip tie mounts. Make sure to clean the area well first to assure they'll stick.
On brick.
Or hang the skeleton all the way down from roof gutter clips with some string or wire around the neck, but where you want it located on the wall. Next, apply some zip tie mounts or command hooks to the brick with outdoor tape or hot glue where you want the limbs to pose. Then, wire them into place. If the hooks won't stay, try posing them with wire around the joints (see how to hold the arms and legs where you want them above).
SH&H Tip: Hot gluing the hooks is a great hack to hang any outdoor decoration on brick, like Christmas garland. It will peel right off when you're done!
On stucco.
If you have smooth stucco, you may be able to attach hooks with double sided heavy duty waterproof tape. It will really depend on the texture and weight as to whether they will stay. In the very small chance they stick too well, be prepared to deal with a little residue or paint touch up.
If this won't work or you have super rough stucco, I recommend hanging them from the gutter like the brick method and then posing them in place with hooks (see above).
Halloween skeleton display ideas.
Here are some ideas to help you bring the fun to the yard!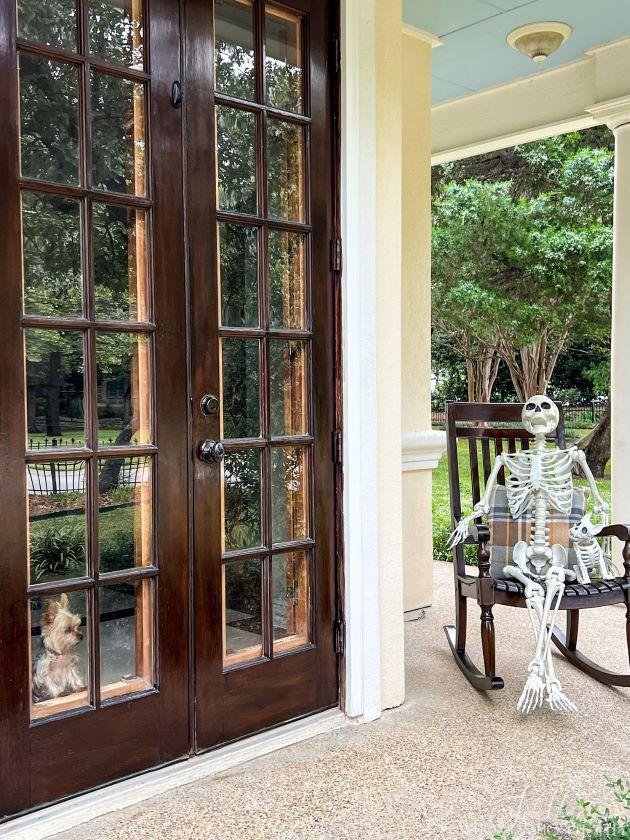 Sit skeletons on the front porch in a swing or rocker.
Or have them escaping a grave or coming up out of the ground.
I'm not so much into a spooky scene with my Halloween. I can't get enough of the funny, creative ways people pose their skeletons on the internet.
If these things to do with skeletons don't get you in the Halloween spirit, you may be a lost soul:
Three skeletons break dancing
Practicing yoga
Doing yard work
Burying a body
Dress them up. Pirates seem to be a favorite – some even sail their own pirate ship!
Playing Twister
How about a keg stand:
Skeleton selfies (guuurl, you look so skinny!):
Or if you want to go big, invest in this 12-foot skeleton from Home Depot. Posable limbs included!
---
If you're now feeling the skeleton love, check out my scary simple Halloween porch ideas, creepin' it classy indoor halloween decor ideas, and this spooky chic Halloween tablescape for more inspiration for your Halloween decorations!
I'm still waiting for a great deal on a more posable skeleton to add for next year, so these guys may have some new friends.
But these cheap Halloween skeletons show you don't have to be expensive to be the life of the Halloween party!

As always, I appreciate your visit, comments, and shares here on the blog! I'd love it if you also follow along with me on Pinterest, Instagram, and Facebook so you won't miss any of my inspiration and ideas.
Don't forget to sign up for updates to keep in touch…I have lots of fun and useful freebies you may be interested in in my subscriber-only library like my cheat sheets for where to place lighting, bathroom fixtures, artwork, and furniture!